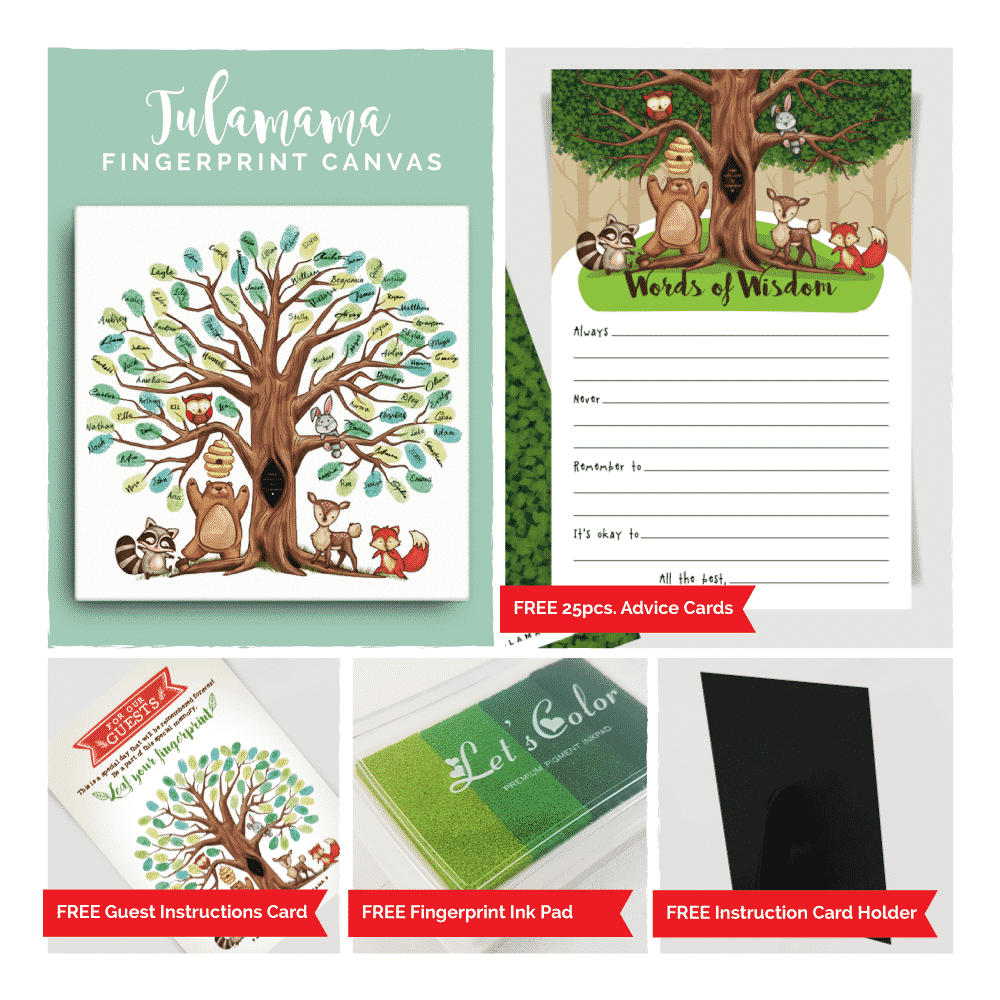 All-In-One Fingerprint Tree Canvas
Everything you need to set up your fingerprint tree, in one gift box. With your purchase, you get:
Your fingerprint tree canvas, beautifully packaged in a gift box. (If you are buying this for yourself – great. It also makes a great gift.)
Simple instructions for your guests, beautifully printed on card stock, (so that you can actually be proud to display it.)
A display for your guests' instructions. When guest instructions lay flat on the table, they are not easy to see if there are a lot of people around your table. Setting up your instructions upright so that it's clear to see, makes the whole process easier.
25 FREE Advice cards. (Booyeah!)
Non-toxic fingerprint ink. (Another Booyeah!)
A hook for easy hanging.
A Unique Alternative To A Guest Book
Guest books are beautiful and useful and cherished. In fact, guest books are awesome. However, if you are wanting to change things up a bit, consider a fingerprint tree as a guest book alternative. Why? Because:
A fingerprint guest book like this will not be stuffed into a bookrack, only to be pulled out once in a while, or when you move;
Your tree guest book is a wonderful reminder of your special day, a beautiful memento and keepsake, one you can see daily;
A fingerprint tree canvas can decorate the wall. If you are using it as a baby shower guest book alternative, hang it up as beautiful nursery decor.
The setup is easy and there is not much thinking involved – the hard work is done for you.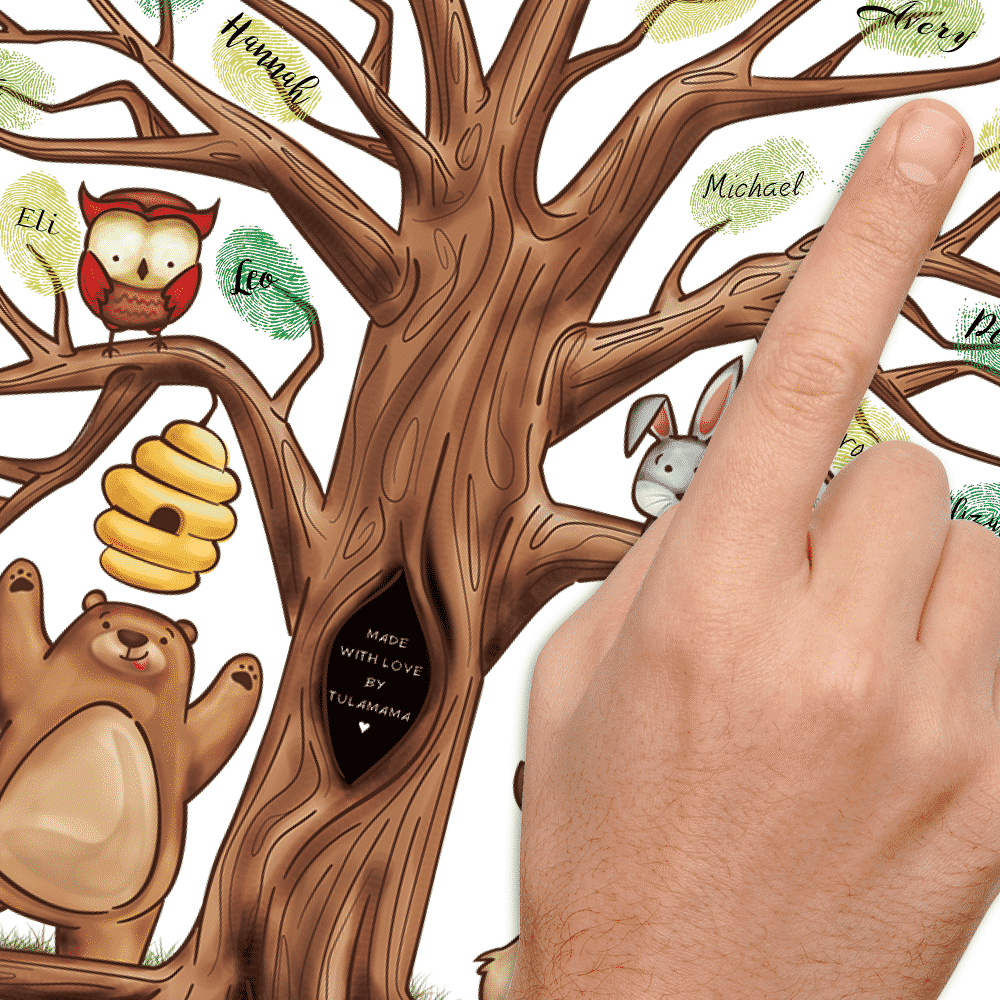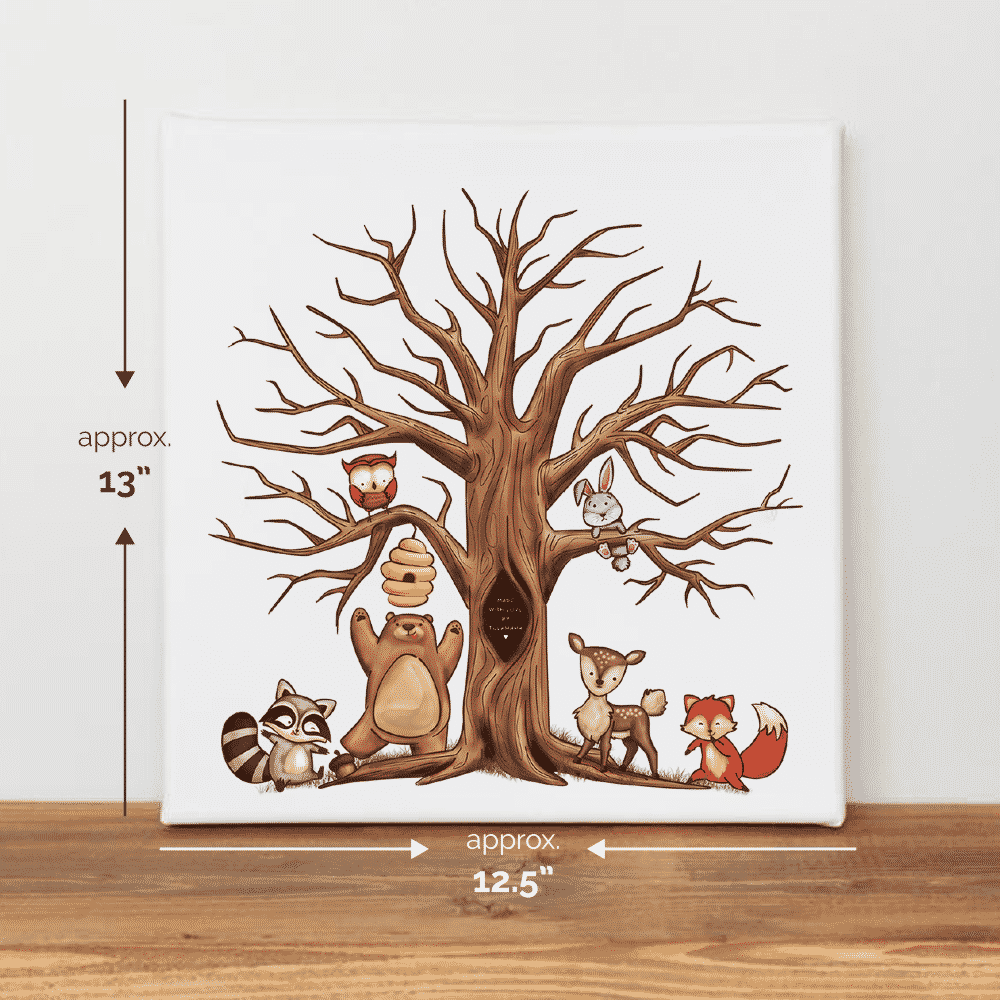 Perfectly Sized & Beautifully Designed Thumbprint Tree
We have specifically chosen classic designs for our canvasses. Our designs are gender neutral and they can be used for more than one event.
Tulamama canvasses can be used for baby showers, birthday parties, or as an alternative wedding guest book. Your baby or child can also create a fingerprint tree.
It is also perfectly sized at 13″x12.5″x1″ – that means, it's not too big or too small.
Quality Manufactured Keepsake For Your Family
A keepsake is something that lasts a long time. This is why our fingerprint canvas is made with real wood and durable canvas.
For your convenience, your canvas is also wrapped in plastic. This is to preserve it until you are ready to use it.
All purchases are made with a 100%, No-Questions-Asked, Money Back Guarantee.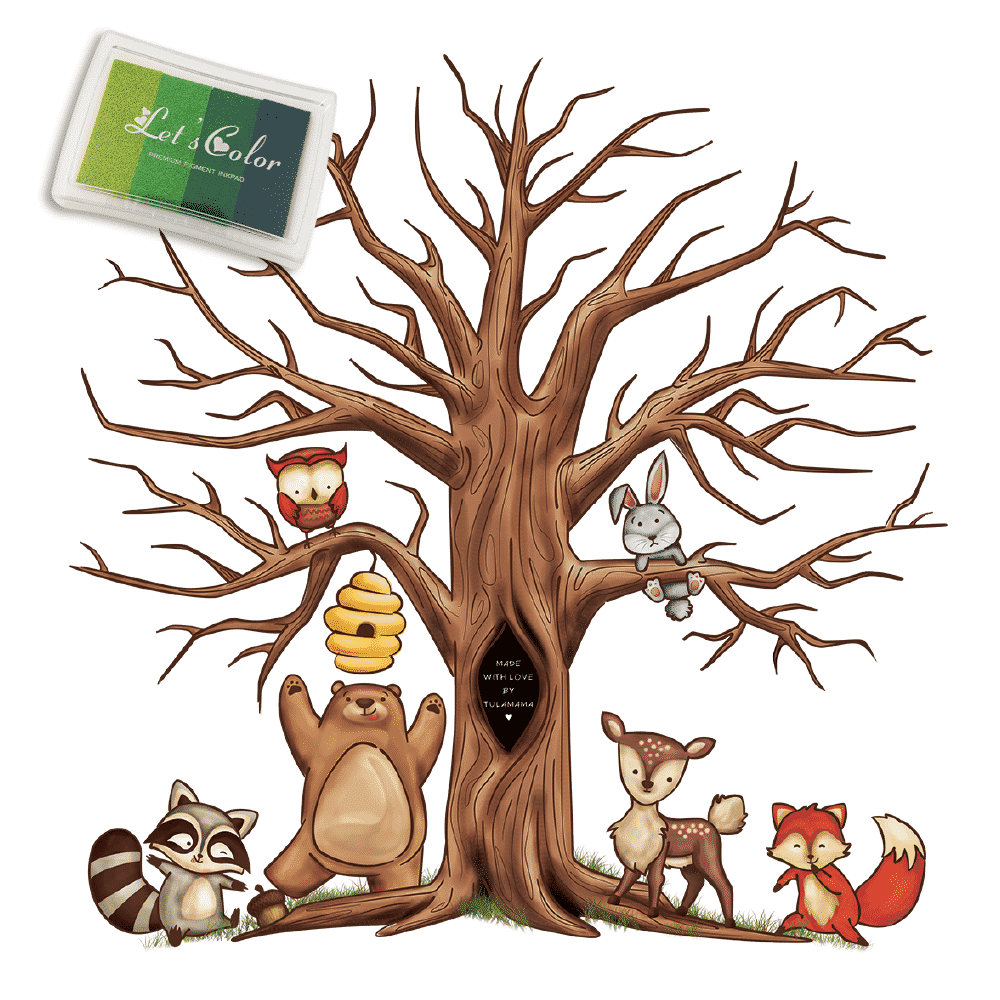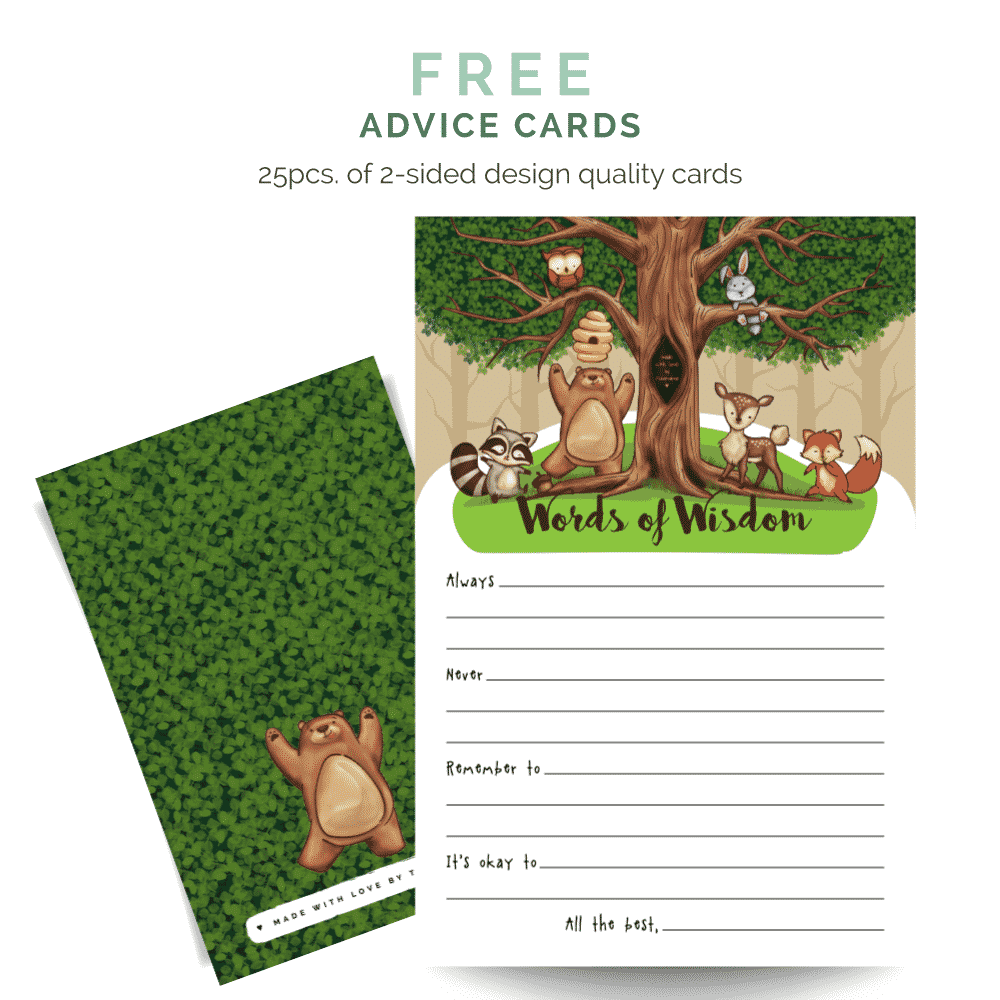 Seriously Useful Bonuses
When you are having a baby shower or a wedding, or even a birthday party, people like to leave advise and best wishes. What's more – recipients like to receive it. It acts as a keepsake that can be saved for years and years.
If you have shopped from us before, you may know that we are a small family business. For a long time, we debated whether we should add the advice cards, or not. Finally, we decided that it had to be added because it makes the package complete. We hope you agree with our ultimate choice. (Cards are also sold separately.)
In addition to your advice cards, you also get one set of fingerprint inks. They are only available in shades of green.
Finally, you also get a frame, which you can use for your guest instructions.
FAQ Frequently Asked Questions About
The Cutest Fingerprint Tree Canvas You've Ever Seen, Period!
What is the size of the canvas?
Our canvasses are 
13″x12.5″x1″.
What is included in the set?
The canvas comes with instructions to offer your guests. As a bonus, you also get non-toxic ink, 25 advice cards for your guests, and a display for the guest instructions.
What is a fingerprint tree canvas used for?
Our canvasses can be used for baby showers, weddings, parties or keepsake crafts.
What are the fingerprint tree instructions?
Whether you are using your thumbprint tree canvas for a baby shower, wedding or party, the instructions are super simple. Simply place your canvas, guest instructions, fingerprint inks, and pen (if guests will be asked to write their names) on a table. It is best to place it on a table near the entrance so that everyone can see it. Fingerprint inks are not messy but it's always a good idea to leave wipes and a trash can for guests to wipe their fingers.