Why Tulamama's Pacifier Clips Are The Preferred Choice: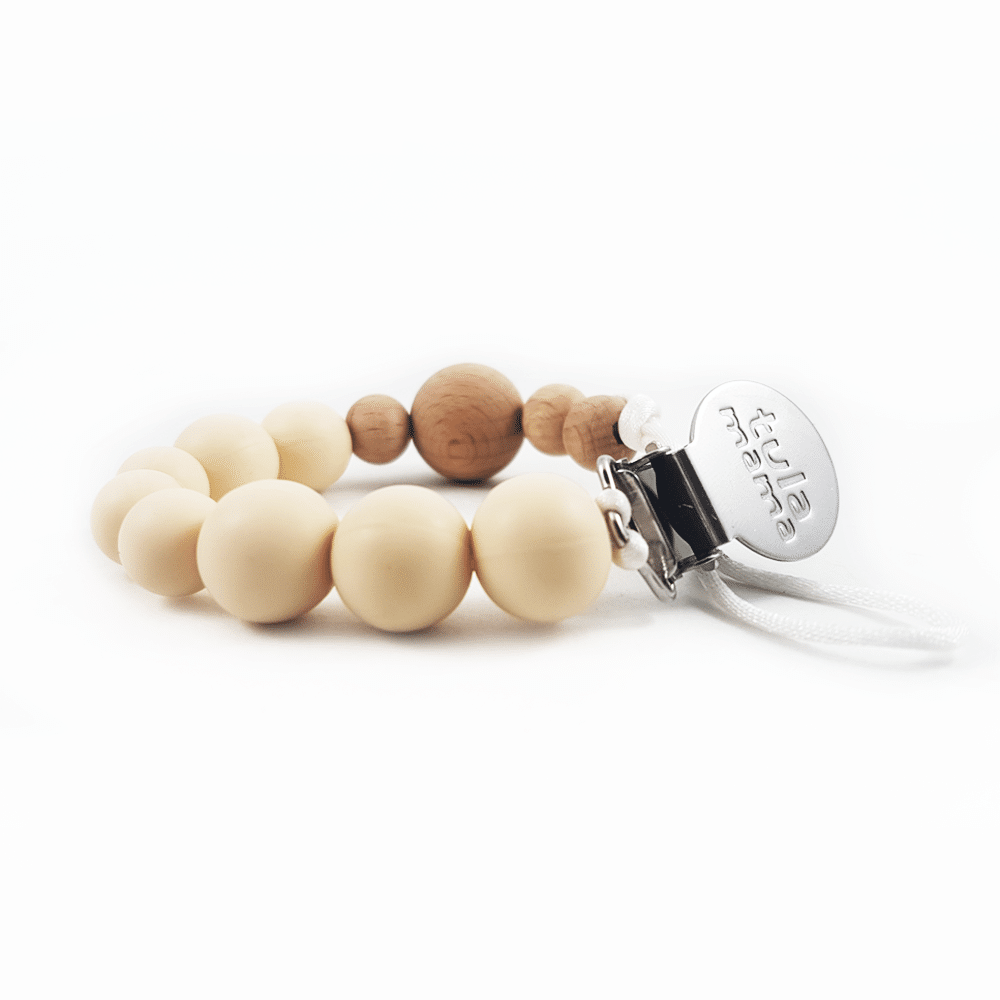 Tulamama's Food Grade Silicone Beads Are Safe For Babies To Love And Chew!
Our paci clips are:
made of food-grade silicone – the same kind of silicone that pacifiers and bottle nipples are made of. That means, our soft and chewy silicone beads are safe for your baby to chew to his/her heart's content.
hand-made in an FDA approved facility, where strict US and International Baby Safety guidelines are adhered to.
made with beads that are non-porous, non-toxic, BPA Free, and free of all other yuckies like phthalates, cadmium or lead.

approved by the CPSC, California Prop 65 + Australian, Canadian and European authorities for baby safety.

made with extra precaution. Each paci clip has a double knot AND a safety loop around the last bead.
Tulamama's Paci Clips Are Sanity Savers!
Pacifiers get lost because babies fall asleep and spit them out… or they just spit them out. But heaven forbid you don't have a pacifier when your baby needs it.
Or you are out and about and your baby needs his/her paci but it's somewhere in the diaper bag. The struggle is real and every mom understands the frustration of trying to dig a pacifier out from the oblivion that is her diaper bag.
What every mother ALSO knows, is the wrath of a baby who needs a pacifier NOW, and not a second later.
This is is why a smart mom invented pacifier holders. Clip yours onto baby's clothes, your baby carrier or the inside of your diaper bag for easy access whenever you need the pacifier.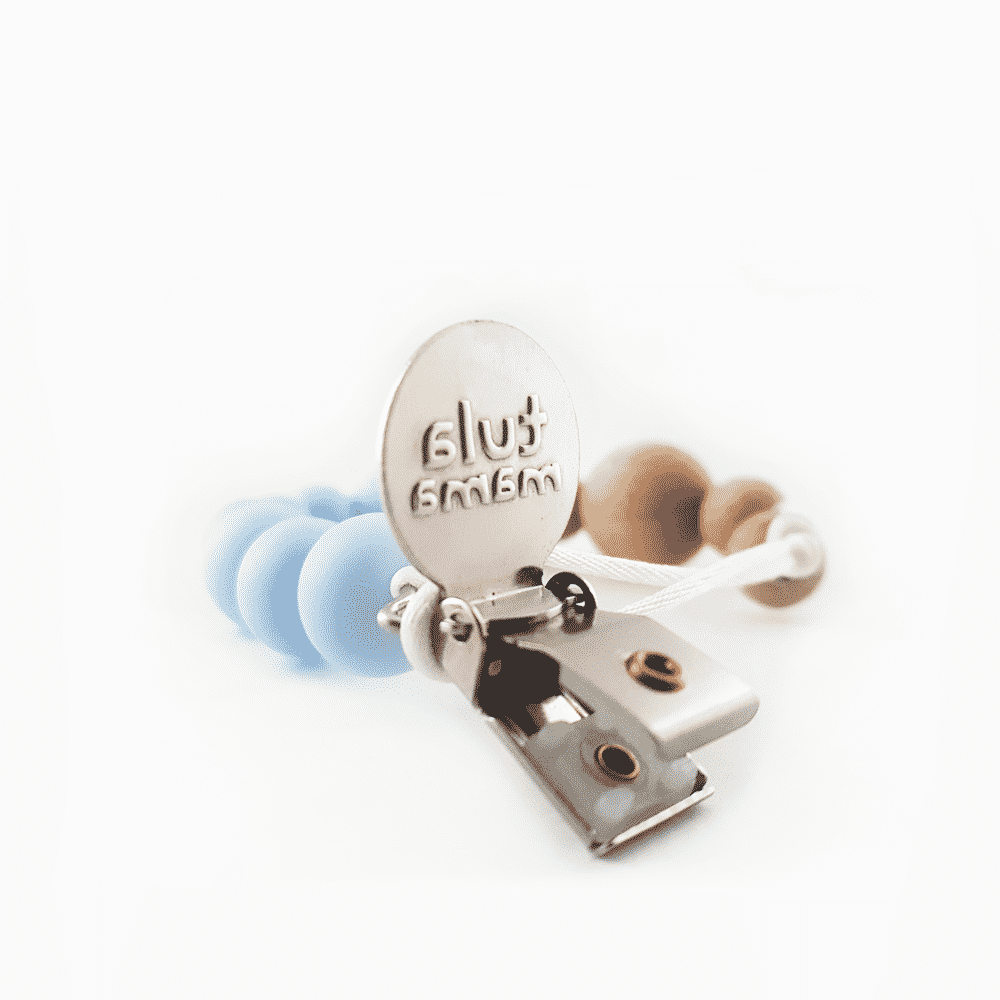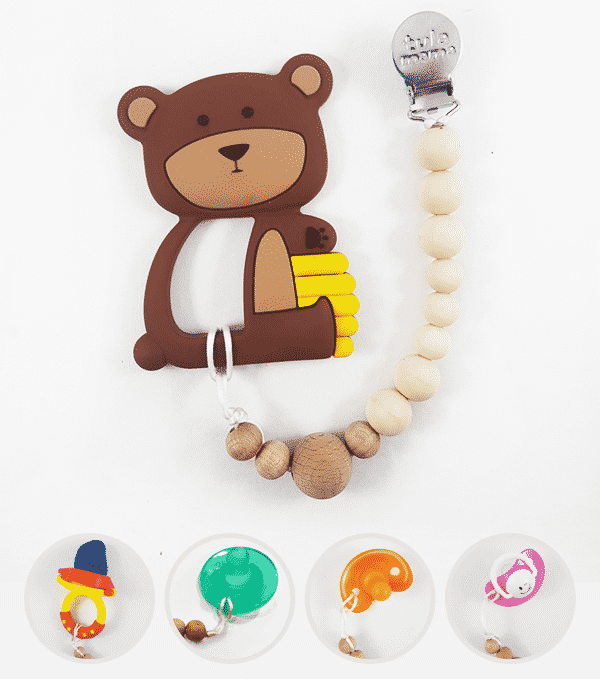 Tulamama's Pacifier Clips Fit Onto Everything
Our pacifier clips easily fit onto all pacifiers, including the ever-popular Mam, Avent Soothies, Nuk, Nuby… the list goes on. They also attach effortlessly to teething toys, teething rings, high chair straps, car seat straps, baby blankets, loveys, bibs, and baby gear.
Our clips are designed for safety, with no sharp edges.
This is why moms are saying they're versatile, functional, and an essential for babies. Tulamama's paci holders also make great perfect baby shower gifts for little baby boys and girls because of their clean, classic look and neutral colors.
Our clasps also fit securely. Our rust-free clasps will hold without damaging baby's clothes, and cannot easily be tugged or pulled off by your baby. Therefore, your baby's pacifier will always be within easy reach.
The Pacifier Clip Where Classic Design Meets Cute
Yes, it is possible and Tulamama has proven it! Our pacifier holders are designed to meet a classic look moms like, but it's also cute and adorable for babies.
This functional and modern design has a timeless quality to it that moms appreciate. It is beautiful but simple – the kind of look that doesn't go out of style. Your baby will not be the flashiest baby in the room, but he/she will always look good. 
Choose a neutral color to match almost any outfit baby will wear, or color code your pacifier clips to match baby's outfit.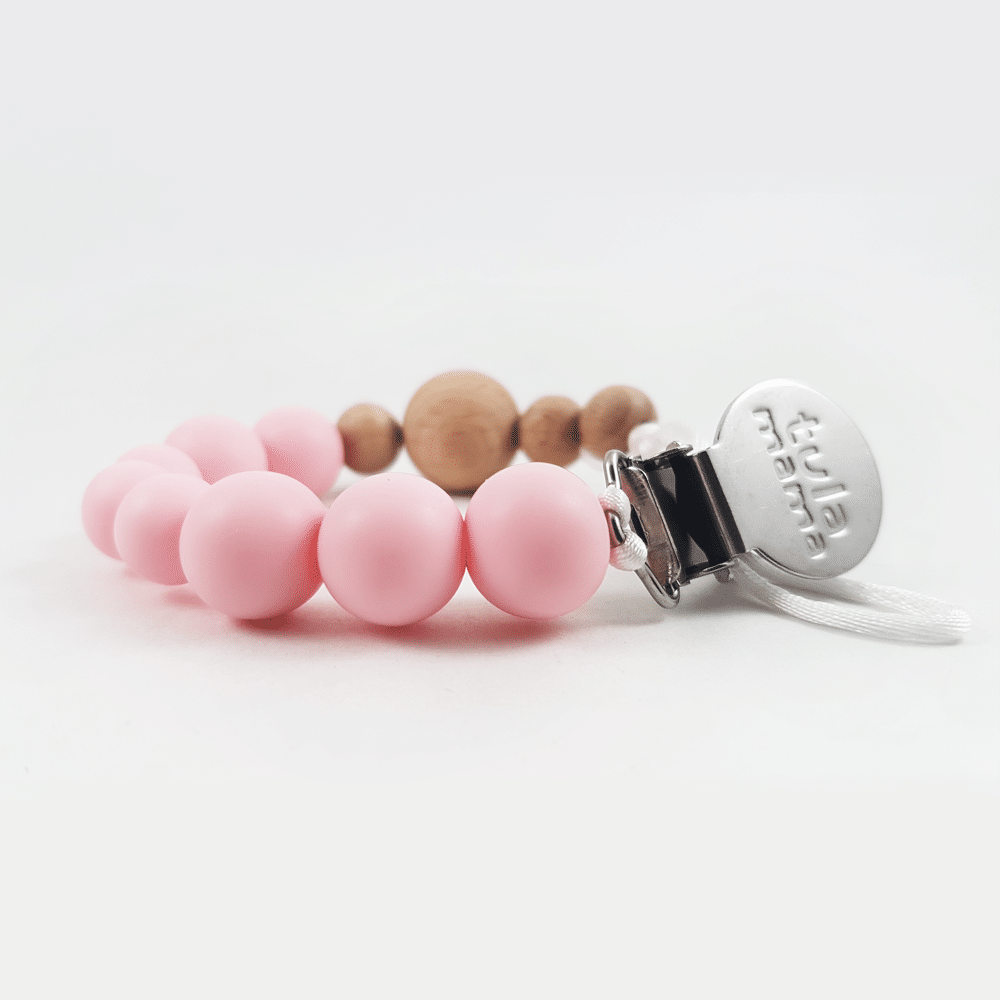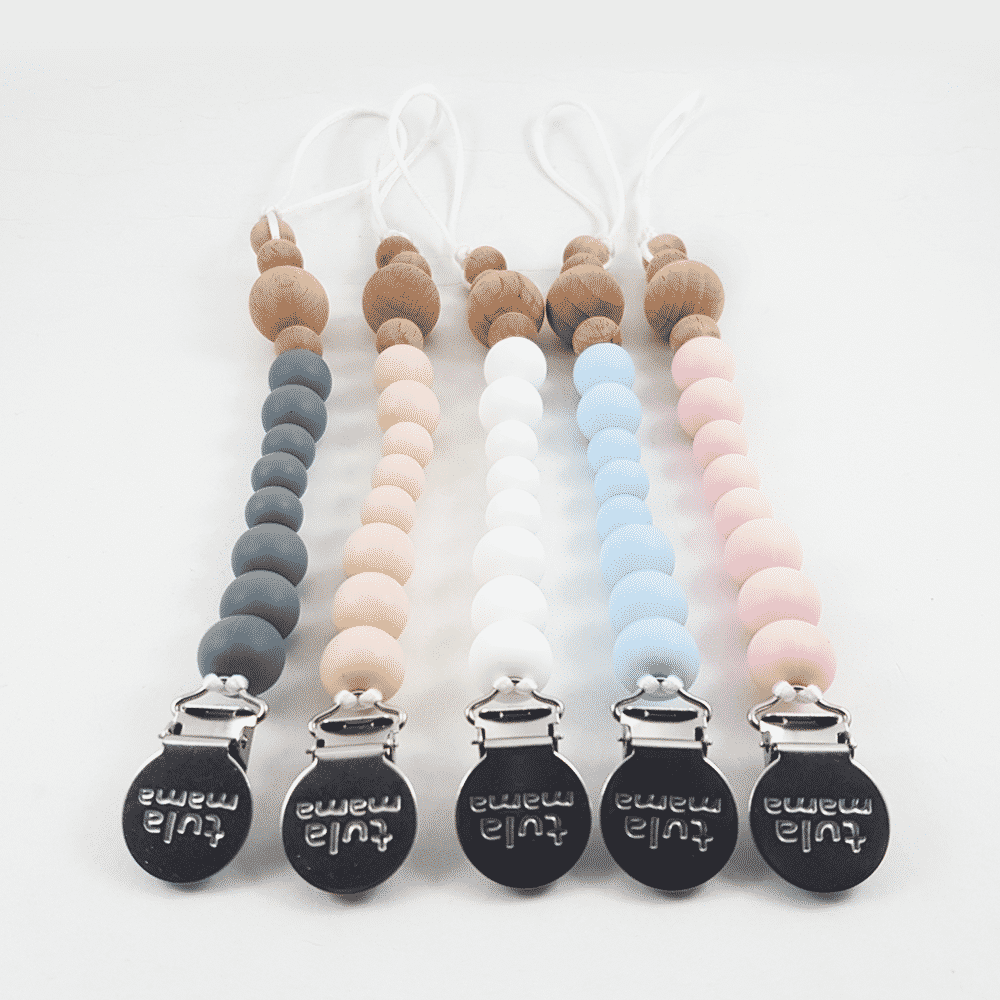 Our Paci Clips Are Easy To Clean
No matter what pacifier clip you get, it will get dirty – guaranteed. Babies drool and suck on them and it just gets yucky.
Fabric clips can be washed in a machine but that often ruins it, especially if you have to wash it many times – which you will.
Braided binky clips can be washed but yucky stuff get stuck in between the braids and having your baby suck on it, is not good. Or, braided pacifier holders have been known to stretch too, and you definitely don't want a stretched out pacifier clip because that represents a choking hazard.
A silicone pacifier clip like ours is your best bet because the beads can be washed under warm soapy water and be clean in an instant. Or just pop it into the top rack of the dishwasher for a quick cycle.
Our Pacifier Clips Are The Smart Choice
Here's why:
The textures (of the silicone, combined with the wood) are designed to stimulate your baby's visual, sensory and motor skills;
Our beads are perfectly sized for your baby's little hands to grip and handle;
By seeing his/her pacifier within reach, your baby will try to grab it, all the while stimulating hand-to-mouth coordination. That means – baby is learning while he/she is playing;
Do you have a teething baby? Even better! Our paci clips are teethers as well; Also…
Dentists and pediatricians recommend giving babies teething toys that are made of food-grade silicone;
Our baby clips are proudly sold with a No-Questions-Asked, 100% Money-Back-Guarantee;
Tulamama's pacifier holders are now sold through Amazon, which means easy buying and easy returns.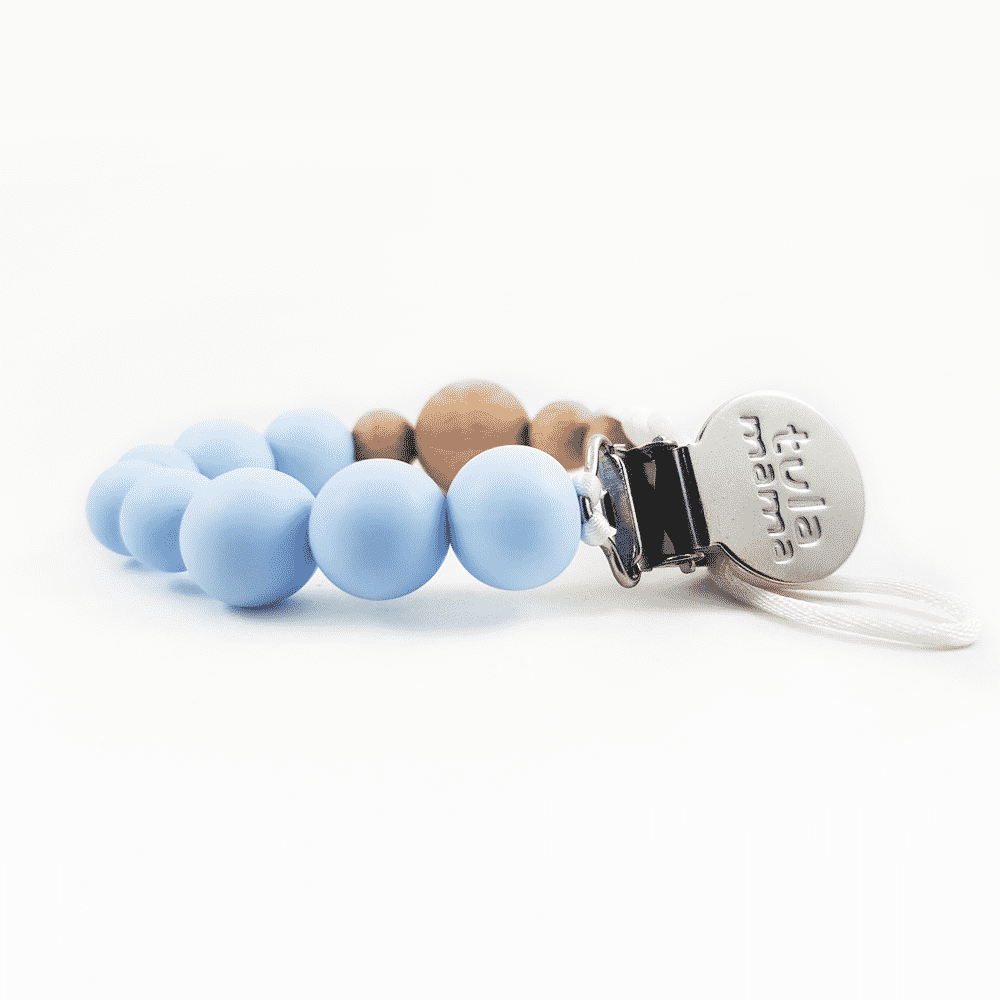 FAQ Frequently Asked Questions About
Mom & Baby Approved Pacifier Clips
Where do you clip a pacifier?
You would normally clip the pacifier clip to the chest part of baby's clothes. This gives the pacifier clip a bit of slack to reach your baby's mouth. It also allows your baby to move his/her head and not have the pacifier fall out because of too little slack.
Some moms also like to clip their baby clips to baby carriers, or the inside of their diaper bags for easy access.
When can you use a pacifier clip?
As soon as baby starts sucking on a pacifier – which is likely the same day your baby is born.
Is this pacifier clip safe to use when baby is sleeping?
Yes. Our paci holders are perfectly sized. They are not a choking hazard. Pacifier holders that are too long should be avoided whether your baby is sleeping or not.
How long is the Tulamama Pacifier clip?
21 cm/ 8.26 inches from the bottom of the clasp, to the end. We adhere strictly to FDA and CPSC safety standards.
How to take care of a Tulamama Paci clip?
It's easy. Simple common sense applies here. Don't use it for anything other than baby pacifiers, teethers and related baby items.
Don't leave it outside for days. Our pacifier holders are quality made in a facility that follows strict rules and guidelines but if it's left outside for days in the heat of summer or dead of winter, it may deteriorate.