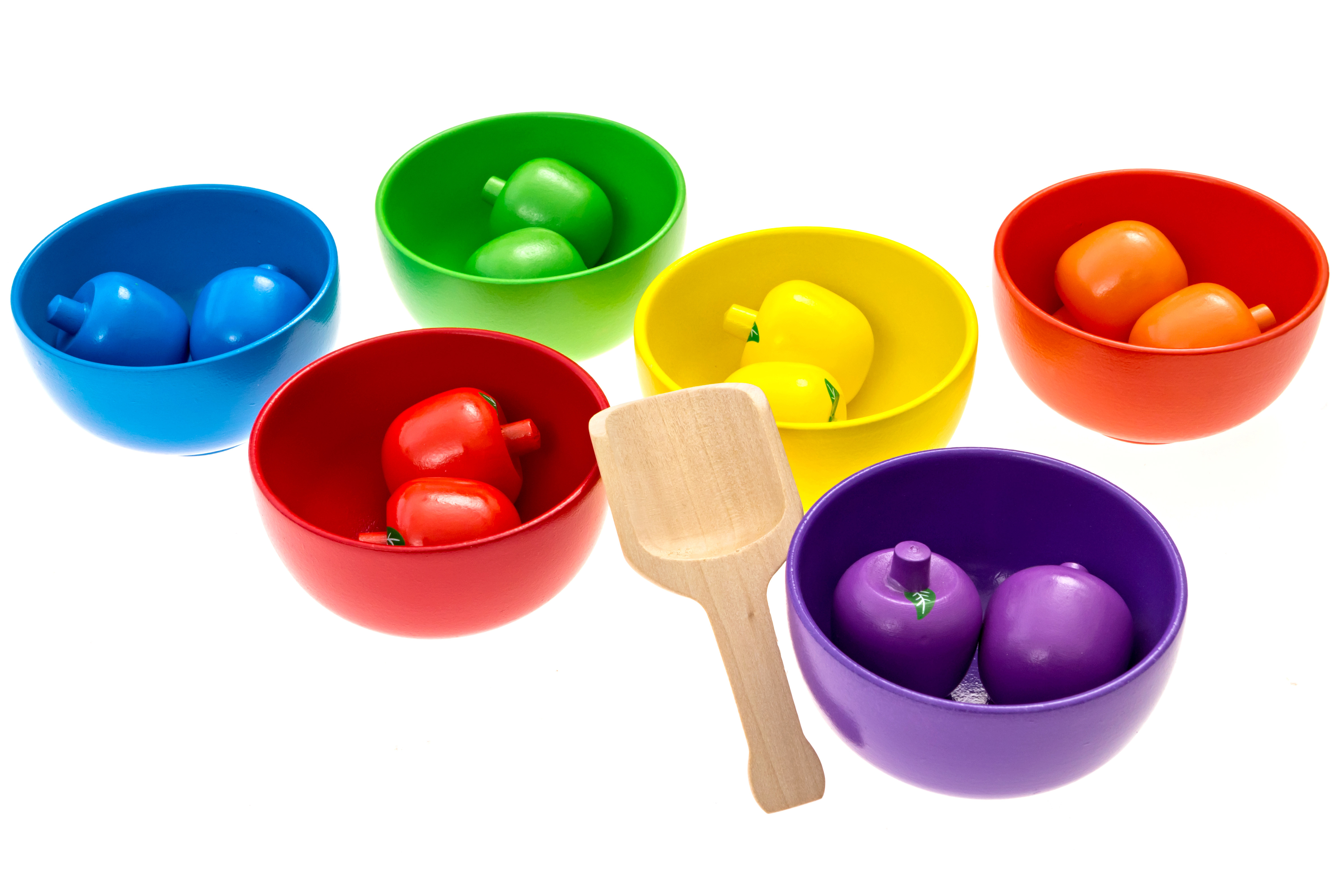 Want a Smart Toddler? Offer Smart Toddler Toys
Children learn through play and when they play with educational toys, they get smarter.
As a savvy parent, you understand the importance of having a nice variety of fun and educational toys. Sorting toys and wooden toys, in general, requires concentration, thereby developing thinking skills. Sorting toys are also wonderful for getting your toddler to use his/her fingers, which leads to the development and improvement of their motor skills.
The Tulamama Set is a Waldorf and Montessori Inspired Toy.
Educational Toys Develop Reasoning Skills
As your toddler handles the different apples, he/she is building reasoning skills as they organize their wooden toys into different categories. Sorting things into simple categories is fun for a toddler. With 6 colors to choose from and a little handy shovel, that's a lot of sorting to do for developing minds.
Watch carefully as your little one plays – you might notice a little tongue sticking out (like the image on the right) – a clear indication that your little genius is concentrating. Who said educational toys were not fun!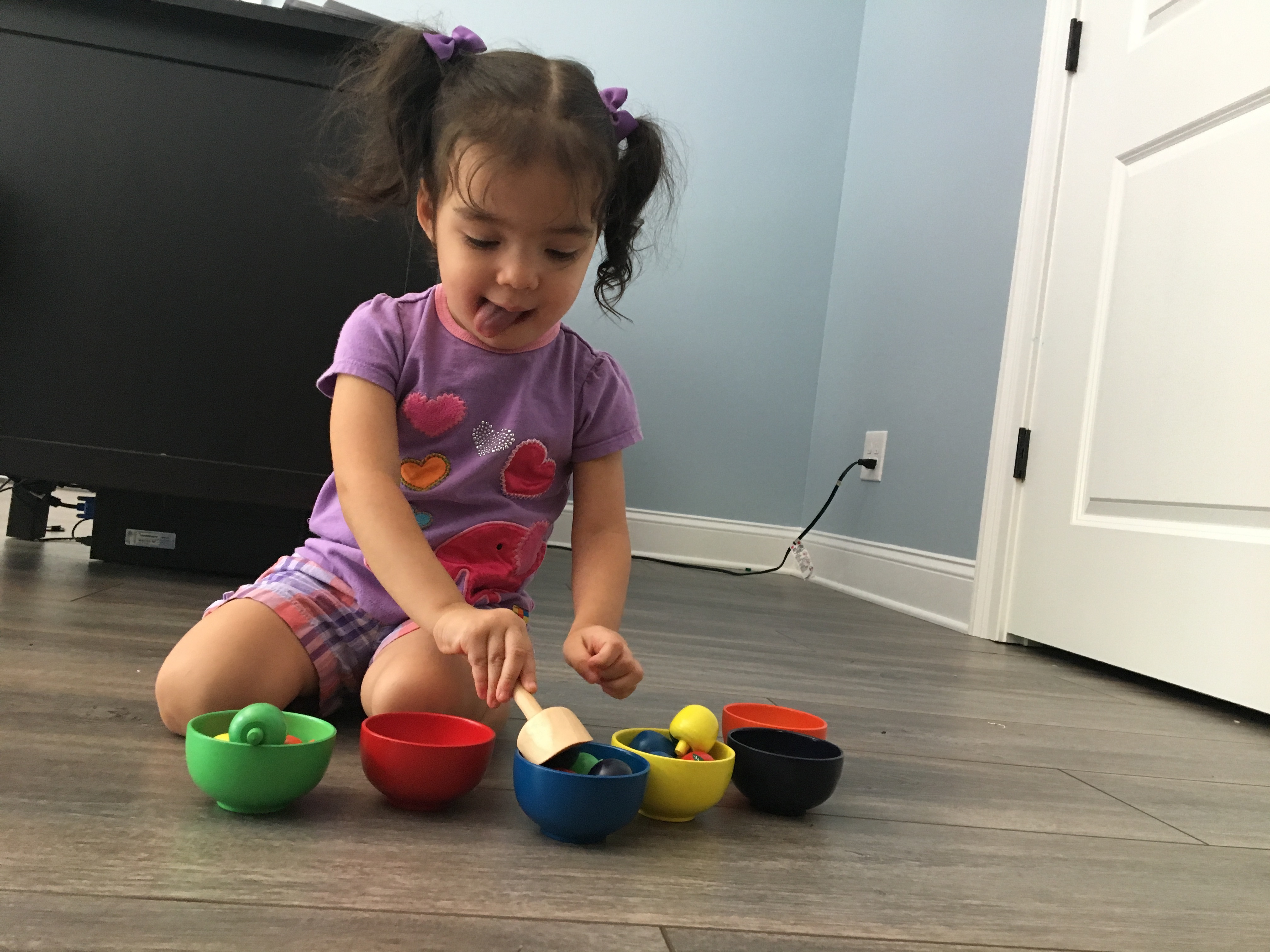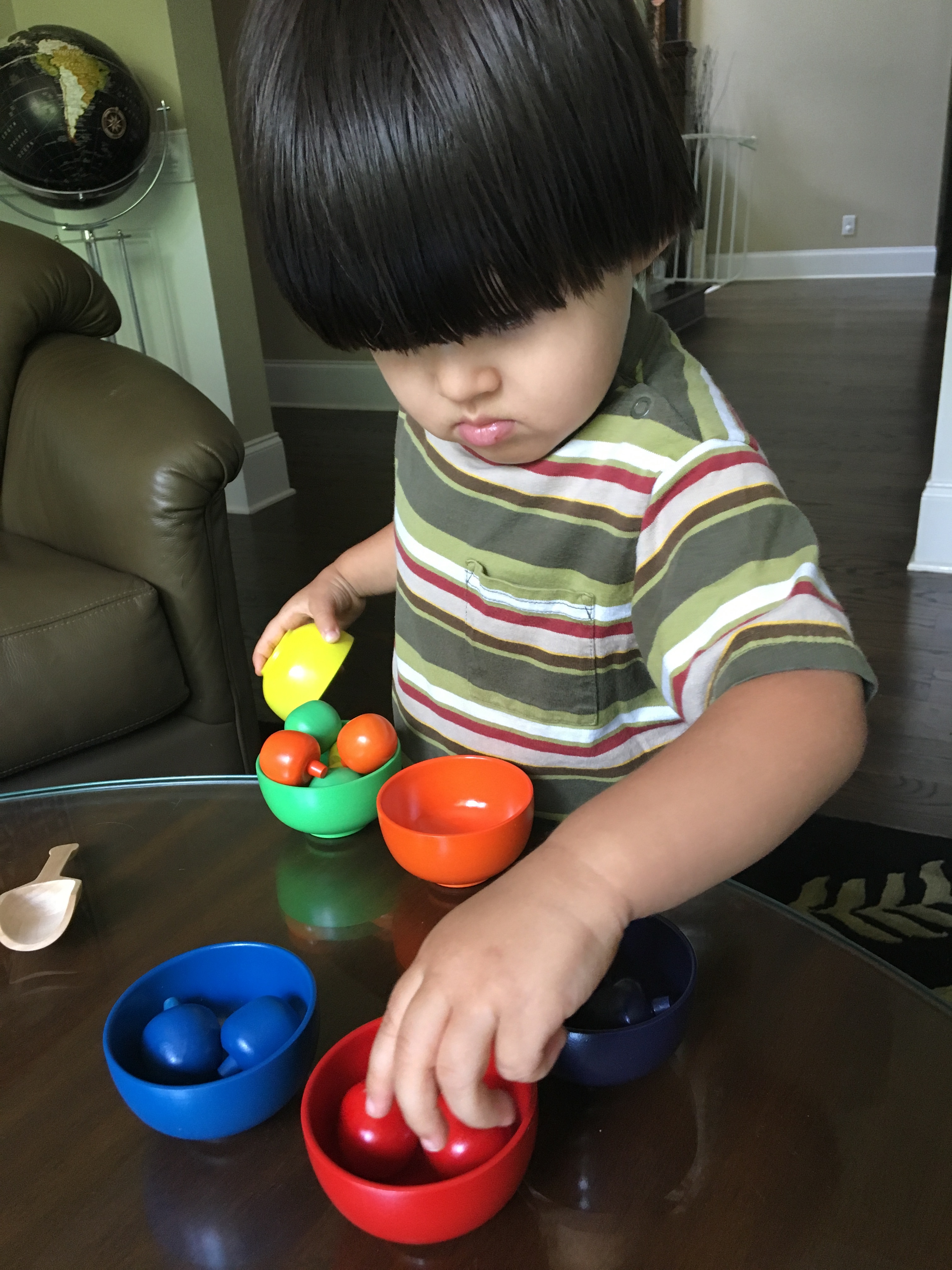 Wooden Toys Are Less Distracting And Encourage Imagination
When your kiddo plays with natural toys or wooden toys, he/she is forced to think, use their imagination, and figure things out by themselves. They also learn about basic grasping, distinguishing items, and developing sensory skills. From one seemingly simple toy – a shovel and a set of colored bowls and apples, your toddler can learn colors, counting, sorting, and pretending. (Older toddlers can use their apples and bowls in their pretend kitchens.)
By playing with educational toys on a regular basis, their little brains develop in a way that does not happen from playing with electronic toys.  THIS is why you hear neurologists and educational experts say that wooden toys offer a variety of options to toddlers.
As your little one plays with educational toys, they have to supply all the voices, noises and sounds. (The bells and whistles of electronic toys interrupt a child's thinking process and they certainly do limit your child's imagination, because they box us into specific ways of playing with a toy). But by playing with natural educational toys, your toddler is in control of what is happening. Their minds are clear as they think through different scenarios or solve problems.
You might also be interested in: Scientifically Proven: How To Make Your Kid The Smart Kid
Environmentally Friendly Toys Are Not Just For Hippies
Tulamama's wooden toys for toddlers, are US Government tested and passed as safe for toddlers. This collection is passed by the CPSC (Consumer Product Safety Commission).
Every piece of these educational color learning toys is made of wood covered with non-toxic paints and finishes. That means the paint will not rub off. Only natural materials are used during production.
Parents, please be aware that the CPSC has passed our educational toys for 3-year-olds but it's suitable for 2-year-olds – with supervision.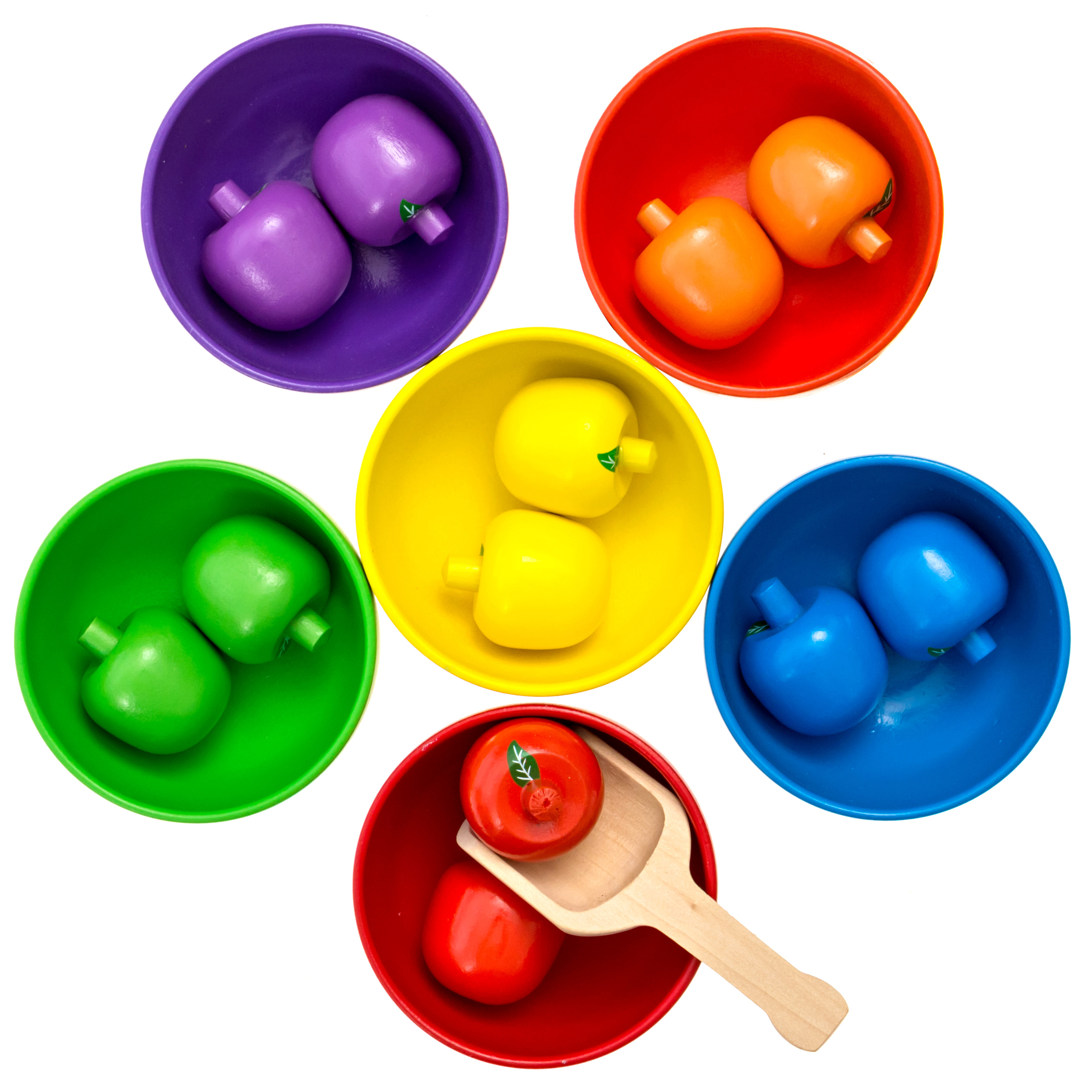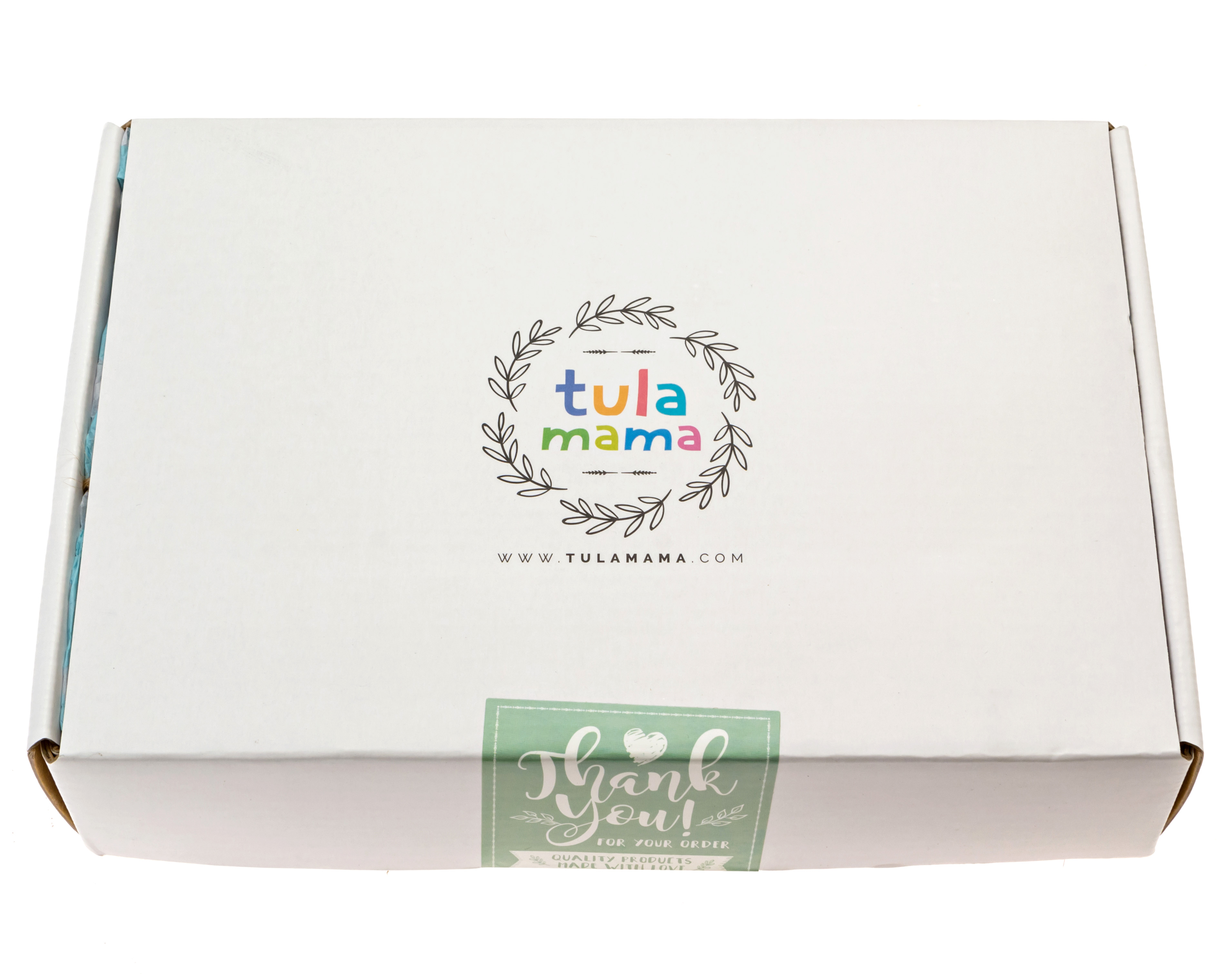 Educational Toys For Toddlers Are The Smart Choice
This is the perfect choice for toys for 3 year olds – and even 2 year olds. You get a toy that is:
It's entertaining – it's fun and colorful;
It's educational – it teaches colors, sorting, counting, distinguishing and motor skills;
It's gift-ready. It's packaged in a neat looking white box, with tissue and ribbon. 
Product Reviews
Amazon Customer
June 20, 2019
High quality
Amazon Customer
January 15, 2019
Very happy with item. Apples are small but will work well for what I need them for. Can't wait to try them out.
Amazon Customer
November 4, 2018
I use this in my toddler montessori classroom. The kids really enjoy it!!
Amazon Customer
September 10, 2018
Absolutely wonderful for a 21 month old! The packaging was the Best I have seen even on etsy. You can tell they care about their products. They look a little smaller than the picture but as you can see they are still bigger than my son's mouth. I use them...
Amazon Customer
March 8, 2018
I ordered this for my 21 months girl she absolutely love it!!! Materials are beautifully design and made with exceptional quality. I highly recommend for all toddlers and preschoolers!!!
Amazon Customer
February 24, 2018
My 1 1/2 and 2 1/2 year old both love the apple sorting bowls...they are the perfect size for their little hands! They came beautifully packaged and in perfect condition. With so many different activities you can do (counting by ones and twos, scooping, color sorting, matching, etc) my littles...
Amazon Customer
February 6, 2018
Love these, super good quality and opens the door for imaginative play.
Amazon Customer
January 17, 2018
Great product. Child was immediately drawn to it and started playing. we worked through color matching and motor skills with the spoon. Highly recommend.
Amazon Customer
September 27, 2018
These are cute and great basic colors for sorting. 4 stars because the apples are definitely a choking hazard for my 18 month old (who is very capable of sorting), and the paint has already chipped on a couple bowls after only a week or so of use.
Amazon Customer
May 17, 2018
Very nice quality and will be perfect for a Apple unit in a Montessori school. The apples are smaller than I thought they would be.
Amazon Customer
January 2, 2018
So nice to have wooden toys... my daughter really likes these, but the apples are a bit small, so you do want to watch the child a bit. (I don't remember the age recommendation) Great for sorting
Amazon Customer
November 8, 2018
It is a cute product. The applea are smaller than I thought. My scoop came in broken.
The Tulamama Wooden Educational Toy Set In Action
Featuring… a typical two-year-old
FAQ Frequently Asked Questions About Premium Quality Educational Wooden Toys For Toddlers
What is the minimum age for this set learning set?
The CPSC (Consumer Product Safety Commission) has passed this sorting toy set as "educational toys for 3 year olds", but it is safe for 2 year olds if they are supervised.
What is included in the set?
These sorting toys come with a wooden shovel, 6 wooden bowls, and 12 wooden apples. There are two apples per color, which are color-coded to match the bowls. It is a perfect rainbow sorting set, with the following colors: green, orange, red, yellow, blue and purple.
Is there a maximum age for this set?
No, there is no maximum age. Older children use the set in their pretend kitchens.
I am concerned about toxic paints. Is the paint safe for children?
We use non-toxic paints that are natural and safe for children. We adhere strictly to CPSC safety standards.