NEED FAVOR BOXES TO MATCH YOUR WOODLAND FINGERPRINT TREE?
Get 10% off your purchase of matching Woodland Themed Popcorn Favor Boxes - no coupon required if purchased on this site or Amazon.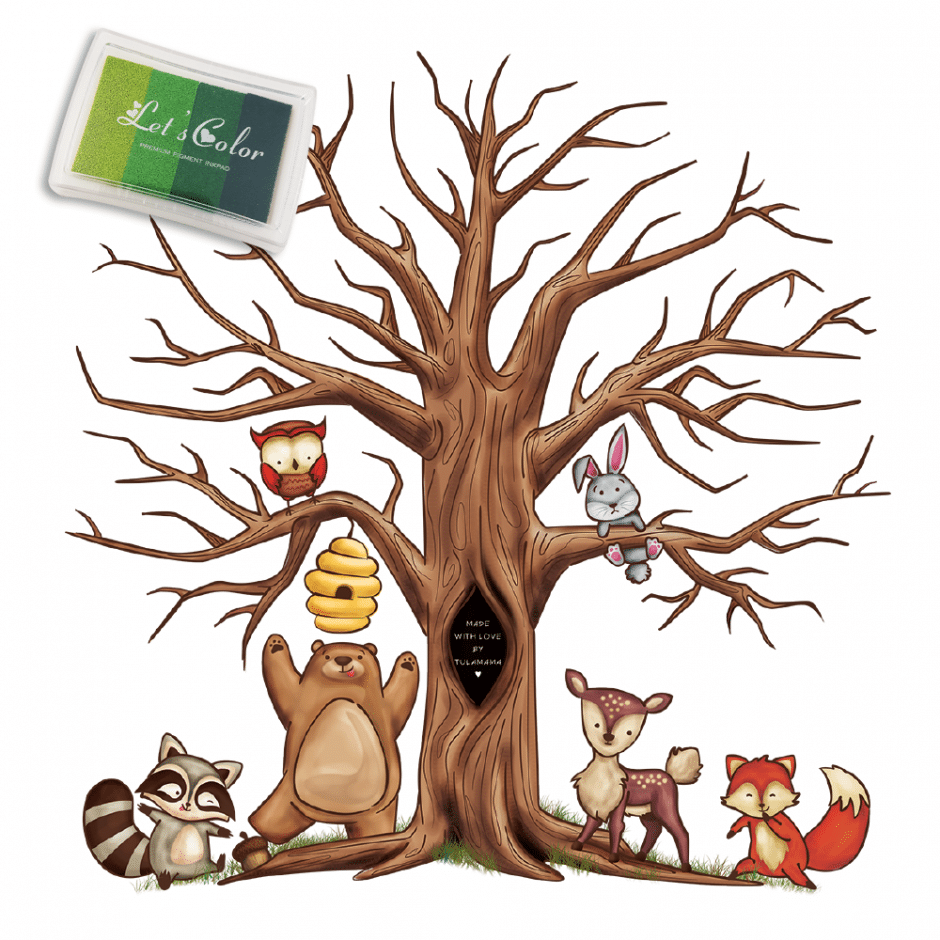 A UNIQUE ALTERNATIVE TO A GUEST BOOK
This fingerprint tree goes nicely with a Woodland Themed baby shower, or a neutral baby shower. It's a beautiful memento. Unlike traditional guest books, your fingerprint guest book will not be stuffed into a bookrack, only to be pulled out once in a while, or when you move.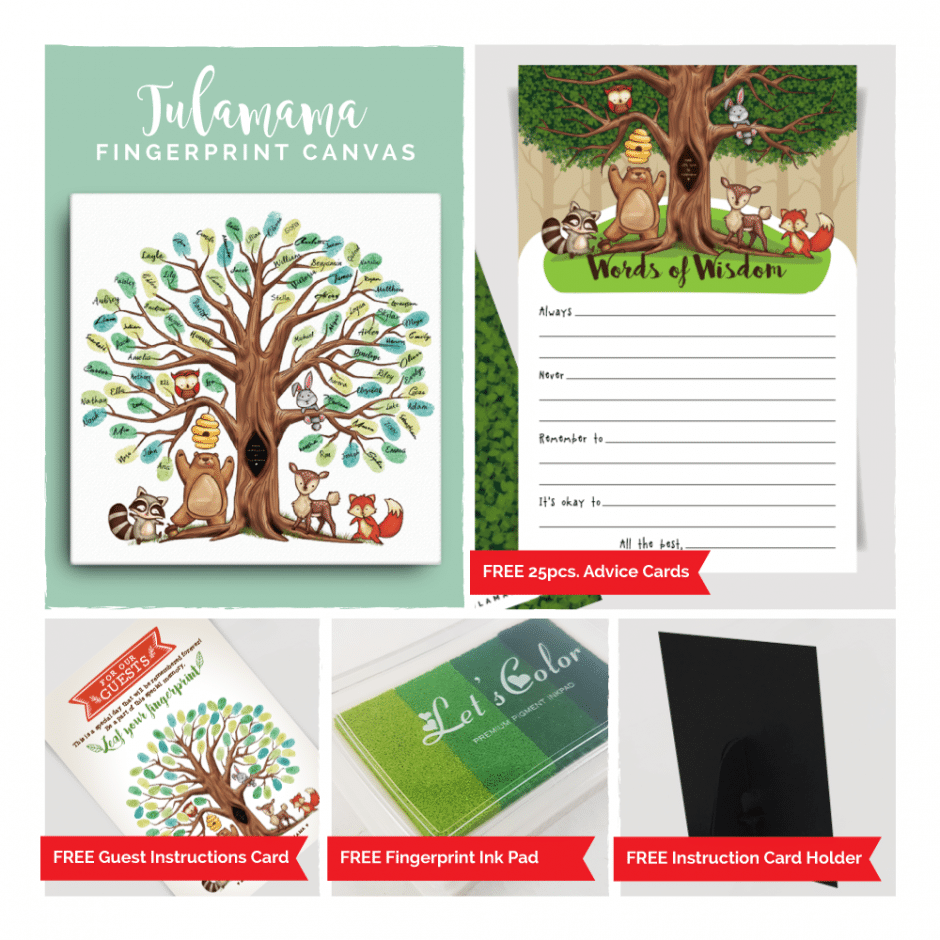 EVERYTHING YOU NEED IN ONE GIFT BOX
Your fingerprint tree template is on a wooden frame and there is a handy picture hook for easy hanging. You don't need to get non-toxic fingerprint ink or advice cards either because those are included as your bonus.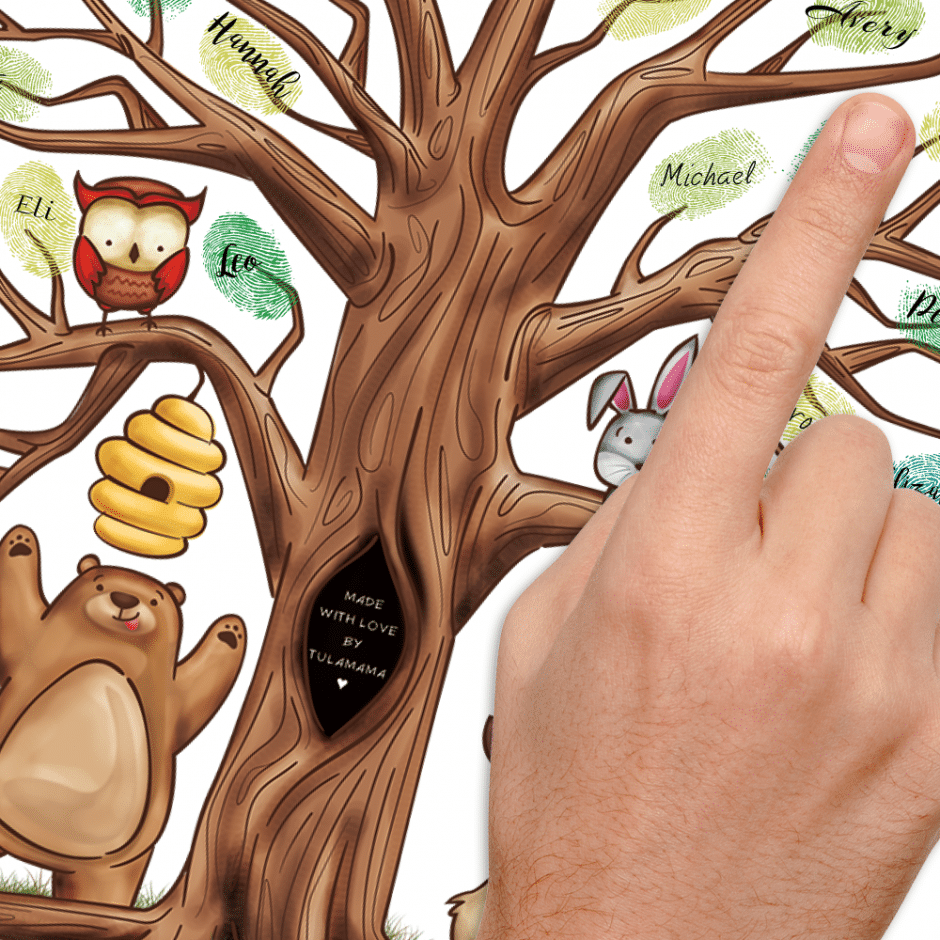 EASY TO SET UP, EASY TO USE
The setup is easy and there is not much thinking involved – the hard work is done for you. There are also clear and simple instructions for your guests. We also provide you with a nice frame so that you can display your instructions.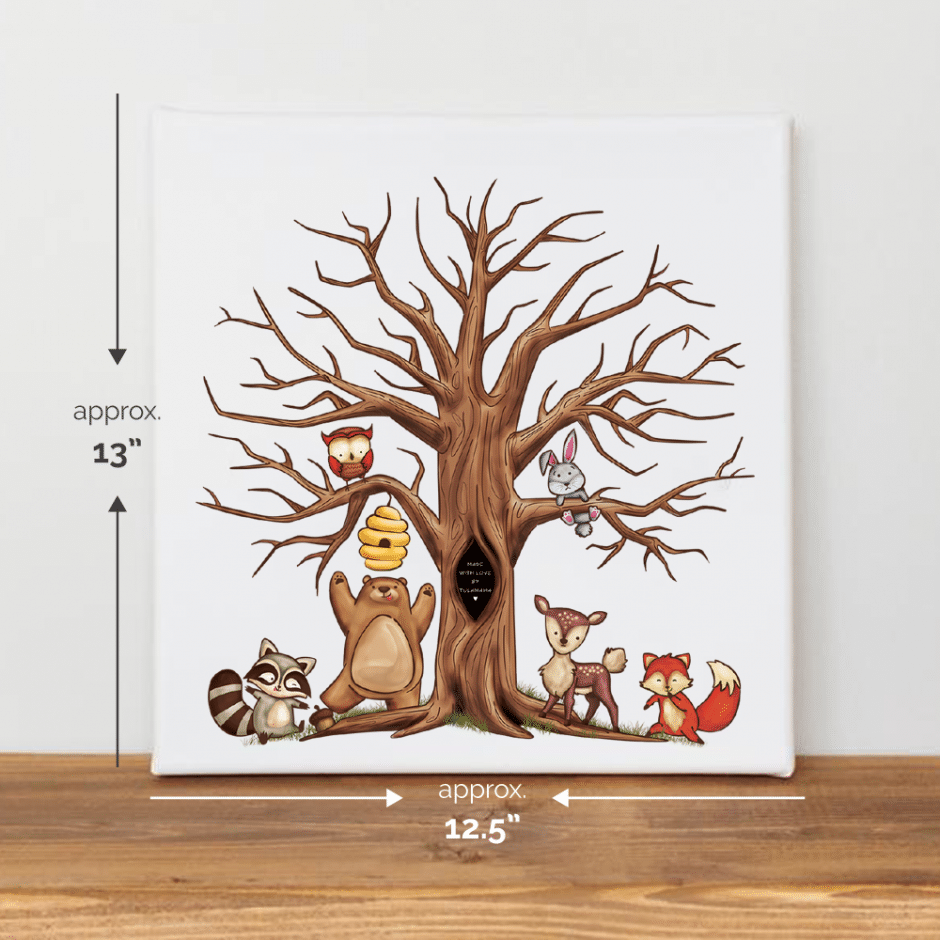 PERFECTLY SIZED FINGERPRINT TREE
This is a classic design to be used as a wedding fingerprint tree or a baby shower fingerprint tree. It is gender-neutral to complement a baby girl or a baby boy shower or a birthday party. It is also perfectly sized at 13″x12.5″x1″ – that means, it's not too big or too small. Your baby or child can also create a fingerprint tree to be hung in the nursery.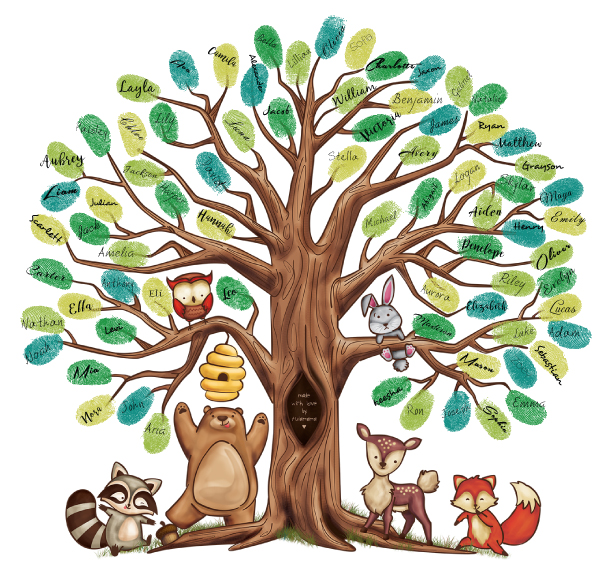 A QUALITY KEEPSAKE THAT WILL LAST
A keepsake is something that lasts a long time. This is why our fingerprint tree guest books are made with real wood and durable canvas. For your convenience, your canvas is also wrapped in plastic. This is to preserve it until you are ready to use it.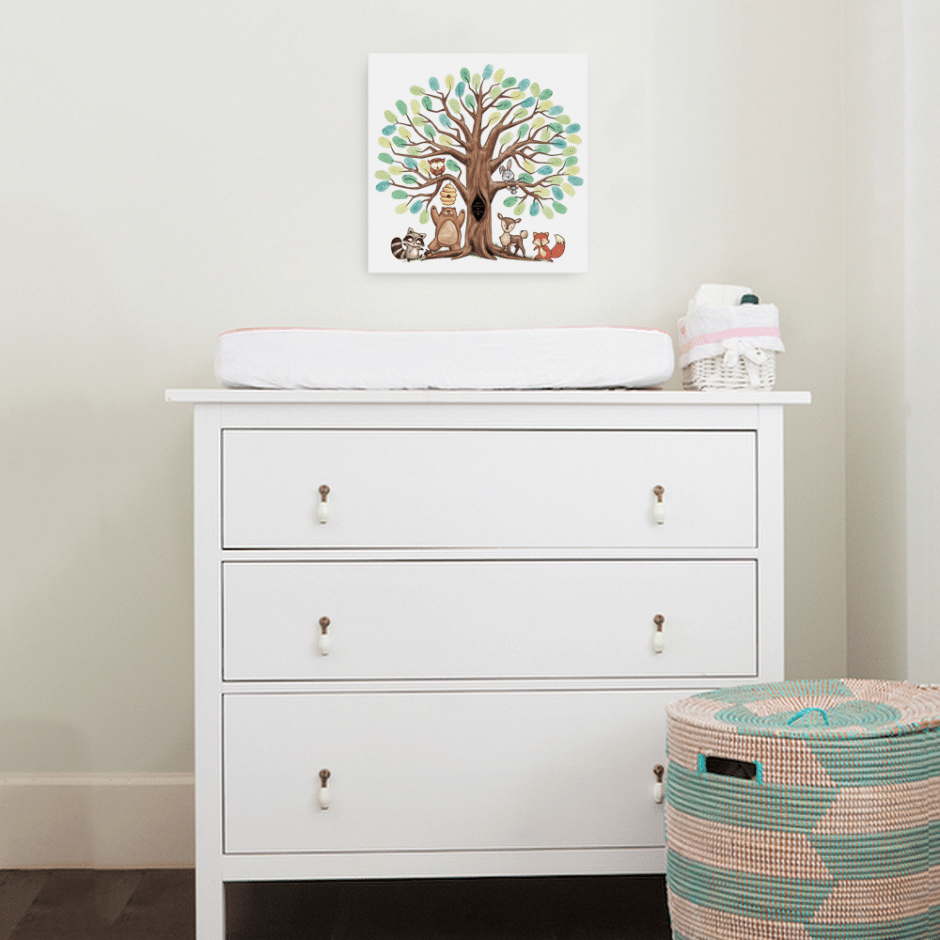 A BEAUTIFUL REMINDER OF YOUR SPECIAL DAY
A fingerprint tree canvas can decorate the wall. If you are using it as a baby shower guest book alternative, hang it up as beautiful nursery decor. If you are using it as a wedding guest book alternative, hang it in your room or living room. It will be your keepsake, a beautiful memento, a daily reminder of that wonderful day.


5-STAR RATING


MADE WITH THE BEST MATERIALS


BEAUTIFULLY ILLUSTRATED


FREE BONUSES
Product Reviews
Amazon Customer
September 5, 2019
Really loved this for the baby shower. There are a lot of spaces for finger print .
Patrick Bradley
August 25, 2019
Great nice size not to big comes with different shades of green
Elaine Hummerich
July 25, 2019
The product was just as promised. I love it!
Amazon Customer
July 22, 2019
This was so much fun for family and guests to add their fingerprint and name to the tree. A lovely keepsake for the baby's room!
pwctate
July 19, 2019
My daughter loved the fingerprint tree for guests to sign at her baby shower. It is then going to go in the baby's room for the perfect picture of memories created at her baby shower.
Praneeth Akinapalli
July 7, 2019
Unique and different. Adds a little fun to the baby shower.
kay adams
July 5, 2019
This is adorable. I would recommend to anyone
jrr
June 26, 2019
Very cute keepsake. Very happy
Efstathi Placidas
June 23, 2019
Came on time. Looks cute. Packaged well. Will be used in a future baby shower.
Kindle Customer
May 30, 2019
This canvas is soooooo CUTE! Can't wait to put it out at my daughter's baby shower so guests can "leaf" their finger print and sign their names. Once Baby B. gets older he can look at this and see all who came to welcome him to this family.
Amazon Customer
May 29, 2019
ABSOLUTELY LOVED!!! Best keepsake.from.our baby shower so adorable
Andrea
May 26, 2019
I ordered this for my daughters baby shower. I thought it was so cute. It came super quick and with just about everything you needed (just had to get a pen for them to sign names). Everyone raved about how cute it was and it will be so cute in...
Vincent74
May 19, 2019
The item was awesome. Everyone loved it! There was an issue with delivery, due to the post office, but the seller was extremely helpful. Thank you
Akashna Anand
May 13, 2019
Loved the concept and really excited to have the guests leave their thumbprints on it in the baby shower. Will def add it to the nursery.
Diane J Skeldon
May 9, 2019
the presentation is lovely. I will use this at my grand daughter's baby shower. I read the reviews for this product and that's how I chose this over others I 've seen.
Reviews
May 9, 2019
Used this at my grandsons baby shower. Then it will be hung in his room.
Michele Appleton
April 27, 2019
Best Idea Ever for a baby shower! Everyone loved it, and they are passing on the idea. They also loved the advice cards I'm glad I got extra since we had a bigger turn out than planned!
Marcy Roberts
April 15, 2019
This is the cutest idea! Worked great and will be such a precious addition to the baby's room!
jb
April 8, 2019
Nice quality, sweet picture, fun for guests to sign. Look forward to hanging it in the nursery. Great product.
Pen Name
April 7, 2019
Super cute packaging and came super fast! It only took 3 days to get here. It is an actual canvas and high quality. I cannot wait to use this for my baby shower.
Christy
April 7, 2019
Super cute. I love this idea and can't wait to see it finished.
Leah doherty
April 1, 2019
Loved having this at the baby shower, it was a great way to capture the attendees in a form that can be hung in the nursery. So cute...guests loved it.
Betty C.
March 25, 2019
This is a quality item that everyone loved at the baby shower. It shows who was in attendance and will become a wall hanging in the baby's room. Everyone enjoyed putting their fingerprint on the canvas and signing their name. I was a little concerned about the ink but there...
Sally B
March 25, 2019
Purchased this for my best friend's baby shower. She loved it and so did everyone else! We ended up using Sharpie markers on the canvas as it is, well, canvas, and writing on it with pen was hard. It turned out beautiful, and I would absolutely purchase this again for...
Nadira Shakirova
March 22, 2019
All my guests loved the idea of finger print! I loved it myself, it looks amazing once it is all filled up. The only thing is I would recommend signing your name first then applying the finger print, works much better that way.
Carrie
March 21, 2019
This item came in a beautiful box. And it's an awesome idea to celebrate the arrival of my grandbaby. And the included a sweet surprise gift! Thank you Tulamama for your love and care for our fingerprint canvas #guestbook.
MamaShubie
March 6, 2019
Beautiful piece! Can't wait to surprise my friend with it for her shower and then have her display it in her nursery. Great customer survice from the company. Overall just very pleased, surpassed all my expectations!
Brittany
February 25, 2019
Beautiful! This was perfect for the baby shower, and will make a beautiful decoration for the nursery! The only thing that wasn't great was the black prop for the instruction card, it didn't want to stand up. Otherwise, great!
Tiffanie Ashhurst
February 25, 2019
It was a very unique gift that will be forever treasured!
Jackie
February 24, 2019
We bought this canvas to use as the guest/sign-in book for my friend's baby shower. She loved it! It's a great memento to hang in the nursery and we all loved the little woodland creature motif. I recommend have wet wipes nearby for guests to wipe off their ink covered...
Mallorie LeBrun
February 18, 2019
Can not wait for the Mom to be to see this guest book! It is even cuter in person than in the picture.
Kathleen03
February 18, 2019
Just loved the whole concept and originality of the tree and woodland creatures. Glad to see there was a hanger on the back of the canvas! This is a perfect addition to my new grandson's nursery!
Amazon Customer
February 12, 2019
Great Quality
Charmain stump
February 12, 2019
Was very satisfied with product
Cassie
February 11, 2019
This is a high quality canvas.. And is absolutely adorable!! The instruction card with a stand was a great touch! Love love love?
Busy Working Mom
February 10, 2019
This was a big hit at my daughter's baby shower! It's high quality canvas. The fingerprints show up magnificently - and you have an adorable keepsake to go on the wall instead of hidden on a page in baby book. Materials are high quality. Shipping was fast. Excellent experience.
kshan729
February 7, 2019
We had no idea this was an actual canvas, so were super surprised when we got it. It's for my cousins baby shower in March--we CANNOT wait to use it! 🙂
al
February 5, 2019
Looks beautiful, Quality looks great and appreciate the hanger on the back, can't wait to give to my daughter at her shower, (who's also having twins-boys )
Amazon Customer
February 4, 2019
LOVE LOVE this Fingerprint Canvas! Wonderful quality and packaging. Was a big hit at my niece's Woodland baby shower.
Scott Stewart
February 2, 2019
Product was as described, was exactly what I was looking for.
25 FREE ADVICE CARDS NOT ENOUGH FOR YOU?
Get 10% off your purchase of an additional set of matching Advice Cards with your purchase of a Woodland Fingerprint Canvas - no coupon required if purchased on this site or Amazon.
FAQ Frequently Asked Questions About
Beautifully Illustrated Woodland Themed Fingerprint Tree
What is the size of the thumbprint tree canvas?
This particular canvas is
13″x12.5″x1″.
What is included in the set?
This thumb print tree canvas comes with instructions to offer your guests. As a bonus, you also get non-toxic ink, 25 advice cards for your guests, and a display for the guest instructions. We do not include a pen but you can use any
fine point pen like a sharpie

. You do not need a special pen.
Where can I get additional advice cards that match this baby shower / wedding fingerprint tree?
Matching advice cards are available on our site or on Amazon.
What is a fingerprint tree canvas used for?
Our canvasses can be used for baby showers, weddings, parties or keepsake crafts.
What are the baby shower/wedding fingerprint tree instructions?
Whether you are using your thumbprint tree canvas for a baby shower, wedding or party, the instructions are super simple. Simply place your canvas, guest instructions, fingerprint inks, and pen (if guests will be asked to write their names) on a table. It is best to place it on a table near the entrance so that everyone can see it. Fingerprint inks are not messy but it's always a good idea to leave wipes and a trash can for guests to wipe their fingers.
Where is this fingerprint tree canvas made?
All designs are made in Atlanta GA, USA. This fingerprint tree canvas is responsibly made in China.
Your shipping is free. When can I expect delivery?
We ship via standard shipping in the USA, which takes about 3-7 business day. All orders are shipped via Amazon fulfillment, and they use USPS and UPS predominantly.
There's a problem with my delivery. What do I do?
If you purchased directly from our site, let us know. If you made your purchase directly from Amazon, it depends. Here's the thing – with Amazon's 2-day delivery for Prime customers, there is a  lot of pressure on the UPS/ USPS to deliver on time. Occasionally we get complaints that Amazon claims orders were delivered when they were actually NOT delivered. If this is you, give it another day. Packages usually make their way to you the next day. If not, contact Amazon directly or
let us know
.
Are you on social media?
I'm a social media influencer/blogger. Do you collaborate?