NEED ADVICE CARDS TO MATCH YOUR FINGERPRINT TREE?
A set of 25 matching advice cards are included with every fingerprint tree canvas, for FREE! Additional cards are available for purchase.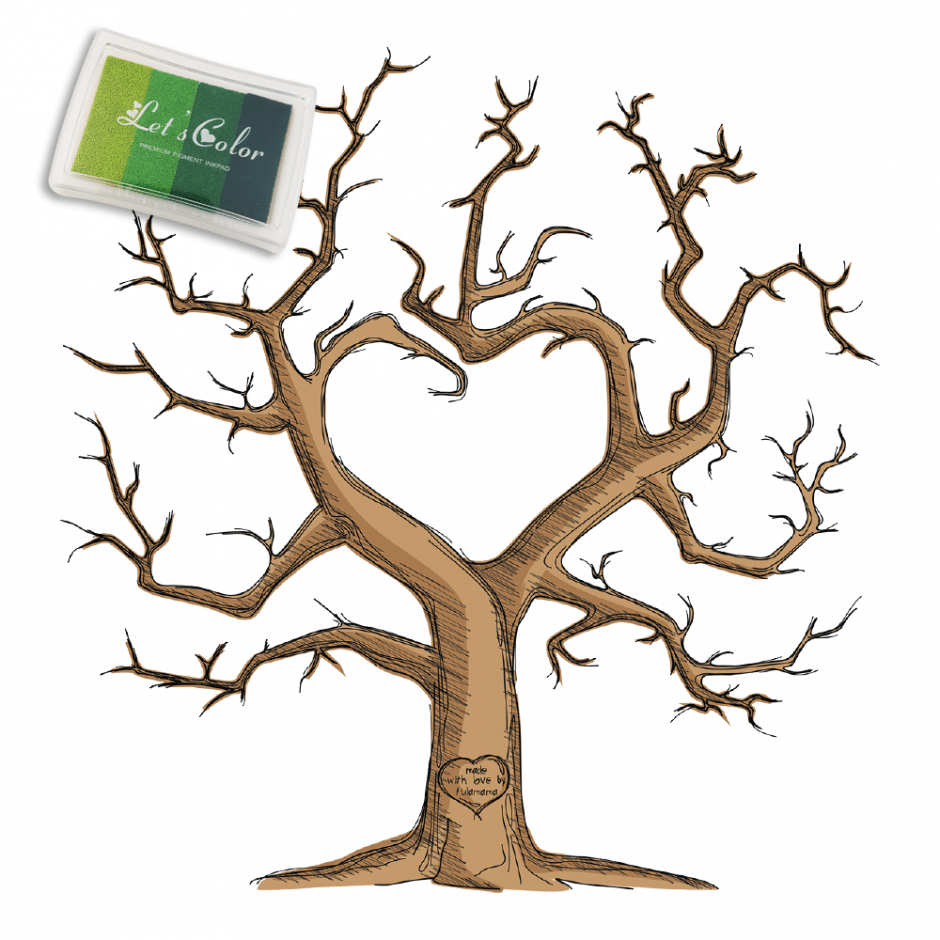 A UNIQUE ALTERNATIVE TO A GUEST BOOK
Whether you plan to use this as a baby shower fingerprint tree or a wedding fingerprint tree, it will be a beautiful memento. Unlike traditional guest books, your fingerprint guest book will not be stuffed into a bookrack, only to be pulled out once in a while, or when you move.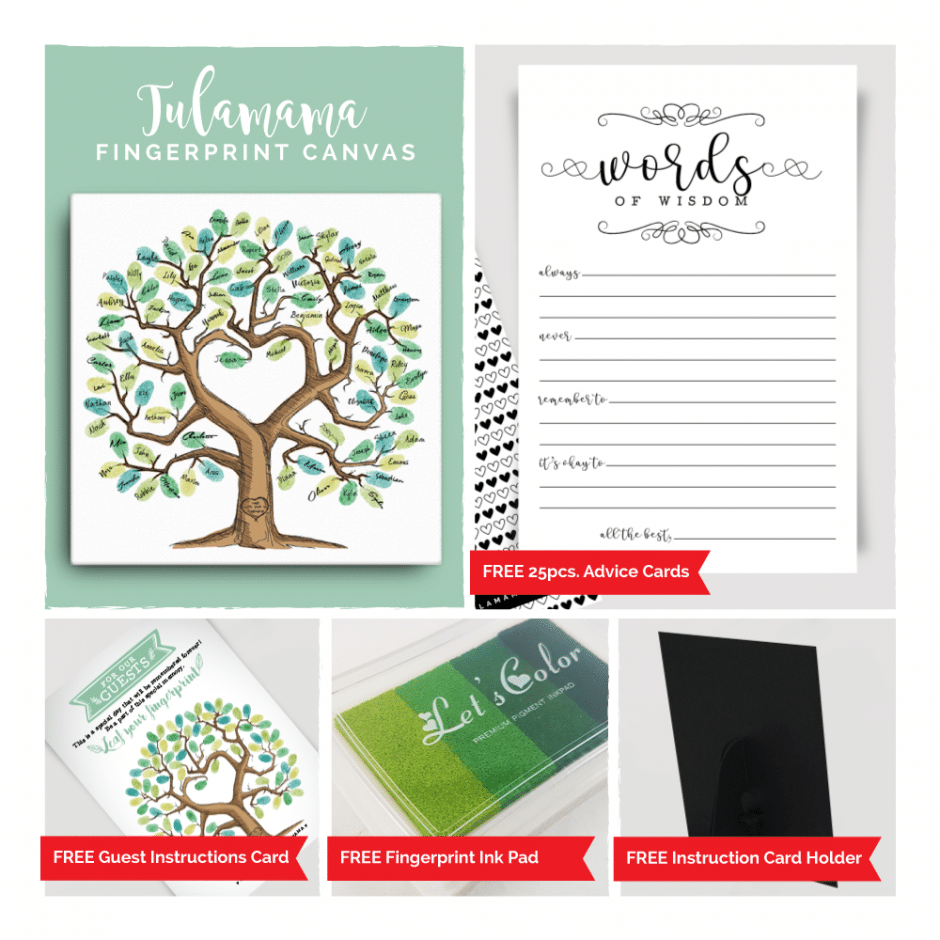 EVERYTHING YOU NEED IN ONE GIFT BOX
Your fingerprint tree template is on a wooden frame and there is a handy picture hook for easy hanging. You don't need to get non-toxic fingerprint ink or advice cards either because those are included as your bonus.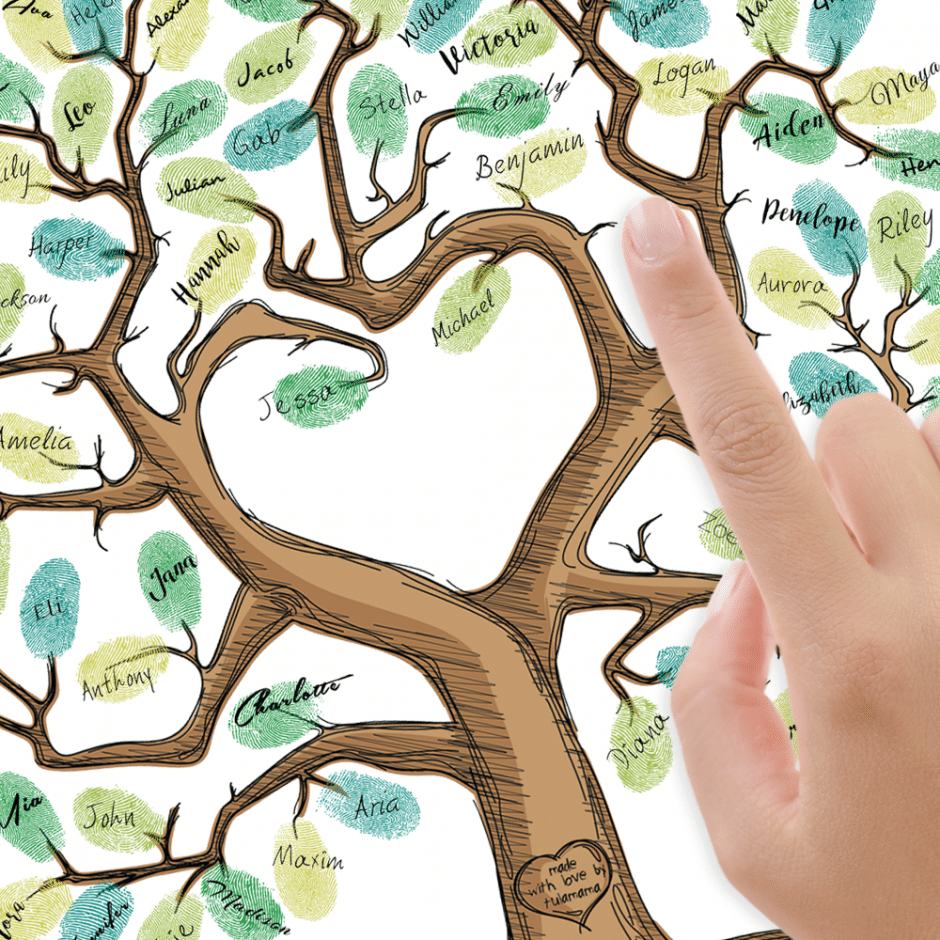 EASY TO SET UP, EASY TO USE
The setup is easy and there is not much thinking involved – the hard work is done for you. There are also clear and simple instructions for your guests. We also provide you with a nice frame so that you can display your instructions.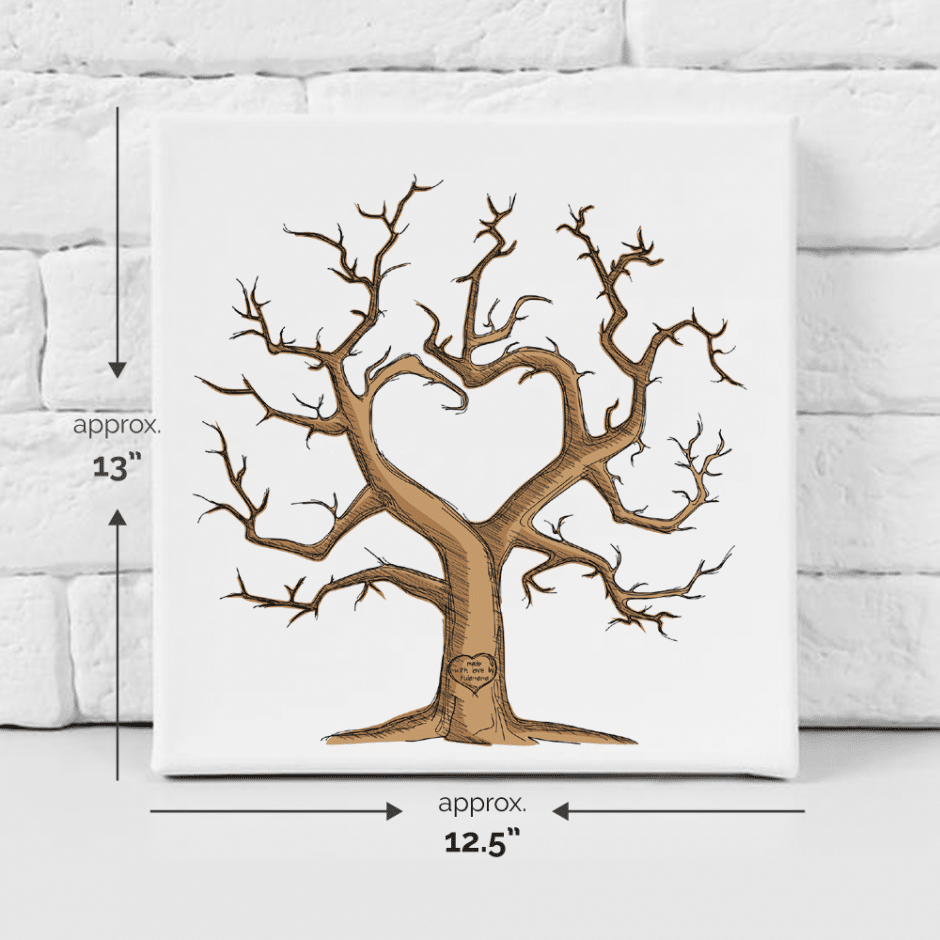 PERFECTLY SIZED THUMBPRINT TREE
This is a classic design to be used as a wedding fingerprint tree or a baby shower fingerprint tree. It is gender-neutral to complement a baby girl or a baby boy shower or a birthday party. It is also perfectly sized at 13″x12.5″x1″ – that means, it's not too big or too small. Your baby or child can also create a fingerprint tree to be hung in the nursery.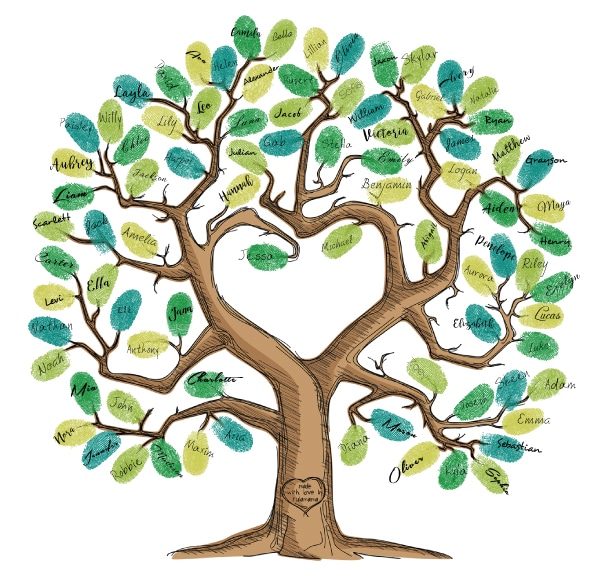 A QUALITY KEEPSAKE THAT WILL LAST
A keepsake is something that lasts a long time. This is why our fingerprint tree guest books are made with real wood and durable canvas. For your convenience, your canvas is also wrapped in plastic. This is to preserve it until you are ready to use it.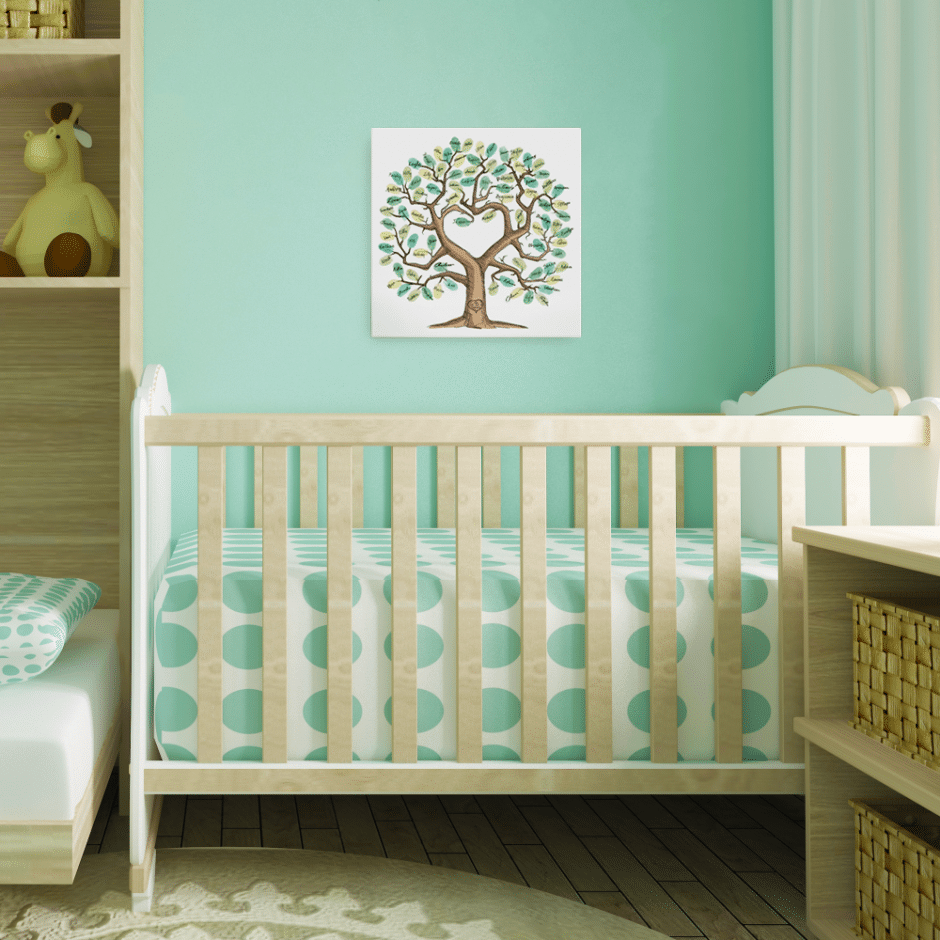 A BEAUTIFUL REMINDER OF YOUR SPECIAL DAY
A fingerprint tree canvas can decorate the wall. If you are using it as a baby shower guest book alternative, hang it up as beautiful nursery decor. If you are using it as a wedding guest book alternative, hang it in your room or living room. It will be your keepsake, a beautiful memento, a daily reminder of that wonderful day.


5-STAR RATING


MADE WITH THE BEST MATERIALS


BEAUTIFULLY ILLUSTRATED


FREE BONUSES
Product Reviews
Amazon Customer
September 21, 2019
I bought this for my daughter and son-in-law's Gender Reveal Party. They put their fingerprints in blue and pink for the leaves (and people signed their guess on a leaf), instead of the green paint that came with it. It turned out GREAT!
Amazon Customer
September 19, 2019
Beautiful, well made canvas! Really appreciate that it comes with a fingerprint ink pad, a guest instruction card/holder, and FREE advice cards. Wow!
Amazon Customer
August 28, 2019
Viene con las instrucciones y todo! Listo para llevar al evento y darselo a los invitados para que compartan contigo la huella y mensajes
Amazon Customer
August 28, 2019
Was a hit for baby shower
Amazon Customer
August 11, 2019
We purchased this for an anniversary gift/guest book for our grandparents party. It was a hit, they enjoyed it and everyone said they loved that idea. Young and old were able to join in putting their finger print on it. It was well made and great value.
Amazon Customer
August 8, 2019
I purchased this tree for my new born son's memorial service. It was a great way to remember those who showed up to say a final goodbye to my sweet angel.
Amazon Customer
August 6, 2019
It was wedding gift for a very friend who absolutely loved it. The quality was much more than the cost and it came very quickly. Packaging was exceptional! I will definitely purchase again! I love this product!
Amazon Customer
July 27, 2019
I was hesitant to order this for our annual family reunion bbq but decided to at the last minute. I figured I'd have a 50/50 chance on the family liking it and wanting to add their fingerprint to it. My fingerprint tree was delivered a day early which was a...
KMM
July 23, 2019
This was the best canvas of a finger print tree, EVER! Not only did it come with 4 different color ink, a beautiful canvas tree, AND we got surprise Wisdom cards. The cards were such a great surprise as we last minute forgot to do games. Oops! Thank you for...
Amazon Customer
July 13, 2019
This is beautiful, packaged very well. Perfect
Amazon Customer
July 11, 2019
There were a lot of fingerprint trees to choose from on here. The quality for the price is unbeatable. It comes on a nice little canvas instead of paper which I really like. I also liked that the colors for the ink were "tree"'colors. Overall, high quality, good price, and...
Amazon Customer
July 3, 2019
Love this keepsake!
Amazon Customer
June 30, 2019
We used this as an alternative to a guest book at my friend's baby shower, and it was a big hit! It looks so artsy and pretty, and it coordinates with the nursery decor. It comes with ink in various shades of green, but I imagine you could get other...
Amazon Customer
June 29, 2019
So cute! Very nice item. Several compliments by guests.
Amazon Customer
June 27, 2019
I hosted a baby shower for a friend and used this as one of the activities. Everyone loved it! The mama-to-be was especially thrilled with it as a keepsake that she could keep adding family and friend's fingerprints to. Awesome gift!
Amazon Customer
June 25, 2019
You need ultrafine perm marker...bc it takes times for the ink from.stamping to dry! Just a quick tip to have. Disposable handwipes too!! Everyone loved it and it was interactive which helps with not a typical guest book that is closed forever.
Amazon Customer
June 24, 2019
so cute! GREAT idea! guests loved
Amazon Customer
June 13, 2019
This is so beautiful... It was as nice if not nicer than the photo online. Week packed and delivered quickly.
Amazon Customer
June 5, 2019
I am amazed by how cute this is. It's perfect for our small wedding for a guest book and comes with everything you need and is already prepared to be hung on the wall!
Amazon Customer
May 30, 2019
I adore this creative display. I had folks sign at my baby shower and then I filled in with my own finger prints after to complete the canvas and then hung in my nursery. It's perfect and exactly what I was looking for.
Amazon Customer
May 20, 2019
Such amazing quality. This was a huge hit at my daughter's baby shower and will look great in the baby's room! Love love love!
Amazon Customer
May 13, 2019
This fingerprint tree was the perfect retirement gift for two teachers. Love the memory cards also.! I will be ordering more ...
Amazon Customer
April 28, 2019
I CAN NOT talk about this enough!!! I love love love this item and all of the extras that come with it!!! Honestly, I would expect to find this on Etsy not Amazon! The price is unbelievable! We are using this for our guest book at our wedding coming up!...
Amazon Customer
April 26, 2019
This tree is great for a baby shower.
Amazon Customer
April 23, 2019
I used mine for my 50th birthday party and have it proudly hanging in my home. The fabric looks fantastic. I love the product. Very well made and very reasonably priced.
Amazon Customer
February 4, 2019
Arrived in good condition & is nicer than expected from online picture. Very reasonably priced too! Using for 99th BD celebration.
Amazon Customer
January 31, 2019
It arrived on time. It was great quality and the mom to be loved the idea! The only thing that I would say is the ink pad was a little dull but it turned out very nice!
Amazon Customer
January 16, 2019
Just perfect for a family who values family!
Amazon Customer
December 14, 2018
Love it very sentimental
JMT
July 29, 2019
Its cute but nothing fancy
Amazon Customer
August 2, 2019
Such an adorable idea as an alternative for a guest book. I bought this for the baby shower I hostessed for my son and daughter-in-law. It was hugely popular and everyone thought it unique and clever. BUT.... the "inkpad" was a terrible product in that it did not dry. My...
FAQ Frequently Asked Questions About Baby Shower / Wedding Fingerprint Tree
What is the size of the thumbprint tree canvas?
This particular canvas is 13″x12.5″x1″.
What is included in the set?
This thumb print tree canvas comes with instructions to offer your guests. As a bonus, you also get non-toxic ink, 25 advice cards for your guests, and a display for the guest instructions. We do not include a pen but you can use any
fine point pen like a sharpie

. You do not need a special pen.
Where can I get additional advice cards that match this baby shower / wedding fingerprint tree?
Matching advice cards are available on our site or on Amazon.
What is a fingerprint tree canvas used for?
Our canvasses can be used for baby showers, weddings, parties or keepsake crafts.
What are the baby shower/wedding fingerprint tree instructions?
Whether you are using your thumbprint tree canvas for a baby shower, wedding or party, the instructions are super simple. Simply place your canvas, guest instructions, fingerprint inks, and pen (if guests will be asked to write their names) on a table. It is best to place it on a table near the entrance so that everyone can see it. Fingerprint inks are not messy but it's always a good idea to leave wipes and a trash can for guests to wipe their fingers.
Where is this fingerprint tree canvas made?
All designs are made in Atlanta GA, USA. This fingerprint tree canvas is responsibly made in China.
Your shipping is free. When can I expect delivery?
We ship via standard shipping in the USA, which takes about 3-7 business day. All orders are shipped via Amazon fulfillment, and they use USPS and UPS predominantly.
There's a problem with my delivery. What do I do?
If you purchased directly from our site, let us know. If you made your purchase directly from Amazon, it depends. Here's the thing – with Amazon's 2-day delivery for Prime customers, there is a  lot of pressure on the UPS/ USPS to deliver on time. Occasionally we get complaints that Amazon claims orders were delivered when they were actually NOT delivered. If this is you, give it another day. Packages usually make their way to you the next day. If not, contact Amazon directly or
let us know
.
Are you on social media?
I'm a social media influencer/blogger. Do you collaborate?