Other elephant themed products you may like
Features and Benefits
Our products are designed with thought and care. It is sold with tremendous pride, which is why we know you're going to love this...
How To Fold Favor Boxes
Here's a 19-second instruction video on how to fold your Tulamama popcorn boxes/ favor boxes.
Clear instructions with images are included with every purchase of Tulamama Popcorn Favor Boxes.
Simply unfold your popcorn boxes by gently squeezing the two ends. This will pop it up into a box shape.
Fold the U-shape flap down first along the score lines.
Fold the two side flaps in.
Fold the top flap and insert the tip under the U-shape flap to secure the box.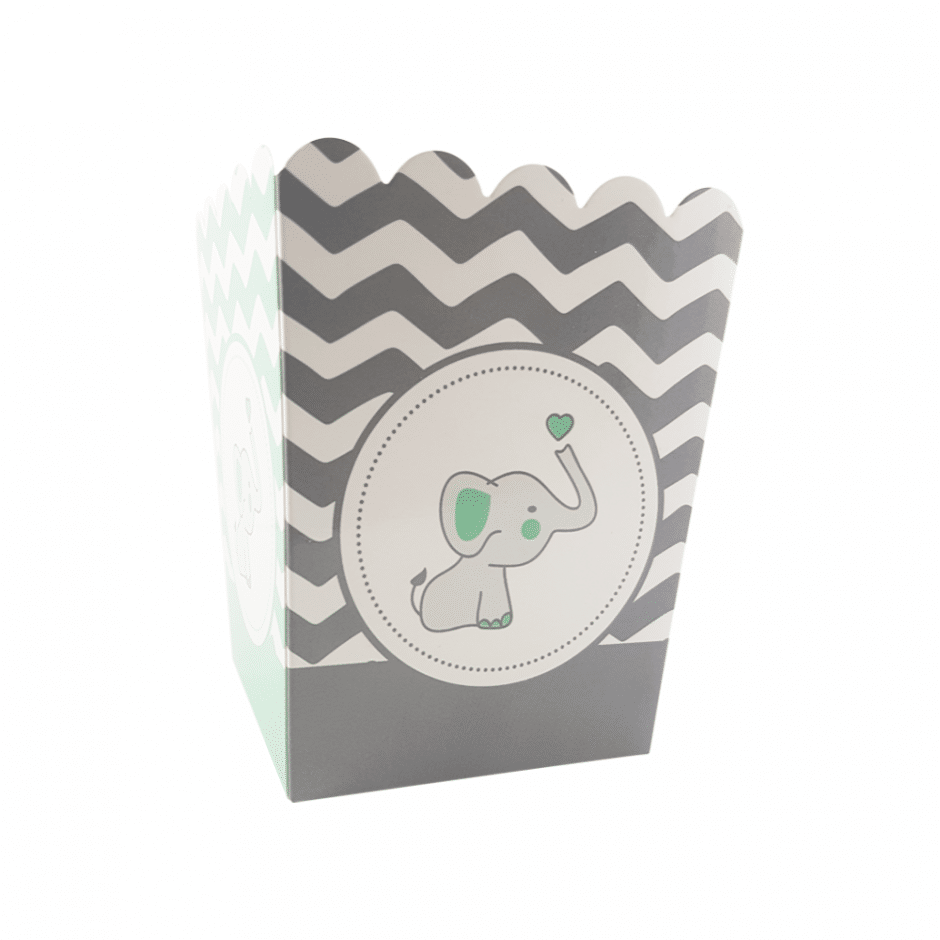 POPCORN PARTY FAVOR BOXES READY IN A JIFF
Party and baby shower favors often take forever to set up. Who has that kind of time! Tulamama's treat boxes will be delivered to you as flat boxes, but assembly is super quick and easy. It literally takes minutes. Once you have them ready, fill them and you're done.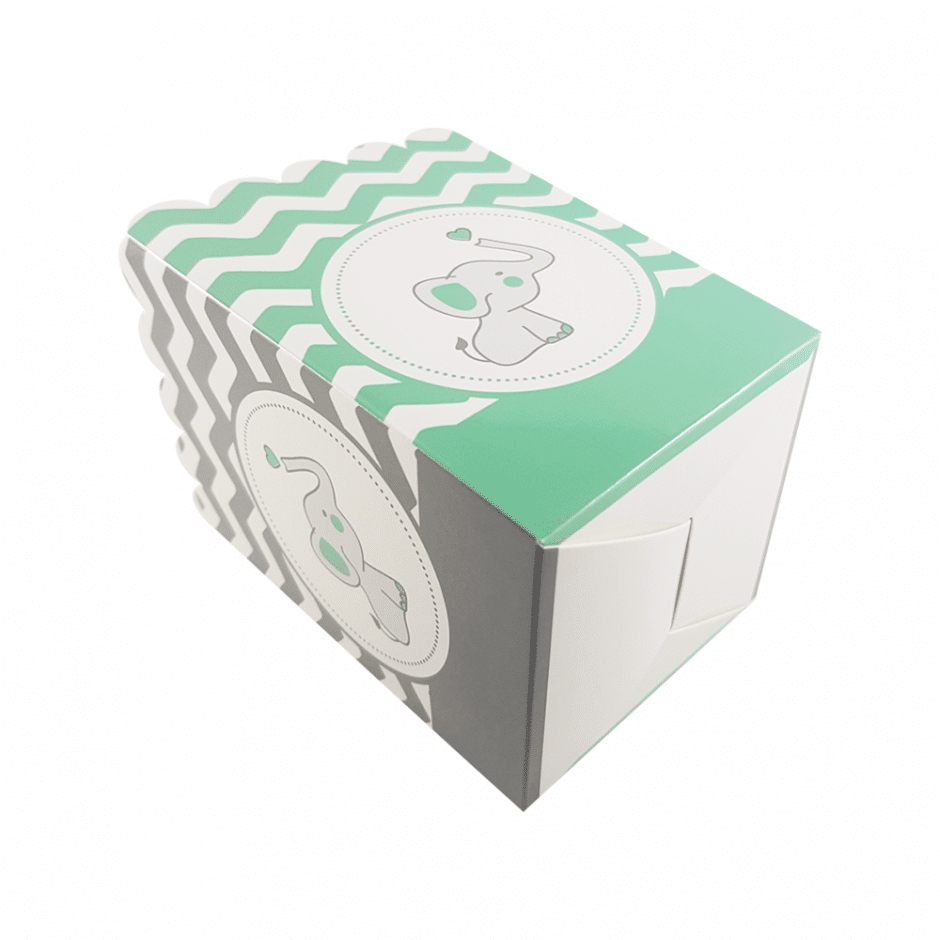 STRONG & DURABLE FOOD-GRADE QUALITY
Your new baby shower/ party treat boxes will not fall apart. They have a sturdy bottom that won't open by itself either. Your popcorn boxes are premium, food-grade quality, which means you can add popcorn, candy, cookies or whatever you were planning to offer your guests.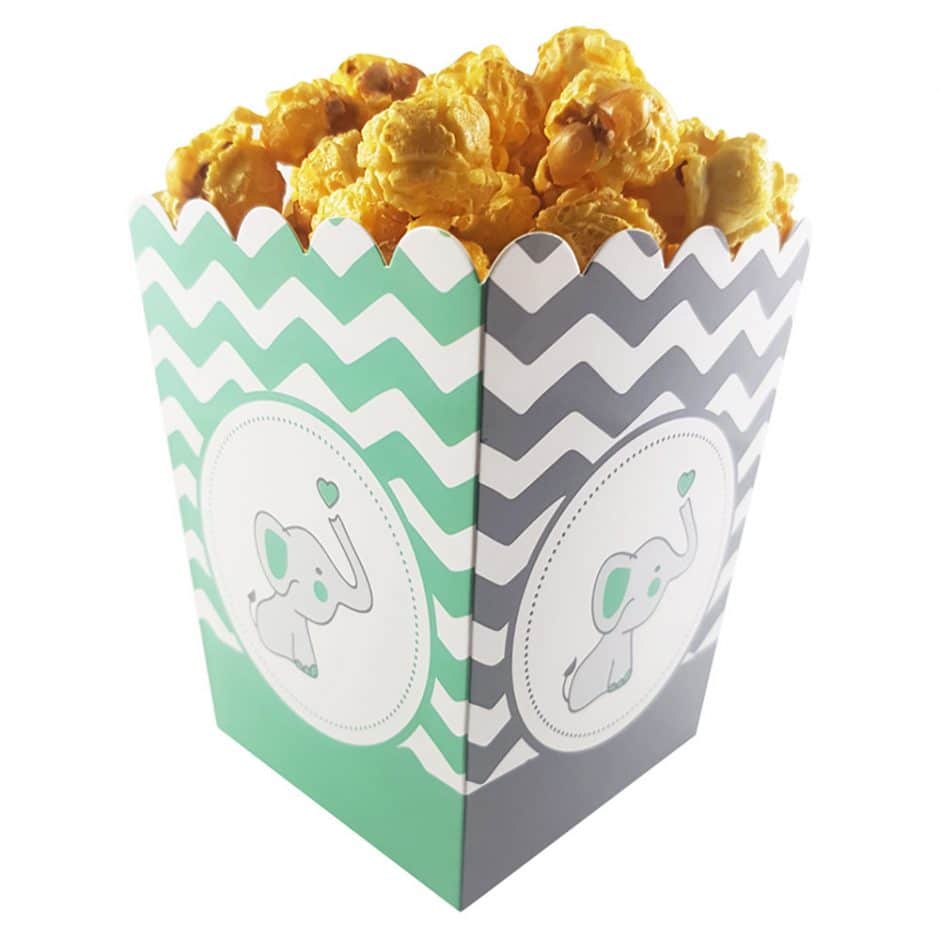 PERFECTLY SIZED PARTY FAVOR BOXES
Your Elephant themed popcorn boxes offers the perfect party serving size. They're the Goldilocks of party favor – they're not too big and not too small. They are 4.5 inches high x 3.5 inches wide at the top. They're the perfect party serving of popcorn.
FAQ Frequently Asked Questions About Elephant Themed Baby Shower / Party Favor Boxes - 25 Per Set
What size are these popcorn party favor boxes?
They are 4.5 inches high x 3.5 inches wide at the top.
How many cups of popcorn does it take?
You can have at least 3 cups of popcorn in one box. That's the perfect party serving size.
How many party favor boxes are there in a set?
There are 25 boxes per set. We did our research, and based on that, we know that the average size of a baby shower is 25, so we have you covered.
Where are these treat boxes made?
All designs are made in Atlanta GA, USA. Your treat boxes are responsibly made in China in a food-grade quality facility.
Your shipping is free. When can I expect delivery?
We ship via standard shipping in the USA, which takes about 3-7 business day. All orders are shipped via Amazon fulfillment, and they use USPS and UPS predominantly.
There's a problem with my delivery. What do I do?
If you purchased directly from our site, let us know. If you made your purchase directly from Amazon, it depends. Here's the thing – with Amazon's 2-day delivery for Prime customers, there is a  lot of pressure on the UPS/ USPS to deliver on time. Occasionally we get complaints that Amazon claims orders were delivered when they were actually NOT delivered. If this is you, give it another day. Packages usually make their way to you the next day. If not, contact Amazon directly or
let us know
.
Are you on social media?
I'm a social media influencer/blogger. Do you collaborate?