Other Favor Boxes You May Like
NEED MORE THAN 25 BOXES FOR PRINCESS BABY SHOWER FAVORS?
Get 10% off if you buy 2 or more popcorn favor boxes. Your discount will automatically be calculated - no coupon necessary if purchased on this site or Amazon.
How To Fold Favor Boxes
Here's a 19-second instruction video on how to fold your Tulamama popcorn boxes/ favor boxes.
Clear instructions with images are included with every purchase of Tulamama Popcorn Favor Boxes.
Simply unfold your popcorn boxes by gently squeezing the two ends. This will pop it up into a box shape.
Fold the U-shape flap down first along the score lines.
Fold the two side flaps in.
Fold the top flap and insert the tip under the U-shape flap to secure the box.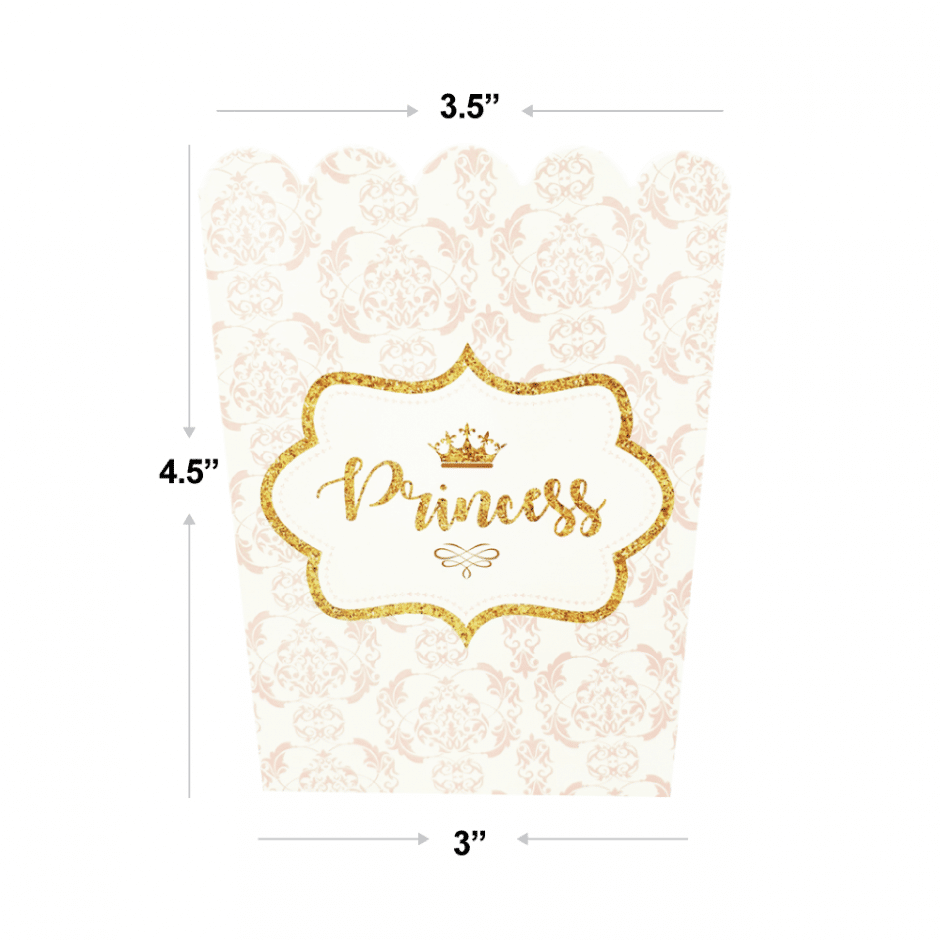 PRINCESS BABY SHOWER FAVORS READY IN A JIFF
Baby shower favors usually take forever to set up. Who has that kind of time! Tulamama's popcorn boxes for little girl parties or princess baby shower favors will be delivered to you as flat boxes, but assembly is super quick and easy. It literally takes minutes. Once you have them ready, fill them and you're done.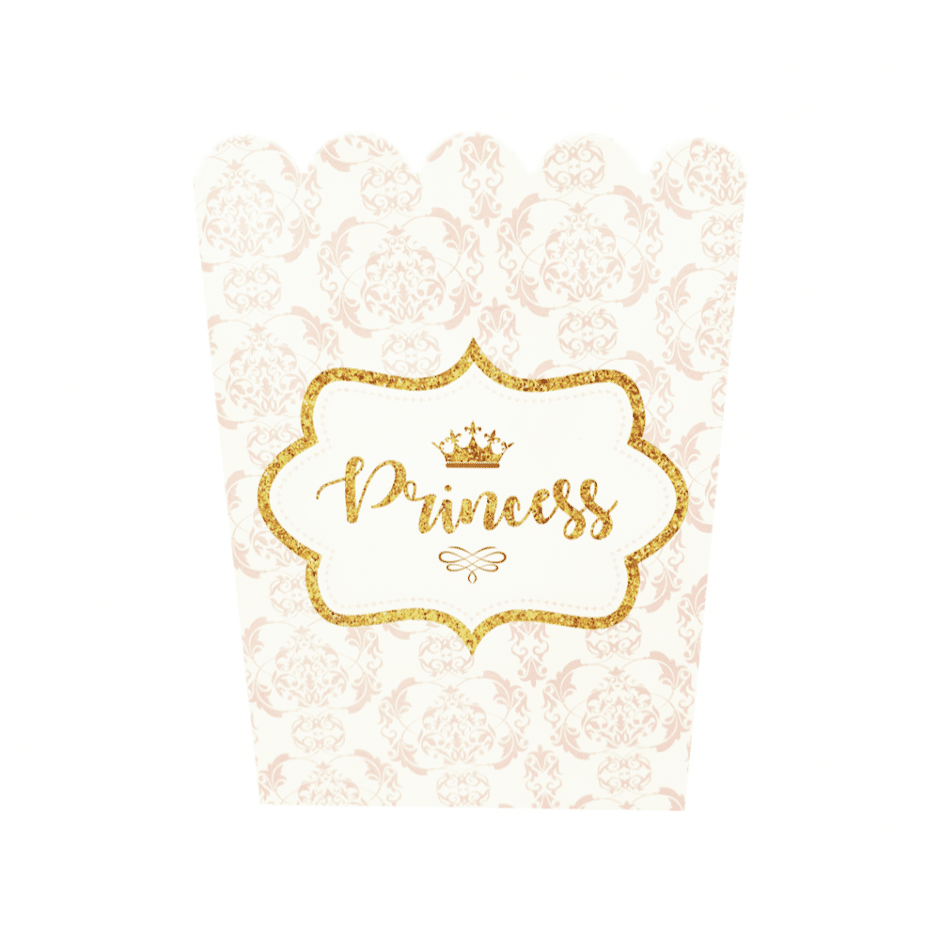 STRONG & DURABLE FOOD-GRADE QUALITY
Your new treat boxes will not fall apart. They have a sturdy bottom that won't open by itself either. Your goody bags are premium, food-grade quality, which means you can add popcorn, cookies, candy or whatever "princess treats" you were planning to offer your guests.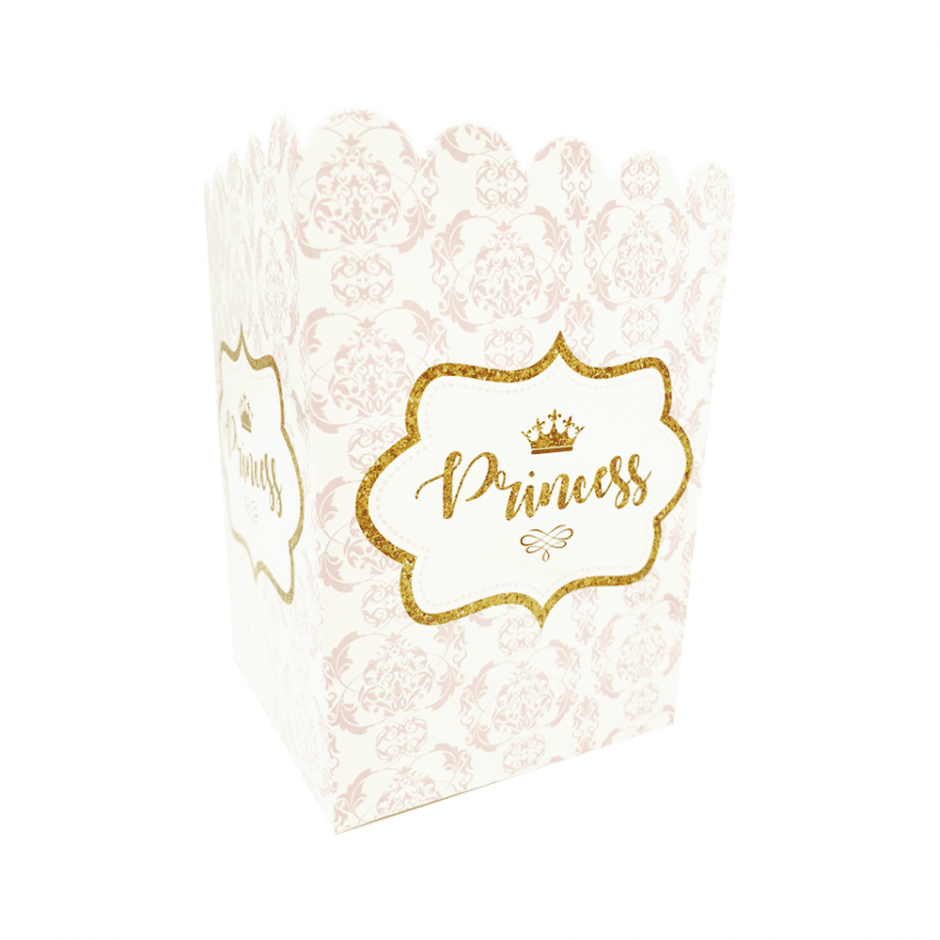 PERFECTLY SIZED PARTY FAVOR BOXES
Your  Princess themed favor/ popcorn boxes offers the perfect party serving size. They're the Goldilocks of party favor – they're not too big and not too small. They are 4.5 inches high x 3.5 inches wide at the top. They're the perfect party serving of popcorn.


FOOD GRADE QUALITY


APPROVED BY PARTY PLANNERS


ORIGINAL DESIGN


PREMIUM QUALITY
Product Reviews
Amazon Customer
July 31, 2019
The boxes were sturdy, they weren't as big as I thought but they actually worked perfectly with party favors. I was able to fit bubbles, sticker books, straws, and a bunch of candy in each one!
Amazon Customer
July 31, 2019
Easy to put together, took seconds. A lot bigger than expected, very nice size.
Amazon Customer
July 29, 2019
These were perfect for a Little fox theme baby shower I was hosting. I used these for the popcorn favors. Easy to put together and great size. Colors and pictures were vibrant and so cute
Amazon Customer
June 30, 2019
These are so cute and actually bigger than expected. They seem pretty sturdy too!
Amazon Customer
June 29, 2019
Great queality
Amazon Customer
June 5, 2019
Used these boxes for a baby shower dessert table. They were the perfect size for what we needed them for. Everyone loved them including the new parents!
Amazon Customer
May 30, 2019
They go perfect with our twinkle twinkle little star babyshowe theme. The perfect size for party favors and not too big for popcorn. I do need another box for my event, so hopefully more come in stock.
Amazon Customer
May 24, 2019
Used for a baby girl baby shower and all the guests really liked them. The print and color on them are nice and vibrant.
Amazon Customer
May 15, 2019
Centerpieces on a table
Amazon Customer
May 15, 2019
Easy assembly and very cute
Amazon Customer
May 14, 2019
I did a baby shower for my daughter & the theme was Woodland baby animals. We used these for popcorn that I drizzled white chocolate (dyed green) on . Lots of compliments on how cute they were.
Amazon Customer
April 13, 2019
I loved it. 🙂
Amazon Customer
January 29, 2019
Purchased for my daughter's baby shower - perfect size for take home cookies. The baby's room is Woodland theme. Thank you.
Amazon Customer
December 28, 2018
They are beautiful little boxes. Can't wait to use them for the next movie night! The seller is so sweet! 🙂
Amazon Customer
June 30, 2019
Product ok fast delivery thanks
FAQ Frequently Asked Questions About Boxes For Princess Baby Shower Favors - 25 Per Set
What size are these boxes for princess baby shower favors?
They are 4.5 inches high x 3.5 inches wide at the top.
How many cups of popcorn does it take?
You can have at least 3 cups of popcorn in one box. That's the perfect party serving size.
How many treat boxes are there in a set?
There are 25 boxes per set. We did our research, and based on that, we know that the average size of a baby shower is 25, so we have you covered.
Where are these treat boxes made?
All designs are made in Atlanta GA, USA. Your treat boxes are responsibly made in China in a food-grade quality facility.
Your shipping is free. When can I expect delivery?
We ship via standard shipping in the USA, which takes about 3-7 business day. All orders are shipped via Amazon fulfillment, and they use USPS and UPS predominantly.
There's a problem with my delivery. What do I do?
If you purchased directly from our site, let us know. If you made your purchase directly from Amazon, it depends. Here's the thing – with Amazon's 2-day delivery for Prime customers, there is a  lot of pressure on the UPS/ USPS to deliver on time. Occasionally we get complaints that Amazon claims orders were delivered when they were actually NOT delivered. If this is you, give it another day. Packages usually make their way to you the next day. If not, contact Amazon directly or
let us know
.
Are you on social media?
I'm a social media influencer/blogger. Do you collaborate?