Is your baby cranky, and constantly drooling? These are usually signs of teething. You're going to need a few teething remedies.
When Do Babies Start Teething?
Although timing varies widely, babies often start teething around 6 months. The two bottom front teeth (lower central incisors) are usually the first to appear, followed by the two top front teeth (upper central incisors).
Classic Signs of Teething
Drooling; (Drooling can irritate your baby's skin and cause rashes. See What is a teething rash and how do I deal with it?)
Chewing on anything they can get their hands on;
Irritability or crankiness;
Sore or tender gums;
Low-grade fever of 99 F (37.2 C)
Many parents assume that a high fever is a baby teething symptom. However, researchers disagree. If your baby's temperature goes over 99 F, see your pediatrician.
Teething can be really difficult for both you and your baby. Teeth are cutting through your baby's gums and he/she is very cranky… which may make you a little cranky. So while it is a difficult time, there is a lot of advice and helpful teething remedies available from experienced moms.
Teething remedies range from natural home remedies for teething babies to over-the-counter medications. We cover both. Most moms start with home remedies for teething babies, then move on to medicine for night time relief.  Before you start any over-the-counter teething aides like Tylenol for teething, check with your pediatrician.
Teething Tips And Basics
There are 33 tried and tested teething remedies in this post. However, no matter what teething remedies you choose to use, there are a few "teething basics" to understand. If you can keep these in mind, the battle is halfway won. They are:
Cold helps to reduce inflammation. Apply something that is clean, safe and cold to your baby's irritated gums. Cold helps to numb the area. The low temperature offers almost instant relief from the pain and discomfort.
Pressure on your baby's gums offers relief. When your baby is able to chew on something, the pressure of chewing offers tremendous relief for aching, itchy gums.  The goal is to offer your baby hard but safe things to chew on.
Massaging or simply rubbing your baby's gums is really helpful;
Your baby needs extra soothing. Teeth are literally cutting through his/her little gums and it is painful. During this time, there can never be too many cuddles.
Drooling can cause a  rash. The extra drool can cause rashes in your baby's face. It can also cause mild diarrhea, which can cause diaper rashes. Protect your baby's skin. Use gentle wipes or a gentle washcloth when wiping. (Harsh cloths or chemicals on wipes can also cause additional irritation.) Also consider applying a water-based baby moisturizer or vaseline to keep your baby's face smooth.
Keep your baby hydrated. Drooling and reduced appetites can keep your baby from getting enough liquids. By offering some of the remedies below, like baby popsicles and momsicles, your baby will get relief from the teething pain AND stay hydrated.
Keep your baby rested. Your baby will already be cranky because of the teething pain and discomfort. Stay on your regular nap schedule to prevent them from being extra cranky.
Stay close. Your baby is going to be chewing on things. Even if those things are really hard, like a chilled carrot or bagel or teething biscuit, those things will break if it is gnawed on long enough. When pieces start to break off, they become a choking hazard. Do stay close all the time to pick up bits and pieces as they break off. If you are over cautious, use baby food feeders.
Don't chalk every discomfort up to teething. Not all of your baby's symptoms are related to teething. If you feel unsure, check with your doctor.
For your convenience, this article has been organized around these basics.
Natural Baby Teething Remedies
You are spoilt for choice! There are so many natural teething remedies to choose from and they are all effective. Some natural teething remedies are even free, so feel free to use what you have at home already.
Teething Basics: Cold Reduces Inflammation
Frozen Fruits and Vegetables
Some babies have a reduced appetite when they are teething. By offering frozen fruits and vegetables in a baby food feeder

, this helps to soothe the irritated gums, and it feeds your baby. You can put all kinds of small or cut up fruits and vegetables in a baby food feeder, like bananas, strawberries, blueberries, etc.


Frozen Breastmilk
These are also called momsicles.
Breastmilk can be frozen in ice cube trays and placed inside a baby food feeder too. Baby food feeders are great but if you are pressed and you don't have one, you could also offer your baby a frozen breast milk ice cube securely tied into a muslin blanket

or a washcloth

.
Another easy option is to pour breastmilk into the cap of the pacifier, then freeze it, like below. (If you don't have a pacifier cap, try to find another small cap to use.)

Popsicles and Frozen Pop Trays
Frozen pop trays

are also awesome because you can freeze homemade (or store-bought) baby food in them. You can also use them to make momsicles!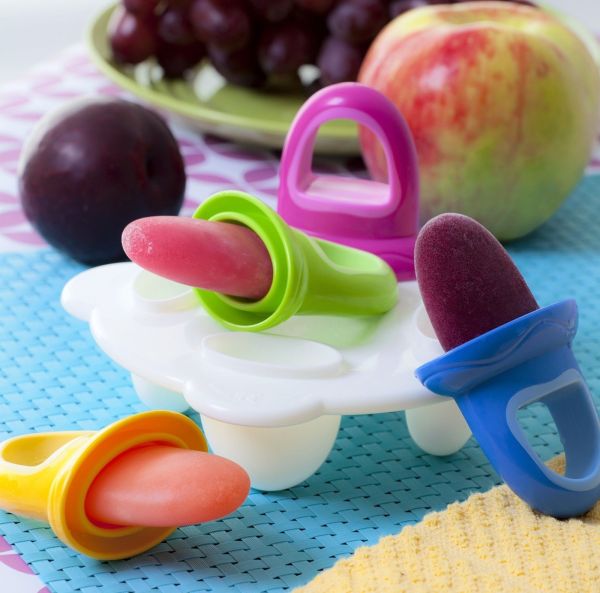 Frozen Pacifier
If you have a soothie pacifier

, pour a little water into it and freeze it. Offer it to your teething baby. As soon as the ice starts to melt and loosens, take it and offer your baby another one. If you find this to be an effective natural teething remedy for your baby, you may want to keep 2-3 soothies

in your freezer at a time so that you can quickly replace one with another.

Frozen Baby Bottle
Pour a little water in a baby bottle and place it in your freezer in an upside down position. This is so that the water freezes into the bottle nipple. Let your baby chew on the frozen nipple to relieve teething discomfort.

Chilled, Hard Vegetables
Chilled cucumbers, carrots, celery sticks and other hard vegetables are great for teething.  It is, however, extremely important to remember that if you are offering foods without a baby food teether, there is a good chance that as your baby gnaws and chews on it, the food will eventually break off, so do watch your baby or toddler closely.

Chilled Washcloth or Baby Sock
Partially freeze a clean, damp and preferably organic washcloth

.
You could also put small ice chips in a clean baby sock, tie off the sock and offer it to your baby. This is a great option because the sock will prevent your baby's gums from getting too cold.

Chilled Metal Spoon
Chill a metal spoon in the refrigerator (not freezer) for 15 minutes. Replace it as you take one out so that you always have a cold spoon ready.

Teething Basics: Biting Offers Relief
 Your Finger/ Knuckles

This is one of the easiest natural teething remedies to try. It is really effective in offering your baby some relief quickly.
Before you start, wash your hands thoroughly. Using a clean finger, massage the irritated gums. Your baby will likely chew on your finger but if he/she doesn't have teeth yet, it won't hurt.
Baby Teethers
When your baby chews or gnaws at things, it applies pressure to their gums. That pressure is extremely effective in helping soothe teething pain. So when your baby initially starts to teeth, offering your finger or knuckle is a great and easy idea but as soon as the first tooth erupts, your finger may no longer be an option. This is why silicone teethers

are awesome! You can even chill them, which makes them doubly effective for teething babies.
Handy Tip: Attach your baby's teether to his/her clothes with a pacifier clip

for quick and easy access for your baby.
Natural Teething Biscuits

Teething biscuits are great for teething babies. They love it because it's hard to chew on, thereby adding pressure to the gums. It's also delicious!
Two popular brands to try are Gerber's Arrowroot Teething Biscuits

 and the Happy Baby Teething Wafers. But if you are worried about questionable ingredients in store-bought biscuits, make your own teething biscuits. It's easy to make and you can keep them in the refrigerator for a cooler treat.
Bagels
Bagels are somewhat similar to teething cookies, although not as hard. The tip is to offer your baby a cold bagel to chew and gnaw at. Given time, your baby will be able to bite off pieces so stay close and take away bits and pieces to prevent choking.

Dried Fruit
Dried fruit is also great for teething and many parents love it because it's so chewy. Use dried fruit like apples. It helps with the pain and it's also delicious.

Teething Glove
Teething gloves are an alternative to traditional teethers

.

They are convenient because your baby literally has a teether right on his/her hand.  These work great, particularly if your baby always has his/her fingers in their mouth.
While these are widely appreciated, do keep in mind that your baby may not like the idea of having something stuck on his/her hand.
Teething Necklaces
Teething necklaces

are excellent because while you are wearing it, your baby has quick and easy access to a clean teether, all the time.
And you don't need to settle with ugly teething necklaces either! You can get teething jewelry in all sorts of colors and designs. Some designs are very stylish and flattering – you wouldn't guess they're teething jewelry.
Depending on what design you choose, you can also get teething necklaces that are made of silicone and wood.
Wooden Teething Rings
Unfinished wooden teething rings are a great, natural option. Most wooden teething rings are made with maple wood and finished with a beeswax and olive oil combination to prevent splintering. Wooden teething rings like these are safe to chew and play with.
Baby Toothbrush
Baby toothbrushes are great because if you get a teether toothbrush

, it can be used as a teether and a toothbrush! This is because they are made of rubber or silicone, so they are soft and safe to chew on.

Rice Pouches
Your baby's gums are very itchy, so as your baby chews on a little rice pouch, it's like the rice is scratching the itch.
These are super easy to make too.
Just put a tablespoon of raw rice into the middle of a washcloth.
Wrap it off to make sure the rice stays in place;
Keep it in the refrigerator until your baby needs it.

Teething Basics: Massage Offers Relief From Teething Pain
Massage Your Baby's Gums
With your clean finger, a moistened washcloth or gauze, massage and gently rub your baby's irritated, itchy gums.

Massage Your Baby's Face To Relieve Tension
When your baby is teething, he/she will tend to bite down on anything and everything. The pressure of biting down on something relieves tension in the gums, but it can cause tension in their jaws and even lead to tension headaches. Here is a short but helpful video to show you how to give your baby a massage to relieve teething pain.
Teething Basics: Teething Babies Need Extra Soothing
Breastfeeding
Breastfeeding is very soothing for babies. If your baby is happy and willing to breastfeed – great! However, some babies don't want to breastfeed because sucking may be very uncomfortable for them. If that's the case, try any of the teething remedies in this post before you start nursing. The goal here is to try to numb your baby's gums before you start nursing. If your baby is over 6 months (and you've checked with your pediatrician,) you can give your baby a little infant pain medicine

 to ease the pain before you start breastfeeding.
If you are worried about your baby using your breast as a teether, keep in mind that his/her tongue extends beyond the bottom gum to draw in the nipple, so the teeth do not touch the nipple. In other words,  your baby's tongue helps cushion the nipple from the edges of the new baby teeth.

Bathing
Bath time is a wonderfully soothing distraction for teething babies. The warm water will help to relax your baby.

Chamomile Tea
Chamomile is a naturally calming herb, so it will help to relax your baby. According to doctors at the University Of Michigan, here are a few great ways to offer chamomile to babies:
Suck it:
Add one chamomile tea bag to a cup of boiling water. Allow it to cool down completely;
Freeze it into ice cubes, then place the ice cubes into a baby food feeder or tie it securely into a thin baby washcloth, or freeze it in baby popsicle molds;
Another great option is to dip half of a clean washcloth into the chamomile tea and partially freeze it.
Offer it to your baby to suck.
This is a very effective method because it does 3 things: the tea soothes your baby, the cold numbs his/her gums, and the pressure of biting and gnawing at the ice offers relief to irritated gums.
Drink it:
Using one tea bag, make a cup of chamomile tea. Let it cool down completely;
Offer it to your baby to drink.
Eat It:
Mix a little bit of chamomile tea into your baby's applesauce or yogurt;
Offer it to your baby to eat.

Applesauce
Eating can be comforting and distracting – even for babies. Applesauce or yogurt can do that for your baby. Be sure to serve it cold because the cold will help soothe those irritated gums. For better results, serve it with a chilled metal spoon.

Effective Teething Remedy Alternatives
Amber Teething Necklaces
Baltic amber teething necklaces

have gained a lot of popularity in recent years. The theory is that the warmth of the baby's body releases the succinic acid found in Baltic amber. Succinic acid can have analgesic properties which help relieve pain in the body.

It is difficult to prove one way or another whether these necklaces are effective but there are many, many testimonials and reviews sharing success stories.
While Baltic amber teething necklaces are said to be an effective teething remedy, it goes without saying that extreme care should be taken when anything is placed around a baby's neck and they should be removed for sleeping. There have been deaths associated with babies wearing these necklaces around their necks while sleeping.
(I have personally never placed baltic amber teething necklaces

around by babies' necks because I was too afraid I'd forget to remove it during naps, and instead put it around their wrists (like a bracelet) or around their ankles (like an anklet). If you are at all worried that you too may forget, I recommend you do the same).
Essential Oils
According to the American Academy of Pediatrics, massage is a safe and effective treatment for mild teething discomfort. However, be careful what you use as your baby may be too young for certain essential oils.
Some common essential oils for teething are lavender, chamomile, ginger and frankincense. Having said that, there are very specific guidelines on how and when to use it.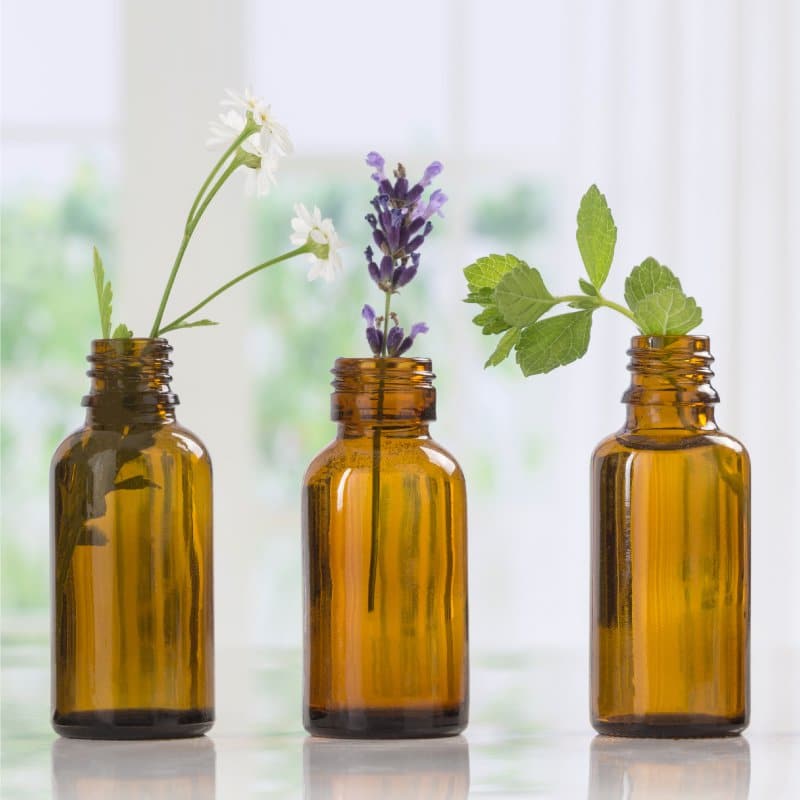 Ginger
Ginger has anti-inflammatory properties, which makes it quite effective as a natural teething remedy. To use this method:
Wash your hand;
Peel a small piece of ginger, and slice off a piece to rub your baby's gums;
Rub it onto your baby's gums for approximately 3 minutes.
Because ginger is a natural remedy, you can do this as often as necessary to help your baby feel better.

Vanilla Extract
This is an oldie but a goodie!
Vanilla contains a really small amount of alcohol.  This helps to numb the gums a bit, and it helps your baby relax.
For this method, you will need real vanilla extracts

. Imitation vanilla won't work here.With clean hands, rub a little bit of the vanilla extract onto your baby's gums.

Pickle Juice
The sour juice in pickles helps to numb aching gums. All you do is dip a baby washcloth

into pickle juice, ring out excess juice and partially freeze it. This is effective because the coldness of the washcloth and the pickle juice numbs the gums.

Licorice Roots
Licorice Root

(not licorice candy) is a herb that is sweet, and naturally numbs the gums. These are great because they're hard and sweet and fun to chew on, but do stay close in case your baby bites off pieces. (You can also find these in health food stores.)

Beef Jerky
This may seem a little unorthodox but it's another age-old teething remedy.  Beef jerky is tough yet soft and kind of salty. Lots of babies love the taste. As your baby gnaws and chews on it, a helpful tip is to switch sides as one side gets too soggy.
(If you've ever traveled to Southern Africa, you may be familiar with "Biltong." It is also dried meat but actually quite superior to beef jerky because biltong is not processed. If you can get your hands on biltong, offer this instead of jerky.)

Homeopathic And Over-The-Counter Teething Remedies
No matter what you choose to get, always check with your pediatrician first. 
Camilia Teething Drops
KINDLY NOTE – The American Academy of Pediatrics and the FDA does not recommend homeopathic remedies. However, this homeopathic teething remedy is widely used and has been trusted by parents for years. At the time of this writing, Camilia teething drops is a best seller for Amazon's "Baby Teething Relief" category. It is popular because it is said to offer instant teething relief.
Camilia does not contain benzocaine, alcohol, flavors, dyes, lactose, sugar or artificial sweeteners.  It's tasteless and it works without numbing the gums or affecting the gag reflex. 

Tylenol for Teething
Painkillers are another option that can be used for dissipating the discomfort and pain felt by your baby during teething. It is quick, easy and effective but as always, check with your doctor first.

(I have personally used Infant Tylenol for teething with all 5 my kids – at night. While I don't really like offering medicine unless it's really necessary, I found it to be effective for nighttime teething discomfort. However, once the medication runs out, which is usually anything from 3-5 hours, you'd need to give your baby another dose. Check and strictly follow the dosage recommendations.)
When to Call a Doctor?
Teething can usually be handled at home. However, if the discomfort becomes uncontainable or your baby develops a fever higher than 99 F (37.2 C), do see your pediatrician. It could be a sign of an illness and not a teething problem.
Note From The Author
I am a responsible writer. I do my research and I make sure that what is added, is safe. Having said that, you may ask:
Where is Clove Oil?
Cloves are effective for gum pain. I've tried it myself when I had a toothache and I can confirm, it does work. However, this article offers teething relief for babies. According to research, clove (and peppermint) can be lethal for babies and causes an inflammatory response in their lungs. Some say that clove should not be given to a child under 2 years, which is why it did not make it on the official list. 
What About Topical Medications?
Topical medications are used to numb the gums of your baby, which then eases your baby's pain. However, some topical medications contain Benzocaine, which may cause a serious medical condition in babies known as methemoglobinemia. Also, these medications are easy to overuse. If overused, your baby will likely swallow it and this could pose the risk of numbing their gag reflux, leaving your baby vulnerable to choking hazards. It may be effective but too risky for me. Therefore, it did not make it onto the list.
Unproven Homeopathic Remedies
Unproven homeopathic remedies can be risky – even those that are openly sold on sites like Amazon. According to Dr. Steven Pray, a professor at the College of Pharmacy at Southwestern Oklahoma State University, "Parents or caregivers should be cautioned against use of unproven and potentially dangerous teething remedies such as homeopathic teething tablets containing belladonna, coffee, magnets, tea tree oil, anise seed, clove oil, and cantharides." Also, avoid homeopathic teething tablets and teething medications that contain the pain reliever benzocaine or lidocaine. They can be harmful, even fatal to your baby.
Teething And Your Pediatrician
I am an overcautious parent. I do not go to the doctor for everything, but I do go if I feel uncertain because I'd rather be safe than sorry.
Trust your gut. If you feel like you'd rather check with your pediatrician, call and speak to a nurse or make an appointment. You can also use the opportunity to check what kind of over-the-counter medicines they want you to offer your baby, and how much. The measurements are different from child to child. And, if you want to go with essentials oils for teething or homeopathic medications, run this by your pediatrician.
Everything in this post is advice widely offered and used by moms around the world, but when it comes to medications – do the safe thing and always check with your doctor first.