You're looking for baby shower food ideas because you're planning a baby shower. Wonderful! But seriously, what do you serve?
Well, that depends on the type of baby shower you are hosting. If you are having a sit-down baby shower, you would serve plated meals. However, the trend has very strongly moved towards baby shower finger foods, which is why this post is all about finger foods for your baby shower.
Why? Because serving tasty finger foods can be cheap, definitely low-stress, and a great conversation starter. Your baby shower guests can mingle as they wish and serving baby shower finger foods allow for a more casual atmosphere. Also, you can prepare everything in advance and just serve it when your baby shower starts.
For your convenience, this post has been broken up as follows:
Baby Shower Food Ideas That Will WOW Your Guests
Charcuterie Platter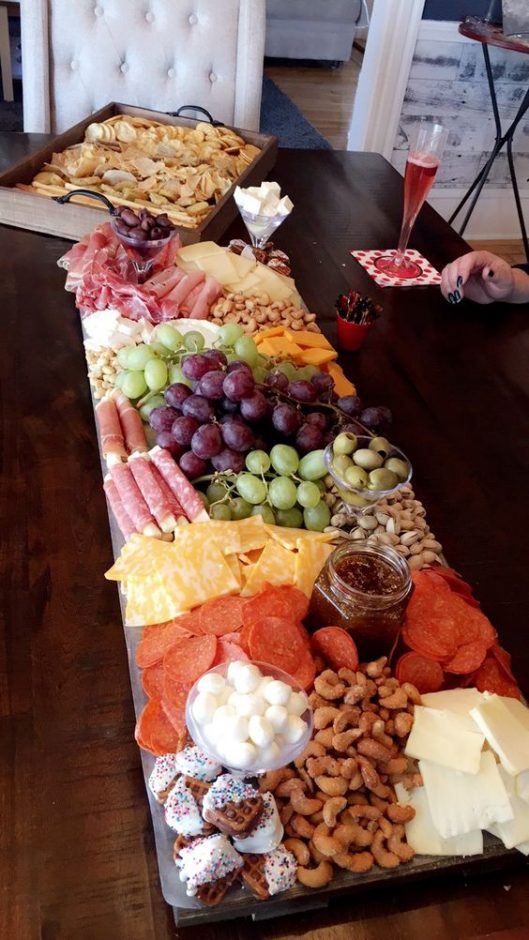 A charcuterie platter is traditionally for cheeses, meats, crackers, and fruit. While those will be your base, you can also add other things like nuts, dried fruit, dips, a creamy pâté, olives and preserves.
A good tip is to add soft and hard cheeses. In terms of meats, you could add salami, finocchiona, some spicy meats like hot Soppressata, milder meats, meats that are rich in flavor like Capicola, or other cured meats. The different types of meats will offer a visually and texturally different feel and experience to your guests.
Another good tip is to always add an element of sweetness to your charcuterie board. Sweets like fruit and preserves pair nicely with the saltiness of the cheese and meat.
---
Easy, Sweet & Tangy Meatballs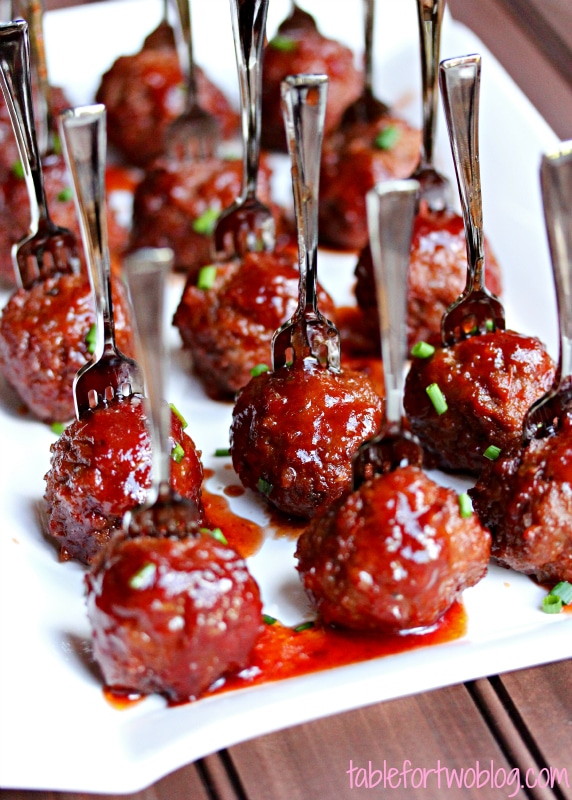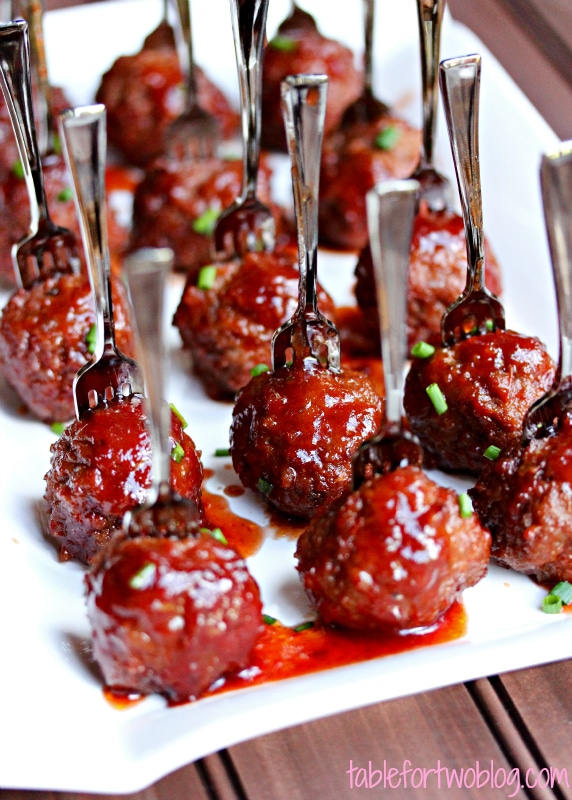 This is a 3 ingredient recipe because you get a lot of help with premade ingredients. Click here for the full recipe.
---
Ham And Cheese Rollups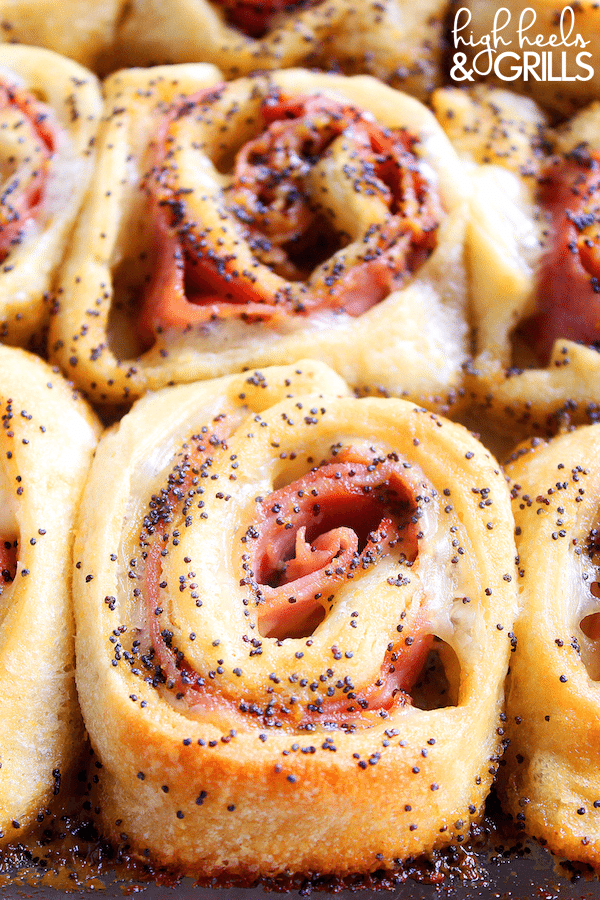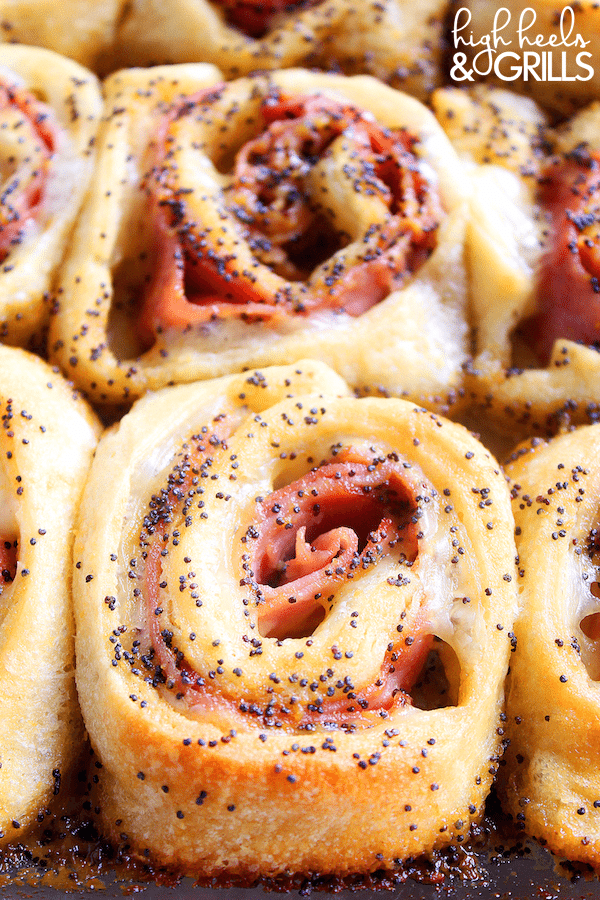 This one is a crowd stopper, and not much effort needed to make these little babies. Click here for the recipe.
---
Veggies & Dip Cups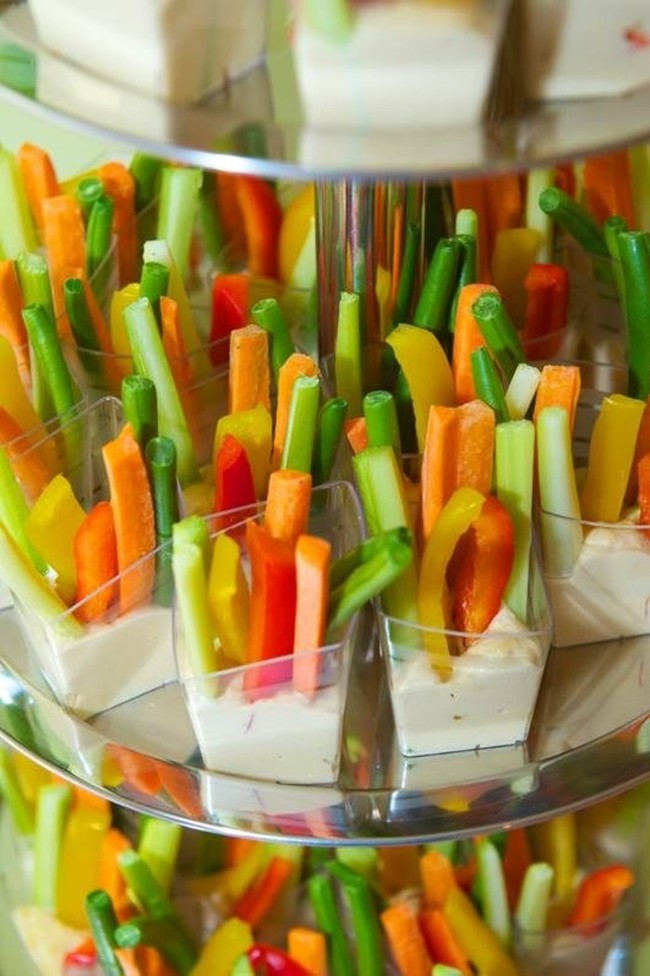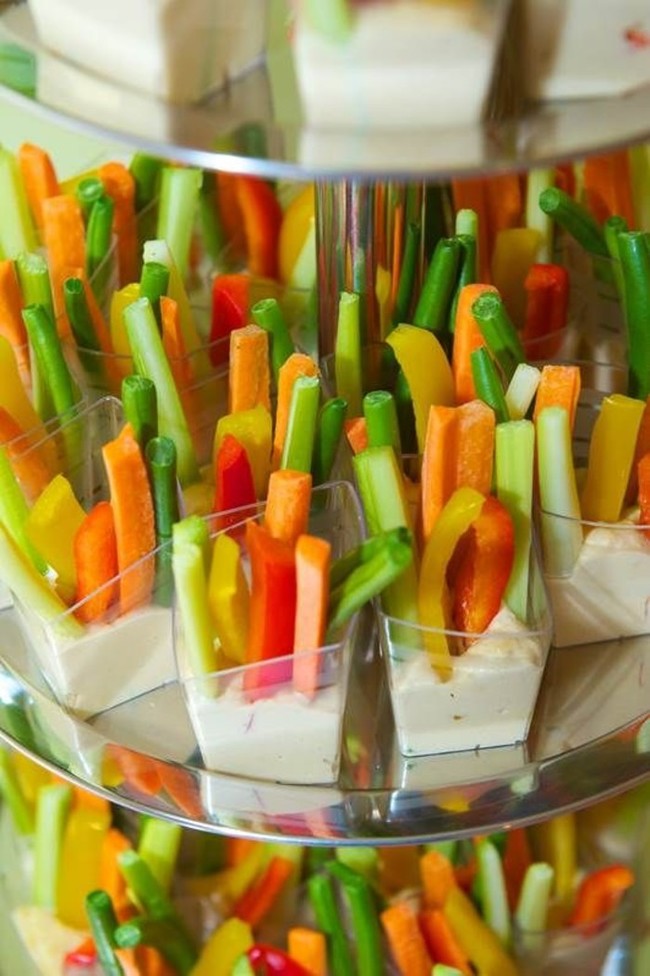 It cannot get much easier than veggies and dips. In fact, you could buy julienne vegetables from the store or cut them yourself with a julienne slicer

. Fill your mini cups

with a dip of your choice, and you're done.
---
Italian Pasta Salad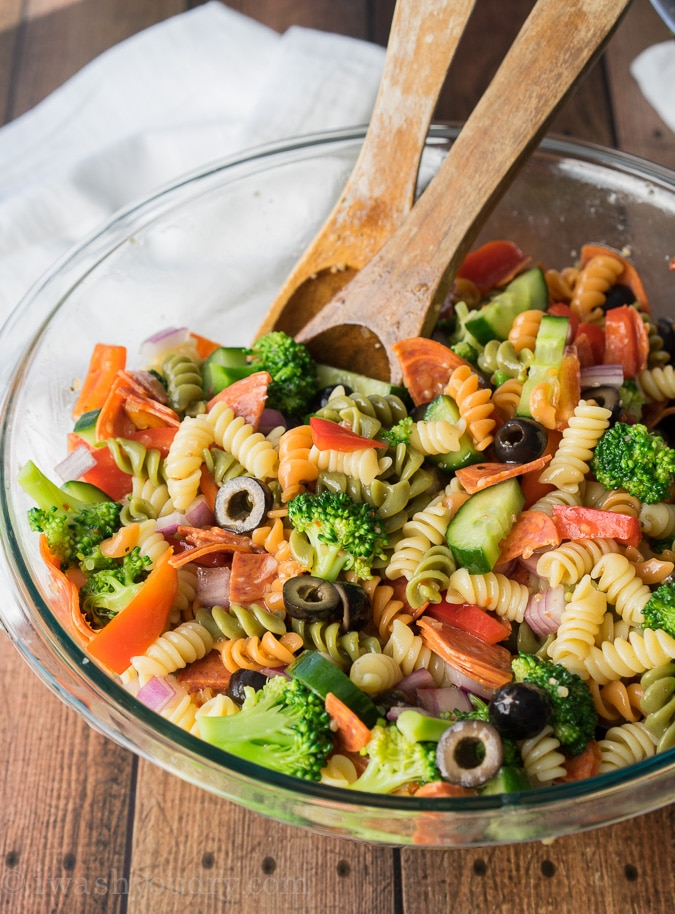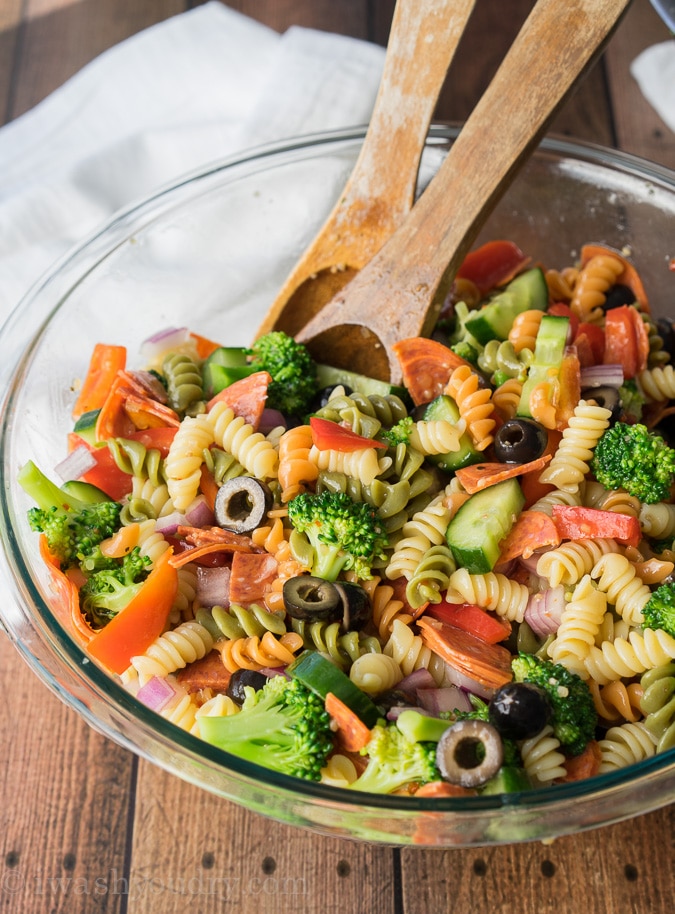 Italian pasta salad is a great choice for any kind of party because it is filling and it has everything: meat, pasta and vegetables. It also tastes great. To make things easy for your guests, you could dish the salad into mini cups

(like the veggies and dip above), and serve it with party forks. Click here for the complete recipe.
---
Pepperoni Pizza Bombs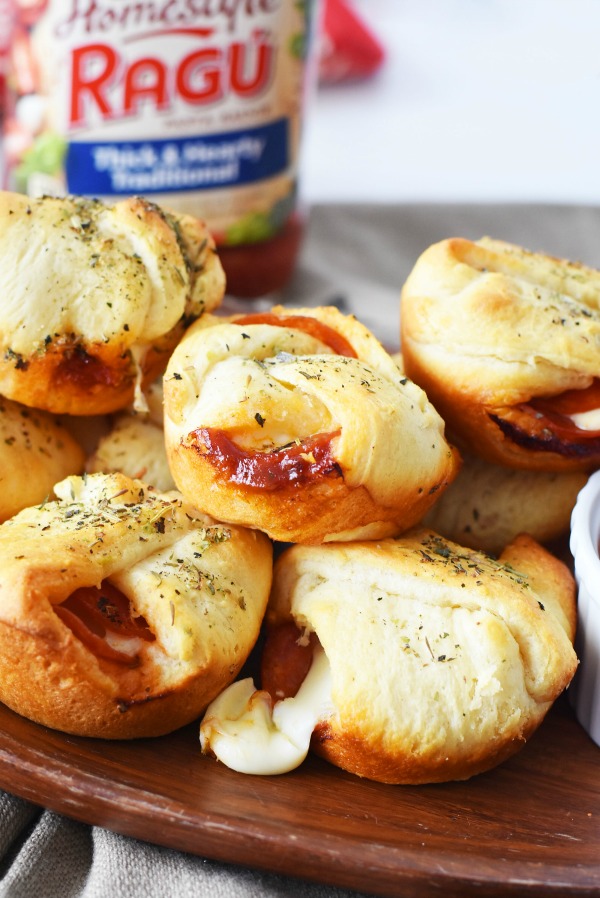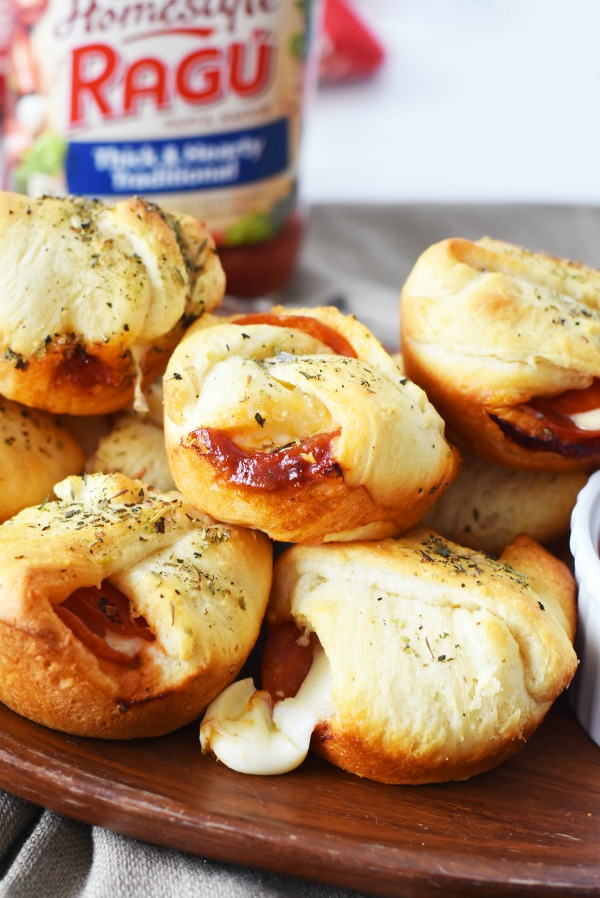 Flavorful, pepperoni & cheese pizza bombs. Easy to make too. Here's the complete recipe.
---
Sausage Pretzel Bites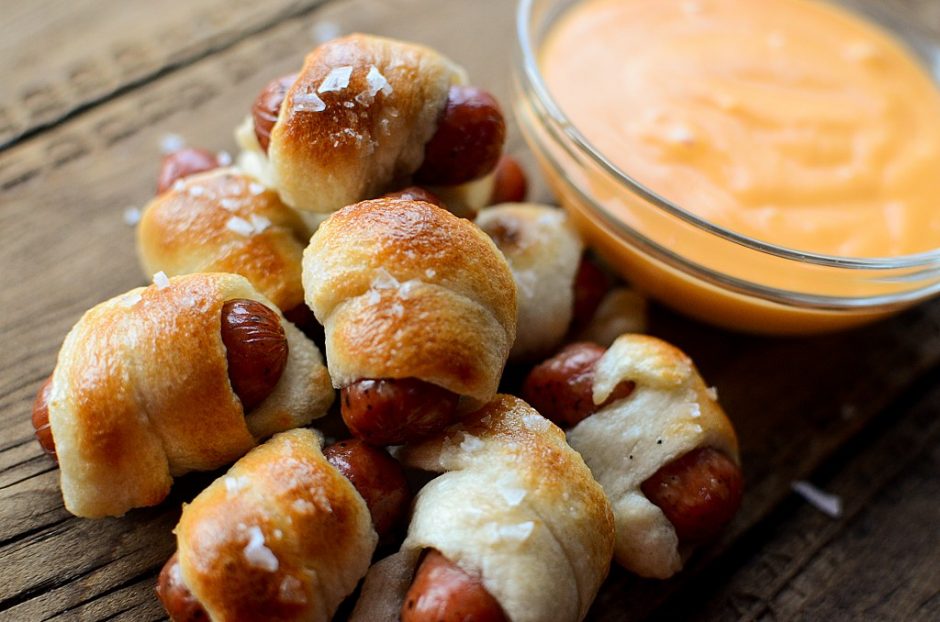 Click here for the recipe for these sausage pretzel bites.
---
Grape Jelly Meatballs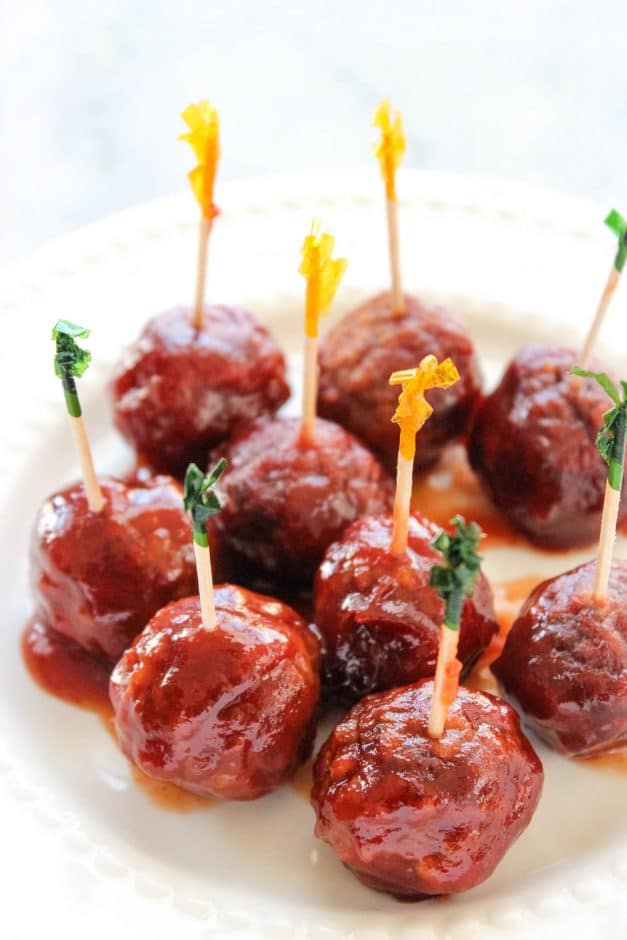 This is a super easy, 4 ingredient recipe that you prepare in the slow cooker

. Click here for the complete recipe.
Cheesy Bacon Jalapeno Poppers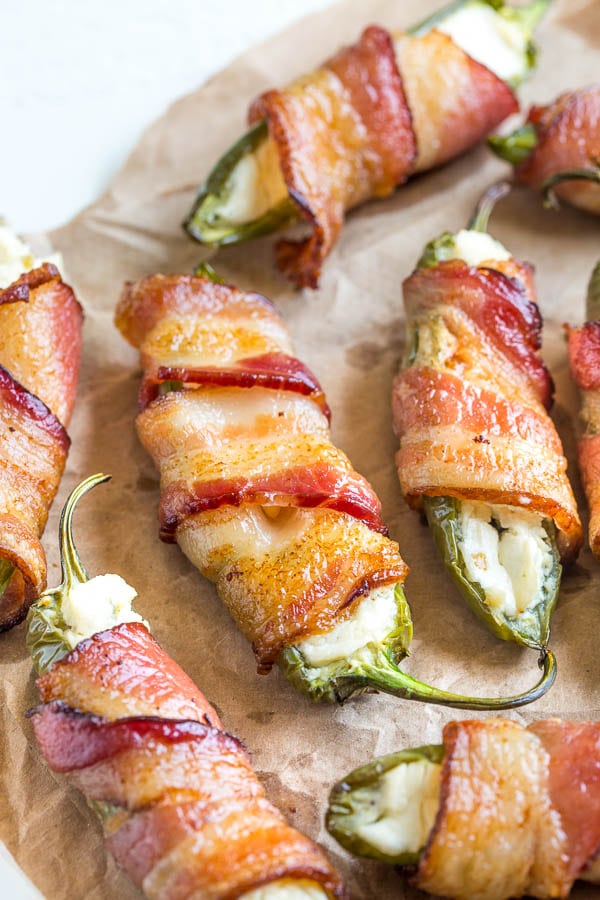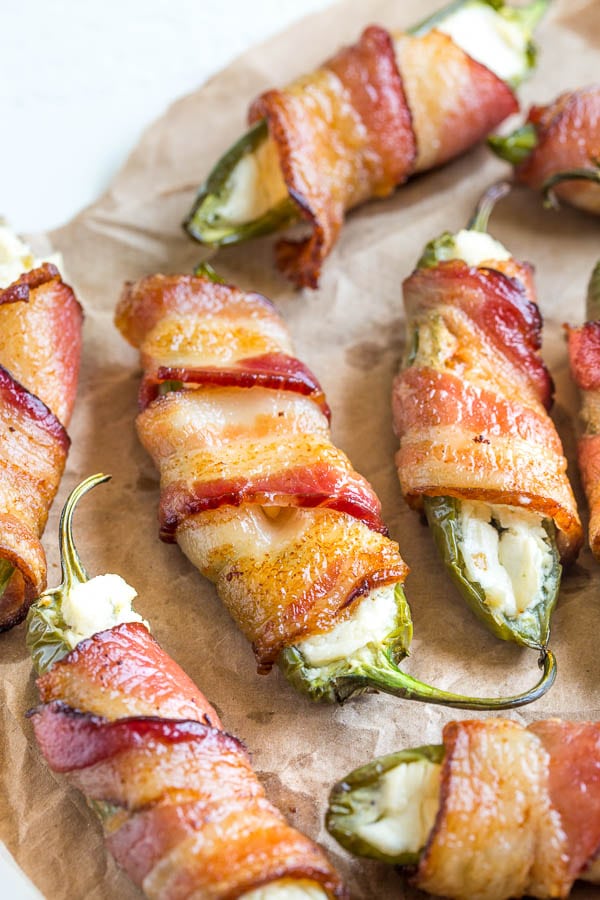 This is a spicy but delicious one, and oh-so-popular. Find the recipe here.
---
Buffalo Chicken Dip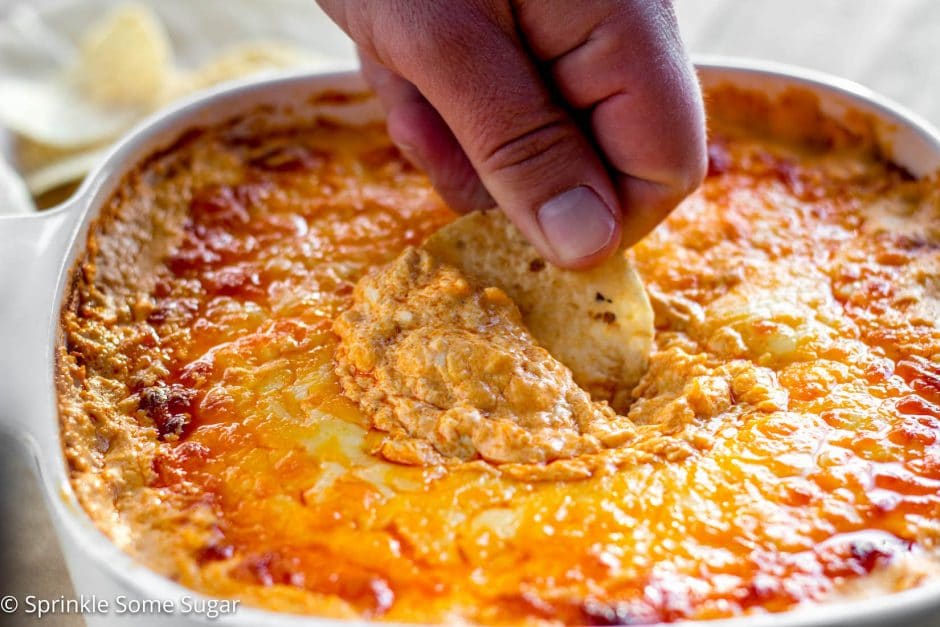 This dip is really popular, really decadent and easy to make. Pop it next to a big bowl of corn chips and your guests can serve themselves. Here's the recipe.
---
Baby Shower Veggie Tray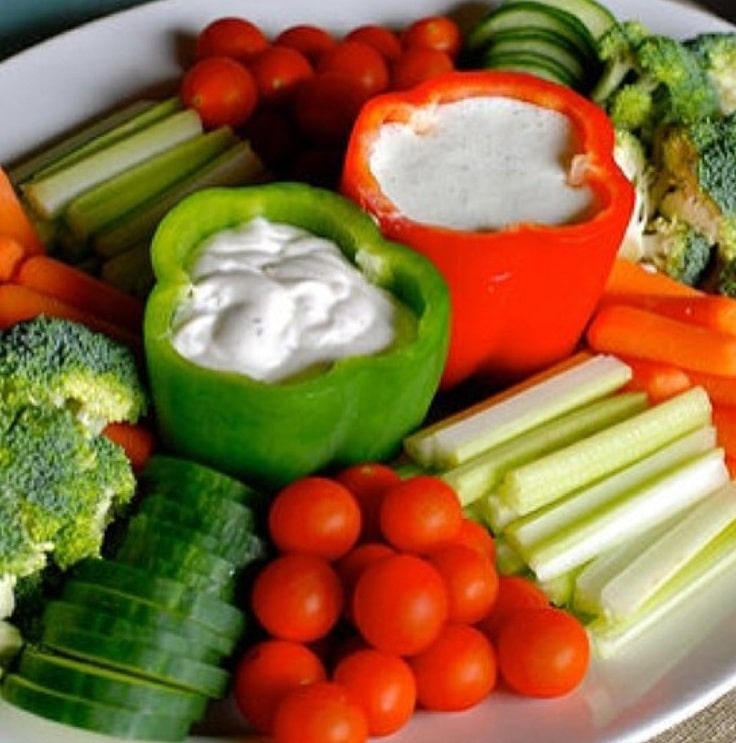 Easy Peasy Vegetable Tray. This is very easy to prepare – just cut up your vegetables and arrange them tastefully on a white platter. (According to renowned chefs, food stands out when you use a white backdrop.) Add the dips of your choice (like ranch and blue cheese into a sweet pepper of your choice. Yum and easy.
---
Fried Mac & Cheese Bites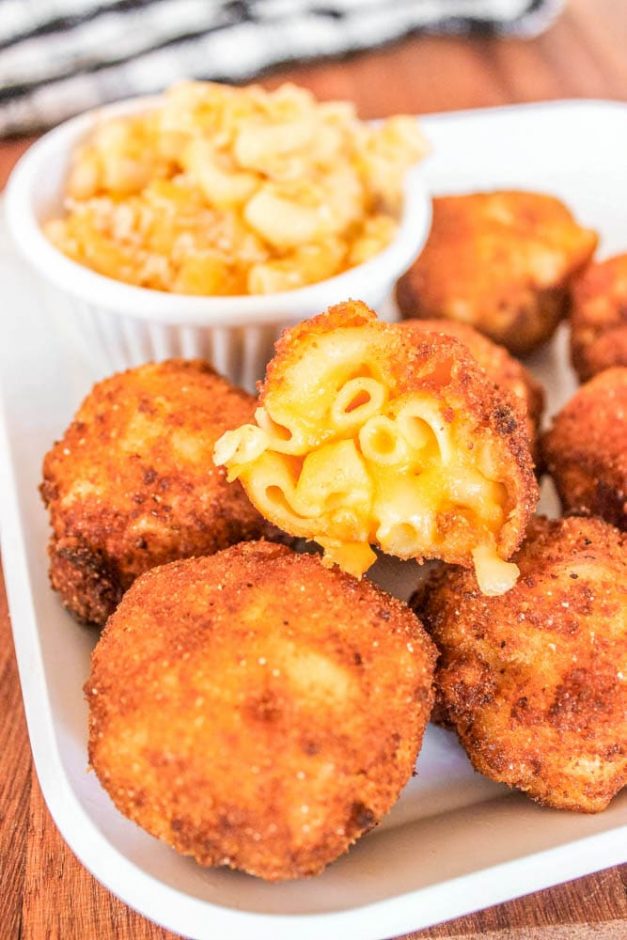 How decadent! This recipe is the fried version but if you're looking for the more healthy version, keep scrolling for the baked version.
---
Ham and Cheese Sliders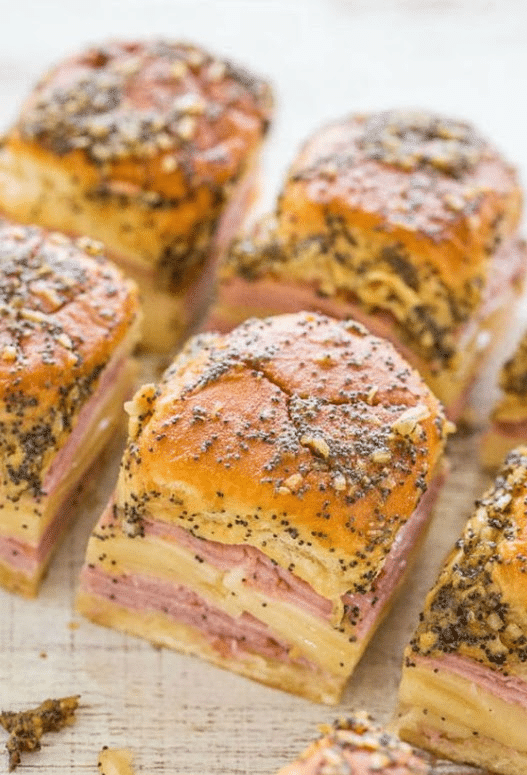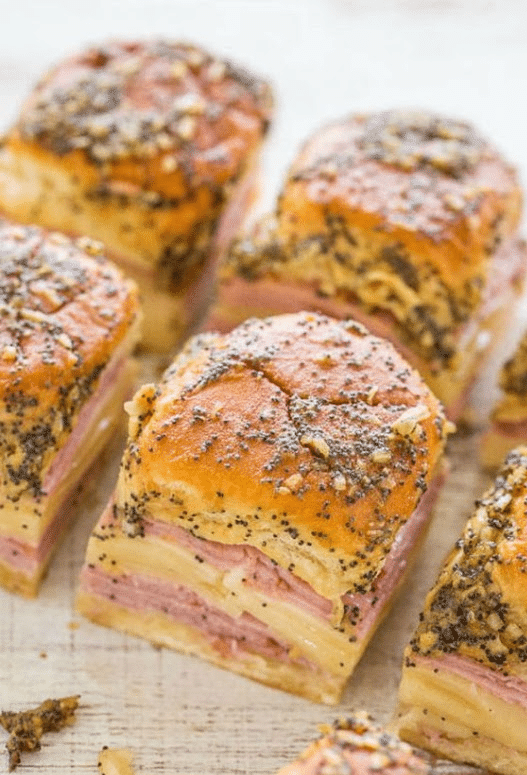 In terms of baby shower food ideas, this is a popular choice because it's really easy to prepare and quite delicious. Click here for the Ham & Cheese Sliders Recipe.
---
Easy Caprese Salad Skewers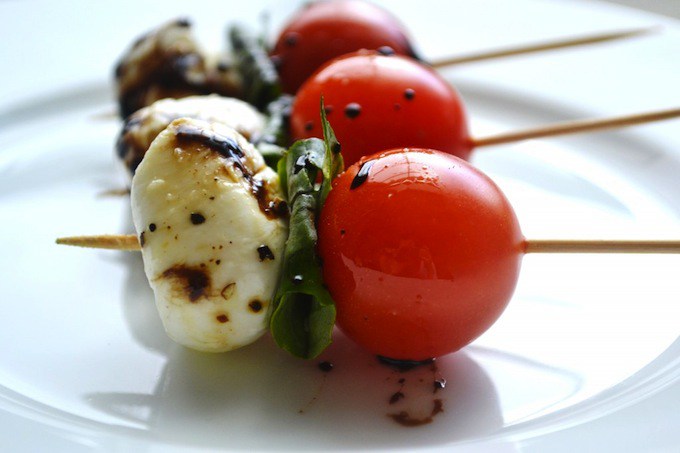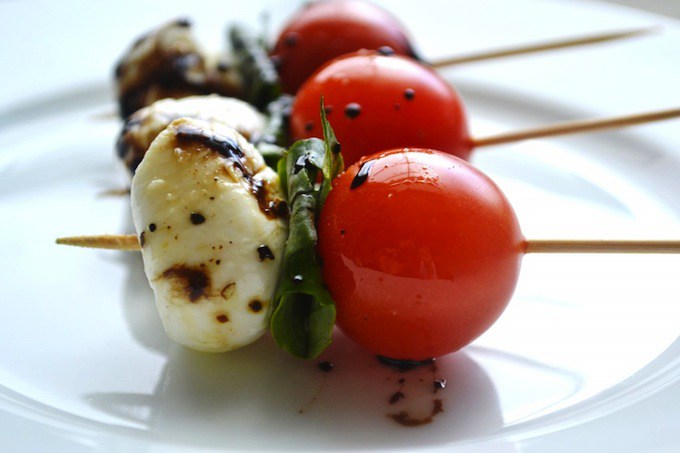 Super easy to prepare, and a great option for vegetarians and others with dietary restrictions. Click here for more info on how to put it all together.
---
Crispy, Bacon & Cheese Loaded Potatoes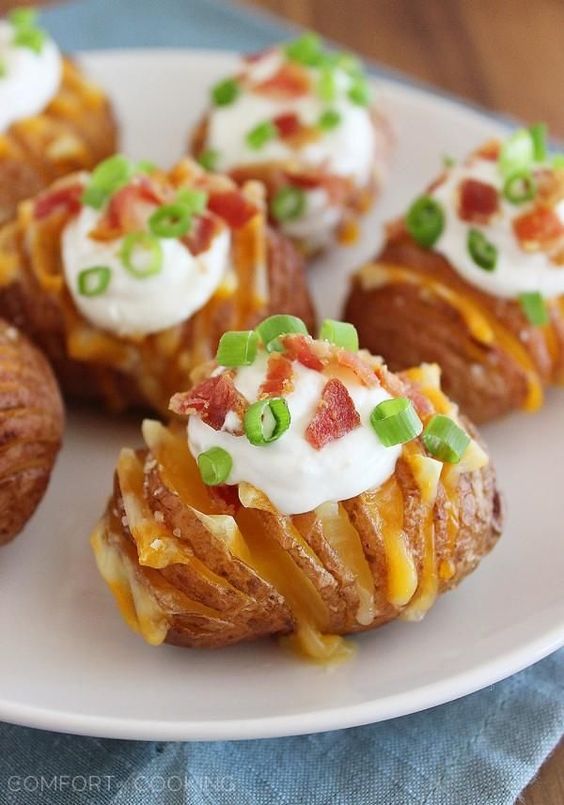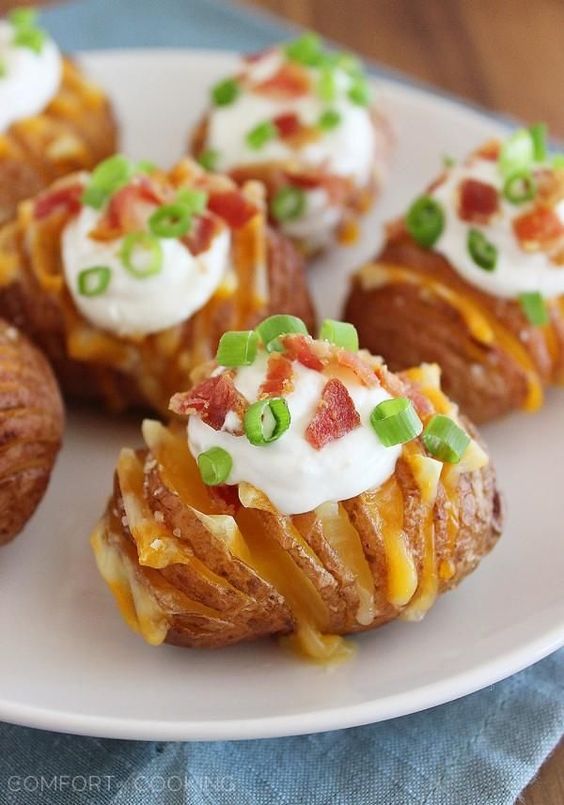 This is not a quick recipe that you can throw together, but it is easy and it's too delicious for its own good. Click here for the recipe.
---
Slow Cooker Sweet And Spicy Sausage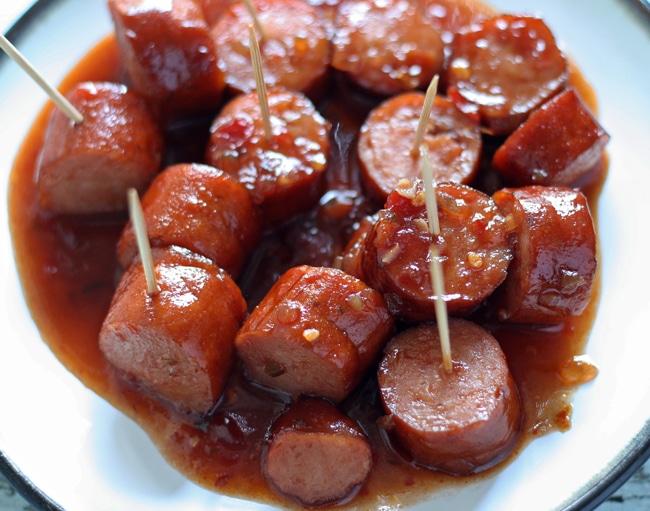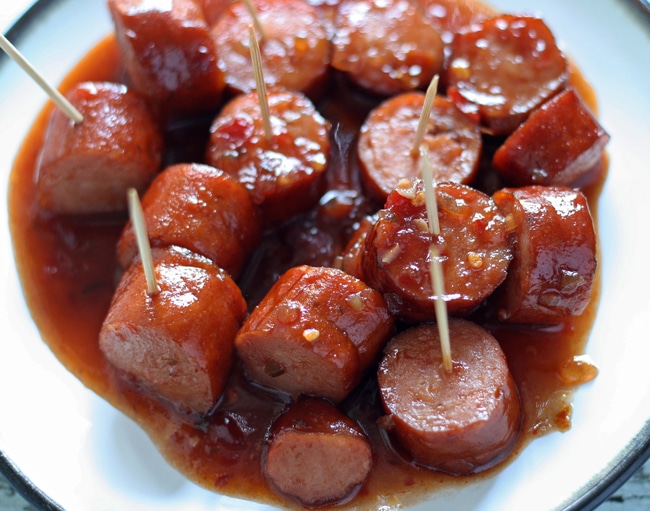 What can be easier than throwing all the ingredients in the slow cooker

, and then serving it? Click here for the ingredients and the full recipe.
---
A Very Yummy & Easy Cheese & Crackers Board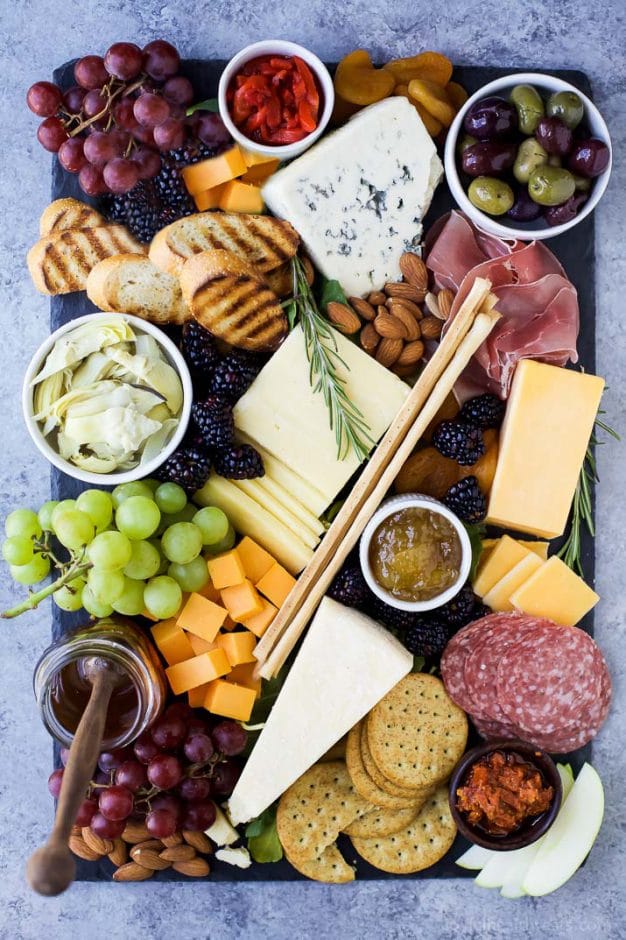 Click here for complete instructions on what to add to your cheese board.
---
Oscar Tomato Tarts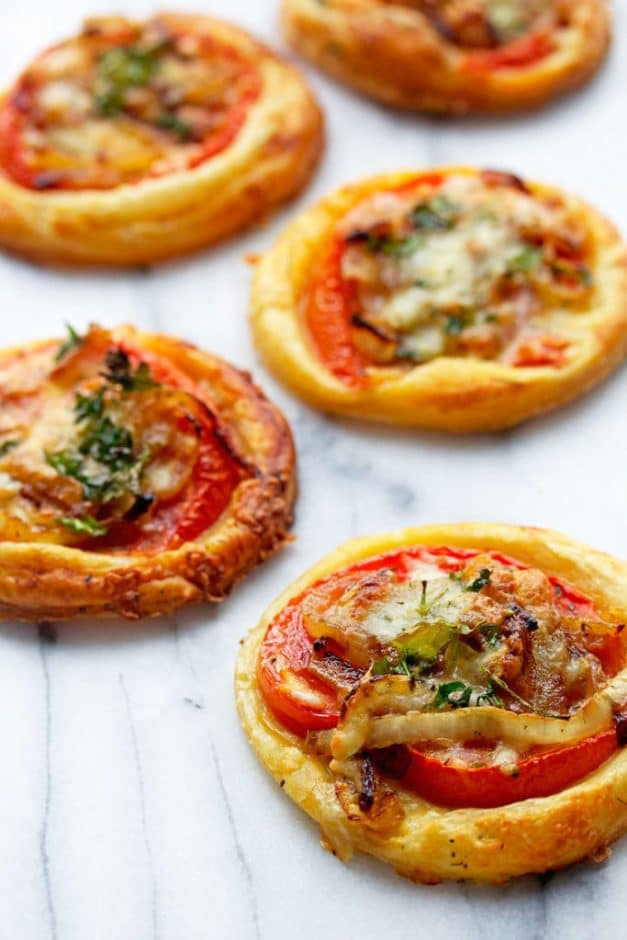 Yummy. Click here for the recipe of Oscar Tomato Tarts, courtesy of Grandbaby Cakes.
---
Healthy Fruit Skewers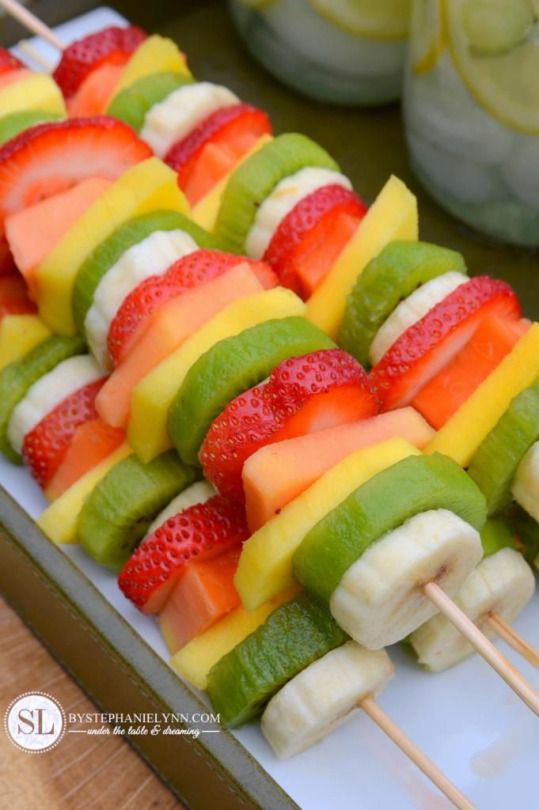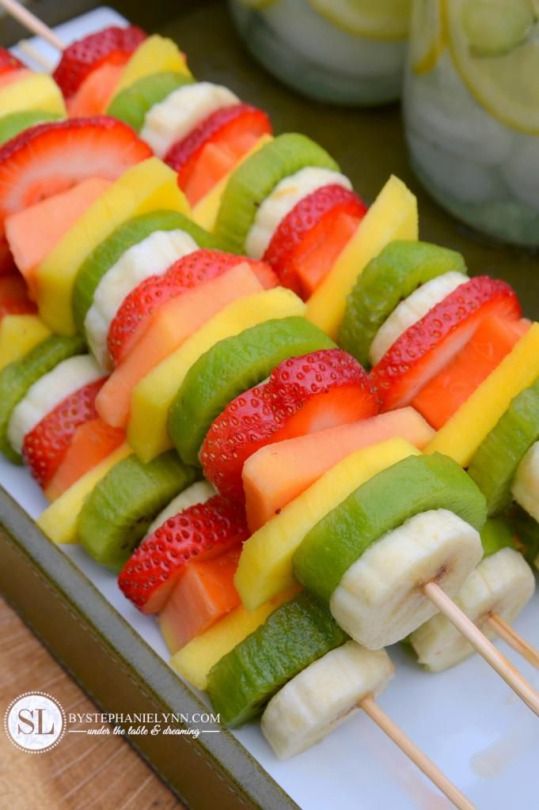 Refreshing and delicious. Find details of how to put it together, here.
---
Avocado, Cream Cheese, and Salsa-Stuffed Puff Pastries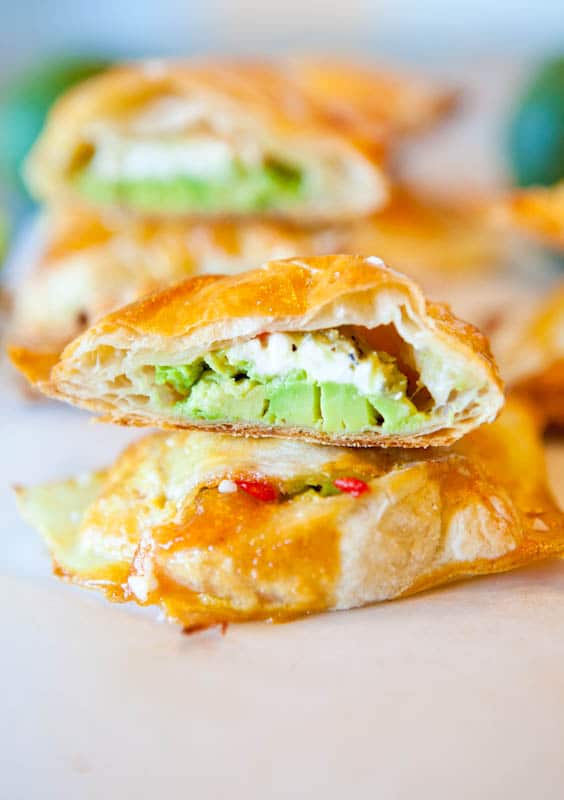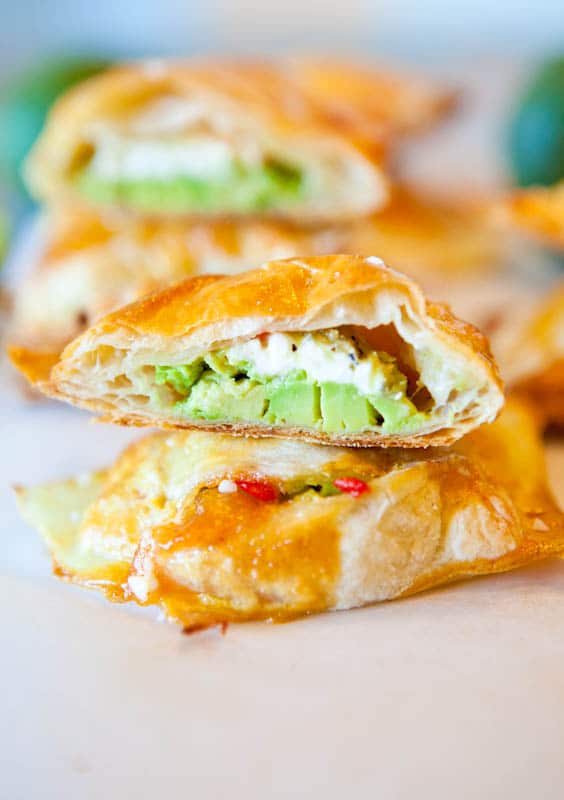 Click here for the recipe of these avocado, cream cheese, and salsa-stuffed pastries.
---
Spicy Tuna with Crispy Rice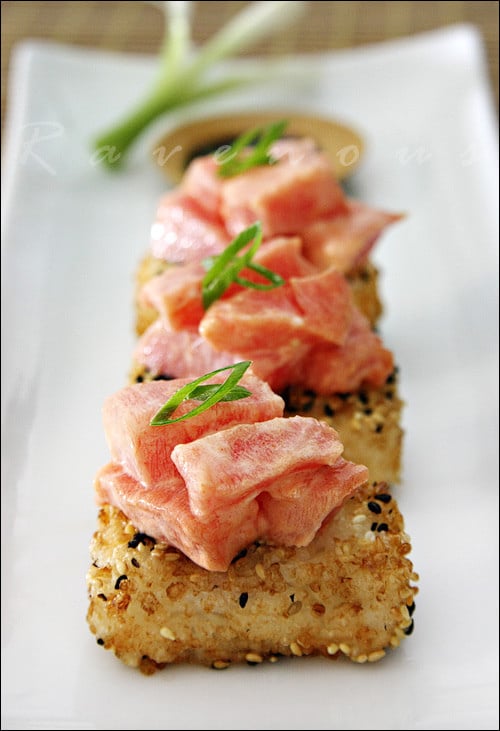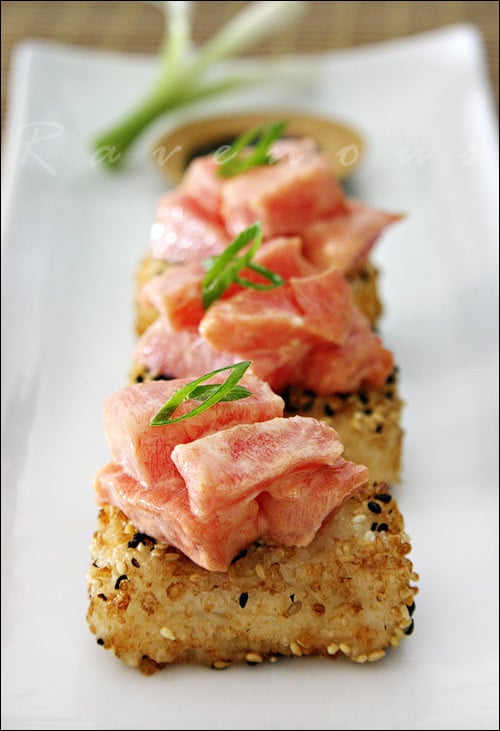 If your guests enjoy sushi, they will enjoy this. Click here for the recipe.
---
Chicken And Waffle Sliders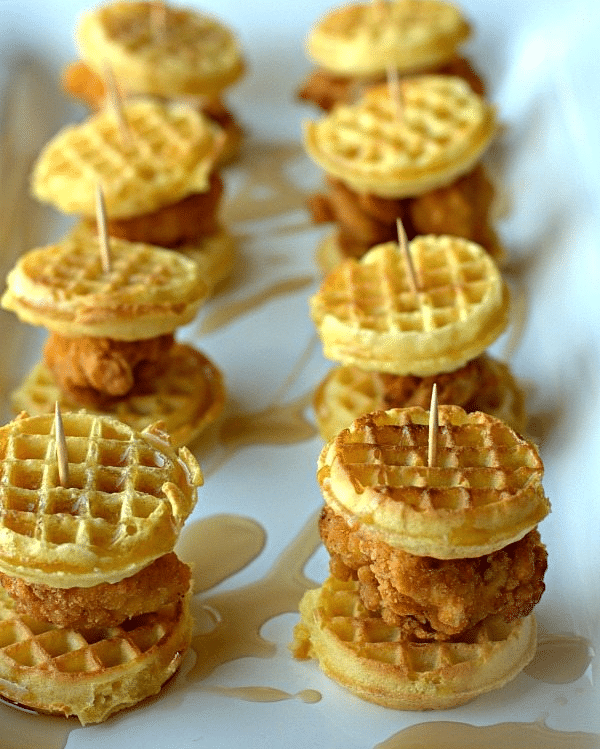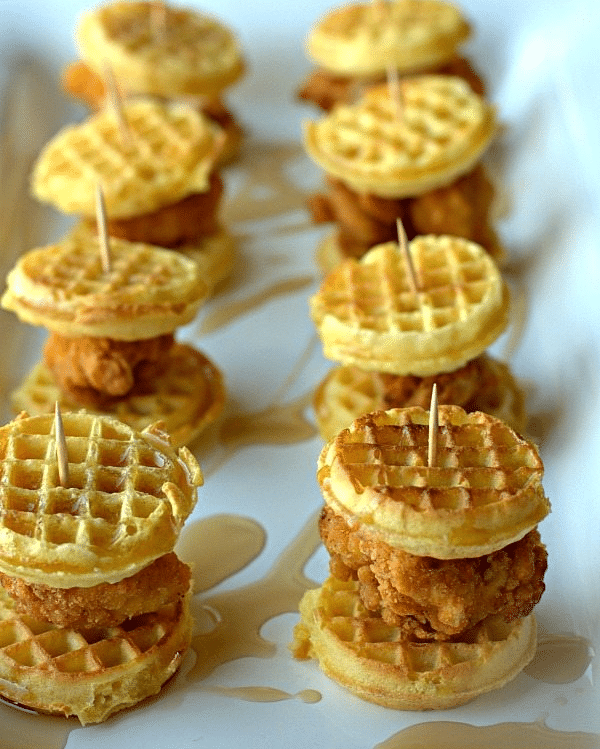 Oh, my! What a crowd pleaser. Find the full and complete recipe here.
---
Watermelon On A Stick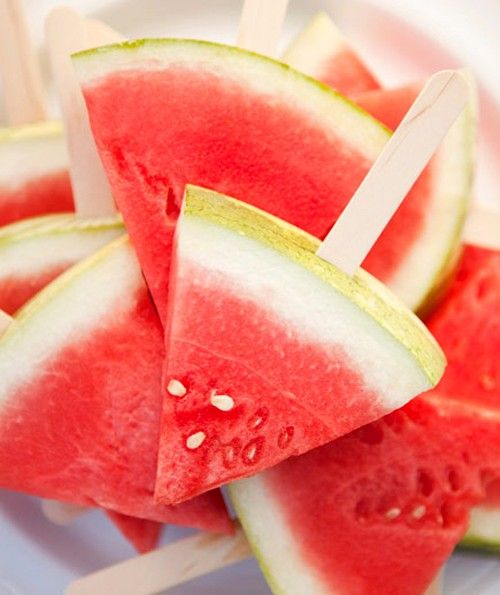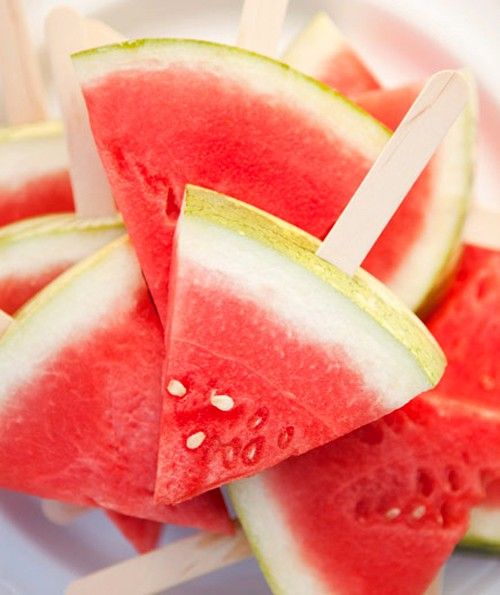 How refreshing, and easy! Perfect for a summer baby shower, perfect for people with food sensitivities. This comes courtesy of Somewhat Simple.
---
8 Layer Taco Dip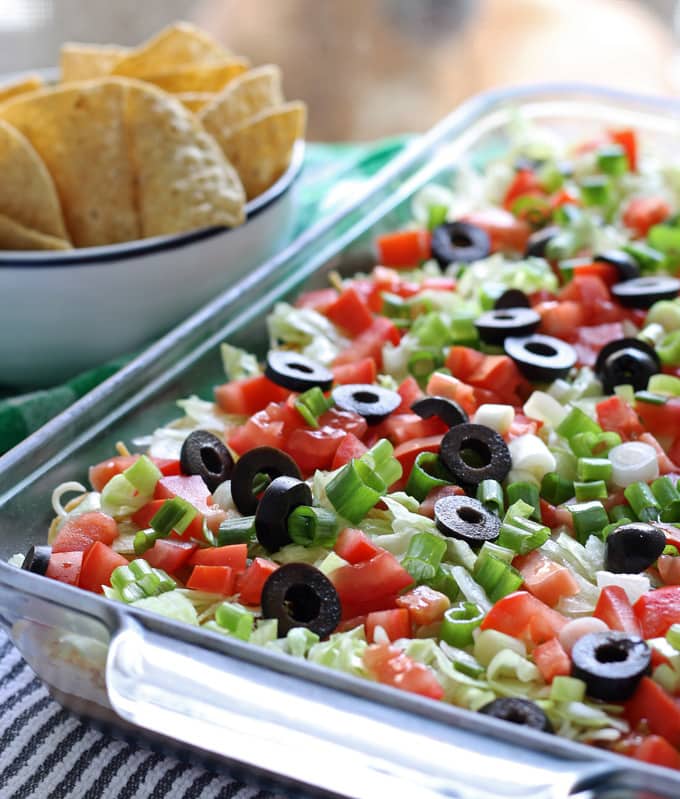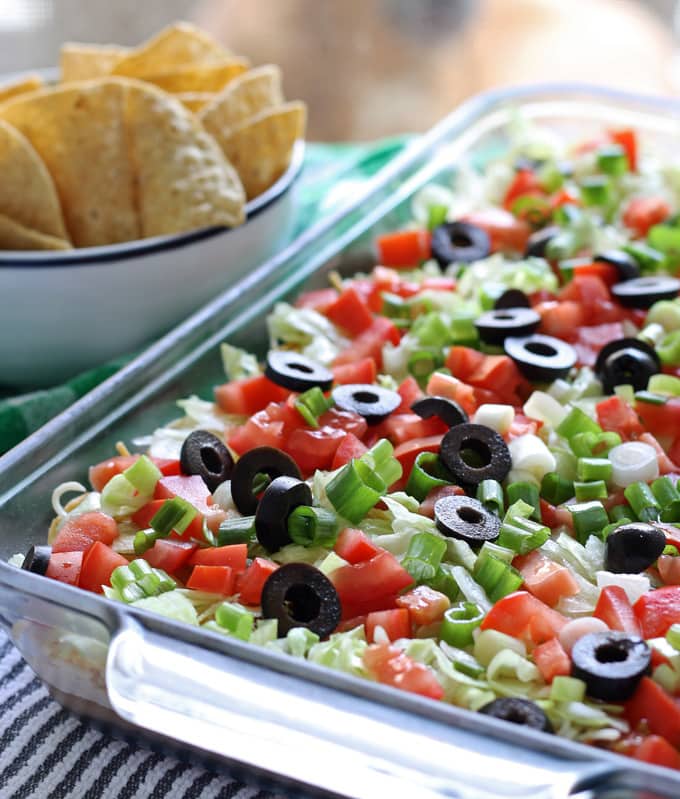 Who does not love a good taco dip – this one's got 8 layers! This is another easy baby shower food to serve because you just place it next to a bowl of corn chips, and your guests can enjoy themselves. Here's the full recipe.
---
Mini Mac & Cheese Cups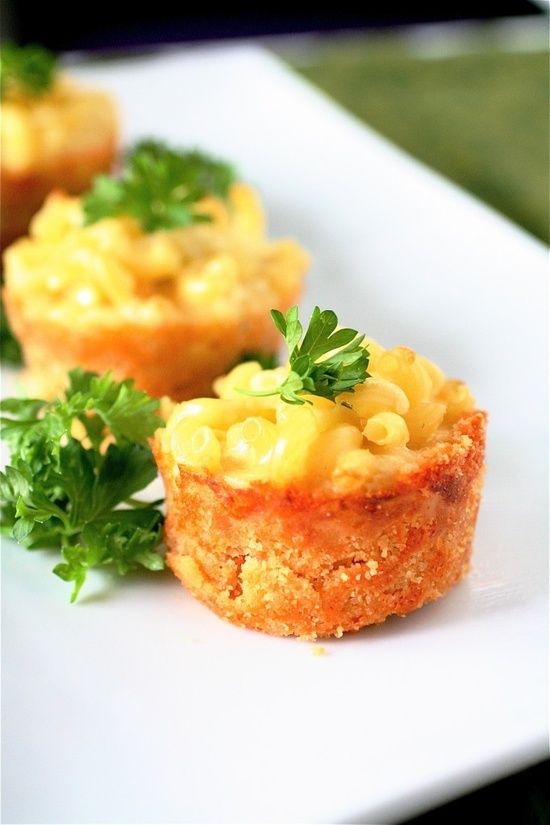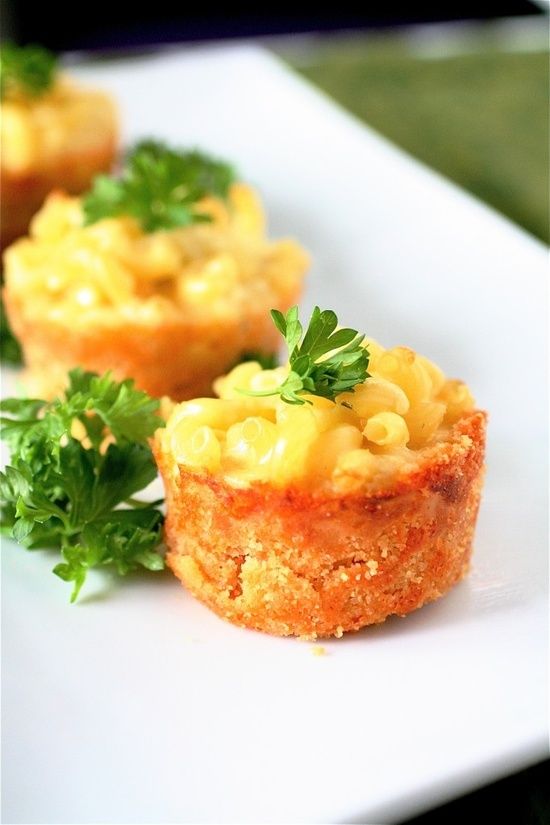 Click here for this recipe. This is the alternative to the fried version above.
---
5 Ingredient White Queso Dip – No Velveeta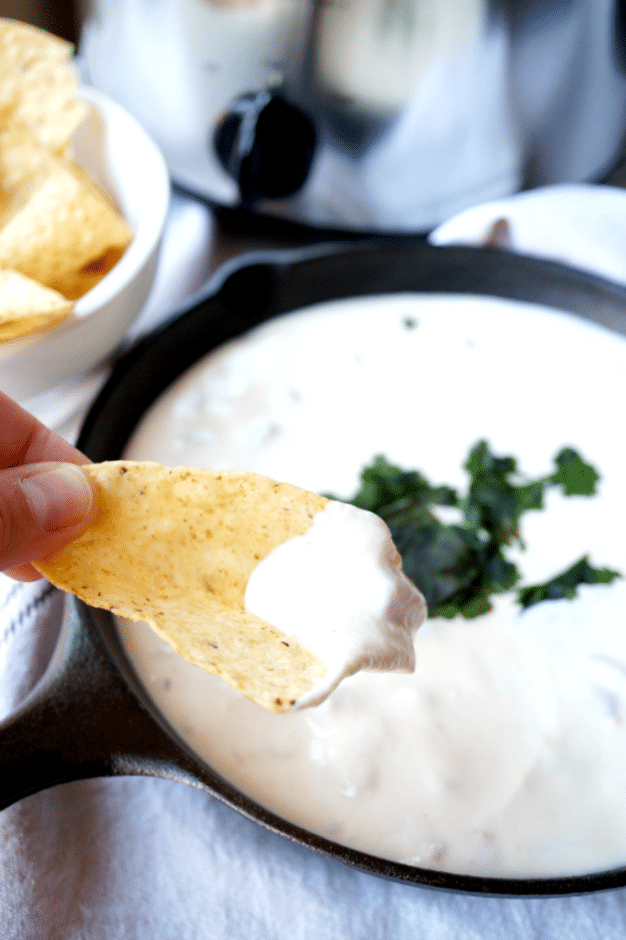 Concerned about eating "clean?" This recipe is it. Find the recipe here.
---
Balsamic, Strawberry & Goat Cheese Crostini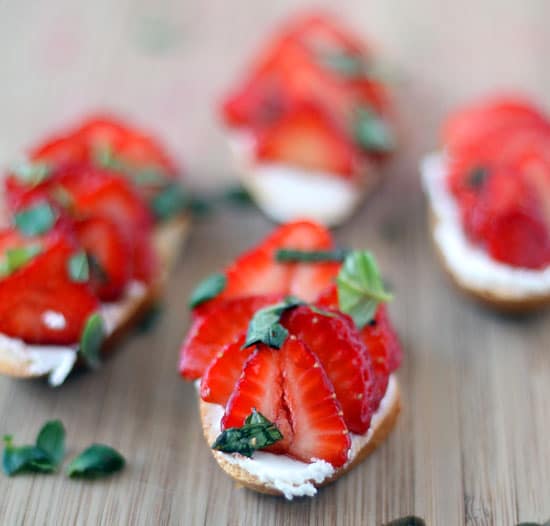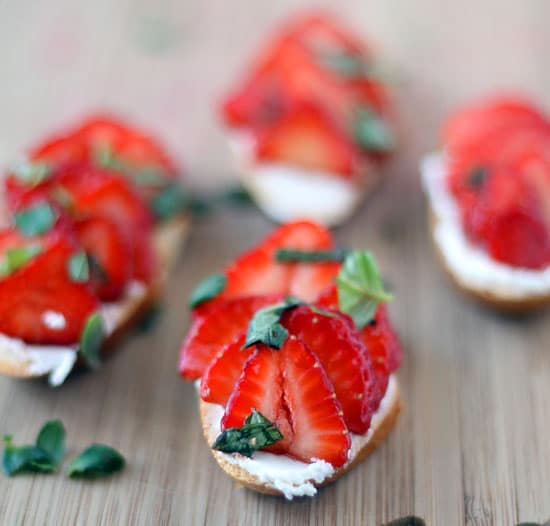 This one is yummy and oh-so-easy to prepare. Click here for the recipe.
7 Layer Dip – Individual Cups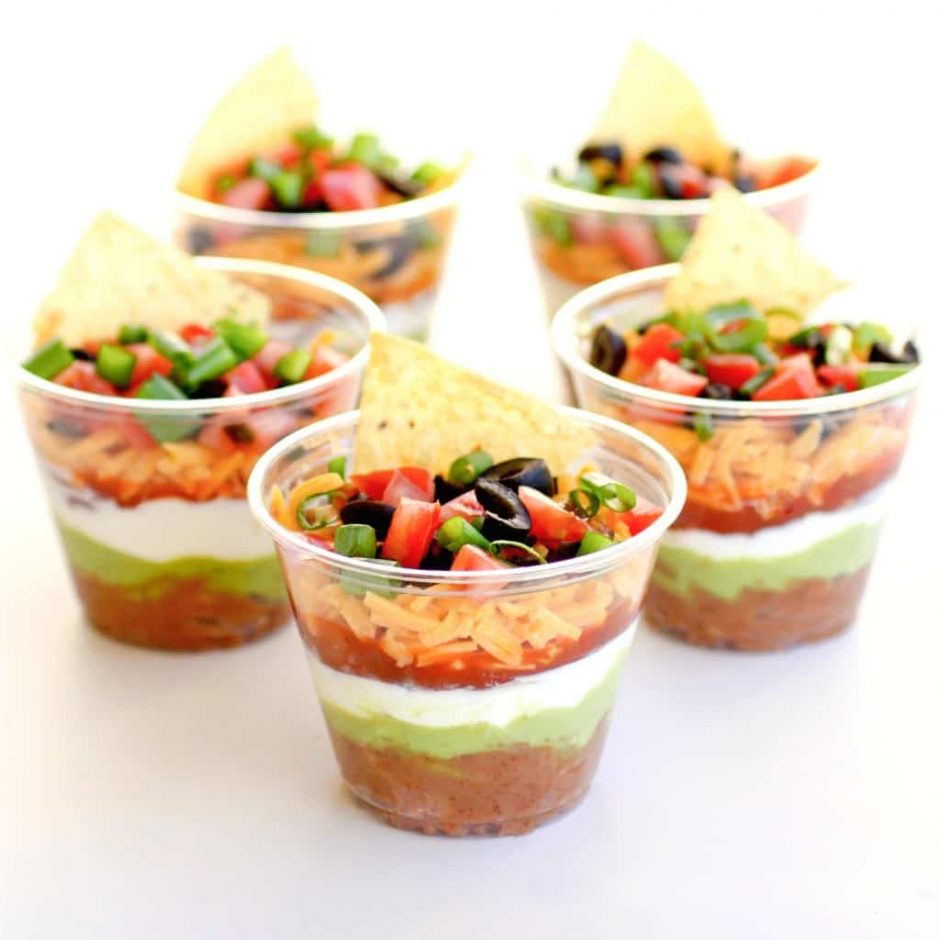 This one is a nice addition to any baby shower brunch menu. Click here for the recipe.
---
Sausage & Cream Cheese Dip – AKA the Hissy Fit Dip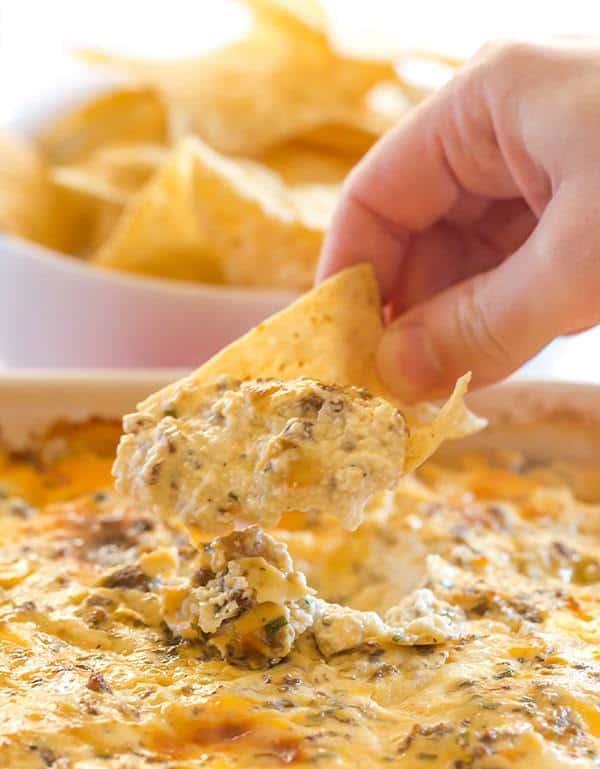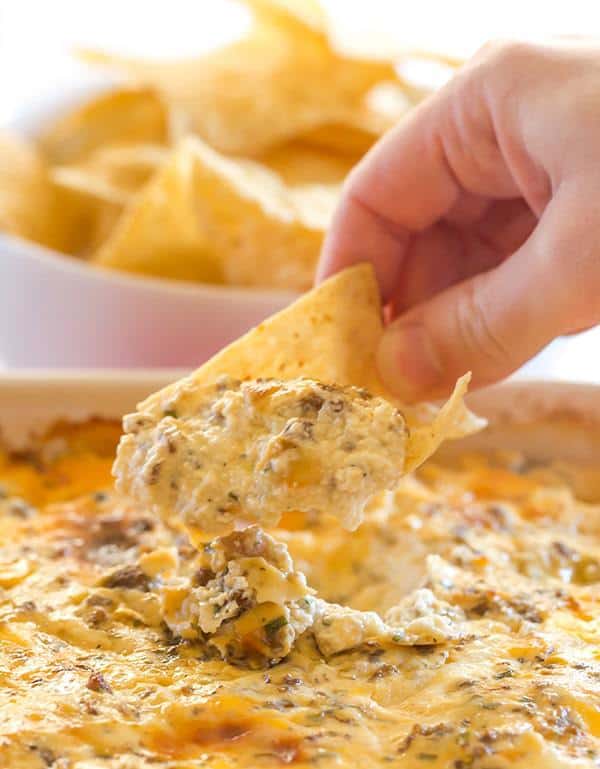 Click here for the "Hissy Fit Dip" recipe.
---
Chicken Salad Wonton Cups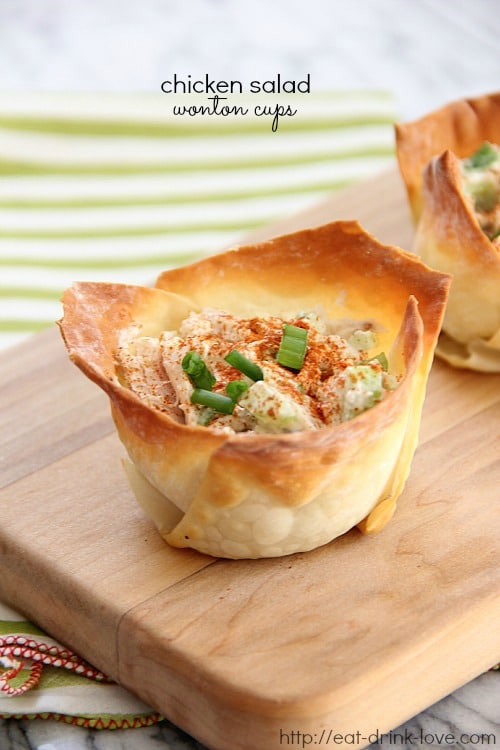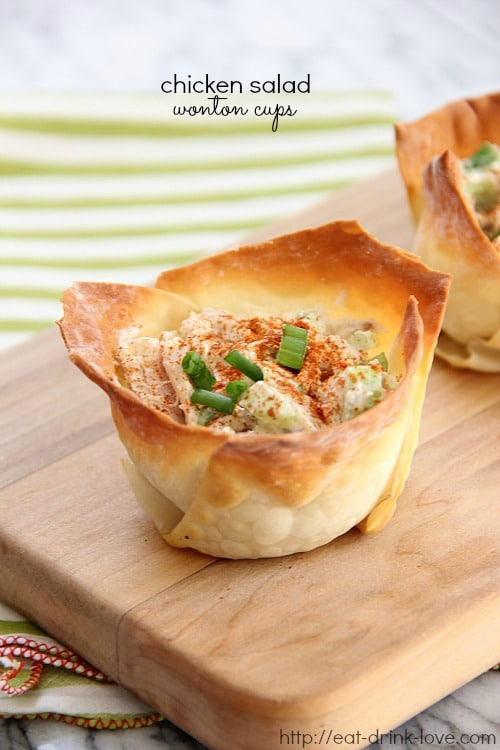 This one may seem a bit fancy but it's actually an easy baby shower food because you simply pop your premade wonton wrappers into a muffin tin, fill it with chicken salad, and bake. Click here for the full recipe.
---
Simple Homemade Pretzel Dogs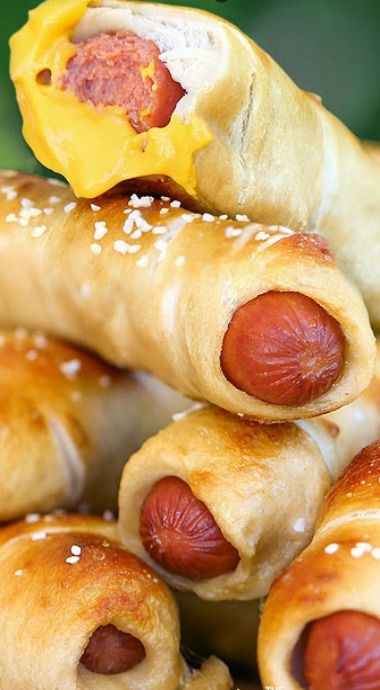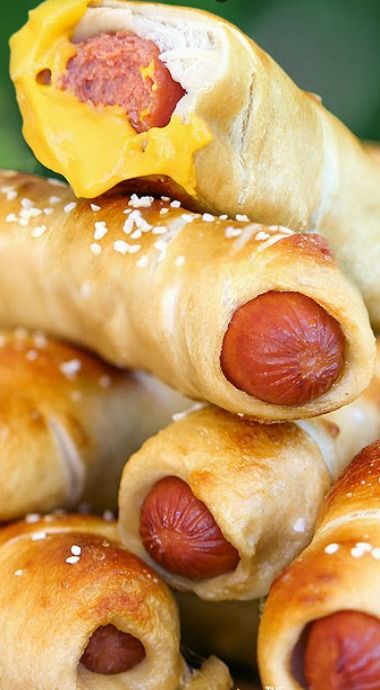 This is a much-appreciated finger food, and you can serve it with any condiments you choose. Click here for the recipe.
---
Chili Garlic Chicken Skewers With Greek Yogurt Dip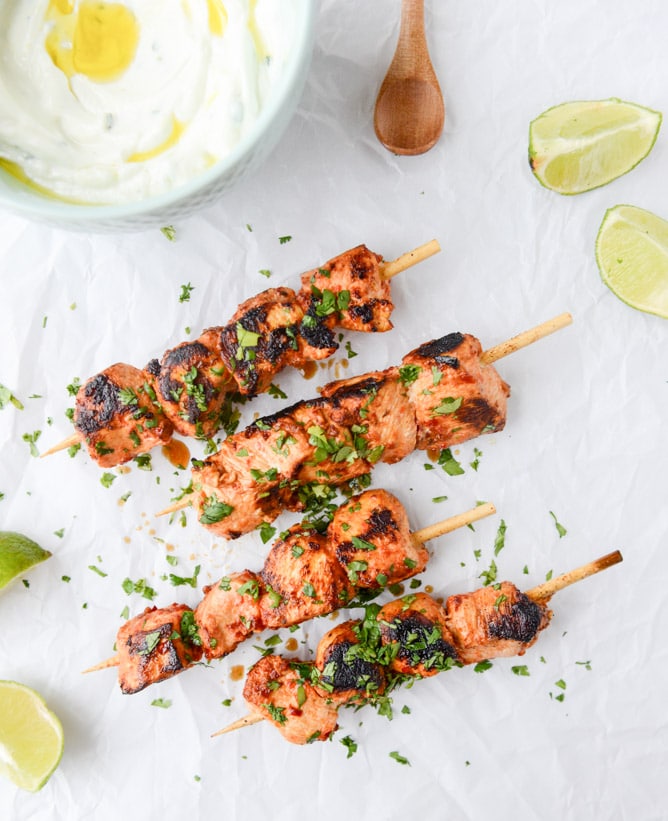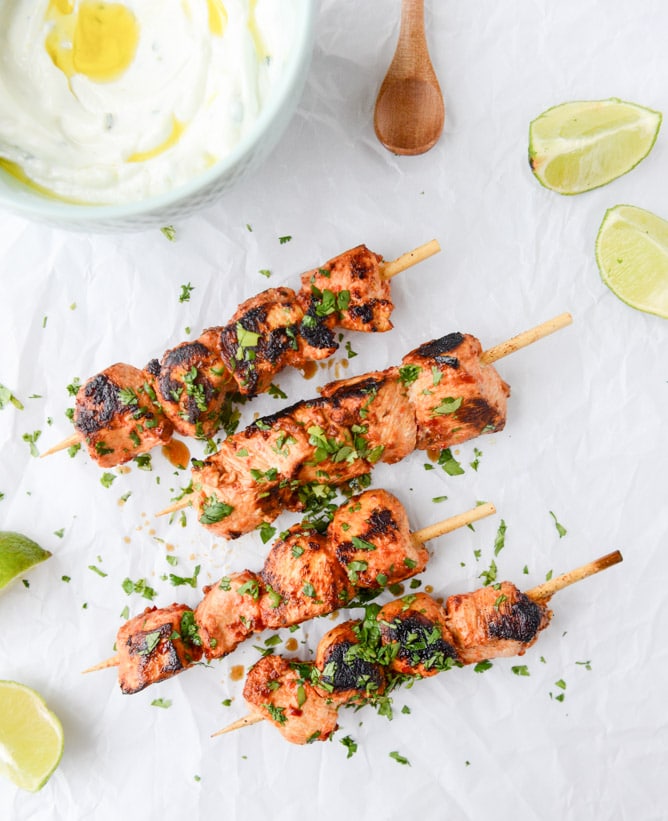 This one will fit quite nicely on a baby shower brunch menu. Click here for the recipe.
---
Mexican Bruschetta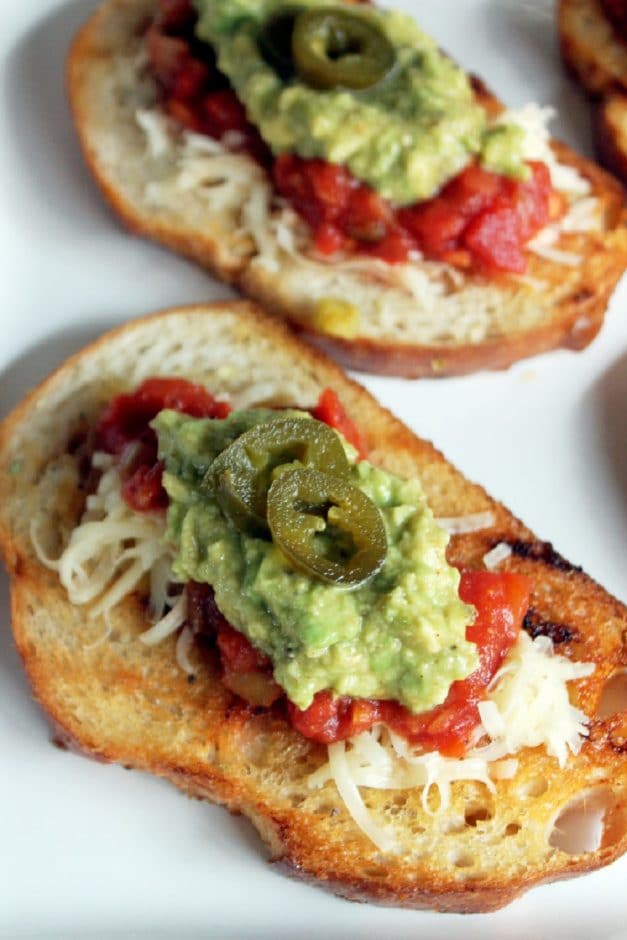 Looking for baby shower foods with a delicious crunch? This one is it. Click here for the recipe.
---
Buffalo Chicken Meatballs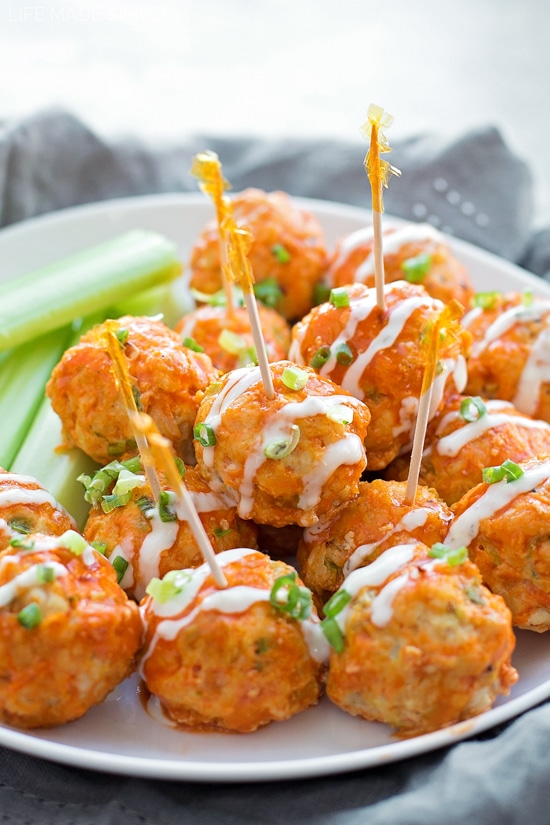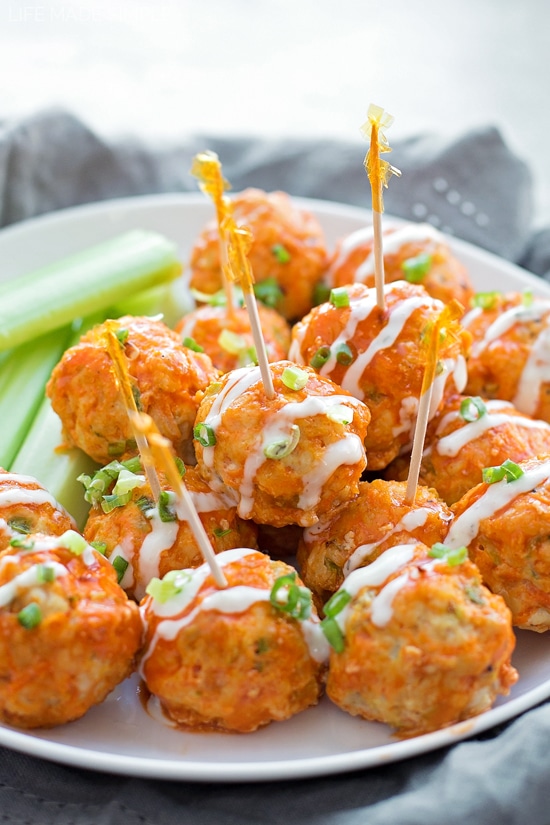 These little chicken meatballs are a healthier but still delicious version of traditional meatballs. Find the recipe here.
---
Delicious Crab Dip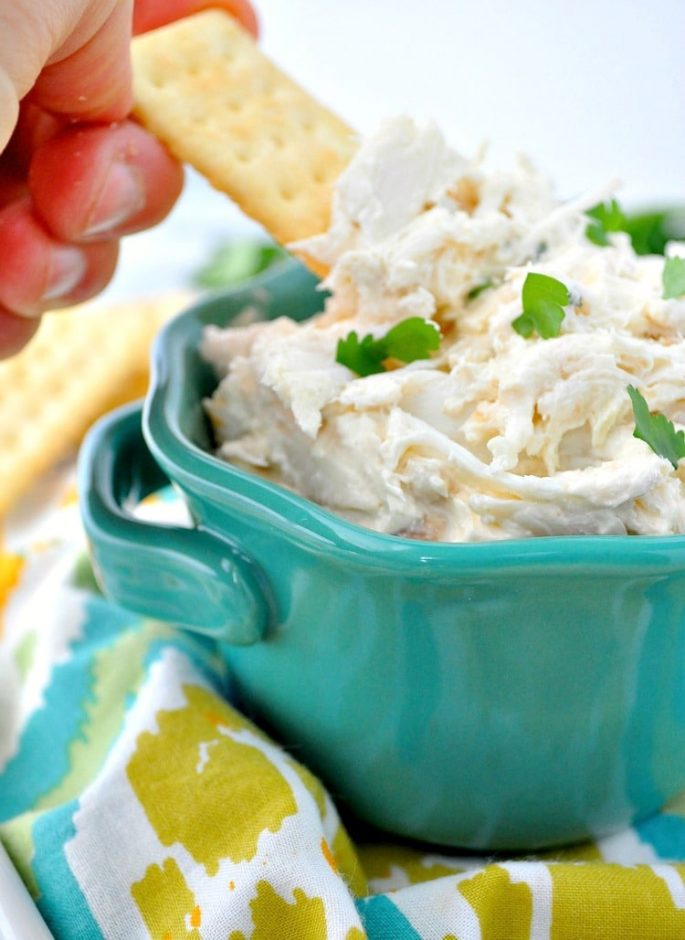 Crab dips are just yummy with crackers or chips! Click here for the recipe.
---
Bacon Mac and Cheese Bites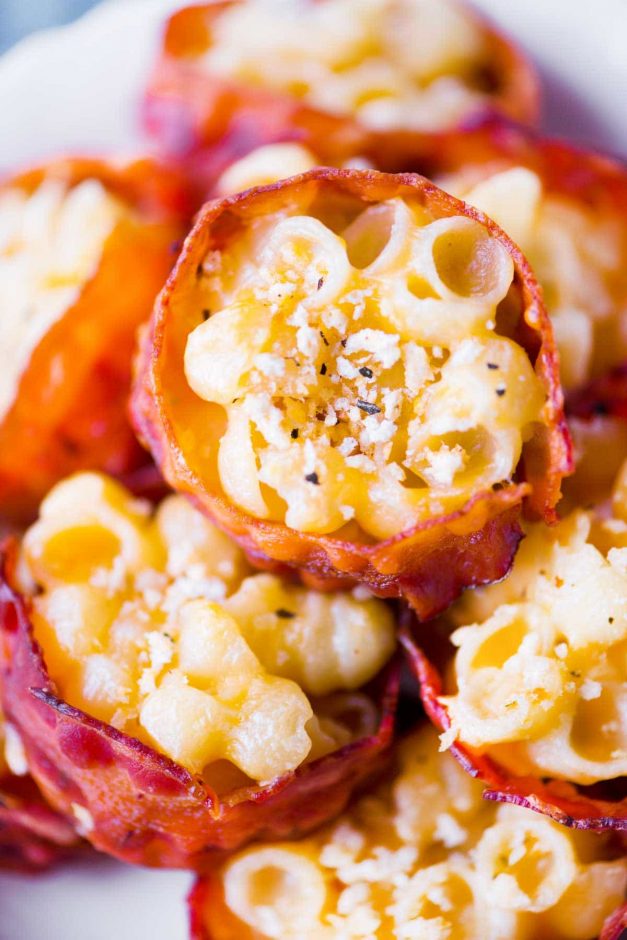 Two comfort foods: bacon and mac & cheese. How can you go wrong? Click here for the recipe of these delicious bacon mac and cheese bites.
---
Hawaiian Chicken Bites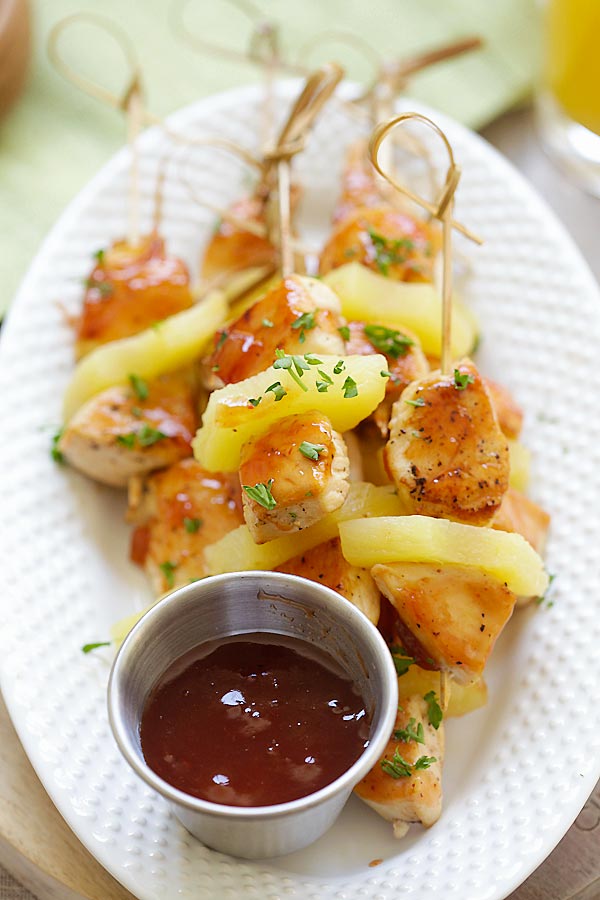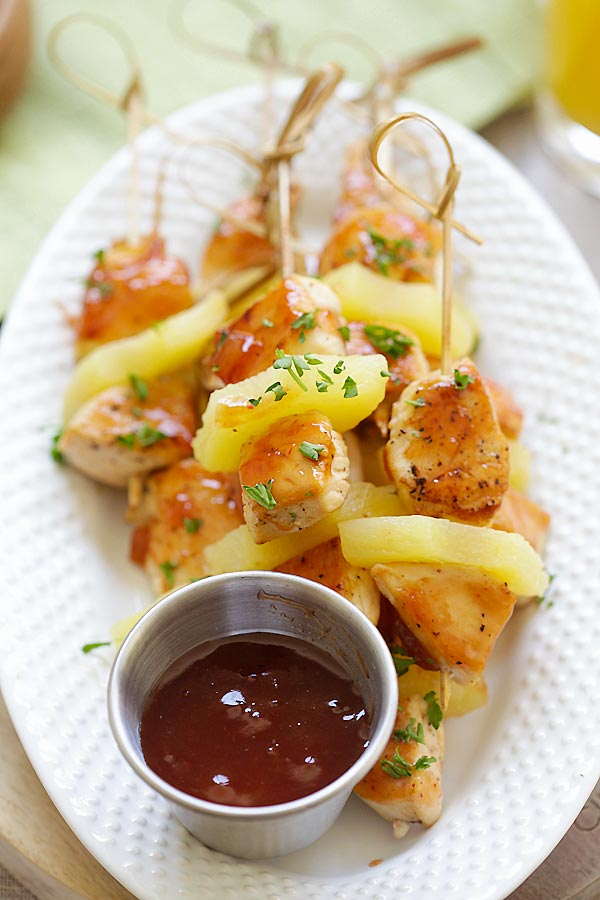 These are perfect for bright, summer baby showers. Click here for this recipe.
---
Pepper Jelly Hogs In A "Baby" Blanket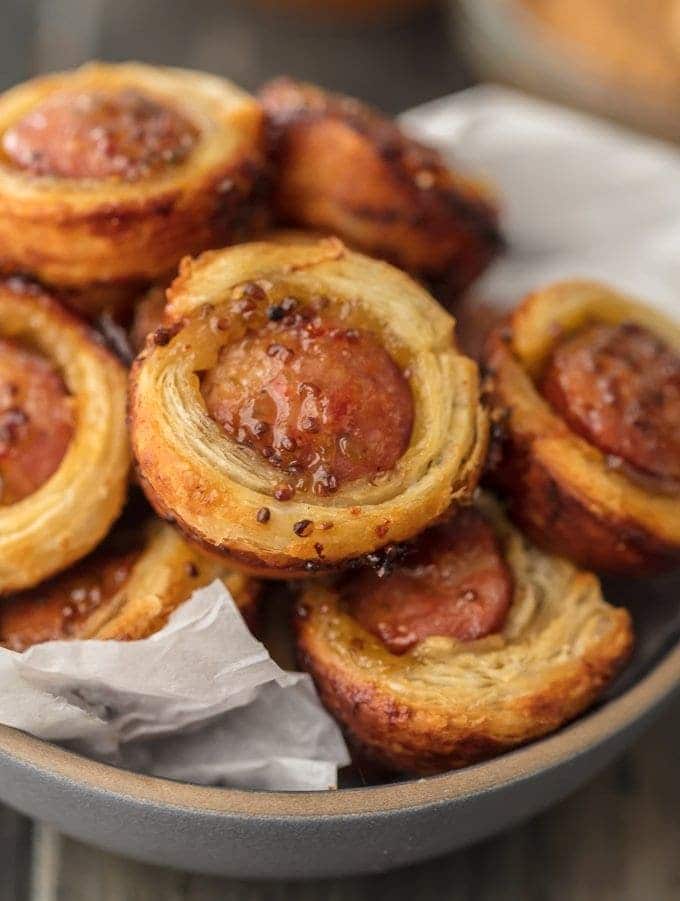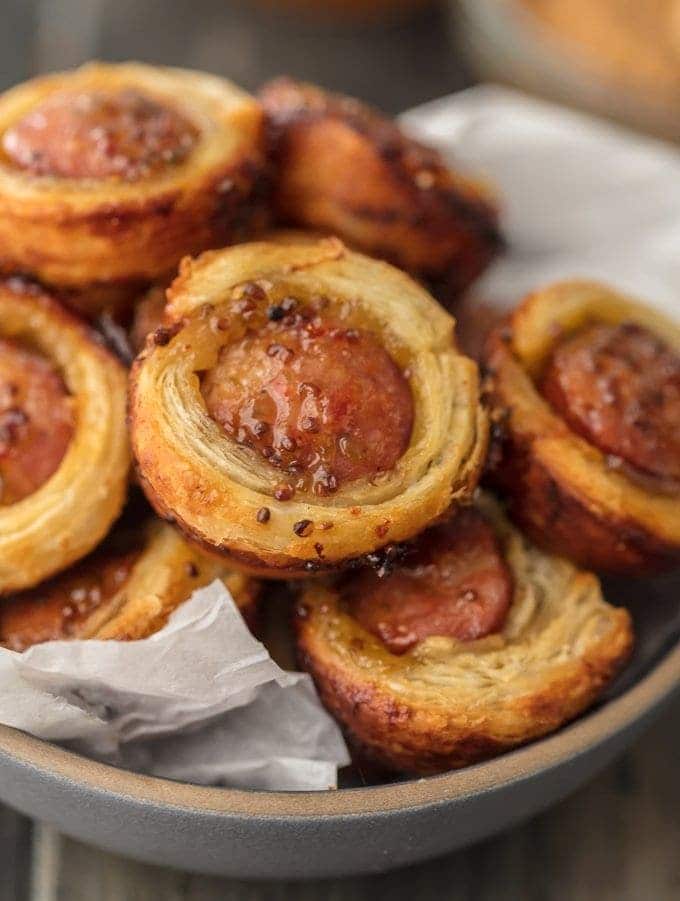 ---
Cream Cheese Bacon Chicken Tacos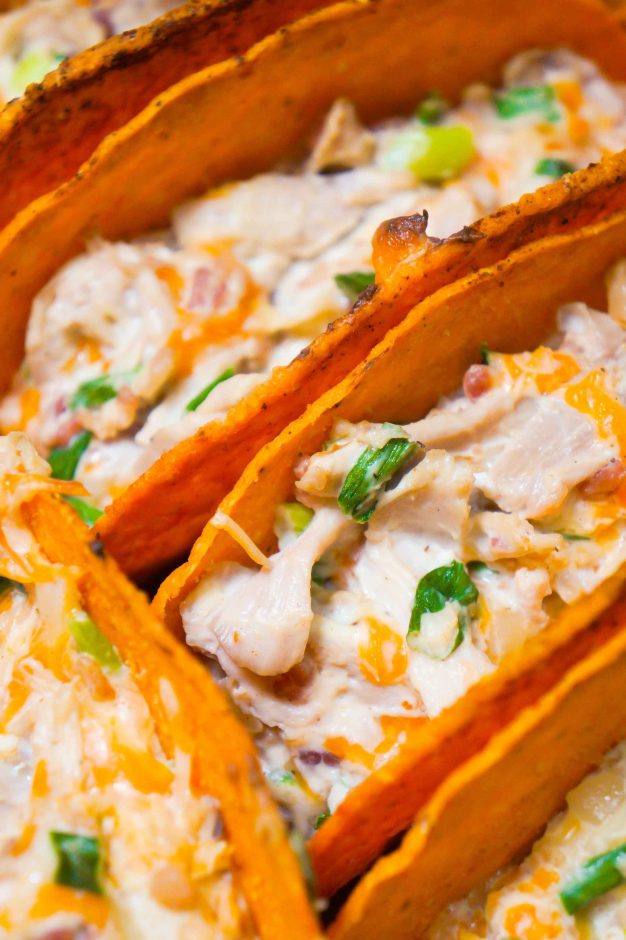 This recipe comes courtesy from the blog called "This is NOT diet food."
---
Cheesy Mini Potato Au Gratin Stacks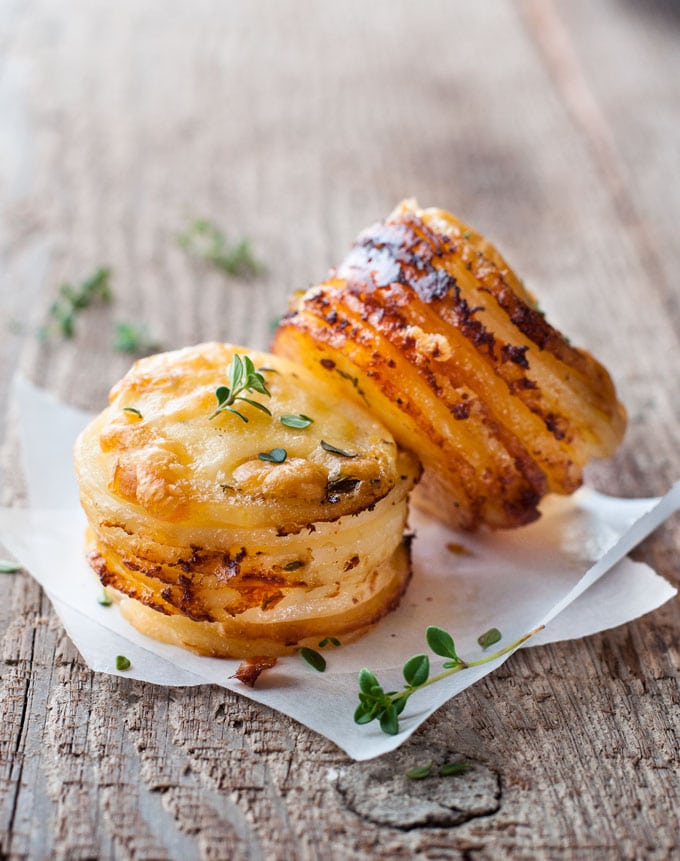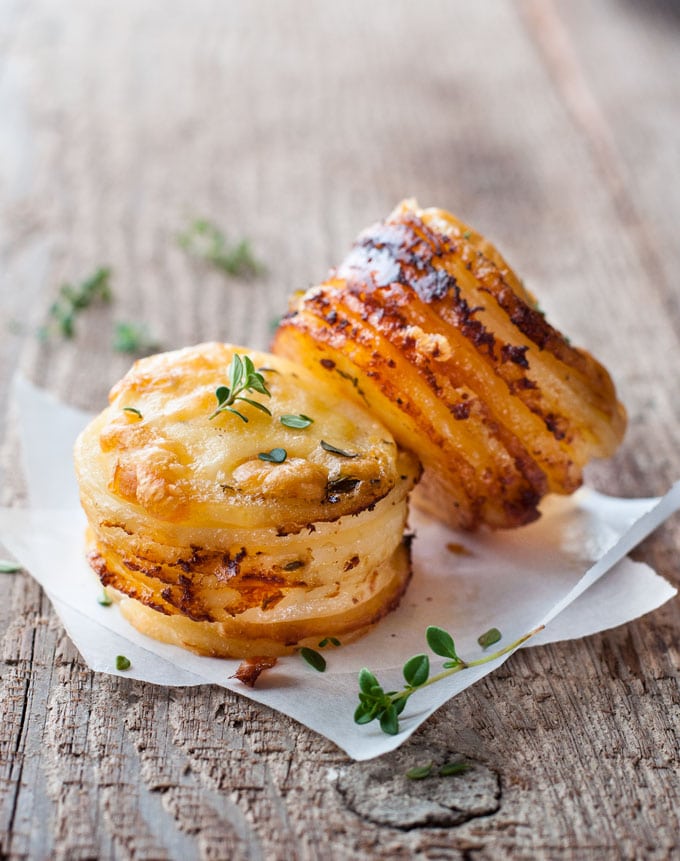 Potato au gratin is quite a popular baby shower food idea but best served warm. Click here for this delicious recipe.
---
Beef Wellington Bites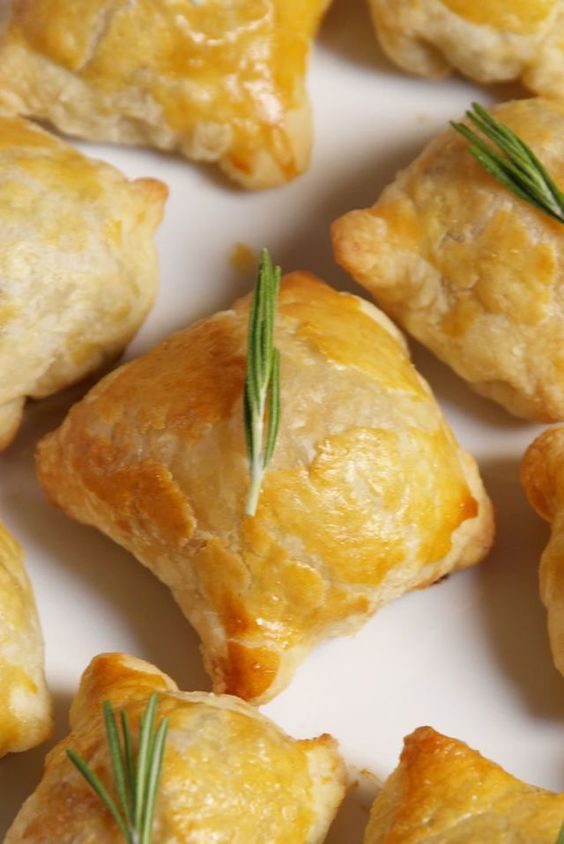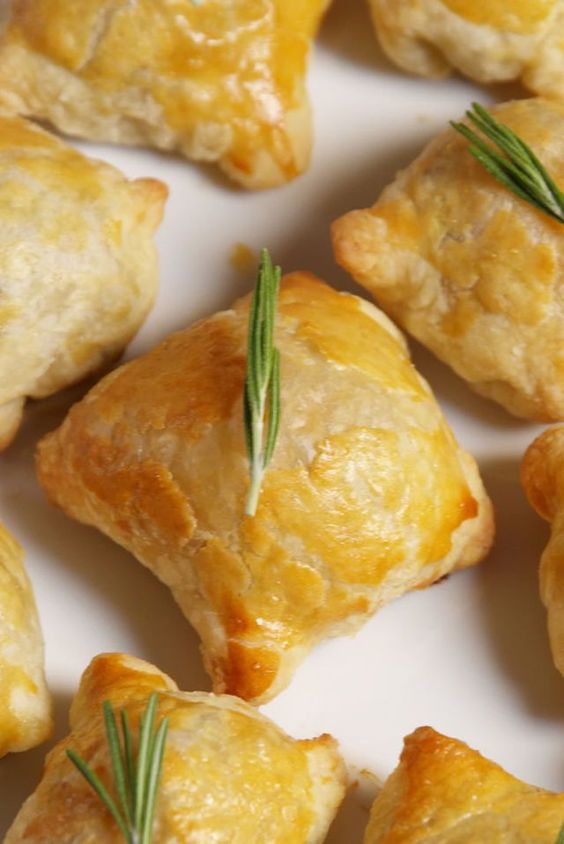 This another of those baby shower foods that must be served warm. Click here for the recipe.
---
Reuben Tortilla Pinwheels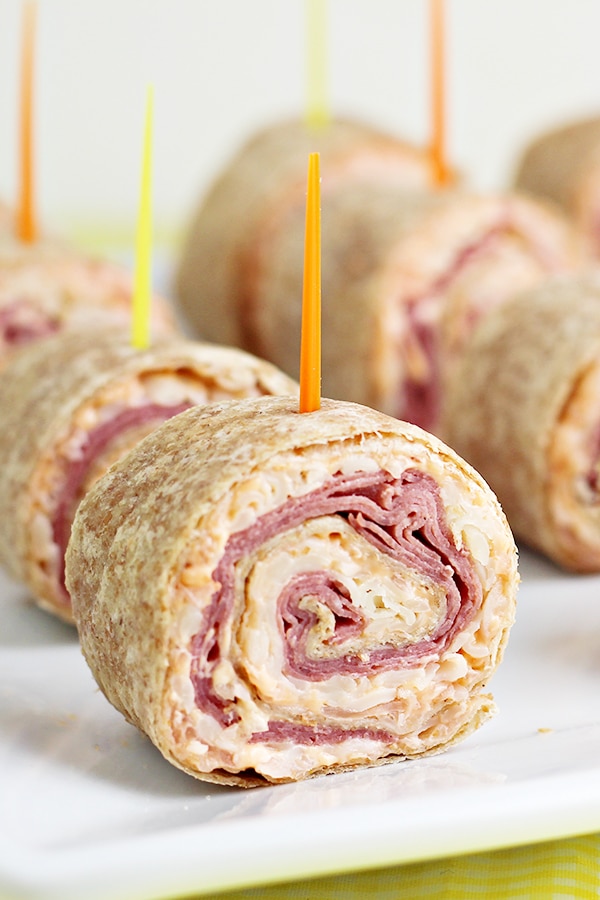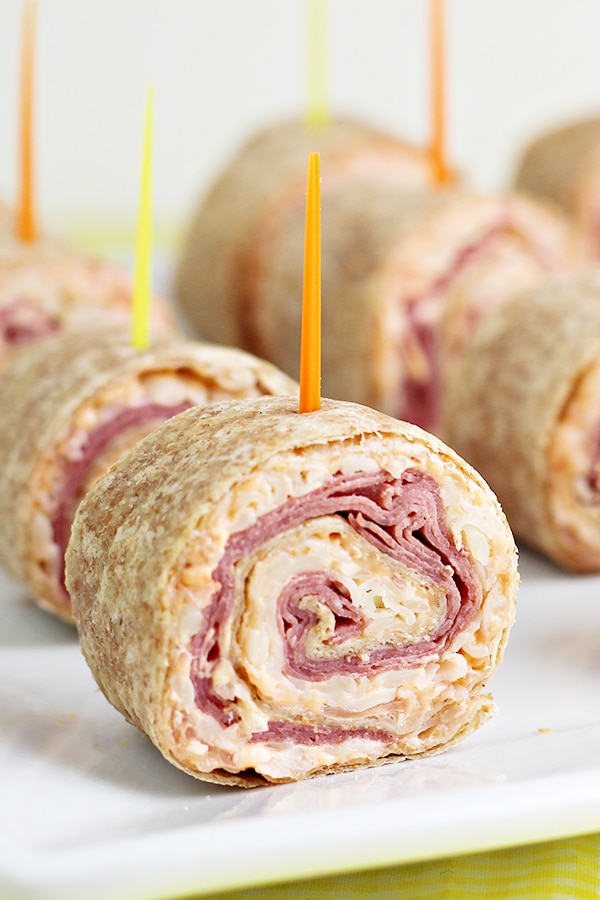 If you're looking for easy baby shower food, this could be part of your menu. Click here for the recipe.
---
Bacon, Lettuce, & Tomato Tea Sandwich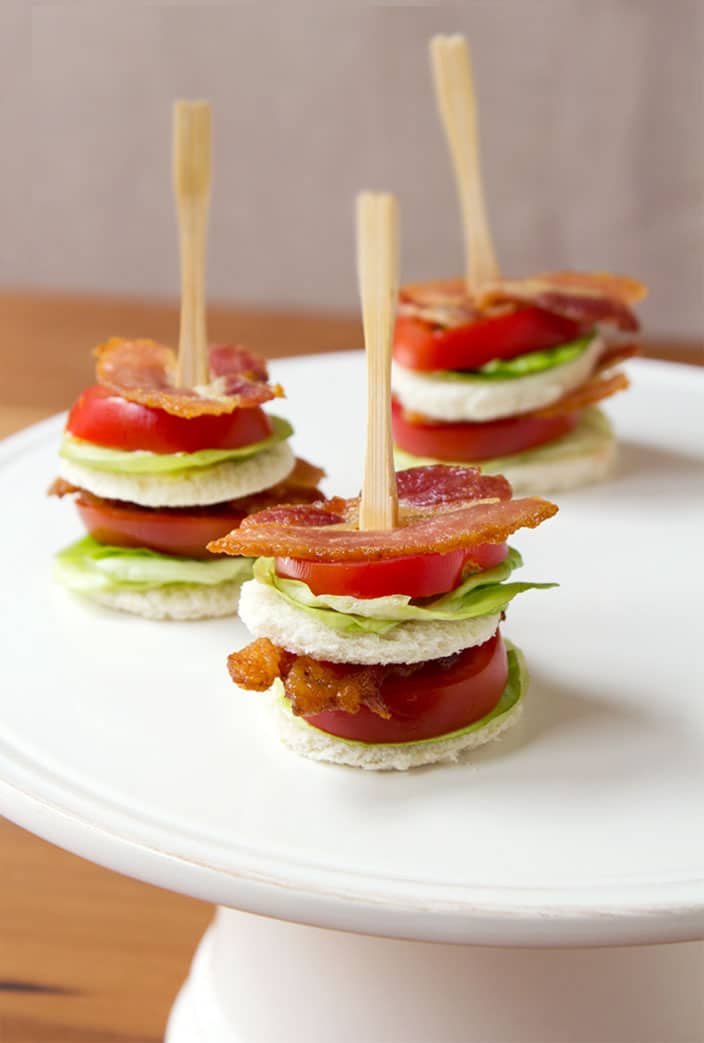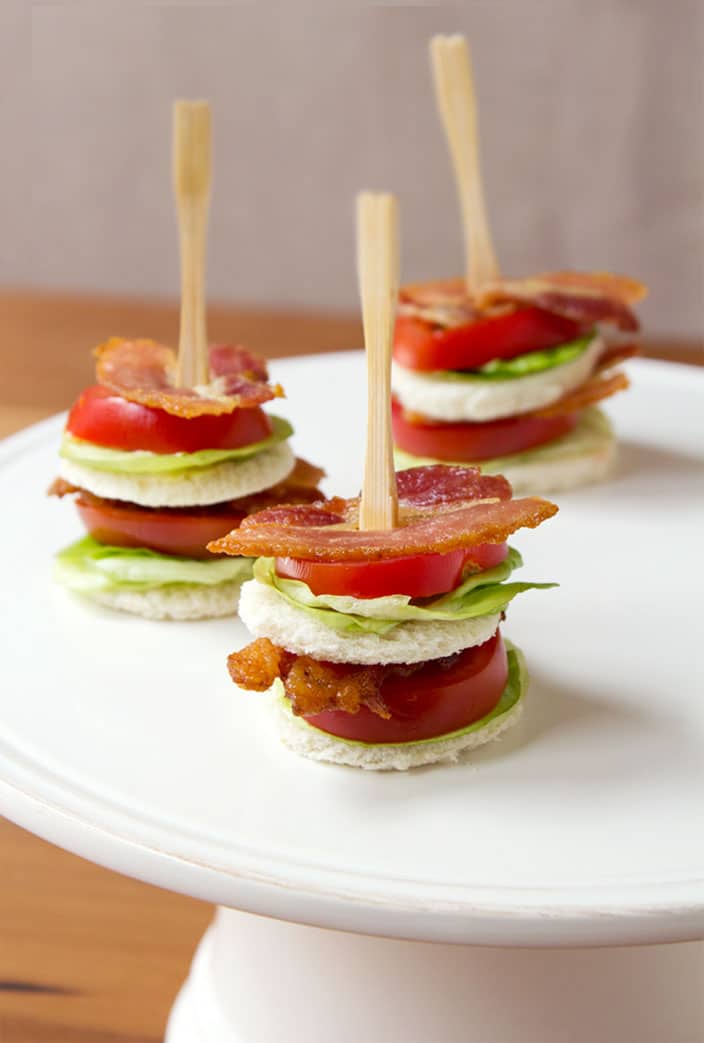 How adorable! Click here to see how you can put this together.
---
Easy Spinach & Ricotta Rolls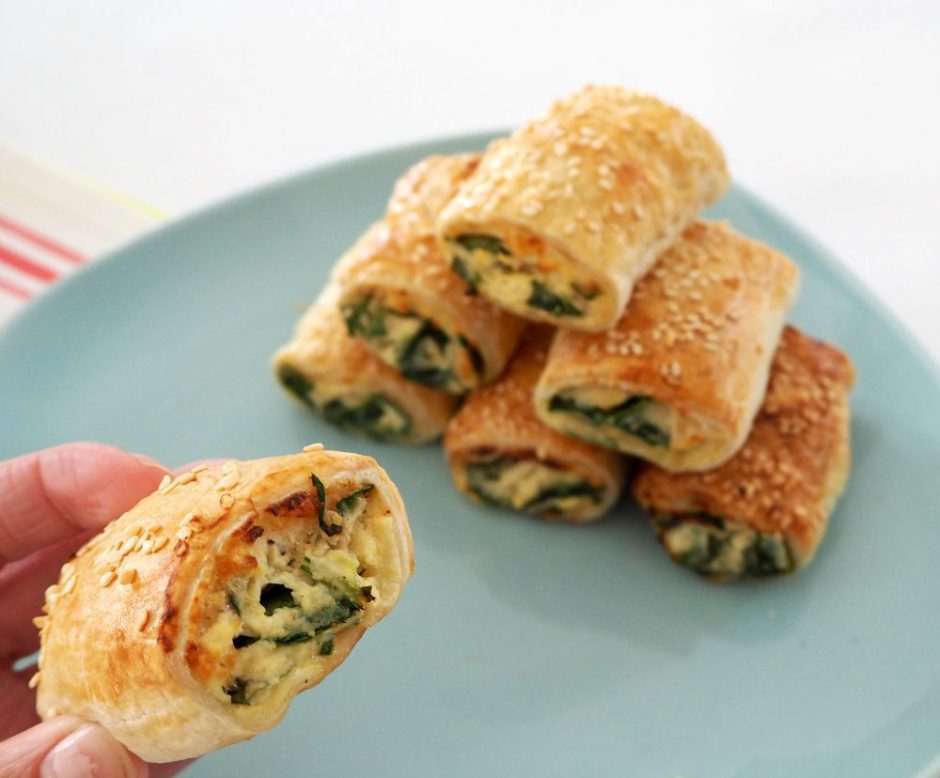 Another crowd pleaser. Click here for the recipe of these spinach and ricotta rolls.
---
Spicy Chicken Meatballs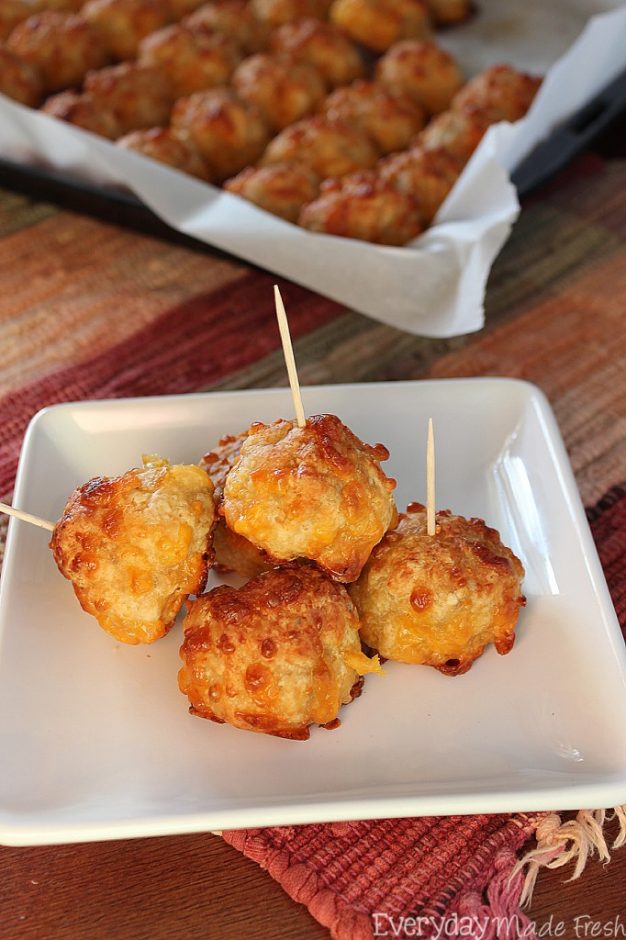 If your baby shower guests like it spicy, they will enjoy this. Here is the recipe for these spicy chicken meatballs.
---
Garlic Herb Roasted Shrimp with Homemade Cocktail Sauce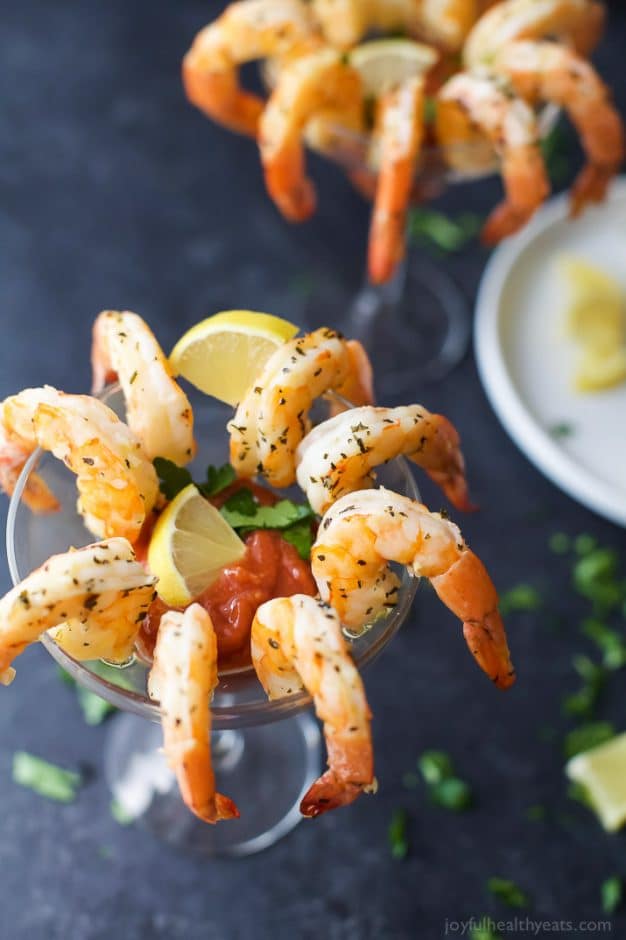 This is one of those oh-so-fancy recipes that is actually really easy to prepare. Click here for the recipe.
---
Buffalo Chicken Tortilla Pinwheels Recipe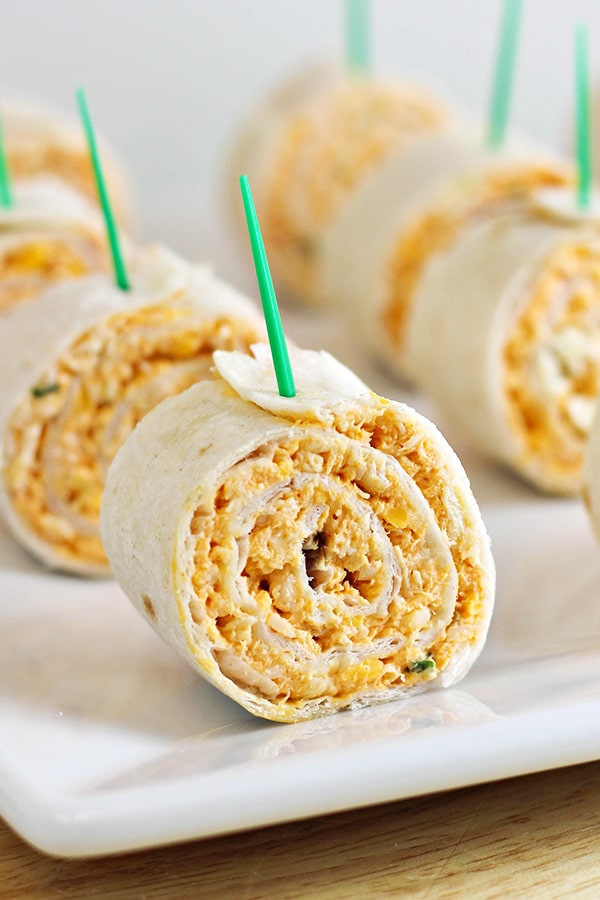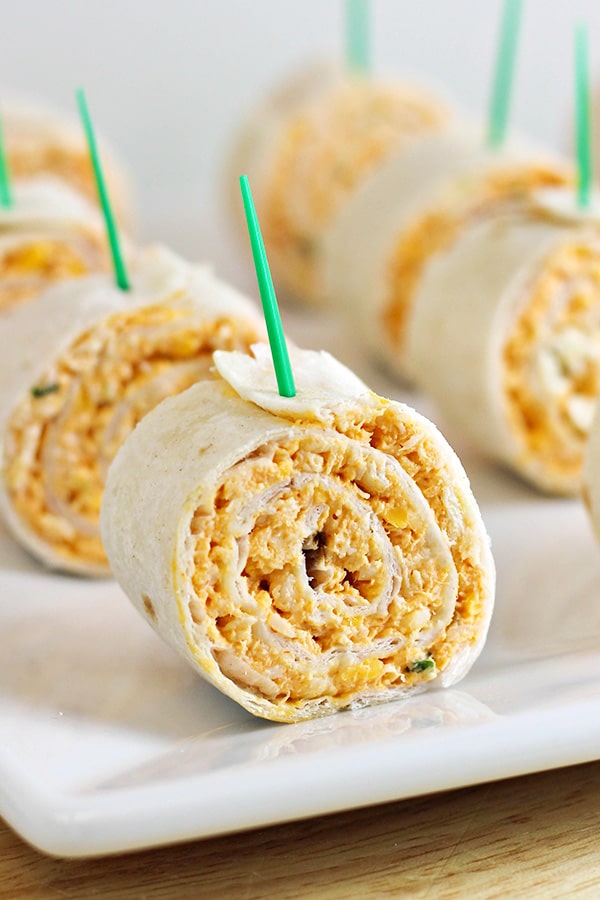 Click here for the recipe of Buffalo Chicken Tortilla Pinwheels Recipe
---
Cheeseburger Eggrolls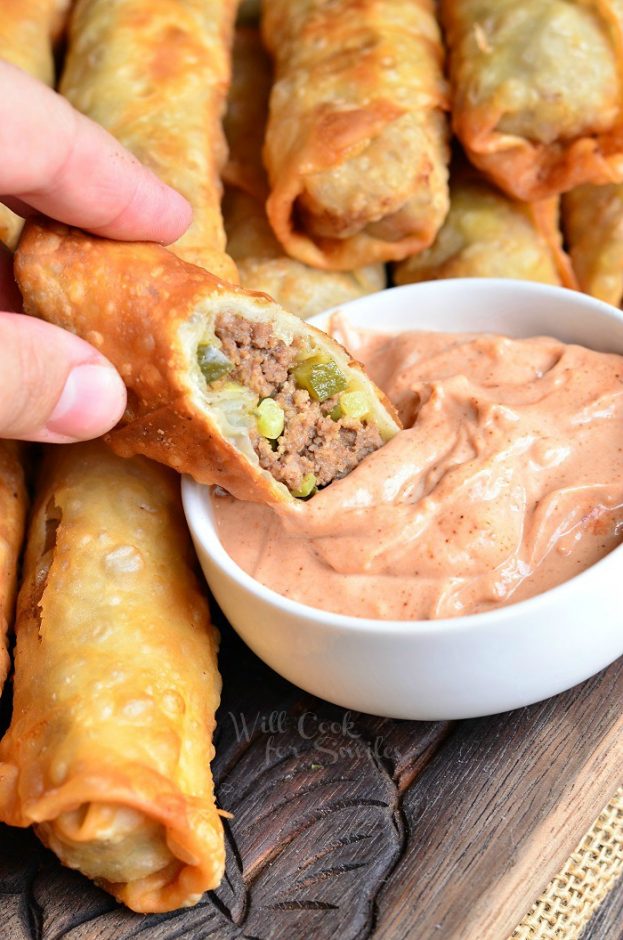 How creative! Click here for the recipe.
---
Spinach Artichoke Dip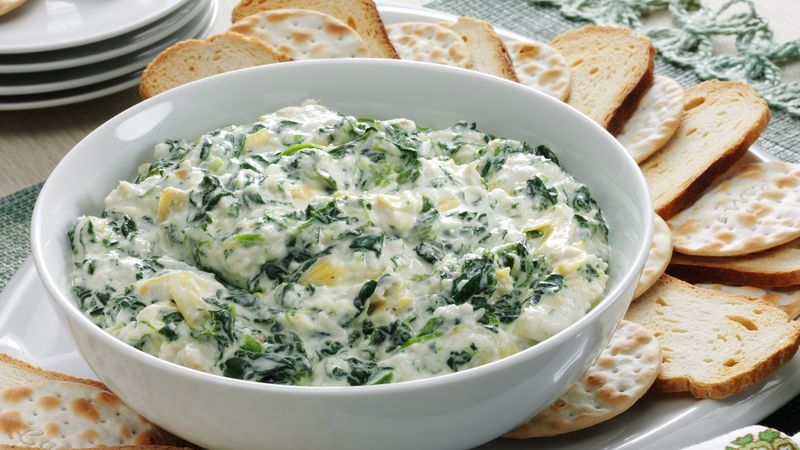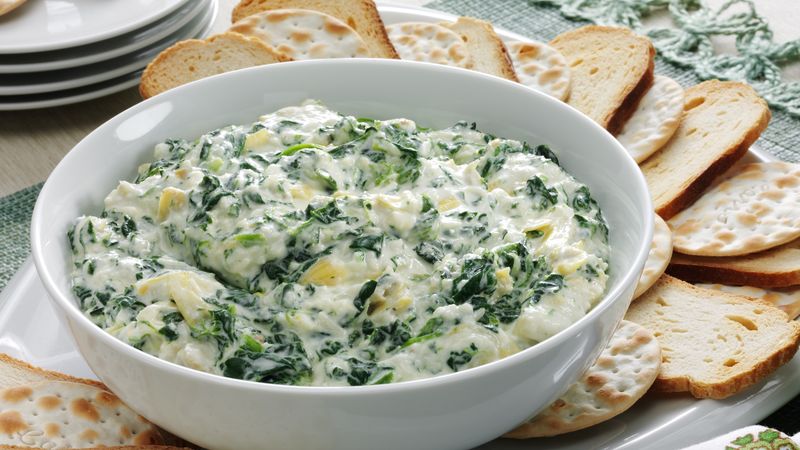 Spinach artichoke dip on your baby shower brunch menu? Yum. Click here for the complete recipe, which by the way, is prepared in a crockpot.

---
Ham and Cheese Pinwheels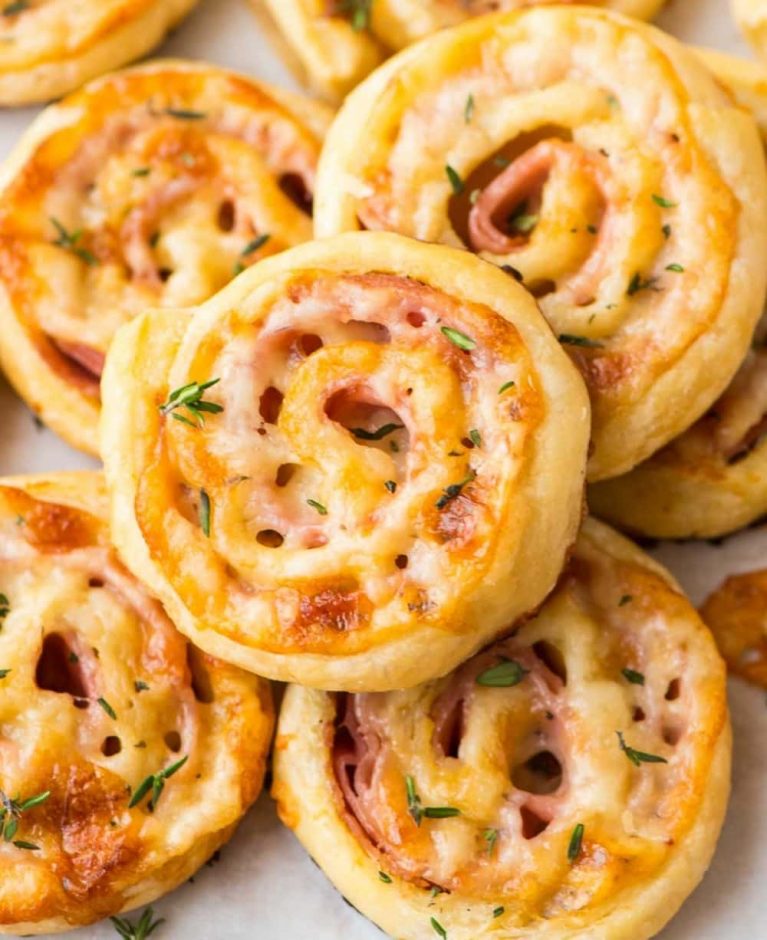 How fancy but truly simple! Click here for the recipe of these ham and cheese pinwheels.
---
Bacon & Brown Sugar Smokies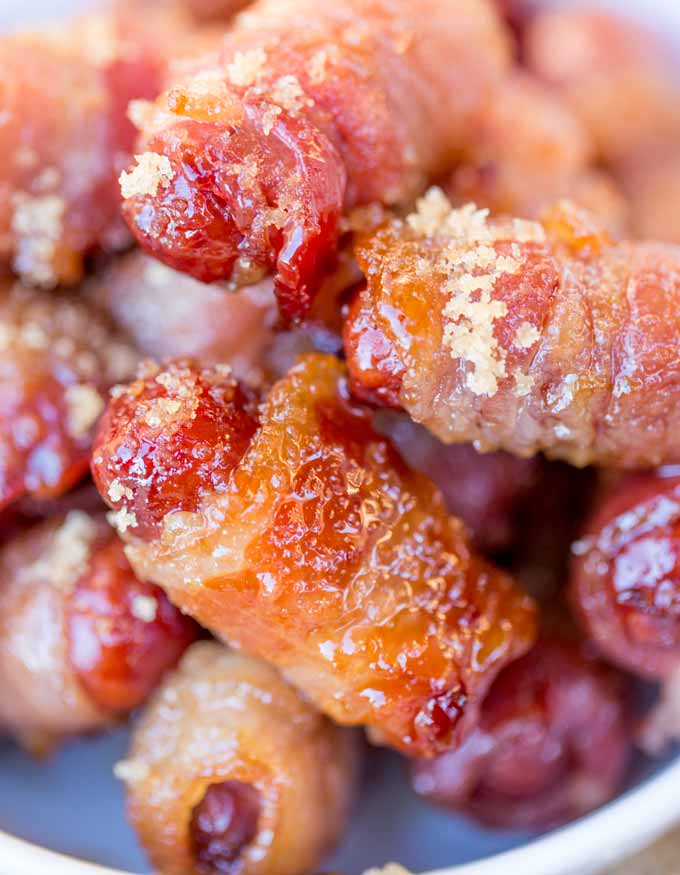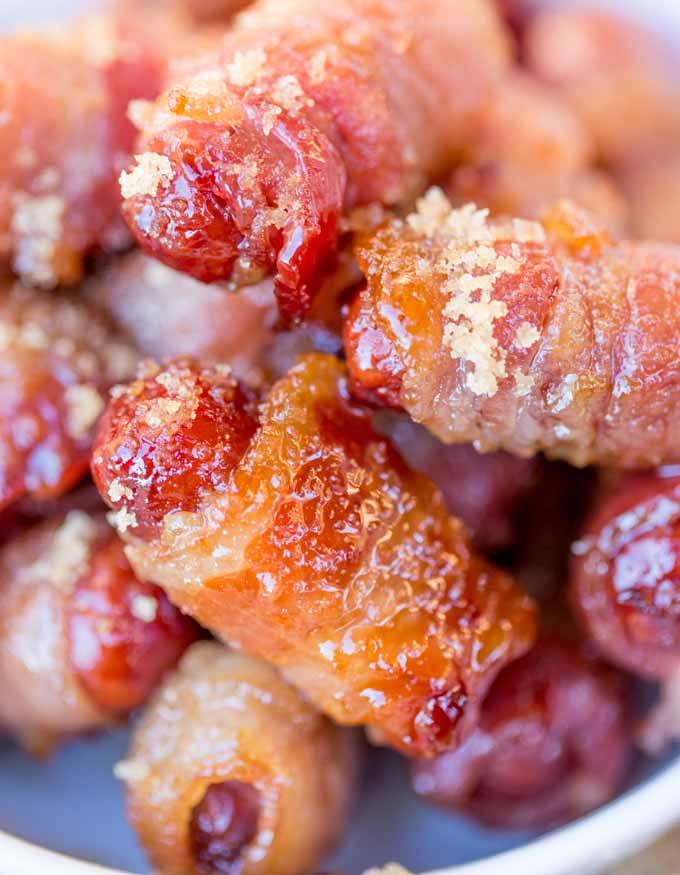 This is where the savory and the sweet heavens meet. Click here for this bacon brown sugar smokies recipe.
---
Cheesy Party Burgers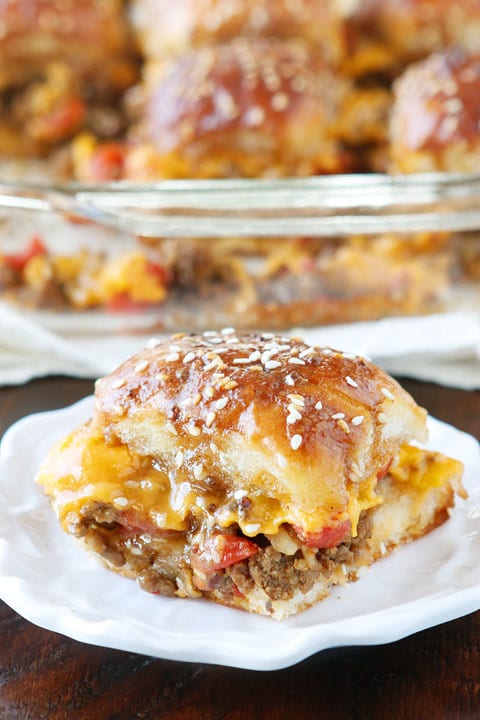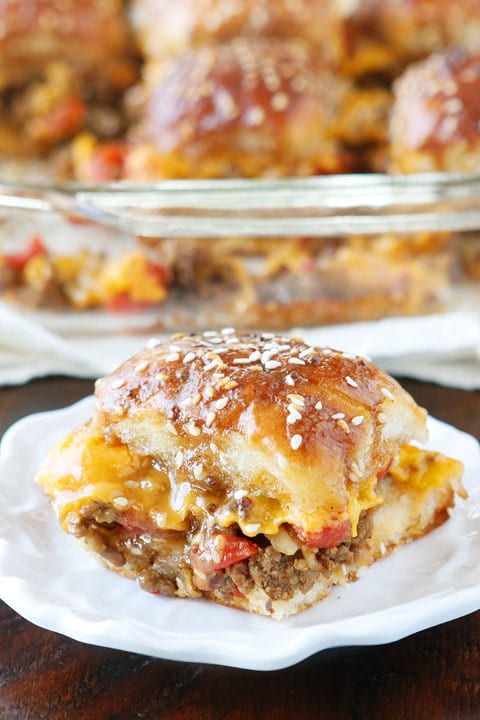 Click here for the recipe of Cheesy Party Burgers
---
Sausage and Pineapple Appetizer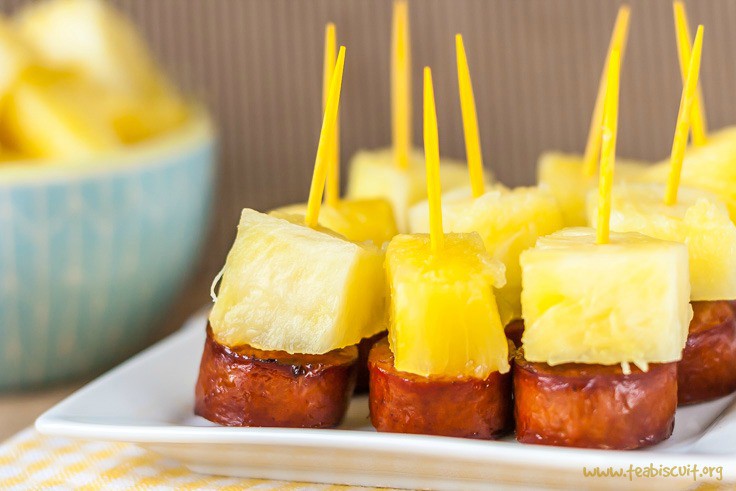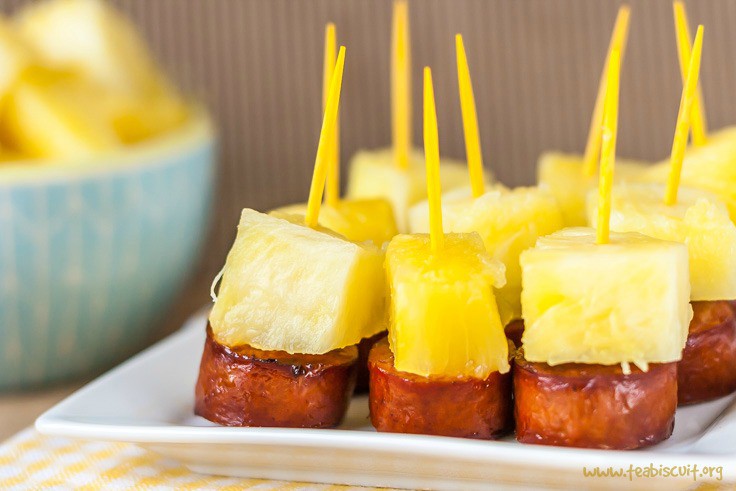 The sweet and savory meet again. Click here for this EASY sausage and pineapple appetizer recipe.
---
Easy Vegetable Pizza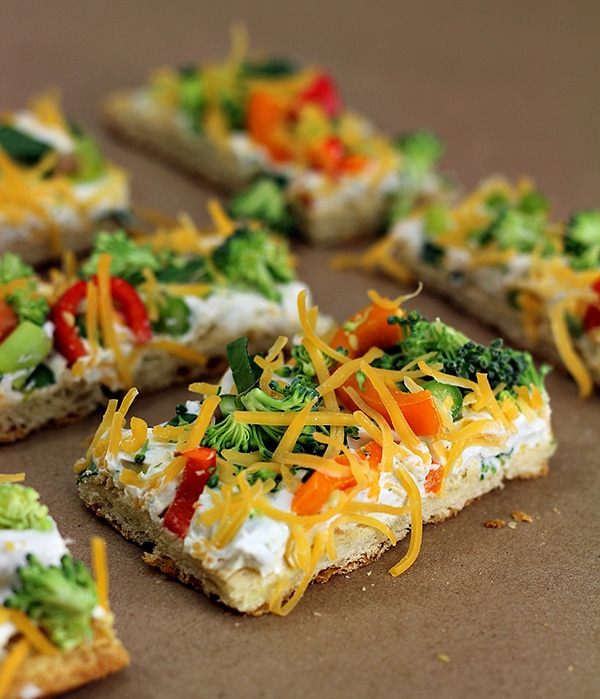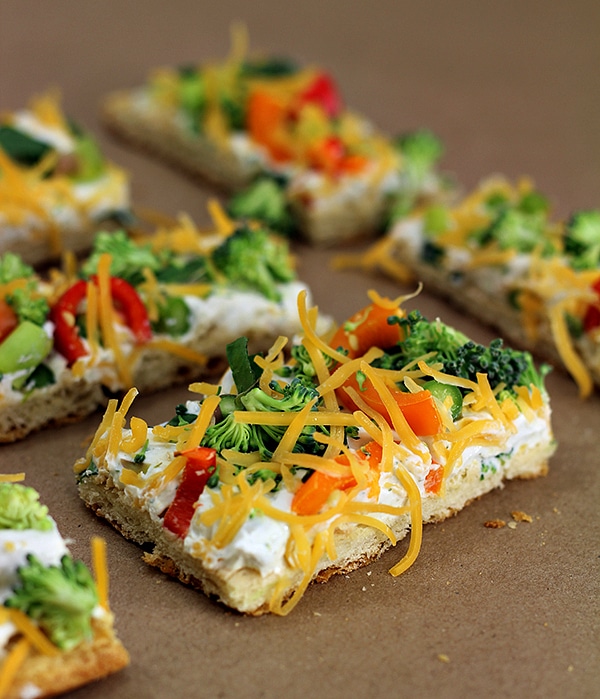 Who would have thought that Easy + Pizza + Vegetables could fit into the same sentence? Apparently, it can. Click here for the recipe.
---
Mini Baby Shower Food Ideas – Hamburgers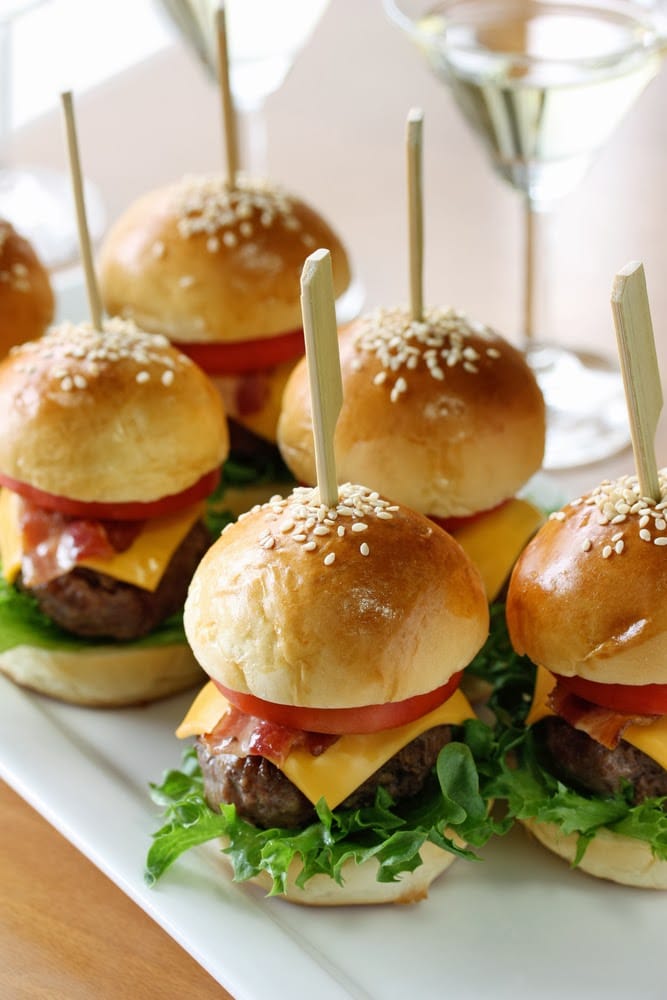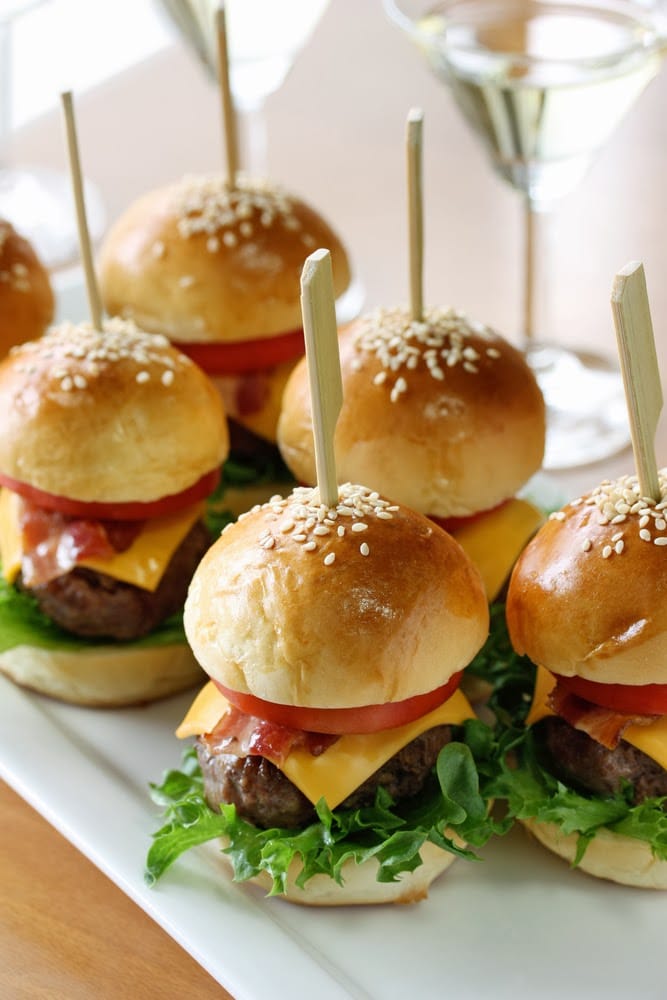 To some of us, these itty bitty sliders may seem intimidating to prepare – particularly the buns. Don't worry. You'll find this recipe helpful.
---
Slow Cooker Cocktail Meatballs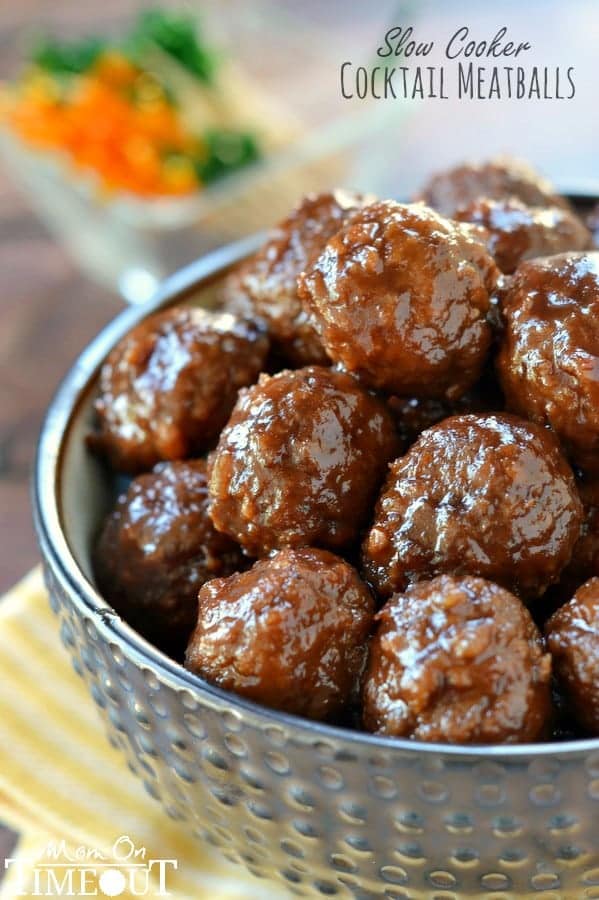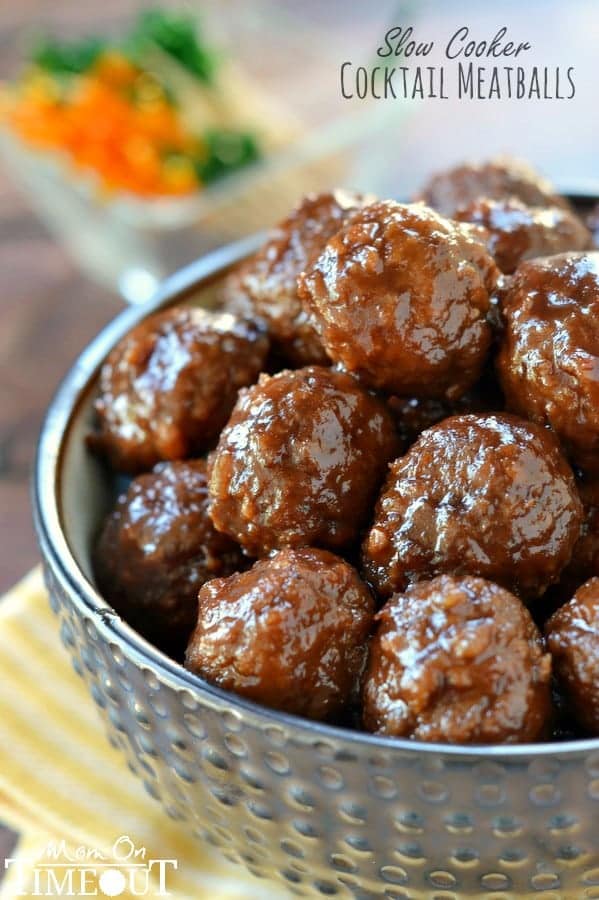 Click here for the recipe of these slow cooker cocktail meatballs.
---
Expert Tips On Serving Baby Shower Finger Foods
What Kinds Of Foods To Add To Your Baby Shower Menu
As you would have noticed from the very comprehensive list of baby shower finger food ideas listed above, there are a ton of baby shower finger foods you can serve. There are way more than what we offer here but we only wanted to show you the best and the most popular ones.
The trick is always to find delicious baby shower finger food recipes that mimic a traditional dinner menu. Clever, huh? That way, people feel like they're eating a traditional dinner but they're having it while they're walking around, socializing and… enjoying themselves!
So what to serve at a baby shower?
To guarantee a diverse baby shower finger food spread, serve a combination of easy appetizers that satisfy a few of the following food categories:
Starches: Hearty, starchy finger foods like the ham and cheese rollups, pizza bombs, and several more above.
Proteins: These are meat or fish dishes, like meatballs, chicken rollups, or sushi.
Vegetables: These are typically healthy appetizers made with fruit or vegetables. These can be raw, cooked, or stuffed.
Snacks: These are easy to prepare, like nuts, chips, pretzels, or popcorn (for a ready to pop baby shower theme).
Dips and Spreads: These can stand alone by themselves or offer a nice variety to your existing offerings. People can use dips with crackers, chips, or with other foods too.
Desserts: People often look forward to the desserts because no party is complete without the baby shower dessert.
Serving Baby Shower Foods: Secrets From An Experienced Baby Shower Host
As you make your baby shower food menu selection, consider that you will need to carefully plan and calculate everything. It is certainly not a matter of throwing a few "good" dishes together.
If your baby shower guests have dietary restrictions, be sure to consider serving an assortment of foods to accommodate their dietary needs. For example, if there are vegetarians or people with gluten sensitivities, be sure to have a few vegetable dishes.
Pregnant women do not eat things like sushi, unpasteurized cheeses, deep-sea fish that are high in mercury, soft cheeses, unpasteurized milk, pate, caffeine, smoked seafood, fish exposed to industrial pollutants, raw shellfish, raw eggs, unwashed fruits and vegetables, undercooked meats, and of course – alcohol. Mom-to-be may have additional dietary restrictions due to her pregnancy. Find out what it is and accommodate her accordingly.
DO NOT try a new recipe for the first time, on the day of the baby shower. It may not come out the way you had hoped.
If you are setting up a buffet table, set up the table to allow traffic to flow from all sides, instead of just one side. This will allow for easier flow.
Try to use a table that is at least 5-6 feet long. You will need enough room for the plates, napkins, utensils and food.
If you are covering your table(s), try to get a floor length linen – it makes for a better presentation.
Carefully consider where you will be placing your table(s), and keep them away from doorways and hallways where there is high traffic. Also, move chairs away from the buffet table – unless you want people to sit close to the buffet table.
Do place the plates, utensils and napkins together at the start of the buffet line. This tells people where to start.
At your buffet table, do not overpack your table. As guests are serving themselves, they may need a spot to put their plates – if only for a moment.
If you have a large group of people, prepare two sets of everything, and place them on either side of the table. This will ease congestion. Or if there are more than 20 guests invited, consider having two tables or setting up food stations around the room.
Don't forget the baby shower punch and refreshments. People may expect it because it is a tradition.
Set up your refreshments at a different station/ table to prevent a bottleneck as the food is served.
Consider what you are serving, and on what are you serving it? Paper plates are easy and convenient but are you serving bbq chicken on droopy paper plates, for example? It may spill all over someone's fancy outfit. If you are using paper plates, go for strong paper plates.
If you are expecting guests to walk around and mingle, do carefully consider the food you are serving. Foods that need to be cut will be really hard to eat. Also, food that is too saucy, sticky, crumbly, drippy or spicy may also be hard to eat.
If you are serving baby shower foods that need to stay warm (without drying it out), use a crockpot and set it on "warm." If you have more than one type of food that needs to stay warm, buy or borrow a food warmer.
How Many Baby Shower Foods Should I Serve?
This is an easy one. The number of appetizers you serve depends on the number of guests you invite.
Here's a quick guide to how many appetizers you should serve at your baby shower:
10-12 guests = 5 appetizers
25 guests = 9 appetizers
50 guests = 13 appetizers
As your guest list grows, so should your appetizers.
Another Expert Tip: If you're worried about running out of food, keep a few easy appetizers in the refrigerator or pantry. These should be appetizers that don't require much preparation, like cured meats, cheeses, chips and dips or crackers.
Note From The Author
My goal, every time I sit down to write a post, is to offer the most comprehensive answer to your question. My hope is that once you are finished reading this article, you will no longer need to keep searching. However, sometimes I worry that perhaps I was a bit too comprehensive, and instead of being super helpful, I may have overwhelmed you.
I hope not. I hope it helps you a ton. But in the event that it did, pin it and do consider coming back to reread it. I do feel that while the expert tips may feel like a lot, they are very important to organizing a successful baby shower.
Good luck.
PLANNING A BABY SHOWER? HERE ARE A FEW HELPFUL RESOURCES:
Hosting or planning a baby shower takes a lot of work. You will be juggling a lot of balls in the air. Use the resources below to make your life A LOT easier.