How To Make Chocolate Covered Pretzel Sticks
Chocolate covered pretzel sticks make great treats, party favors, or gifts for neighbors. It's so easy to make, too!
These particular chocolate covered pretzel sticks are very popular as a Woodland theme party favor or treat. In fact, they are also known as "birch tree twigs" because they resemble the twigs of a birch tree.
If you're not really into the Woodland theme, you can easily adapt these chocolate covered pretzel sticks. You can use different colored chocolates to match your theme or occasion. You can also use sprinkles, M&M's or other small candies to decorate your chocolate. Do make sure you add your sprinkles, etc after step 8 below, while the chocolate is still warm and sticky.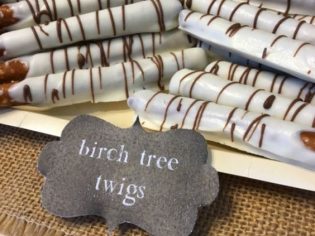 Chocolate Covered Pretzel Sticks
Servings 50 Pretzel Sticks
Ingredients
1 1/2 cups White chocolate chips or white chocolate
2 teaspoons vegetable shortening
1x 24 oz bag pretzel rods
1/4 cup milk or dark chocolate
Instructions
Prepare a large baking sheet by lining it with parchment paper.

Chop the white chocolate into pieces. If you are using white chocolate chips, skip this step.

It's time to melt your white chocolate. You can do this over a double boiler, or just use your microwave. If you use your microwave, add the chocolate and vegetable shortening to a microwave-safe container.

When you are melting your chocolate, choose a glass measuring cup instead of a shallow bowl. A deeper cup is better for dipping the pretzels.

Microwave your chocolate for 30 seconds on the low setting or 50% power, or 15 seconds on the high setting.

Stir and add it back into the microwave for another 30 seconds.

You do not want to overcook the chocolate, so DO STOP microwaving BEFORE all the chocolate is completely melted. When it looks like all the chocolate is almost completely melted, that is the time to stop microwaving. The rest of the chocolate will naturally melt as you stir.


Dip each pretzel rod into the melted chocolate mixture. You may need to tilt the cup slightly to create a pool for the pretzel. Cover approximately two-thirds of the pretzel.

Lift the pretzel out of the chocolate and allow the excess chocolate to drip back into the cup.

Lay the chocolate-covered pretzel rod flat on your parchment paper.

While the pretzel rods with white chocolate rests, prepare the dark/ milk chocolate by warming it up in a microwave safe bowl. Follow the same instructions as before.

Your melted dark/ milk chocolate can now be used to drizzle over the white chocolate. You can do this by dipping a spoon into the melted chocolate, then drizzle the chocolate over the pretzels. If you want your chocolate covered pretzels to look like birch tree twigs, you will not want to overdo it on the milk/ dark chocolate.

Allow approximately 30 minutes for the chocolate to set before packaging. Store in air-tight containers.
Recipe Notes
To store your chocolate dipped pretzels
If you live in a dry area, your chocolate dipped pretzels can be stored in an air-tight container at room temperature. However, if you live in a hot and humid region, store them in an air-tight container inside fridge.
Image Credit: MBT