Planning a baby shower is easy, but if you look at a typical baby shower checklist, there is a lot to do! Therefore, a great idea would be to keep things as simple as possible for yourself, by including baby shower appetizers on your menu.
Now when it comes to creating a baby shower menu, we are spoilt for choice! And it doesn't matter if you are choosing a sit-down meal, an easy baby shower brunch, or baby shower appetizers.
Delicious Baby Shower Appetizers
The baby shower appetizers in this collection are both delicious and easy to prepare! The list is comprehensive with both "babyish" appetizers and "grown-up" appetizers to compliment one another.
But at this point, you may be asking: How Many Baby Shower Appetizers Should I Serve?
The number of appetizers you serve depends on the number of guests you invite. As your guest list grows, so should your appetizers.
Here's a quick guide to how many appetizers you should serve at your baby shower:
10-12 guests = 5 appetizers
25 guests = 9 appetizers
50 guests = 13 appetizers
Franks In A Baby Basket

These are mini beef franks in puff pastry.
You could make them yourself of you could buy them premade (from the freezer section at your local grocery store), pop them in the oven, and you're done in minutes.  What makes this a classic baby shower finger food, is the sign that says "Franks in a baby blanket."
---
Mini Quiche Appetizers

Quiche is a reliable appetizer no matter what the occasion.  If you are pressed for time or you just cannot be bothered to make them yourself, you could also buy premade mini quiches from your local grocery store.
---
Owl Veggie Tray

Having a Woodland, or animal themed baby shower? This owl veggie tray is a great idea because it's so easy to put together! Complete instructions here.
---
Baby Rattle Cheese Ball Appetizer

This is a classic cheese ball but you can make any kind of cheeseball you think your guests will like.
To make a classic cheese ball, you'll need:
2 bars (8 oz each) cream softened cheese,
3 tablespoons mayonnaise
1/3 cup shredded parmesan cheese
1/2 cup shredded cheddar cheese
1/4 cup sliced green onions
1/2 teaspoon Worcestershire sauce
1/4 teaspoon garlic powder
1 cup sliced almonds
Combine all your ingredients except the sliced almonds. Using a hand-held mixer, blend it all together.
Split your mixture into. You don't need to be exact, but one ball should be larger than the other to mimic a baby rattle.
Lay out two pieces of saran wrap/ plastic wrap

. Spread  1/3 of the sliced almonds onto one piece of the plastic wrap, and 2/3 of the sliced almonds on the second piece of plastic wrap.
Once you have formed your two cheese balls, place them onto the almonds. Using the plastic wrap, gently press the almonds into the cheeseball. Place your two plastic-wrapped cheese balls into the refrigerator for at least 2 hours so that it can firm up.
When you are ready to serve it, add your decorative stick and ribbon. Serve with crackers of your choice.
---
Easy Taco Bar

A taco bar is deliciously inviting, and one of the easiest ways to feed a crowd.
To create your own taco bar, you will need:
Taco Meat
Beans
Mexican Rice
Hard and soft shell tortillas
As for toppings, you will need:
Thinly sliced iceberg lettuce
Sliced tomato
Sliced white onion
Cheese
Jalapenos
Cilantro
Guacamole
Salsa
Sour Cream
---
Dirty Diaper Baby Shower Appetizers

Making these dirty diaper baby shower appetizers are easy but it will take you a little time to put it all together.
You will need ground sausage and crescent rolls. If you like, you could add other ingredients like cheese, onions, pickles.
Start by cooking your ground sausage. While it cools down, unroll your crescent rolls onto a lightly floured surface. The crescents come in triangles. Spoon a teaspoon of your ground sausage into the center of your triangle, then seal it like a diaper. Paint it with an egg wash before baking it for 10-15 minutes at 350 degrees Fahrenheit.
---
Mini Bacon Cheeseburger Bites

This is an easy, 4 ingredient baby shower appetizer that will soon be gobbled up.
---
Woodland Themed Baby Shower Appetizers

This hedgehog cheeseball tray is great for a woodland themed baby shower.
All you would need is to make a basic cheeseball. As best as you can, try to form it into the shape of a hedgehog.
Press whole almonds into the cheeseball to resemble a hedgehog's spikes.
Cut a black olive to make the nose and eyes of the hedgehog.
Arrange crackers around the hedgehog shaped cheeseball.
---
Chicken Wing Platter

A chicken wing platter is very easy to set up! If you are pressed for time, you can buy premade chicken wings, then decorate veggies and dips around it on a charcuterie board.
---
Baby Shower Antipasto Skewers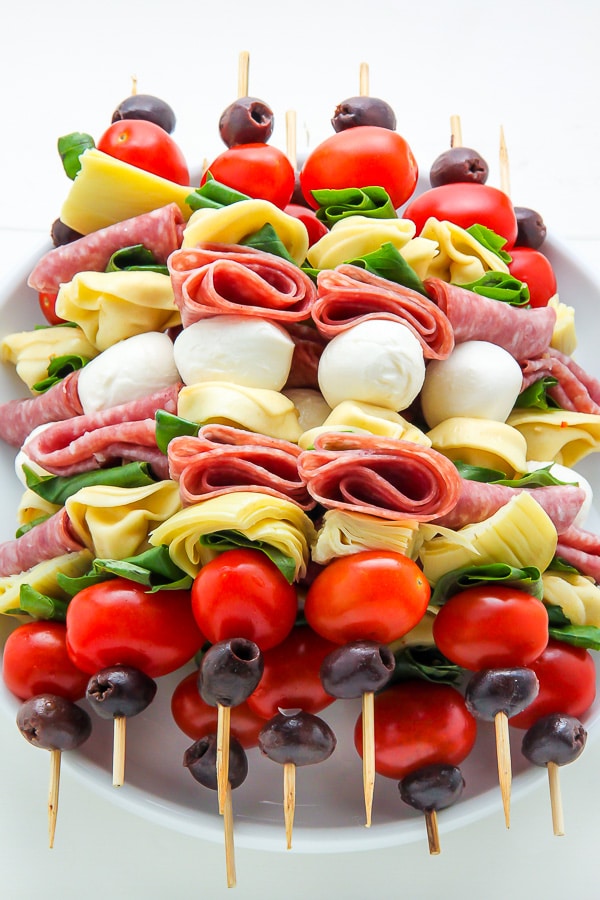 Antipasto skewers are like an appetizer on a stick. It's hearty!
These skewers have kalamata olives, cherry tomatoes, basil, genoa salami, cheese tortellini, mozzarella balls, chopped artichoke hearts. You can customize as you like. Add salad dressing and you are ready to serve.
---
Fruit And Yogurt Parfait Cups

Fruit and yogurt parfaits can be served as an appetizer or as your baby shower dessert. Serve them in mini dessert cups

for easy cleanup. Recipe here.
---
Charcuterie Board For Baby Shower Finger Foods

With a charcuterie board, you can add whatever you like: savory, sweet, or a combination of sweet and savory.
---
Pesto Parmesan Pastry Straws
Puff pastry appetizers are generally a great go-to for parties and celebrations because most people enjoy it, and it's really easy to prepare. Pesto parmesan pastry straws are a simple, 4 ingredient recipe.
---
A Very Hungry Caterpillar – Book Themed Baby Shower Appetizer

Book themed baby showers are very popular. This "a very hungry caterpillar

" appetizer will fit very nicely to round off the theme.
It is relatively easy to make, but a bit time-consuming.
You will need to make cucumber sandwiches, then use a cookie cutter to shape little circles for the body of the caterpillar.
Use red, green and yellow peppers to shape the face of the caterpillar.
Use paddle toothpicks to create the ears.
Carefully lay everything onto a bed of lettuce.
---
Asian Salad Wonton Cup Appetizers
This is a more unique, "grown-up" baby shower finger food. Complete recipe here.
---
Deviled Egg Baby Carriage

Admittedly, devilled eggs are a lot of work but they're so adorable as baby shower appetizers.
Use your favorite deviled eggs recipe;
Cut petite dill pickles to create the stroller/ carriage wheels. Attach them to the "carriage" with toothpicks;
Cut hot dogs/ Vienna sausages to create the baby faces;
Use an edible marker to create the little faces on the cut hot dogs.
---
Crispy Loaded Hasselback Potatoes Bites

Adorable. Delicious. Easy to make, and only 4 ingredients! Find the complete recipe here.
---
Pineapple Ham Skewers

Got cubed pineapple? Got shaved ham? You've got yourself a great baby shower appetizer. The combination of sweet and salty makes this an easy and delicious baby shower finger food.
---
Train Appetizers For A Baby Boy Shower

A Train! What a great idea for a baby boy shower. Find complete instructions here.
---
Bacon Cheeseburger Meatball Appetizers

It's like a cheeseburger without the bun! Bacon cheeseburger meatballs are easy to make too.
---
Chicken And Waffle Baby Shower Finger Foods

Who doesn't love comfort food? Now you can get chicken and waffles in the form of baby shower finger foods!
---
Mini Melon and Watermelon Bites

Fruit is very refreshing, and this one is very easy to prepare. Cut your watermelon into square chunks. Use a melon baller

to make the little melon balls. Use a toothpick to skewer the honeydew and watermelon.
---
Baby Shower Food Ideas – Mixed Fruits Skewers

Here's what's great about seasonal fruit skewers.
They're easy to make. It's just a matter of cutting up fruit and putting them on the skewers;
You can use any seasonal fruit that is available;
People enjoy it because it's sweet. It's a no-guilt appetizer.
---
Hawaiian Sliders

Hawaiian sliders are a favorite for many and it's easy to make. This is why they are considered a popular baby shower finger food idea.
---
Sausage and Pineapple Baby Shower Appetizers

Sausage and pineapple appetizers are great! They're easy to make and they're a great combination of sweet and savoury.
---
Bruschetta Toast Finger Foods For Baby Shower
A french loaf is so versatile! You can make these delicious bruschetta toasts, or vary it with any kind of toppings.
---
Mini Cheese Ball Baby Shower Food Ideas

Fried cheese balls are really easy to make and they're delicious!
---
Crockpot Spinach Artichoke Dip

This is a simple but delicious crockpot recipe that you can make ahead of time. A helpful how-to video is also included.
---
Watermelon Brie Bites
The contrasting taste of the salty cheese and the sweet watermelon is a delight. Add a crisp freshness of the arugula leaves and balsamic glaze, and you have a heavenly baby shower appetizer.
---
Mini Cheeseburger Baby Shower Appetizers

Mini hamburgers are a delight. They're delicious but tiny, so less guilt.
---
Creamy Spinach Rolls

The flaky puff pastry and the creamy spinach make for a beautiful combination of flavors in these spinach rolls.
---
Avocado Egg Rolls

Avocado egg rolls are a popular item on the Cheesecake Factory menu. Make them yourself!
---
Double Decker Taco Cupcakes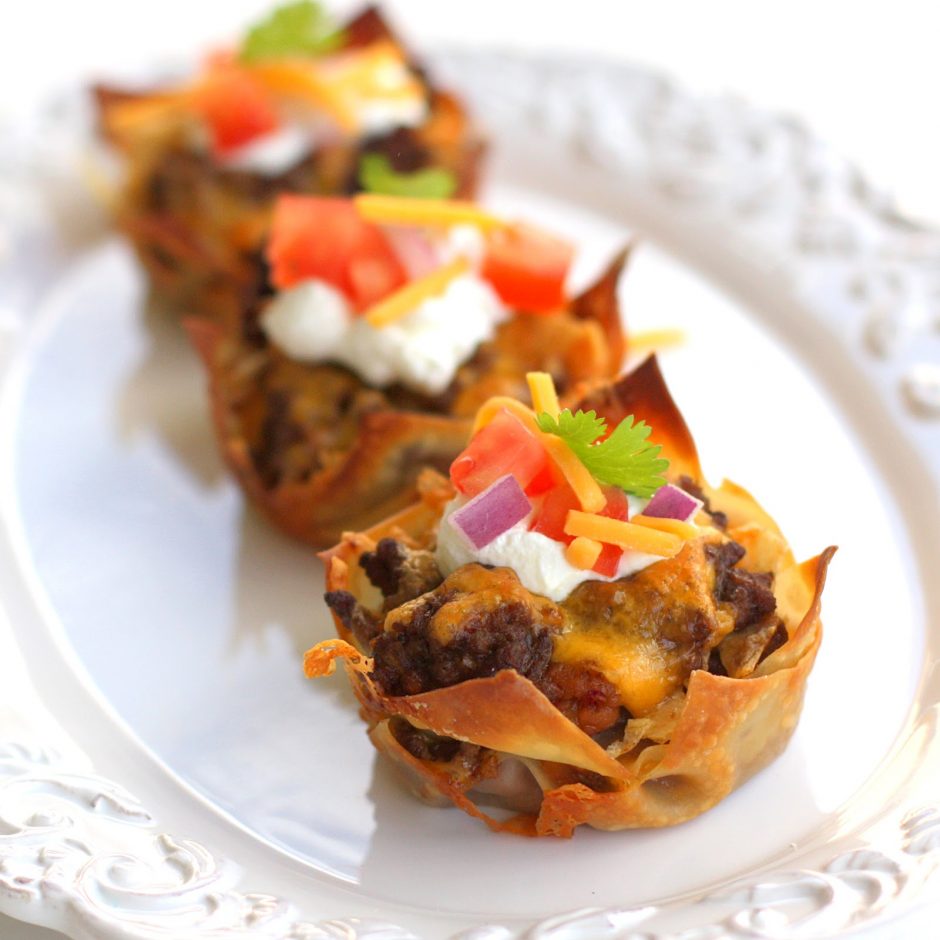 These double-decker taco cupcakes are literally made of two layers. They will be a delight for guests.
---
Slow Cooker Sweet and Tangy Meatballs
This is a 3-ingredient baby shower appetizer! If you are looking for quick, it cannot get any easier than this.
---
Finger Foods For Baby Shower – Cheezy Meatball Bites

With only 4 ingredients, these cheesy meatball bites are super easy to make.
---
Cucumber Bites with Smoked Salmon

Hearty finger foods are wonderful but it's always a great idea to have something fresh, like these cucumber and smoked salmon bites.
---
Tater Tot Kabob Finger Foods
Bacon, sour cream, and tater tots on a stick! They're hearty, yummy and easy to make.
---
Easy Jalapeño Popper Bites

Jalapeno poppers are usually quite popular, but they take some time to prepare. These jalapeno popper bites are easy because you have all the flavor of a jalapeno bite in a tortilla scoop chip!
---
Mediterranean Dip

This layered greek dip is a spinoff of a traditional 7 layer dip. It's a Mediterranean version if you will.
---
3-Ingredient Easy Cranberry Brie Bites

Cranberry brie bites are ridiculously easy to make and they also look really fancy!
---
Copycat White Cheddar Stuffed Mushrooms

This is a copycat recipe from Longhorn stuffed mushrooms. It's a vegetarian baby shower appetizer, with a delicious depth of flavor coming from dry white wine.
PLANNING A BABY SHOWER? HERE ARE A FEW HELPFUL RESOURCES:
Hosting or planning a baby shower takes a lot of work. You will be juggling a lot of balls in the air. Use the resources below to make your life A LOT easier.