Setting up a popcorn bar is really easy. Whether you are planning a popcorn bar for a home movie with your family, a backyard movie for the whole neighborhood, a party, a baby shower or even a wedding – the basics are the same.
The Easy Way To Set Up A DIY Popcorn Bar
If you are planning your popcorn bar for a small family, your living-room table may be big enough. However, the more people, the more popcorn you will need and therefore, more space.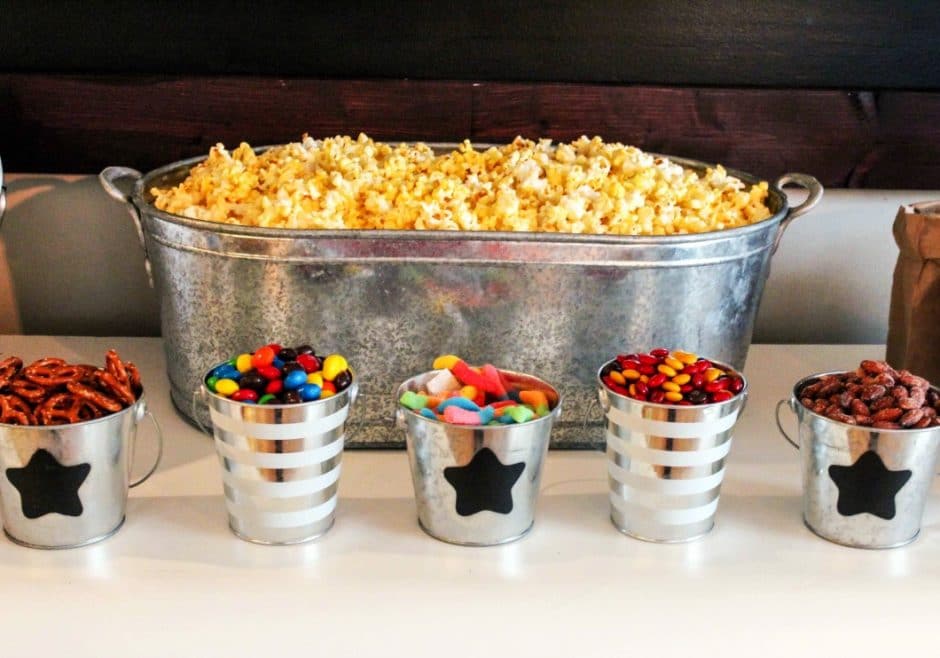 If you are setting up a buffet table for lots of people, set up your table to allow traffic to flow from all sides, instead of just one side. This will allow for easier flow. Also carefully consider where you will be placing your table. You want it close to where people will be gathering.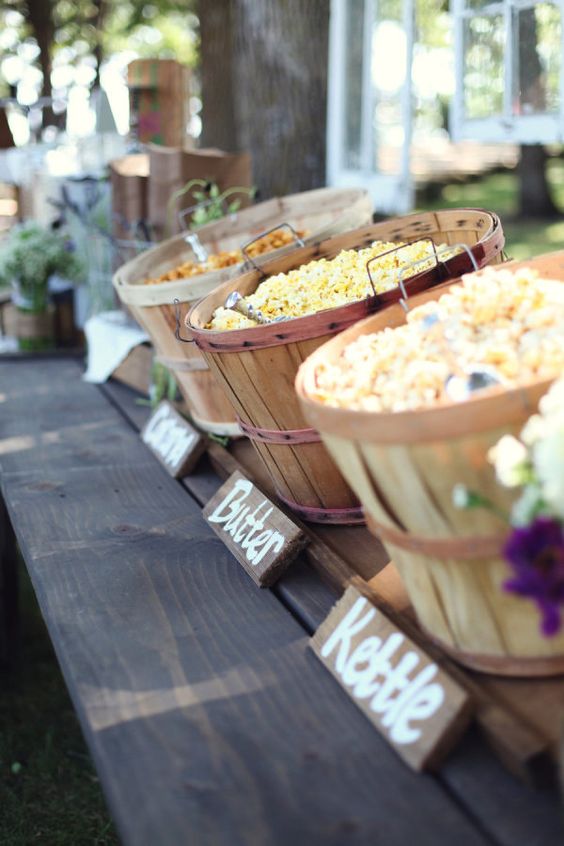 Your Popcorn Bar: What You Will Need
On your table, you will need room for your popcorn, your toppings, your seasonings, your popcorn boxes (or bags), and napkins.
Popcorn
If you are serving a lot of people, preparing the popcorn yourself is most likely not going to be possible. You will need to buy your popcorn in bulk

. However, if you are serving your family or a small gathering of people, you have two options:
Easy option: Make and serve simple, regular popcorn that people can season and top off as they wish.
You can prepare your popcorn in the microwave or even on the stove with a Whirley Pop.

 Making it yourself is definitely the cheaper option – all it will cost you is time. If you do decide to make the popcorn yourself, be sure to keep your popped popcorn in an airtight container with a tight-fitting lid, until you are ready to serve it. To ensure freshness, you will want to minimize its exposure to air. Otherwise, make the popcorn right before the start of your event.
Easier option: Buy different kinds of popcorn so that guests can choose the popcorn flavors they like. You don't have to go overboard either. Buying premade popcorn is a little more expensive but the popcorn will be fresh from the bag.
The most popular popcorn flavors, (according to popcorn.org) are:
#1 – Classic Butter & Salt (31%)
#2 – White Cheddar

(16%)
#3 – Caramel Corn

(16%)
#4 – Kettle Corn

(15%)
Popcorn Seasonings
Some people won't eat popcorn without seasonings. Some people won't eat popcorn with seasonings.
If you are going with seasonings, you have a lot of options to choose from. It can be hard to choose if you don't know what people will like, but you could just buy a variety pack with mini jars of popcorn seasonings.

They come with flavors like nacho cheddar, caramel corn, kettle corn, bacon cheddar, cheesy jalapeno, ranch, white cheddar, and of course, butter.
Popcorn Bar Toppings
If you know people's tastes, this will be easier. If you are clueless, go with the most common toppings like m&m's

, rolos, gummy bears, peanuts, Swedish fish, chocolate chips, etc. Some people also like savory toppings for popcorn, so you might want to add things like pretzels, spicy nuts, grated cheese, savory trail mix, etc.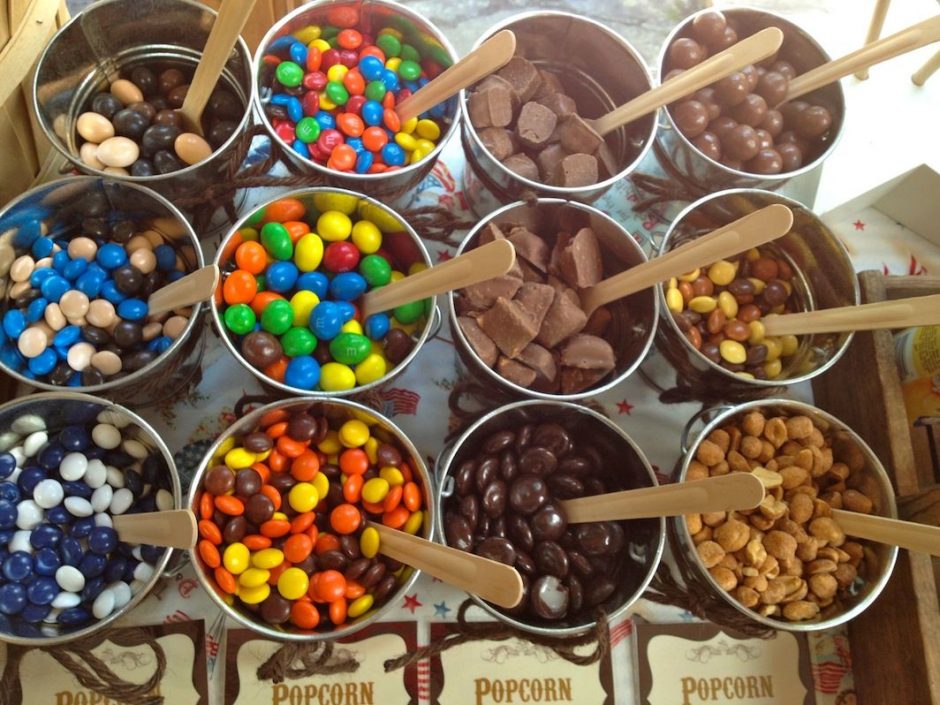 Popcorn Bags or Favor Boxes
If you are having a theme, you will want to go with themed popcorn boxes

. If it's just the family getting together, you can go with simple brown paper bags or something similar.
Popcorn Bar Ideas & Themes
If you are planning your popcorn bar for a movie night, setting a theme is not compulsory – but it is fancy and fun. If you are planning a princess movie for the girls, for example, then princess favor boxes

will go very nicely.
If you are having your popcorn bar at a party or a baby shower, you will want to match the popcorn bar with the theme of the event. For example, if your theme is Twinkle Twinkle Little Star, a great idea would be to sprinkle edible gold star sprinkles

over your popcorn, and serve them in twinkle twinkle little star popcorn boxes

. Adorable!


Another example is if you are having a woodland themed party or baby shower, you could serve moose munch popcorn or other woodland themed popcorn treats, in woodland themed popcorn boxes

.
A popcorn bar is also really popular at baby showers because the mom-to-be is "ready to pop." Here are some great Ready To Pop popcorn boxes.
Popcorn Bar Sign Ideas

---

---

Set It All Up
Once you have all your supplies, you can place them tastefully on a table. Make sure the popcorn and the toppings are easy to reach, particularly if you are serving kiddies.
Very Importantly – make sure you have scoops or spoons for your guests to dish their toppings. A popcorn scoop

is also extremely helpful.
Why Consider A Popcorn Bar?
Most people love popcorn. It's a safe bet if you are unsure of what to serve;
It's also a low-calory food – if you're not counting the toppings, that is;
It's really easy to set up;
It's a cheap AND fulfilling treat. You can set up a fancy popcorn bar on a tight budget. There is no need to buy special containers – you can pretty much use what you have on hand already.
Enjoy!