Baby showers take a lot of planning, but one thing that is undoubtedly important is the baby shower food. So when you are planning your baby shower menu, be sure to include baby shower fruit bowls or trays… or something fresh for your guests to enjoy.
But, a baby shower fruit bowl is not just delicious to eat – it's beautiful to look at, too. Therefore, a big and stunning fruit bowl can also be your baby shower centerpiece.
Below is a beautiful collection of baby shower fruit bowls and fruit platter presentation ideas for you to choose from.
Baby Shower Fruit Bowls
Watermelon Baby Carriage
There is no denying that a watermelon baby carriage is the most popular baby shower fruit tray. Nothing else beats it. That may be because it is so versatile… and delicious.
You can make a watermelon baby carriage with just fruit inside, with a cantaloupe baby inside, or with twins!

---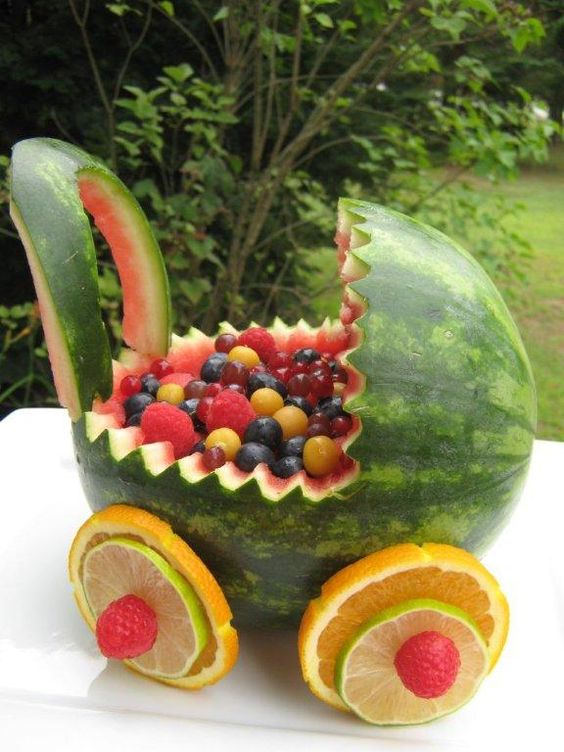 ---
Easy Baby Shower Fruit Tray Ideas
A Very Hungry Caterpillar For A Book Themed Baby Shower

Book baby showers are popular, and Eric Carle's book – A Very Hungry Caterpillar

is a classic.  What luck that you can create an edible prop for a book-themed baby shower.
It's relatively easy to make too. You'll need toothpicks and blueberries for the antennas, an apple, pineapple, raspberries, green grapes, strawberries, cantaloupe balls

, kiwi and whole almonds for the little feet.
---
A Princess Castle Fruit Tray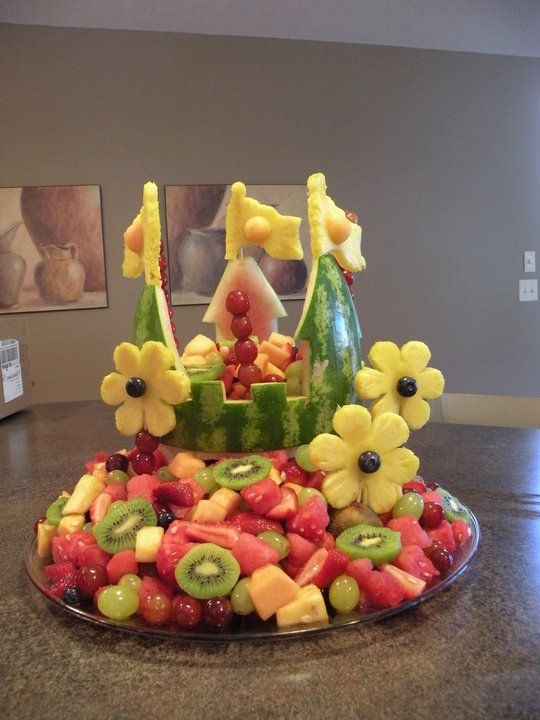 What a great idea for a princess themed baby shower. This castle baby shower fruit tray ties in nicely with the princess, or royal theme.
---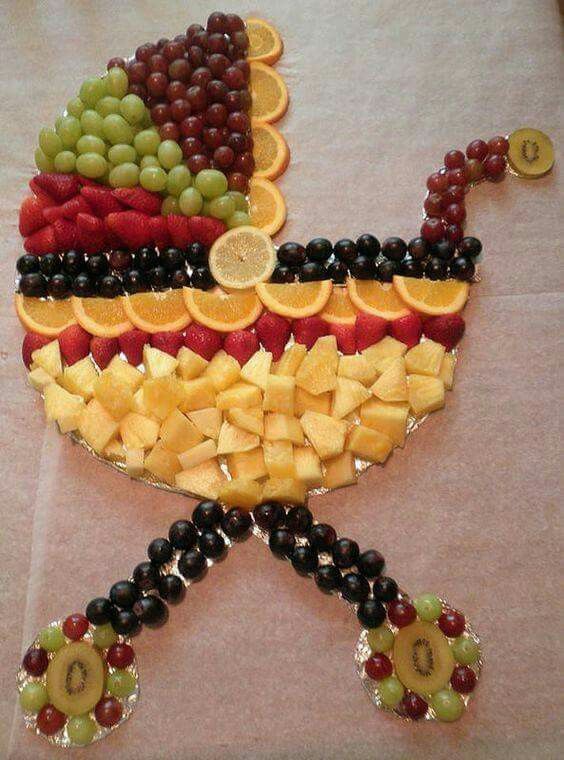 This carriage baby shower fruit tray is adorable, perfect for any baby shower theme, and easy to create too.
The hard part will be to create a foil tray in the shape of a baby carriage. Next, you'll need green grapes, red grapes, black grapes, kiwi, pineapple, strawberries, and oranges. Simply follow the design as above to create your own baby shower fruit tray masterpiece.
---
Baby Shower Fruit Bowl For A Woodland Themed Baby Shower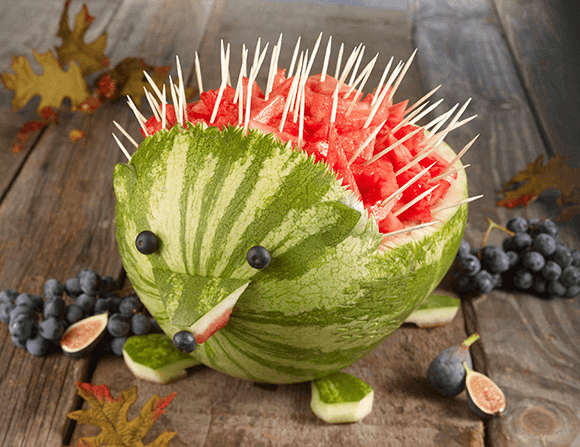 This watermelon hedgehog would be perfect for a woodland themed baby shower. Also, it is cuteness overload.
If you are handy with a sharp carving knife, you can totally do this.  You'll need a watermelon, toothpicks and blueberries for the eyes.
Here are easy video instructions:
---
Watermelon Grill For A Baby Shower Barbeque, AKA Babyque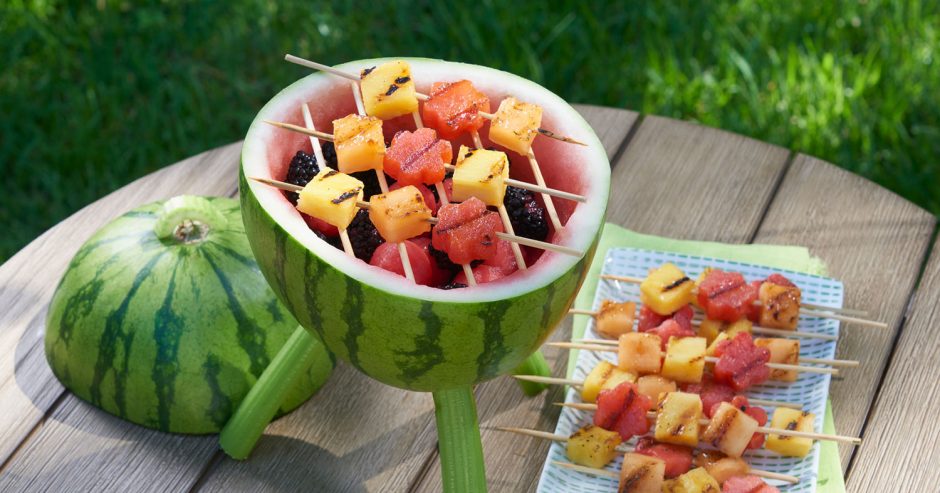 How stinking adorable is this? And perfect for a "babyque" or co-ed barbecue baby shower.
Helpful DIY instructions from watermelon.org.
---
Watermelon Shark For A Nautical Themed Baby Shower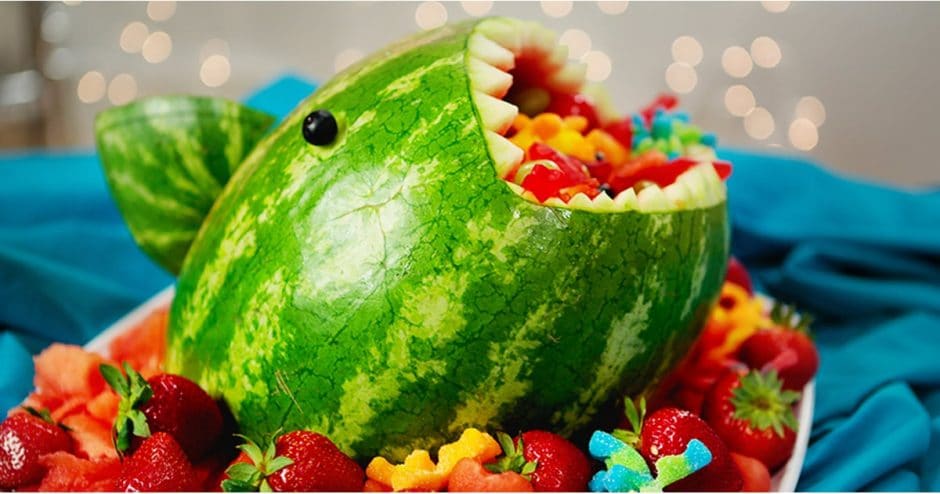 Nautical baby showers are particularly popular on the coast, and this watermelon shark ties in perfectly with your theme.
Here's a helpful video to show you how to make your own.
PLANNING A BABY SHOWER? HERE ARE A FEW HELPFUL RESOURCES:
Hosting or planning a baby shower takes a lot of work. You will be juggling a lot of balls in the air. Use the resources below to make your life A LOT easier.
Feature Image Credit: Jennifer Faris Photography