The Most Comprehensive Baby Shower Checklist
Planning a baby shower is easy but there is so much to do, so it's easy to forget important things. This is why you need a baby shower checklist.
This checklist is comprehensive. It has everything you will need to think about for your baby shower. If there are elements that don't apply to you, or you cannot be bothered with – simply check them. The goal is to make things as simple as possible for yourself.
This baby shower checklists suggest that you give yourself 6 weeks. This does not suggest that you cannot throw a fabulous baby shower in less time. However, 6 weeks is an optimal time in which to plan your baby shower in a stress-free manner.

Free Printable Baby Shower Checklist
Baby Shower Planning – Before You Start
As the host, there are a few things you need to check on with mom-to-be. This has to happen before you can even start your baby shower planning checklist.
Will you be hosting by yourself, or would mom-to-be like someone else to be involved as well? Best friends or relatives may feel offended if they're not invited to help, so check with mom-to-be. Also, there is a lot of work involved with baby shower planning. Therefore, you will want all the help you can get.
Does mom-to-be want the baby shower before baby's birth, or after? Do not make any assumptions. Some women have strong preferences so it's best to check with her.
Does mom-to-be want a girls-only shower or a coed baby shower? Also, consider that some people have more than one baby shower. This isn't out of the ordinary because it may be awkward to have everyone at the same baby shower. For example, some moms may have one shower for their families only, and another for their close friends.
Does mom-to-be know the baby's gender? Does everyone know? Does she want to keep it a secret until after the birth, or will this also be a gender-reveal party?
Are you planning to get an elaborate, intricately decorated baby shower cake? Some bakeries need you to order approximately 1 month in advance. Some professional bakeries are booked weeks in advance. Be aware of this and give them a call to check how far in advance you need to place your order. (Store-bought cakes can be purchased days ahead of the baby shower.)
Baby Shower Checklist: 6 Weeks Before the Party
Create a Budget
There is a baby on the way! Excitement levels are high, and as the host, you may envision big things for this baby shower. However, do not underestimate the costs of a baby shower.
Big costs will be incurred if you are hiring a venue and catering. But, even if you are planning a baby shower at home, it can still get costly thanks to food, refreshments, baby shower favors, baby shower game prizes, decorations, invitations and thank you cards.
Sit down, figure out what you can afford, and take it from there. If you think it will be too much for you, you have options:
Create a Guest List
Mom-to-be may not be able to give you the guest list and everyone's addresses immediately, but try to at least get a guest count. You will need this before you can start your baby shower planning because the guest count will determine where the baby shower will be held.  You'll also need this information before you order supplies.
Very importantly – decide if children will also be invited as additional arrangements will be necessary to accommodate them. Children at a baby shower will also add to your expenses as you may need to hire a few babysitters.
Decide On A Venue, Date & Time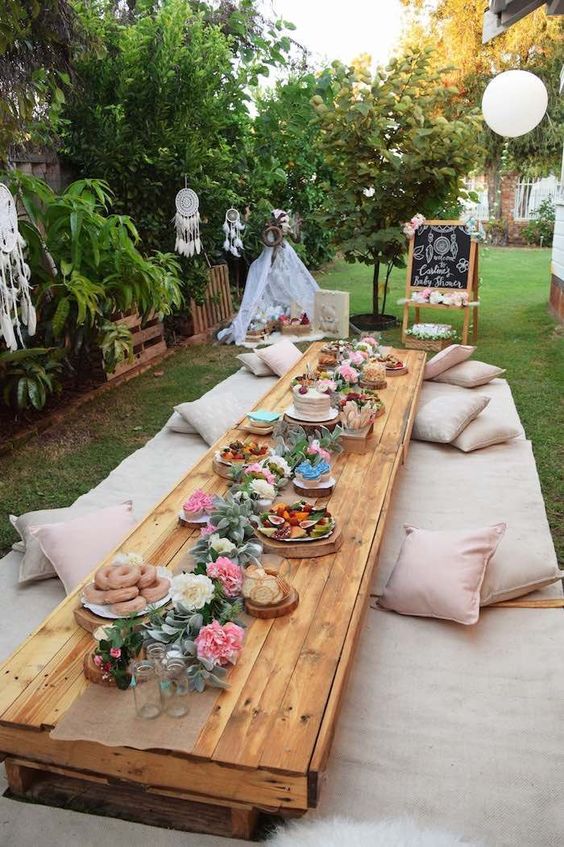 Should you have the baby shower at home or an external venue?
Most baby showers are held at home. It's more personal and certainly cheaper. However, if you have too many people on your guest list, this may not be possible.
If you have to have the shower at an external venue, you will need to book it well in advance. Do not take reservations for granted. With some places, 6 weeks ahead of time may be required. With others, it may not be. The venue you choose and their availability will depend on the date you decide on.
Once you've decided on the location, secure it by making the reservation and/or paying the deposit.
But when to have a baby shower? It depends on personal preferences. Here are a few things to consider.
Before or after the baby's birth?
Traditionally, baby showers are planned for approximately 6 weeks before the delivery date. You can be flexible on this – the timing is entirely up to the host and mom-to-be.
But things are changing. Some moms have their baby showers after their babies are born. It's a great time for everyone to ooh and ah over the baby.
If you plan to have the baby shower after the baby's birth, try not to plan it too close to baby's birth date. This is to allow the new mom enough time to recover. It's also never a great idea to expose brand new babies to strangers, too soon. This may expose them to germs, etc.
Nailing down a date for your baby shower
Deciding on a date can be very hard. People tend to be busy. Find out the availability of the people who the mom-to-be most want to attend. Also, consider that some of your guests may need to travel from far away to attend.
If you have many out-of-towners, consider a virtual baby shower. It can be held in conjunction with a traditional baby shower.
What time of day to have a baby shower?
Baby showers can be planned for any time that is convenient for the mom-to-be. Breakfast, brunch, lunch or even nighttime hours can be suitable.
Baby showers usually last around 2-4 hours but this will be entirely dependent on the host/ mom-to-be and the family. If people have traveled far to attend the baby shower, they may expect a longer baby shower. Also, baby showers are often like 'family reunions' and therefore, it could go on for hours.
Some people also plan a lot of baby shower games and if you do that, you should expect a lengthy baby shower.
Pick A Baby Shower Theme

There are several great baby shower themes. The theme you and mom-to-be decide on is important because it will dictate what kinds of food you will prepare/cater, your decorations, your favors, your invitations, your thank-you cards, etc. Therefore, consider this carefully.
Order or Prepare Baby Shower Invitations
If you are planning to order customized baby shower invitations, you will have to do that now to (1) allow enough time for them to get to you, (2) for you to send them to guests, and (3) for guests to rsvp.
Even if you do not plan to order customized invitations, you will still need to start thinking about invitations because:
The invitation is where you add the baby registry details. Therefore, you'll have to get your registry done before you start your invitations.
Perhaps you want personalized text on your invitation. Finding the perfect baby shower invitation wording may take you a bit of time – there are so many to choose from.
Baby shower thank you cards come at the end of the baby shower, but many moms like to match their invitations with their thank you cards. This is why it's a great idea to order them at the same time.
Considerations: Baby Registry, Weather, Rentals, Professional Services
A Baby Registry
If mom-to-be has already created a registry, find out where. If not, create one for her. Yes, it is daunting (to say the least) but baby registries like Amazon, lets you copy other people's registry – so you could set it up in minutes. She can then go in and change things as she likes. Knowing her registry details is important because you will want to put her baby registry information on the invitations.
The Amazon Baby Registry is really popular, and for good reason, too. Why? Everyone and their aunt have a credit card registered on Amazon, and shopping there is as easy as pie. And – for those of us who leave everything to the last minute – you can get almost everything within 2 days. The best thing though is that Amazon has a huge collection of baby items, competitively priced. If that's not enough of a perk – they offer a 15% completion discount for Amazon Prime Members, and almost anything can be returned, no questions asked. That means, if mom-to-be is not happy with something for any reason, she can return it.
The Weather
If your baby shower is going to be in the heart of winter, and you live in the northeast, an outdoor baby shower will obviously not be an option for you. Do consider the weather carefully and be prepared to make alternate preparations in case the weather doesn't turn out the way you hoped it would.
Will You Need Rentals?
If you are having the baby shower at a venue, you may not need to rent tables and chairs, but these may be necessary if you're planning to have the shower in your home.
Also, consider other things that may need to be rented.
Will You Need Professional Services?
For example, will you need a professional photographer?
Whatever services you need, you will need to make arrangements well in advance to ensure you book the person you want.
Baby Shower Checklist: 1 Month Before the Party
Send Out Baby Shower Invitations
If you are going with custom invitations, they should have arrived by now. If you are printing your own free baby shower invitations, send them out now but be sure to include an RSVP of no later than 2 weeks before the baby shower.
In your invitations, be sure to include the date, time, location, directions and RSVP date. Also, let them know how to contact you for their rsvp. For much more details, check out this post about Baby Shower Invitation Etiquette.
Invitation Extras
Send out your invitations to allow everyone enough time to respond and rsvp.
If you just cannot manage this, send out a save-the-date email. That way, people will at least know the invitation is coming. You're also locking down the date so that people can already schedule your baby shower.
Buy Baby Shower Decorations
Not everything can be ordered from Amazon's 2-day shipping. Keep this in mind and order with enough time to spare.
Get what you need to decorate according to your baby shower theme. Consider if any of these would be part of your baby shower:
A baby shower banner – this could be a simple banner that says something like "Welcome Baby Smith," or "Adventure Awaits," or "Baby Shower."
A baby shower welcome sign – this is a sign that is posted outside the house or venue and simply says "Amy's Baby Shower."
A baby shower centerpiece – it is often the focal point of the table.
Baby shower balloons – balloons are very effective in making any gathering feel festive. They are frequently used as baby shower decor.
Baby shower table confetti – this is a new trend but it can be very adorable. They are available in all kinds of designs and colors to match your baby shower theme.
Order Your Baby Shower Cake

A baby shower cake is a delicious tradition. Many guests expect it.
If you are planning to get a baby shower cake from a local store like Costco, Walmart, Kroger, etc – you're probably safe to order the cake closer to the day of the baby shower. However, if you are planning to get a professional, elaborately decorated baby shower cake, you must place your order well in advance. Check with your local bakery to see how much notice they require.
Verify Catering & Reservations If Applicable
If you decided on catering and having your shower at a venue, now is a good time to verify those reservations. A simple "I'm calling to confirm" would be sufficient. Mistakes and misunderstandings occur and by verifying, you eliminate the risk of disappointment.
Arrange Entertainment If Applicable
For most baby showers, the baby shower games are the entertaining part. It is fun and often hilarious. But if you are having a truly fancy baby shower, you may take things a step further with additional entertainment for your guests.
If your baby shower will be open to children, you will need to consider a way to entertain them. This could be quite simple. Putting out crayons and paper may be enough to keep them occupied for 20 minutes, so you may want to be a bit more creative. Or, you can simply hire a reliable babysitter.
Baby Shower Checklist: 2 Weeks Before the Party
Decide On A Baby Shower Menu

If you are catering, you will need to find caterers, check their availability, and book them ahead of time.
If you are prepping the foods, you will need to decide on a baby shower menu.
A few things to consider regarding baby shower food:
Will you be having a sit-down meal or a buffet? Buffet style is easier to manage and allows for a more casual baby shower where your guests can freely mingle.
The time of your shower will dictate the kinds of food you serve. A baby shower brunch menu will be very different from a late afternoon baby shower.
In terms of refreshments, will you be having baby shower punch, or perhaps a "Momosa" Bar to celebrate the new mom? Both are very popular in the summer months.
Will you need help preparing the food? Cohosts often arrange to split the baby shower menu so that food preparation is not too overwhelming.
Follow Up On RSVPs
Contact those who did not rsvp. You will need an accurate tally as you prepare from here. Knowing exactly who is coming will help you prepare the food, favors, the prizes, seating arrangements (if any), and printing out enough baby shower games for everyone.
Prepare Baby Shower Favors

There are so many baby shower favors to choose from. If you are planning to simply buy your favors, you don't necessarily need to do that 2 weeks in advance. However, if you are making your own baby shower favors, you're going to need time to buy the supplies, and then make it.
Many people love homemade baby shower favors because they're informal and personal. They're also inexpensive.
Whether you choose to make your favors or buy them, now is the time to do so.
Open And Check Baby Shower Decorations, Just In Case…
You don't want to get to the day before the baby shower and realize there is no helium in the helium tank, the balloons are damaged, or something important is missing. Do yourself a big favor and do a quick check.
Plan The Room: Where Will Everything Go?
If the baby shower will be in your or mom-to-be's home, figure out where everything will go.
Foods and Drinks: It's a great idea to have food in one area and drinks in another. That way, everyone is not crowded in one area, and you have no bottlenecks.
Gifts And Guest Books: If you are having a baby shower guest book or fingerprint canvas, you will want this at the front door. Your guests will be able to sign in as they arrive. It's also a great idea to put up a "please sign my guest book" sign.

Baby Shower Decor: The welcome sign, a baby shower banner, balloons, a baby shower centerpiece, etc. If you have any of these, where will they go?
Baby Shower Games And Activities: Are you playing the "don't say baby" baby shower game? If so, you will want a basket of clothespins and a notification on a table at the front door, so that your guests will immediately see it as they come in.
Also consider other games and baby shower activities you are planning. Where will it take place?
Other Important Things: Where will people sit, if they sit? Where will coats go, if relevant? Think about the little things – they often have a big impact.
The actual placement of things can happen a day before or the morning of the baby shower. However, you will need to consider placement ahead of time in case you need to make additional preparations.
Order The Diaper Cake
Your diaper cake can be used as a baby shower centerpiece, shower decor, or a gift for the new mom.
A diaper cake is not compulsory. Decide if your shower will have one and if so, will you make the diaper cake, or will you order it?
Easy video instructions on how to make your own
Diaper Cake
Other Important Considerations
Based on the menu and your theme, start making a list of all other things you will need. Be thorough. You don't want to forget anything important.
Whatever you envision, write it all down. Here are just a few things to think about.
If you are having the shower at your house, do you have enough silverware, glasses, plates, platters, chairs, etc?
If relevant, how will you keep things warm, or cold?
Will you have a special baby shower chair for mom?
Will she be unwrapping presents or will you have a display shower?
Where will guests leave their gifts? Will you have a gift table? If so, the mom-to-be will certainly appreciate it if the guests write out self-addressed envelopes for the thank you card. There's a pretty sign for that!
Who will keep track of the gifts received? You may need a handy gift tracker.
Baby Shower Checklist: 1 Week Before the Party
Preparations for Baby Shower Games
If your baby shower games will include mostly free online printouts, you are probably safe to print those days before the shower. Despite the ease of this task, do not leave too much until the last minute. Printers break, ink runs out – anything can happen.
Also, many baby shower games need preparation. If you're playing "my water broke", you cannot prepare this an hour before the baby shower. Other games like "baby shower price is right" or "baby shower jeopardy" will take some time to prepare.
Prepare Game And Raffle Prizes
The baby shower prizes you get will depend entirely on your budget. Great game prizes will entice your guests to play.
If you are having a diaper raffle, now would be a great time to get your raffle prize done.
Last Minute Supplies, Preserving Memories & Gift for Mom
Buy Last-Minute Supplies
Perhaps you ran out of supplies for the baby shower favors, or perhaps after checking the decorations, you realized there wouldn't be enough balloons after all. Now is the time to get what you need.
Also, consider the food. If you are hosting from your home, do you have enough serving platters and utensils? If you are serving warm food –  how will you keep it warm? Do you have a food warmer

 or maybe someone's you could borrow?
Make Arrangements To Preserve Memories
If you are not hiring a professional photographer, do make arrangements for the baby shower memories to be preserved.
Ask someone, or two people, to take photos. A video camera would also be a good idea. Remind whoever is tasked with this, to make sure that their cameras are fully charged.
Another great idea to help preserve memories is to get a few disposable cameras

, and leave them around the room for guests to take candid pictures.
Prepare Gift for Mom-To-Be
If you are giving mom-to-be a gift, now is a good time to get it and wrap it.
The diaper cake is often also considered to be a gift for the new mom.
Baby Shower Checklist: 2 Days Before the Party
Wash And Prep Everything You Will Use
Wash the glasses, plates, serving trays, silverware and everything else you plan to use. Make sure nothing is broken or cracked.
If you will need tablecloths and table runners, get that out and ready.
Take out all the glasses/ napkins, serving plates,  silverware you will be using. Wash them and make sure they are ready to be used.
Send Reminders To Helpers
Everyone is busy and people can be forgetful. Be sure to contact the people you are relying on. If someone is prepping a few dishes, or bringing serving trays, or taking photos… send them a friendly reminder.
If you are using professional services like a photographer, send them a friendly reminder, too.
Clean Up
If the baby shower will be held at your house, start cleaning up. You will have a lot to do later so starting the clean-up will help. Wipe the baseboards, dust, clean the toilets, make sure the bathroom has enough soap and toilet paper, etc.
Considerations: Weather, Etc.
Check The Weather Forecast
If you were planning an outdoor baby shower, bad weather will be consequential. Check the forecast and prepare accordingly.
Try To Get As Much Done, As Possible
Some things can only be done on the day of the baby shower, but look at your checklist and find everything else that can be done ahead of time. This will ease your stress levels tremendously as you get closer to the baby shower.
Baby Shower Checklist: 1 Day Before The Baby Shower
Buy the Food & Prep It
If you need freshly baked breads and pastries, for example, you will obviously need to get those on the day of the shower. Buy everything else the day before.
If people are expected to bring food or help set things up, remind them to arrive early.
If there are foods that need to be thawed out, take them out in time to thoroughly thaw.
Prepare The Baby Shower Gifts Station
Your guests will bring traditional baby shower gifts/ books/ diapers.
Naturally, mom-to-be will need to send a thank-you card to each gift giver. Here are a few options on how you can make her life easier.
Place a stack of thank you card envelopes on a table at the gift area. Print a "help the busy mom to be by making yourself the addressee" sign to encourage guests to write out self-addressed envelopes. That will be very helpful for mom because she can then simply write out the thank you cards, and pop it into pre-addressed envelopes.
Ask someone to be a gift tracker. They would write down the guest's name and what they brought. (Here are free baby shower gift trackers to match your theme.)
Chill Cold Beverages
The last thing you want is warm beverages on a warm day. Save yourself the trouble and get your beverages into the refrigerator early enough for them to chill.
If you are playing "my water broke," you will certainly want to freeze those tiny babies the day before.
Pick Up Supplies, Etc.
Pick up food trays, cakes or any other food you couldn't buy before.
If you ordered baby shower flowers and balloons, pick those up as well.
If you are renting props or tables or borrowing anything – pick it up now.
If you are having a baby shower in the summer, be sure to pick up ice.
If you are taking photos, make sure your camera is charged.
 Decorate
It's time to put everything together. Put up your props, centerpieces, favors, tables, tablecloths table confetti, baby shower banners… everything.
Baby Shower Checklist: THE DAY OF THE BABY SHOWER
Make The Venue Conspicuous

If this baby shower is at your house, be sure to put up balloons or a yard sign to clearly indicate the venue to new visitors. People will find this especially helpful if they've never been to your house before. It also makes things more festive.
Prepare & Display The Food
You have prepped the day before, so it should be easier for you to put everything together. Once everything is prepared, display it as you had planned.
 Prepare Beverages
Cold beverages have been chilling since the day before so they are ready to be served. If you are using an ice bucket, fill it with ice and beverages.
If you have a coffee or hot chocolate bar, set it up.
Having beverages as guests arrive is always a good idea. It makes them feel welcome and it's a good start to the baby shower.
Final Touches
Call the mom-to-be and make sure she is happy and on her way. Having someone pick her up is a great idea.
Check on everything. Is the temperature in the room okay? Is the lighting good enough for good photography?
Put out a trash can with a lid. This helps to keep your house tidy despite the visitors.
Put on some mood music.
You're done. Enjoy the baby shower. You've done an amazing job!
PLANNING A BABY SHOWER? HERE ARE A FEW HELPFUL RESOURCES:
Hosting or planning a baby shower takes a lot of work. You will be juggling a lot of balls in the air. Use the resources below to make your life A LOT easier.