Fun Baby Shower Activities For Your Guests
Baby showers are about marking the transition from pregnancy to parenthood, but they are also a wonderful opportunity to create mementos of the occasion for the new parents and child to treasure. Below are several baby shower activities that may help preserve this momentous day.
Create a Time Capsule for Baby

A time capsule is a gift that is not high in financial value, but it is high in sentimental value. It is a one-of-a-kind gift for mom-to-be to pass on to her baby.
You can involve your guests in making a time capsule to open on one of the baby's later birthdays.
---
Create Birthday Cards for Baby from 1-18 Years

All the guests could make birthday cards for the baby, or they could sign birthday cards for the new baby. This is a sweet idea because then at every birthday, the baby would be receiving a card that was signed by all who attended.
---
Baby Shower Bib, Burp Cloth & Onesie Decorating

Burp cloth decorating with ink stamps.

This is a really popular baby shower activity because you'd be doing something that the new mom and baby can use later. All you will need are the white bibs, onesies, or burp cloths along with fabric markers or fabric paint. For guests who are not too artistic, you could use baby stencils or letter stamps.
---
DIY Bow Tie Bib Decorating

These are a slight deviation in decorating bibs. Bow tie bib decorating is a fun and easy baby shower activity because you don't need to be an artist to do this. It's also really easy for the host to set up.
To set up a bow tie bib station, you will need:
any color bibs that you like, as long as they are plain.
little bow ties. (Here's a simple tutorial on how you can make the little bow ties.)
a hot glue gun for your guests to glue the bow tie to the bibs.
---
Create an ABC Book For Baby

This is a wonderful and popular baby shower color activity.
Coloring is a fun baby shower activity for guests to participate in. Here's why:
Coloring is relaxing for many people;
It's a peaceful activity. People can enjoy each other's company while they're coloring;
Everything that they're coloring can be used for the baby. Therefore, it's a gift that will live long after the baby shower.
---
Create Baby Shower Blocks

Create your own DIY baby shower blocks. It is not very hard to do, and you can find complete instructions here. These baby shower blocks can be kept for the new baby when he/she is older and able to play with the blocks.
The image above has DIY alphabet blocks but you definitely do not need to feel limited to the alphabet and numbers. You can create whatever characters and designs that you like. All designs are glued to unfinished wooden blocks, so you could decorate the blocks however you like.
---
Write Funny Diaper Messages
With this baby shower activity, guests write funny messages on diapers, which are meant to be read by the new parents during late night diaper changes, (when there is really no reason to laugh.) These messages are meant to be encouraging and funny.
This baby shower activity pays off months after the baby shower. Here are 83  funny diaper messages to get the creative juices flowing.
This is an easy activity to set up. All you will need are newborn diapers,  markers, and a cute downloadable message that tells guests what to do.
The new parents should be instructed to keep these diapers separate. These diapers should be reserved for late-night diaper changes.
---
Create a Fingerprint Tree Canvas For Baby

Instead of a traditional baby shower guest book, get a baby shower fingerprint tree canvas.

A fingerprint tree is a wonderful idea because unlike a book that goes onto a bookshelf, your fingerprint tree canvas can be hung to decorate the nursery. It will be like a memory book that can be enjoyed every day.
Growing the fingerprint tree is an awful lot of fun. The canvas starts out as a tree with no leaves. As your guests leave their fingerprints, the tree starts to fill up until it looks like the tree below. It's a fun and interactive activity for your guests, plus it's a beautiful keepsake and decor.
The host decides beforehand if she wants the guest to only leave fingerprints, or leave fingerprints and their names, like the image below.
The fingerprint tree canvas is available in a Woodland theme or a neutral theme.
---
Write Baby Prediction Cards

This activity is great if the baby's gender is unknown to the guests. The guests guess the new baby's gender, hair color, birth weight, etc. The new mom can keep these cards and it will be fun to look at them after her baby is born.
Here's the free download of our Baby Prediction Cards.
---
Create Candid Memories With Disposable Cameras

As an informal baby shower activity, guests could take photos to commemorate the day. Disposable cameras may be placed around the room so that the visitors could take random photos of the event as it unfolds.
---
Create Baby Shower Blessings

Create Blessing Stones for Baby. These are relatively easy to make. All you need are permanent markers and river rocks.
These are called 'baby shower blessing stones" but guests can add any kind of message or quote or advice that they like.
---
Complete Mommy Advice Cards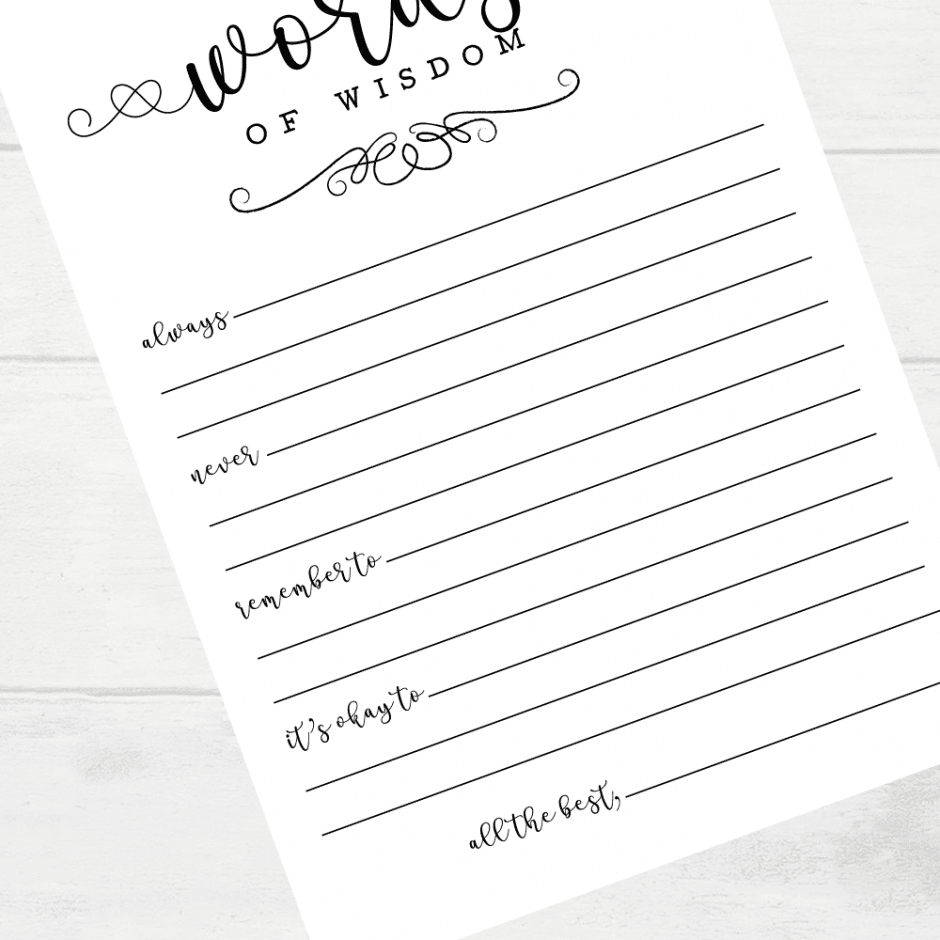 As parents, we all learn valuable lessons along the way. Allow guests to share that treasure trove of knowledge with new mommy advice cards. It will make them feel helpful and the mother-to-be will certainly find it valuable.
---
Write Wishes for Baby Cards

This is one of the more popular baby shower activities. Preprinted cards are given to the guests, wherein they fill in their wishes for the new baby. Mom-to-be will keep the cards for future reference. If she would like, responses could also be read out loud.
Free Download of "Wishes for Baby"
---
Wishes For Baby Line

Create animal or shape outlines where people can write their wishes for the new baby.
This is really easy to do! Print free animal outlines onto cardstock paper, cut them out, and hang them on a line.
---
Create Dreamcatchers for Baby's Nursery

This is the most relevant baby shower activity if you are attending a dreamcatcher baby shower.  Making a dreamcatcher is not too hard to do and your guests will enjoy the activity. You can also use it to decorate the baby's room afterward.
---
Guess the Baby Name
This is a great mingling and ice-breaking activity at baby showers! People love it because they get to connect with others on a different level.
For this activity, guests have to look at the baby photos, and then match it with one of the adults in the room.
This activity is quite easy to set up too. When you send out the invitations, ask all the guests to bring a photograph of themselves of when they were a baby. Once you have the photos, assign a number to each photo and post it up on the wall.
Guests have to guess which photograph corresponds to each guest. The person who matched up the most photos, can win a prize.
---
Name the Baby

In this baby shower activity, the guests write down names that they think you should name your baby. This is an activity enjoyed by many.
Once everyone is done, the mom-to-be can pull the names out of a bowl and share them with everyone.
This activity is especially good and helpful if the mom-to-be is uncertain about what to name her baby.
---
Set Up a DIY Baby Headbands Station

This is a fun activity that everyone can do. There is NO SEWING involved.
---
Write Messages In A Baby Shower Guest Book

Everyone can participate in writing heartfelt messages in a baby shower guest book. Guests could write messages, poems, or include pictures.
---
Share Mothering Traditions

Other moms are a wealth of advice. Guests can complete advice on regular note cards, or you could use pre-printed advice cards. As the image below indicates, you could also share mother traditions.
---
Create a New Parent Survival Kit

Guests can plan ahead of time and decide what kind of kit they want to prepare for the new parents. You could create a hospital kit, a survival kit for when they get home from the hospital, or a daddy doody kit. Everyone can pitch in to create and decorate it.
---
Take Photos With Future Messages For The Baby

Create beautiful photos messages for baby. All you will need is chalk

and a blackboard.

---
Have A Traditional Diaper Raffle

Need diapers? A Diaper raffle is a great way to get your guests to bring them as gifts. (Diapers and wipes are highly requested gifts at baby sprinkle showers.)
All you need to do is include raffle tickets in their invitations. That way, you're not asking them to buy raffle tickets because bringing diapers is your ticket to being included in the raffle.
Click here to get your own Free Printable Diaper Raffle Tickets.
---
Have A Diaper Raffle With A Twist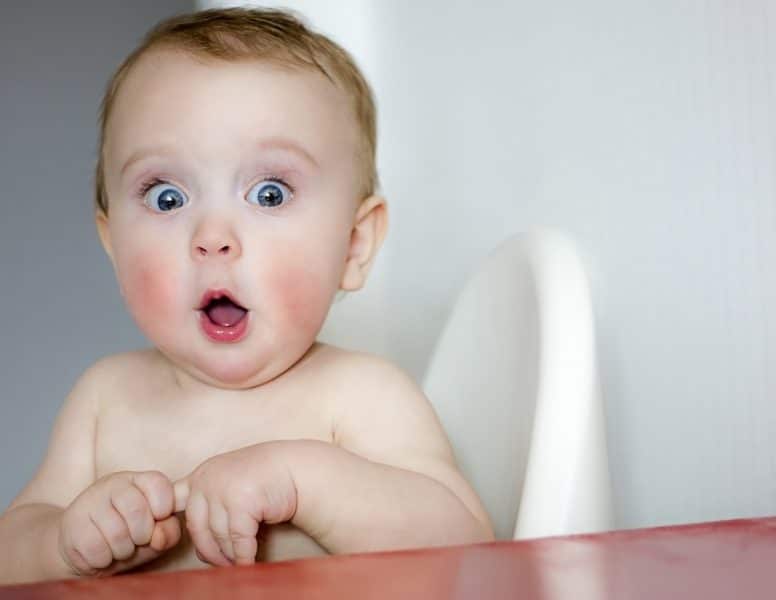 This is a diaper raffle with a twist. This activity will only work if the baby shower is being held at the home of the parents-to-be.
There are two parts of this baby shower activity – (1) the diaper raffle part, and (2) the fun twist part.
(1) Diaper raffle:  when you send out the invitations, ask guests to bring diapers.
(2) Fun twist: Once the guests get to the party, they have to hide diapers around the house, into any nook and cranny. Long after the festivities, the grateful parents will still be finding diapers. As the host, ask guests not to hide diapers in places that are so obscure that the diapers would never be found – like the attic.
---
The Difference Between Baby Shower Activities & Baby Shower Games
There seems to be confusion between baby shower activities and baby shower games. To clarify:
Baby shower games are fun games that are played competitively. Baby shower prizes are expected.
Baby shower activities are fun activities you do at a baby shower, which are not competitive. With baby shower activities, prizes are not expected.
What can you do instead of baby shower games?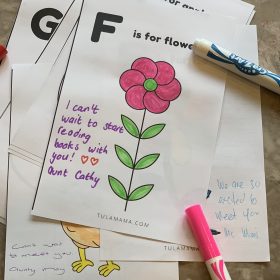 Instead of baby shower games, there are lots of fun baby shower activities your guests may enjoy. A few examples are:
Decorating baby onesies;
Making headbands for a baby girl;
Coloring pages to create a unique Alphabet book for baby;
Decorating bibs or burp cloths;
Creating a time capsule for baby;
Writing future birthday cards;
Creating funny diaper messages, etc.
How many activities to have at a baby shower
How to include grandma in baby shower activities
Note From The Author
I trust you enjoyed this post. I have to admit – I created it out of frustration because I'd look for baby shower activities, and find games! I figured if I'm frustrated, maybe you are too.
I think I put together a comprehensive list but if I missed anything, definitely let me know in the comments, please. I'll be happy to add it.