Diaper Raffle Tickets: The Highly Effective Strategy To Getting More Diapers, Guaranteed
This post may contain affiliate links. Please read my
disclosure
for more information.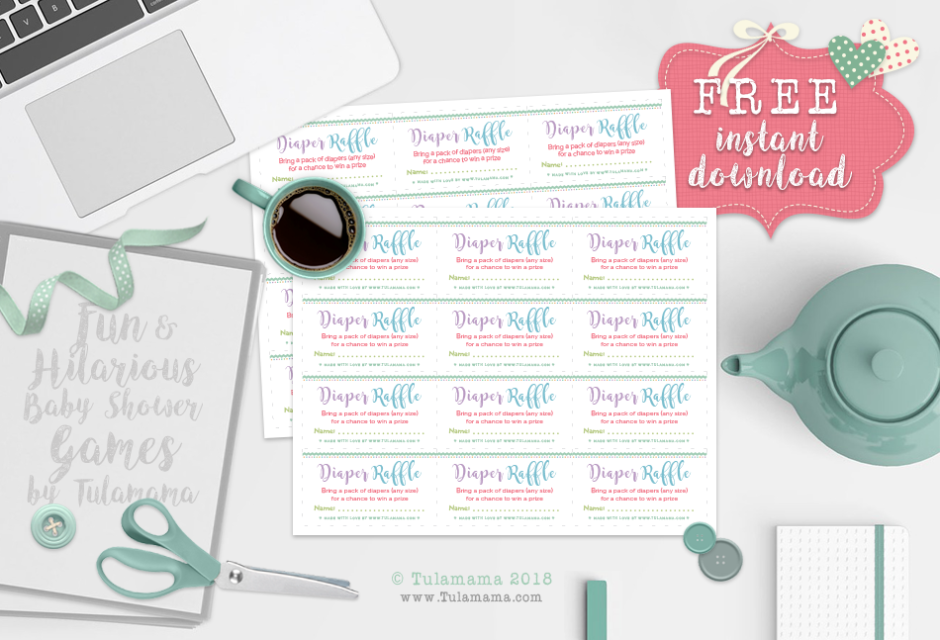 New & Improved Way To Use Diaper Raffle Tickets to Get More Diapers
You want diapers at your baby shower, baby sprinkle, or diaper party but you feel unsure. Some of us think it's impolite to tell people what gifts we want. Moms-to-be are afraid to specifically ask for diapers.

If you are one of those moms, here's why you should stop thinking that it's impolite to ask for diapers?
The people coming to your baby shower or baby sprinkle, already know how important diapers are. If they are moms themselves, they know that diapers are the highest expense you will incur. Did you know that diapers could cost you over $2000 – per child! That is no joke.
If they are bringing you gifts, they want to know what you want. No one wants to buy gifts that will never be used. They want to feel useful. That is the reason why we have baby registries in the first place. So feel free to use your registry and ask for the things you believe you will need.
By telling people what you want, you are making things easier for them. People are really busy. Most people don't have time to go shop for gifts. Most of us shop online and because we can get things from Amazon within 2 days, they may even leave gift buying until the last moment. By telling them you want diapers, it saves them a ton of time because they can simply go to Amazon and buy it from there.
The way you can get people to bring you the diapers you need, is to ask for it.
Having a diaper raffle is a great way to encourage guests to bring diapers.  Instead of buying raffle tickets, their entry into the raffle is a box or package of diapers. Easy!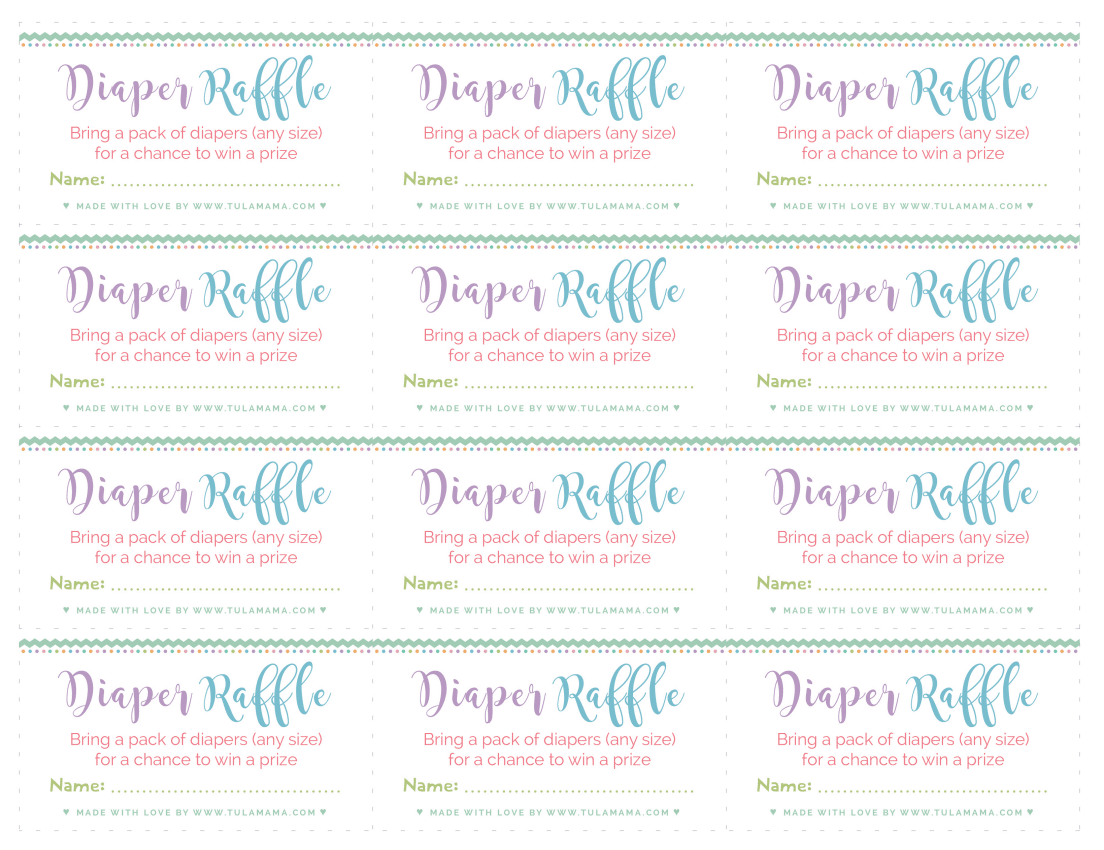 Having a diaper raffle is easy to do, too. Eve (our designer) has created these adorable, free printable diaper raffle tickets for you. (Did you notice – it's a neutral pattern, so you can use it for a boy or a girl baby shower. And if you are also downloading our free printable baby shower games, you'll notice it's the same neutral palette. That way, the whole baby shower will have a consistent print theme. 🙂
It's really easy to do. Simply cut the free printable raffle tickets (there are 12 per page), and put them into your invitations. By doing this, you are asking them to bring diapers, instead of "baby gifts."
One way to REALLY encourage them is to tell them what the prize will be. If it's a good prize, they may feel more motivated to participate in the raffle.

A good prize could be a gift card, or even two gift cards. But don't restrict yourself to financial prizes. People may be encouraged by thoughtful and/or emotional prizes too. If you are a great cook or baker, your raffle prize could be to cook/ bake something special before baby is born. Or, you could be the first person to meet the new baby, after the immediate family has done so. Don't feel limited by the prizes. In fact, click here for several examples of great raffle prizes people actually want to win. 
As they arrive with their diapers, they are allowed entry into the raffle. You will notice on the diaper raffle tickets, there is a space for them to write their names. If they haven't written their names on the tickets, have them write it before the ticket is entered into the raffle. That way, when you pull the winning ticket, you will know who's ticket it is. (Keep in mind, however, some people may forget their tickets, so print enough to keep on hand for the start of the baby shower – you get free, unlimited diaper raffle tickets.)
Draw the winning ticket during the baby shower.
Want to add even more excitement to your Baby Shower?
Play the"Modern" Diaper Raffle Game
This game works almost exactly like the one above, but there is a little bit more fun involved. However, this game will only work if the baby shower is being held at the home of the mom-to-be.
The fun part is that once the guests get to the party, they have to hide diapers all around the house, into any nook and in any cranny. Long after the party, the grateful parents will still be finding diapers around the house. (Be careful not to hide diapers in places that are so obscure that they would never be found – like the attic.)
Another tweak to keep things exciting – the more diapers you bring, the more diaper raffle tickets you get! (Be sure to let people know what you have planned for them, in the invitations).
Note From The Author
I trust you enjoyed this posts. If I have missed anything, definitely let me know, please. We see this site as a community service of moms helping moms. So, if I've missed anything important that would be of value for other moms, please let me know in the comments.
PLANNING A BABY SHOWER? HERE ARE A FEW HELPFUL RESOURCES:
Hosting or planning a baby shower takes a lot of work. You will be juggling a lot of balls in the air. Use the resources below to make your life A LOT easier.