A diaper raffle is a baby shower activity to get mommy-to-be lots of diapers. In order to set up a diaper raffle, you need an awesome diaper raffle prize and diaper raffle tickets.
Diaper raffle tickets are important because they tell your guests exactly what to do.
Diaper Raffle Tickets
You could get generic raffle tickets from any party store. They're super easy but they're also old and tacky.
The modern (and improved) way is to have personalized diaper raffle tickets where guests can write their names. These diaper raffle tickets are personalized and if you're lucky, you can have diaper raffle cards that match your baby shower theme.
If you are using the free printable diaper raffle tickets below, simply print on cardstock paper

, cut, and include a diaper raffle card in each envelope.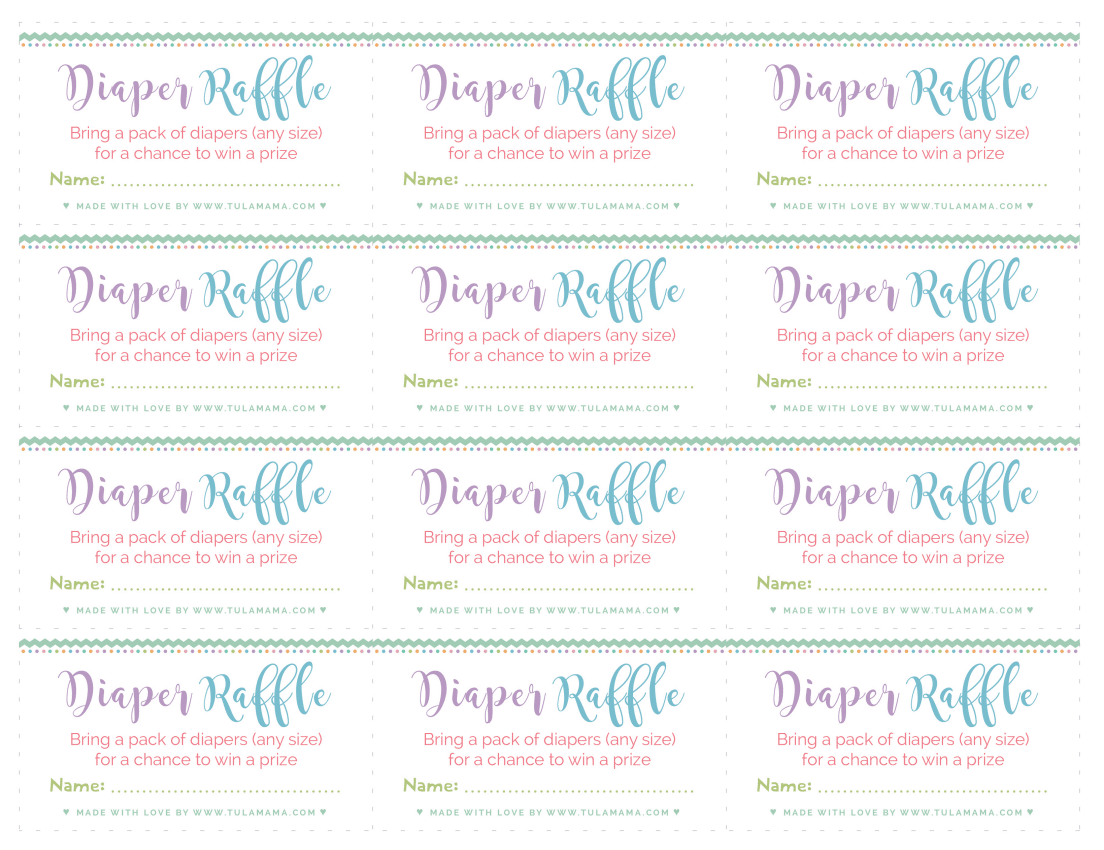 How To Set Up A Baby Shower Diaper Raffle
A modern-day diaper raffle is ridiculously easy to set up. Here are your easy instructions:
Choose The Perfect Diaper Raffle Wording
Every baby shower is different, so pick a diaper raffle poem that clearly reflects the message you wish to pass on to your guests.
Offer your guests complete instructions so that they know exactly how the game will be played. For example, your diaper raffle wording could say: "Each package or diapers equals one diaper raffle ticket. The more diaper packages you bring, the more diaper raffle tickets you get."
Add Diaper Raffle Tickets Into Your Invitation Envelopes

When you're sending out your baby shower invitations, include a diaper raffle ticket in each envelope. If you have already sent out your baby shower invitations, simply give each guest a diaper raffle ticket for each package of diapers they bring.
Offer An Amazing Diaper Raffle Prize
An awesome diaper raffle prize will entice your guests to participate. If it is possible, let your guests know what the diaper raffle prize would be. This could further encourage them to participate.
Set Up A Diaper Raffle Table

Have a designated area for people to leave the diapers as they arrive. Your diaper raffle table should have the following items:
A framed diaper raffle sign. This is a great way to tell your guests what is expected;
A raffle bowl for guests to throw in their raffle tickets;
Extra diaper raffle cards. These will come in handy because some people may forget their diaper raffle tickets, or some people may bring extra diaper packages – giving them an extra entry.
A pen. If any guests are using your extra diaper raffle cards, they will need to write their names on it.
Optional: Your diaper raffle prize.
Optional: A baby shower centerpiece to decorate the table.