Diaper Raffle Tickets: The Highly Effective Strategy To Getting More Diapers, Guaranteed
This post may contain affiliate links. Please read my
disclosure
for more information.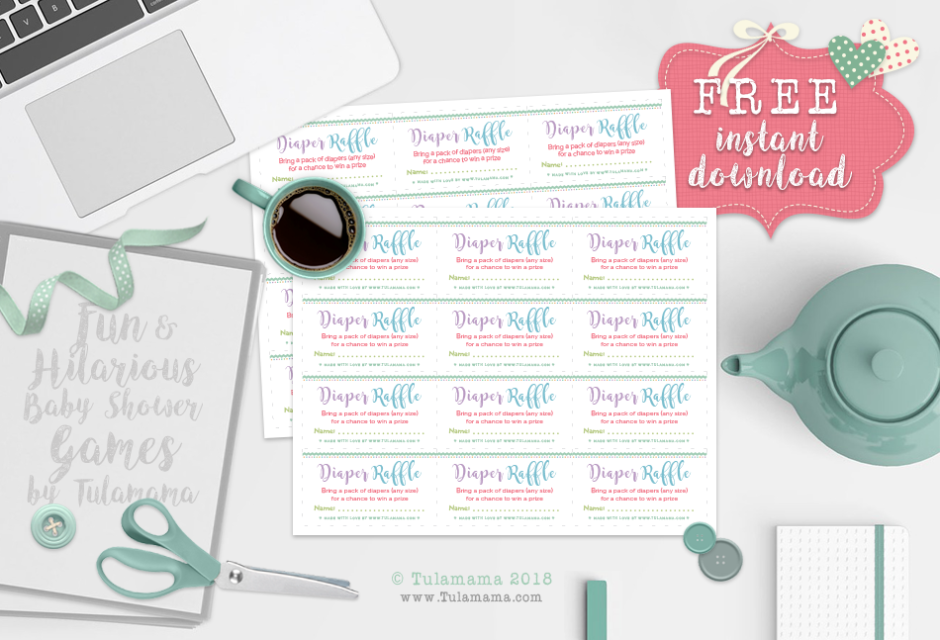 New & Improved Way To Use Diaper Raffle Tickets to Get More Diapers
The baby shower, baby sprinkle, or diaper party is coming, and mom-to-be wants diapers as gifts. There is no better way to get her the diapers she wants, than with an impressive raffle prize, and diaper raffle tickets. Here's how to put together this successful diaper raffle strategy.

Why "Gift-Buying Guests" Prefer Diaper Raffles
Many baby shower hosts and mommies-to-be feel that it's impolite to tell people what gifts they must bring. If this is you, relieve yourself of that notion because most people actually prefer diaper raffles. Here's why:
They have a chance to win an awesome raffle prize!
By telling people what you want, you are making things easier for them. They won't have to figure out what you may want.
People are really busy. Most people don't have time to go shop for gifts. Diapers can be purchased quickly and easily from any local store or online store like Amazon.
If they are bringing you gifts, they want to know what you want. No one wants to buy gifts that will never be used. They want to feel useful. That is the reason why we have baby registries in the first place. So feel free to use your registry and ask for the things you believe you will need.
The people coming to your baby shower or baby sprinkle, already know how important diapers are. If they are moms themselves, they know that diapers are the highest expense you will incur. (Did you know that diapers could cost you over $2000 – per child! )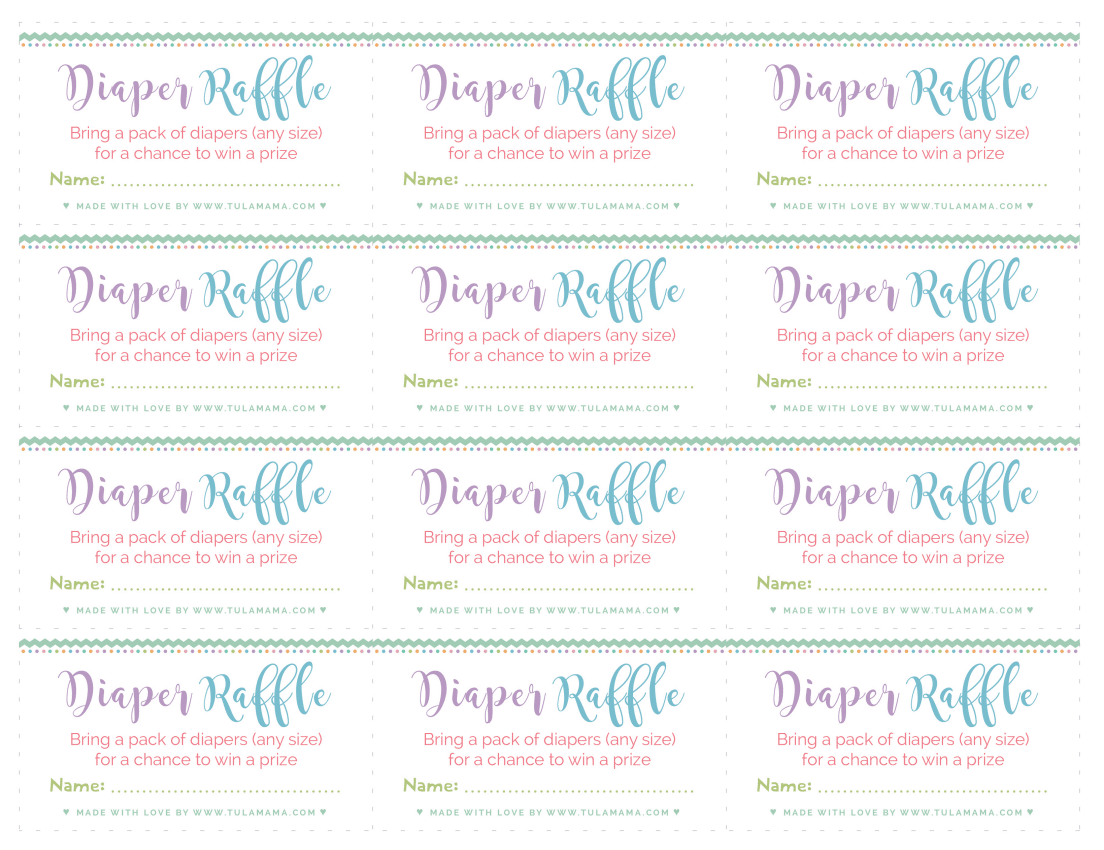 A Successful Diaper Raffle Strategy
Download and print your free diaper raffle tickets. There are 12 per page.
Get a great diaper raffle prize that people will want to win. Let your guests know what the prize will be. A great prize will entice people into participating in the diaper raffle.**
Cut out your free printable raffle tickets and put one in each invitation. By adding the diaper raffle tickets to your invitations, you are asking guests to bring diapers, instead of "baby gifts."
As your guests arrive with their diapers, save all the diaper raffle tickets in a raffle jar. Guests with a box (or package) of diapers are automatically entered into the raffle. (Keep in mind, some people may forget their raffle tickets, so print enough to keep on hand for the start of the baby shower.)
Draw the winning ticket during the baby shower.
Diaper Raffle With A Twist
Diaper raffles are traditional, but over the years they have taken on a few twists. Below are two ideas to add a bit more excitement to your baby shower.
With a traditional diaper raffle, your guest automatically gets one raffle entry per package of diapers. You could offer more raffle tickets for more diapers.
Allow guests to hide diapers in the house. This diaper raffle game will only work if the baby shower is being held at the home of the mom-to-be. Once the guests get to the party, they have to hide diapers all around the house, into any nook and in any cranny. Long after the party, the grateful parents will still be finding diapers around the house. (Be careful not to hide diapers in places that are so obscure that they would never be found – like the attic.)
Note From The Author
These diaper raffle tickets are designed for a neutral baby shower. They are in the same design as our other free baby shower game printables.
PLANNING A BABY SHOWER? HERE ARE A FEW HELPFUL RESOURCES:
Hosting or planning a baby shower takes a lot of work. You will be juggling a lot of balls in the air. Use the resources below to make your life A LOT easier.