76 Breathtakingly Beautiful Baby Shower Centerpieces
This post may contain affiliate links. Please read my
disclosure
for more information.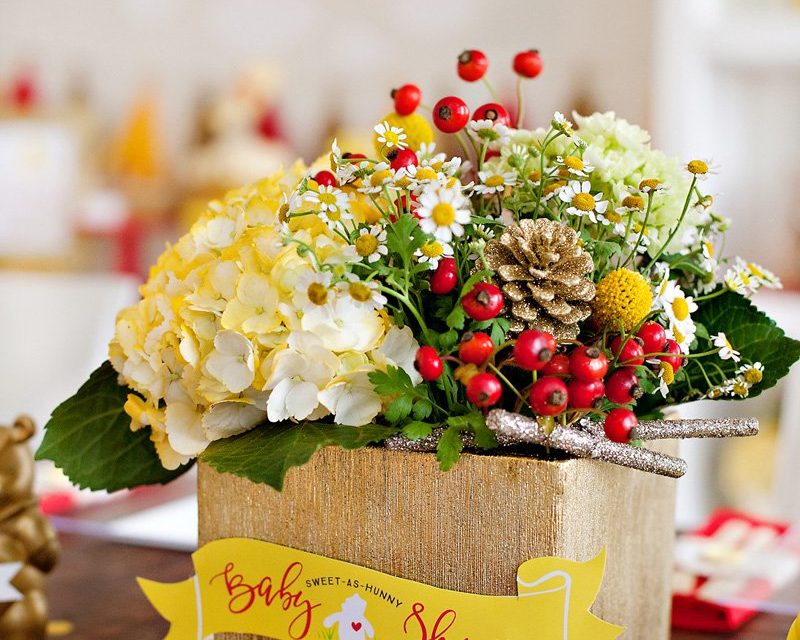 Baby Shower Centerpieces That Will Blow Them Away
When you're planning a baby shower, there are quite a few things that you need to think about. The theme, the food, the invitations, baby shower games, game prizes, baby shower favors, diaper cakes, real baby shower cakes…
The list may seem endless, which is why it's important to have a clear understanding of how to plan a baby shower. In addition to that, you will need a baby shower checklist when you start the process.
But while all those things I just mentioned is really important, baby shower centerpieces, are what will round everything off perfectly.
Your baby shower table decorations may not be an essential element of your baby shower, but it is considered by veteran baby shower planners, as important. In fact, if you are having a sit-down baby shower, your baby shower centerpieces are essential.
If you are having a large baby shower with sit down meals, you will need a baby shower centerpiece for each table. But if you are planning a smaller affair with finger foods and close mingling, one baby shower centerpiece will be sufficient.
The sky is the limit when it comes to choosing the perfect baby shower table decorations. You could go with a baby themed edible arrangement, you could decorate baby items into a bouquet (also known as a diaper cake), your centerpiece could match your baby shower theme, or you could have a lovely bouquet of fresh flowers. It could be as simple or as fancy as you like.
Just one final thing before you start – many people use diaper cakes as baby shower centerpieces. That is great, but for the purpose of being 100% accurate, this post only has actual baby shower centerpieces. Also, I've deliberately tried not to add flowers to this collection. Why? Because we have an extensive gallery of baby shower flowers and I wanted to separate the two, for your convenience.
Below are several great examples to give you ideas of what you can do, when you're planning a baby shower.
If you are interested in DIY baby shower centerpieces, scroll all the way to the bottom for 2 DIY videos both a boy and girl baby shower.

---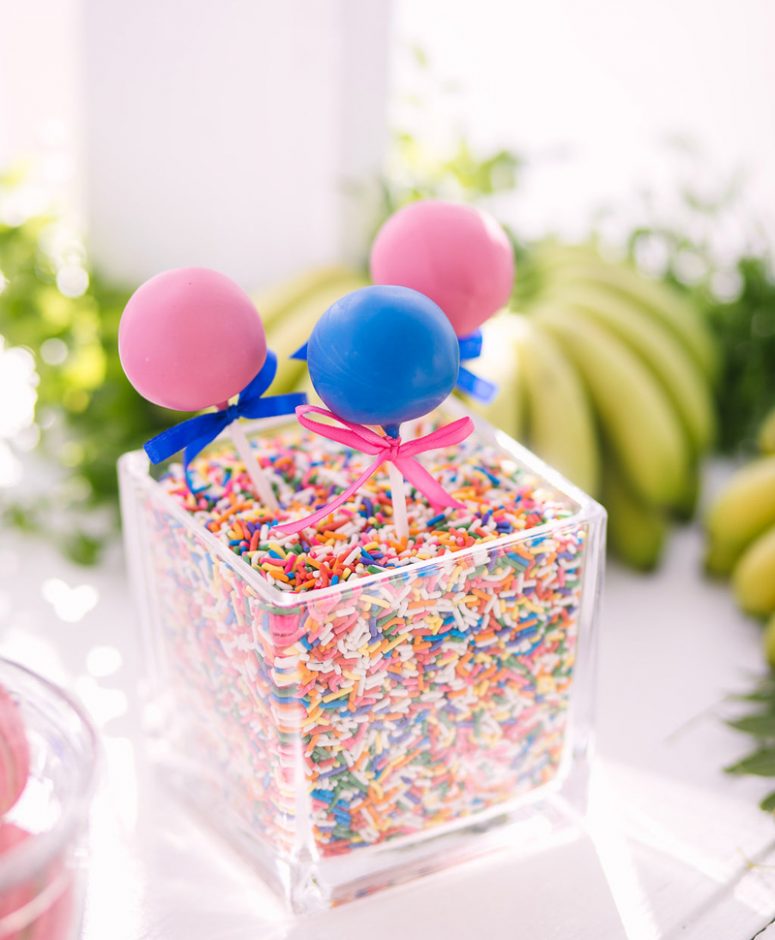 ---

---

---

---

---
---
---

---

---

---

---

---

Image Credit: Unknown
---

Image Credit: Unknown
This is a "sweet" baby shower centerpiece, and it's probably the easiest to make, too. It serves two purposes – it's pretty, and it's edible! Simply get a pretty ribbon to match the baby shower theme, a vase, and fill it with the color(s) you like. And no – you don't have to spend hours sorting m&m's – you can simply buy the color(s) you like, directly from the M&Ms factory. You can even have them personalized!! It could say anything, like "Angie's Baby Shower", "she's about to pop!" You could even put a picture of mom-to-be and dad-to-be on there. There's lots you can do, so definitely check out the M&Ms Site.
---

Image Credit: Unknown. Here are step-by-step DIY instructions on how you can create baby outfit baby shower centerpiece.
---

---

---

---

---

---

---

---

---

---

---

---

---

---
---

Image Credit: Unknown
---

Image Credit: Unknown
---

---

---
---

---

---

---

---

---

---

---

---

---

---

Did you know that the vase is actually paper straws? If you are having a baby shower for a boy, you could simply change the color and there is a HUGE variety of paper straw colors to choose from. This is an easy homemade baby shower decoration. You could use a simple vase, and decorate it as you please. You could also tie a little baby shower pacifier to the string.
---

---

---

---

---

---

---

---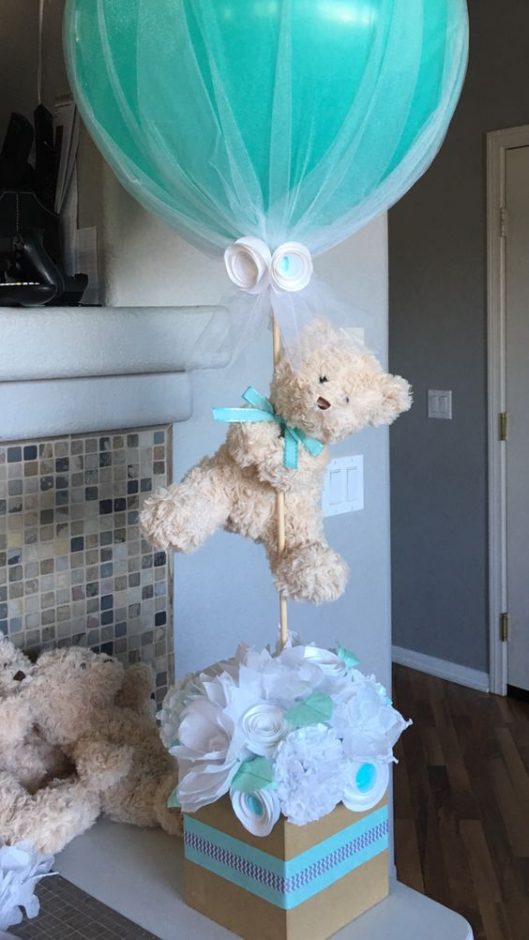 ---

---

---

---

---

---

---

---

Image Credit. This centerpiece is for a "wish upon a star" baby shower theme.
---

Image Credit: Unknown
---

Image Credit.  If you are having a Princess theme, this is an easy centerpiece to make yourself. All you will need are flowers and mason jars. Mason jars are a great idea to use as a vase because they're strong, versatile, and they're available in many sizes. Adding glitter is easy too! Here are DIY instructions on how to do it.
---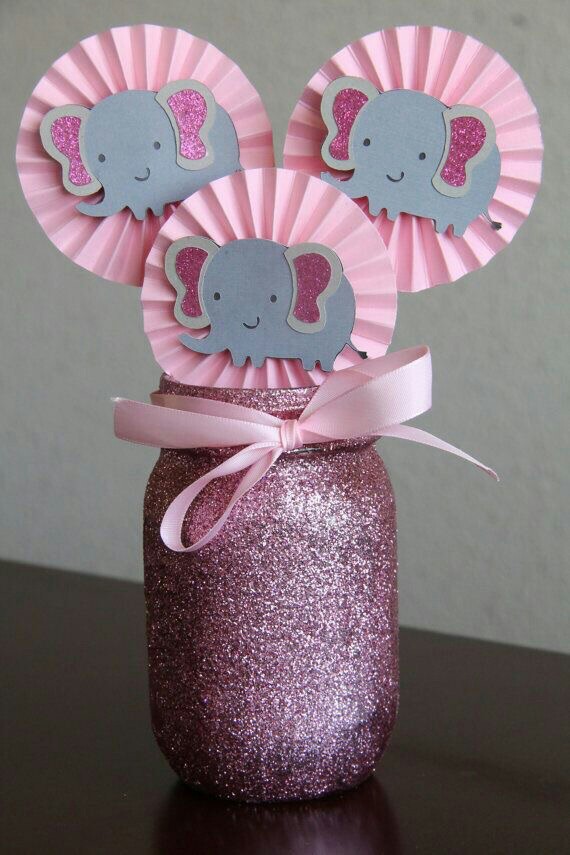 Image Credit: Unknown. The Elephant baby shower theme is a popular one, and this centerpiece is an easy one to make. Mason jars are cheap. You can get them in almost any size too.  Here are easy DIY instructions on how to put glitter on a mason jar.
---

Image Credit: Unknown
---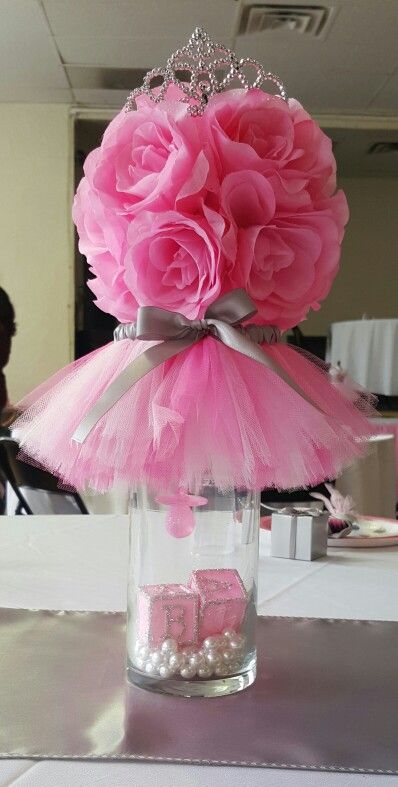 Baby Shower Centerpiece, Girl. Image credit unknown.
---

---

Image Credit: Unknown
---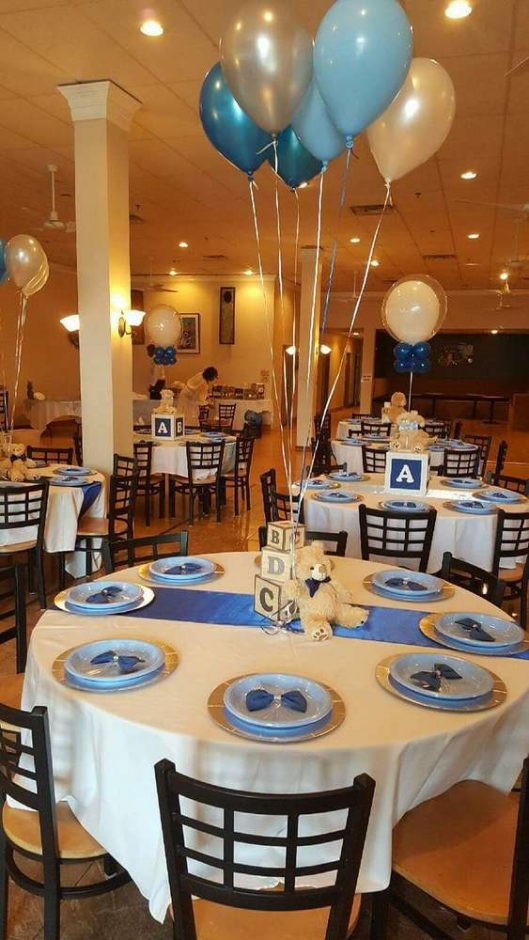 ---
Want To Make Your Own Baby Shower Centerpiece?
Here are two great videos to guide you.
Note From The Author
As you can see from the baby shower centerpieces above, you can easily make a spectacular table decoration. And it doesn't need to be expensive either.
I hope this collection inspires you to create your own little masterpiece. I wanted to be sure to add as many examples as possible to really get your creative juices flowing.
Please feel free to leave comments. I love reading your opinions.
PLANNING A BABY SHOWER? HERE ARE A FEW HELPFUL RESOURCES:
Hosting or planning a baby shower takes a lot of work. You will be juggling a lot of balls in the air. Use the resources below to make your life A LOT easier.