Is there anything better than homemade baby shower favors that your guests actually love? Yes. It's cheap baby shower favors!
In the collection below, we took our time to find awesome baby shower favors that:
will not be left in the car or dropped in the trash as soon as your guest gets home.
are homemade or at least mostly homemade baby shower favors; and they are
cheap baby shower favors that look expensive.
Can it get any better than that?
Cheap Baby Shower Favors You Can Make At Home
Bath Bombs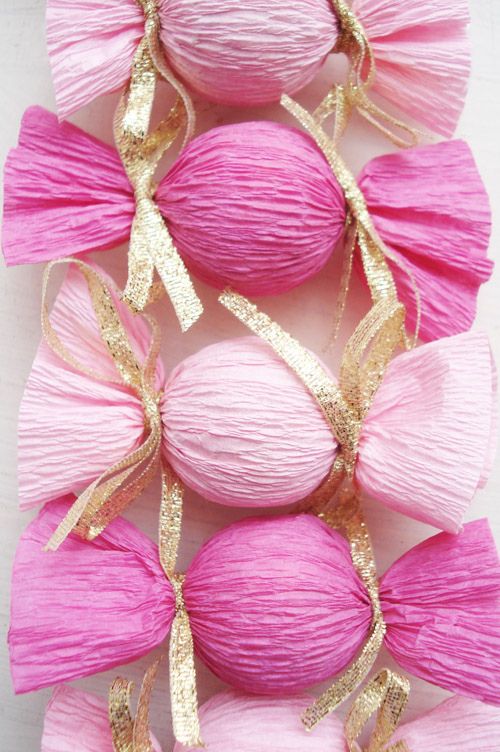 Who doesn't love a nice soak in the tub! Which is why people tend to love bath bombs. Click here for this easy recipe.
Bath bombs are also really easy to dress up, too. First, you can choose the fragrance, the colors and the mold. (It doesn't have to be a circle.) Then, you can wrap it and present it in many cute ways, like this "candy" presentation above.
---
Potpourri in a bag

People love stuff that smells good! You could make your own potpourri, or buy some from Amazon or a local store. All you need to make potpourri sachets are:
---
Coffee Beans in burlap bags

To make this homemade baby shower favor, all you need are:
A bag or two of whole coffee beans – how many bags you get will depend on how many guests you have;
Ribbon to tie the burlap bags (optional);
---
Loose Tea Leaves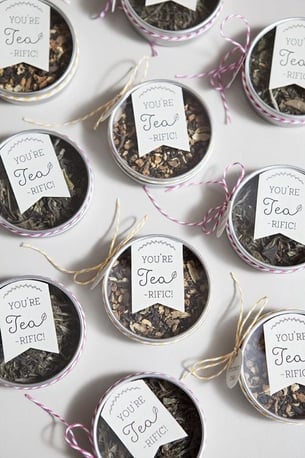 Tea is a safe bet as a baby shower favor because lots of people enjoy tea. This is a seriously easy favor to make too. All you will need is:
Loose tea leaves – choose a flavor or flavors that you think the guests will enjoy. If you do choose to have different flavors, be sure to put a sticker on the bottom, write it on the bottom, or tie a tag onto the tin with a ribbon and a tag;
small metal tins – pick the size you prefer. The larger the tin, the more tea you will need to fill it.
String to tie around the tins, optional.
A "You're Tea-Rific!" sticker, optional, but nice.
---
Baby Shower Candy Favor

If you have a glue gun and access to a Dollar store, you can do this. To make this favor, you will need:
Time – this is going to take a while;
Really small mason jars;
Faux flowers – get them for cheap at your local Dollar store;
A glue gun;
Ribbon to tie around the mason jars;
Almond M&M's or anything else you'd like to offer as a favor.
Cut the flowers down so that you only have the flowers left, and glue them onto the lid of your mason jar. If you use small flowers like in the image above, this will take time and you will be doing a lot of gluing. You could also opt for larger flowers that take up the entire lid of the mason jar, thereby gluing only one flower to each lid.
---
Another Baby Shower Candy Favor

If the previous one seems pretty but just too much work, consider this baby shower candy favor. Equally as pretty but way less work. All you need is:
---
Mini Meringue Cookies in a waffle cone

Can you make meringues? Great – this would be easy for you! If you can't, don't worry. Instead of meringues, you can add popcorn too.
All you would need to make this DIY baby shower favor is:
---
Popcorn Favors – The Ultimate Homemade Baby Shower Favors

Choosing the perfect baby shower favor can be hard because you never know if people will like it, or not. Because most people enjoy popcorn, however, popcorn is usually a safe (and delicious) choice. To make these homemade baby shower favors, you will need:
---
Cookie Mix In A Bag

Baby shower cookie mix comes courtesy of Lisa from celebrate-creativity.com.
With the exception of the cookie mix itself, she makes the bags and the labels by hand. But if you are not that handy with a sewing machine, don't worry. To make these adorable homemade baby shower favors, all you need is:
Cookie mix. You can make your own or buy any premade cookie mix from your store. (At the time of this writing, you can get 9 packs of Betty Crocker cookie mix for $9 – so $1 each.)
Burlap bags. Get the cookie mix first so that you can measure how big your bags should be. Then, you just add the full bag of cookie mix into your burlap bag – easy peasy.
Wooden spoons.
Faux flowers. The dollar store is a great place to get these. You can cut them into small pieces.
Tags. You could buy tags and stamp them. This might be a little time consuming if you are doing lots. You could also print tags on cardstock paper.
String to tie it all up.
Your cookie mix instructions. If you are buying cookie mix with the instructions on the back, you won't  need to add instructions. If you are making  your own cookie mix, be sure to add complete instructions into the packaging.
---
Caramel Popcorn in Mason Jars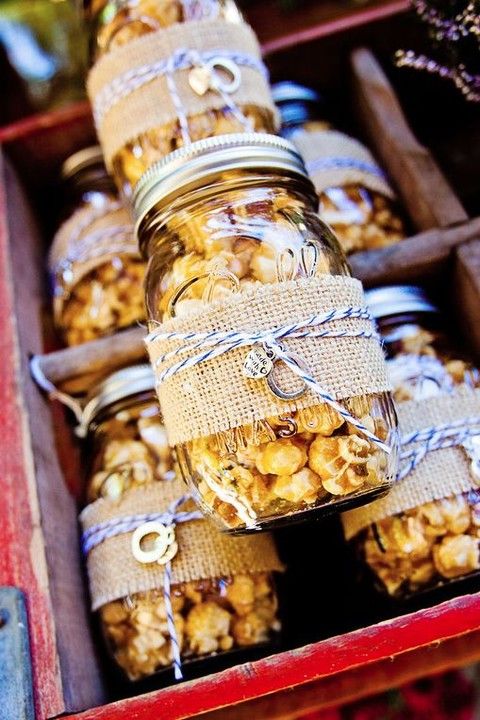 If you can make caramel popcorn, you can create this easy and cheap baby shower favor.
Here's all you will need:
---
Decadent Bath Salts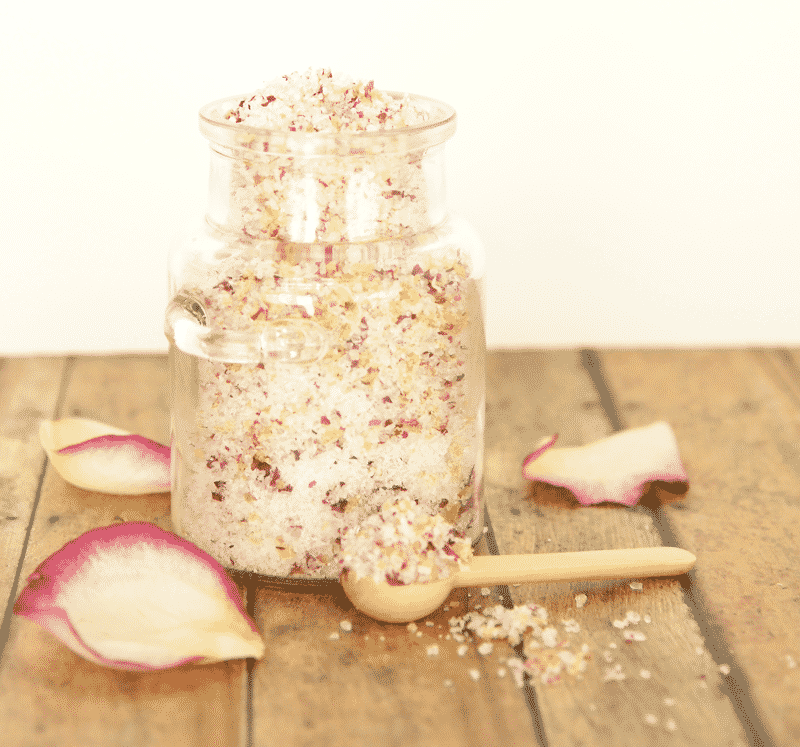 Making bath salts is really, really easy. Bath salts are basically just Epson salts, dressed up to look and smell pretty. This means you can customize it any way you want.
Some people like to add essential oils, some people add essentials oils and food coloring. You can basically do whatever meets your fancy but to make the above rose-petal bath salts, (courtesy of Ashley Phipps from Simple Designing,) you need only:
1 cup of Epson salts. (Epson salts is cheaper if you buy it locally. At Walmart, find it in the Pharmacy section.)
Rose petals from one rose – use any color you have.
2-4 drops of vanilla fragrance oil.
Adjust the ingredients to accommodate the number of guests you will need favors for.
Add the ingredients to your food processor, and buzz it for a few seconds – just enough to break the petals into little pieces.
---
Homemade Soap

Soap making has become so much easier. No more dealing with dangerous chemicals. To make this Orange Creamsicle Soap, courtesy of SimplyStacie.net, you need only 4 ingredients, plus the soap mold. Click here for the complete instructions.
---
Candy Filled Mason Jar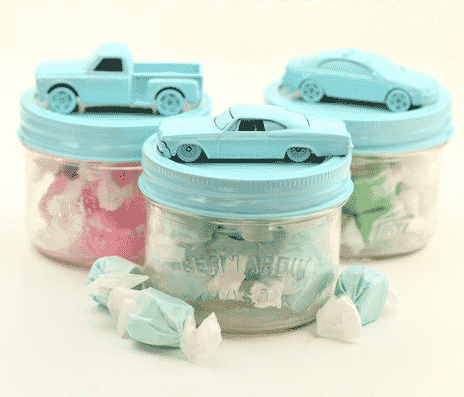 How utterly cute and unique are these little mason jars

. Their lids and the little cars were spray painted to match the color of the baby shower theme. Once the paint is dried, you can hot glue

the little cars to the lids, and fill the mason jars with a candy of your choice.
This is a budget-friendly baby shower favor because mason jars

 are cheap, and the little Hot Wheels cars

 can be purchased for under a dollar each at places like Amazon. Also, check at the Dollar store or Thrift stores for little cars because they need not be new for you to do this project.
---
DIY Face Mist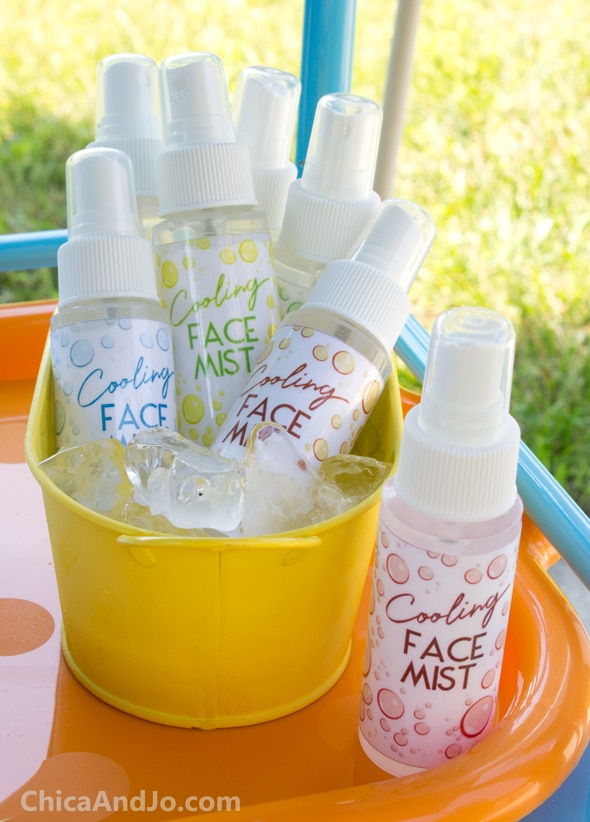 If you are having the shower in the summer, face mist will be a favor that they will love and appreciate, because it's so refreshing. All you will need to make Rose Face mist, is:
---
Homemade Bug Spray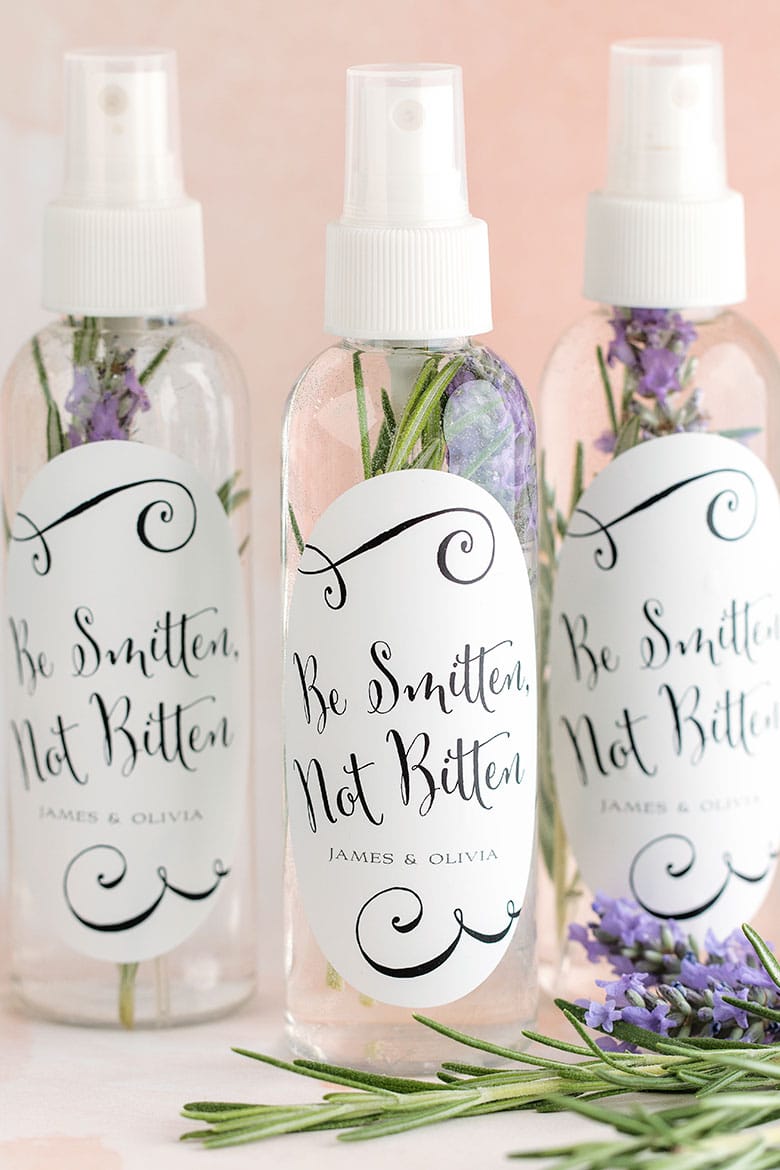 Bug spray is another cheap baby shower favor that is especially appreciated during the summer.
Adjust the ingredients to make enough for the baby shower guests. For this homemade bug spray, you will need:
Pour all the ingredients into a jar and shake it. For best results, use a funnel

to pour the bug spray into the little spray bottles.
---
Washi Tape Tealight Candles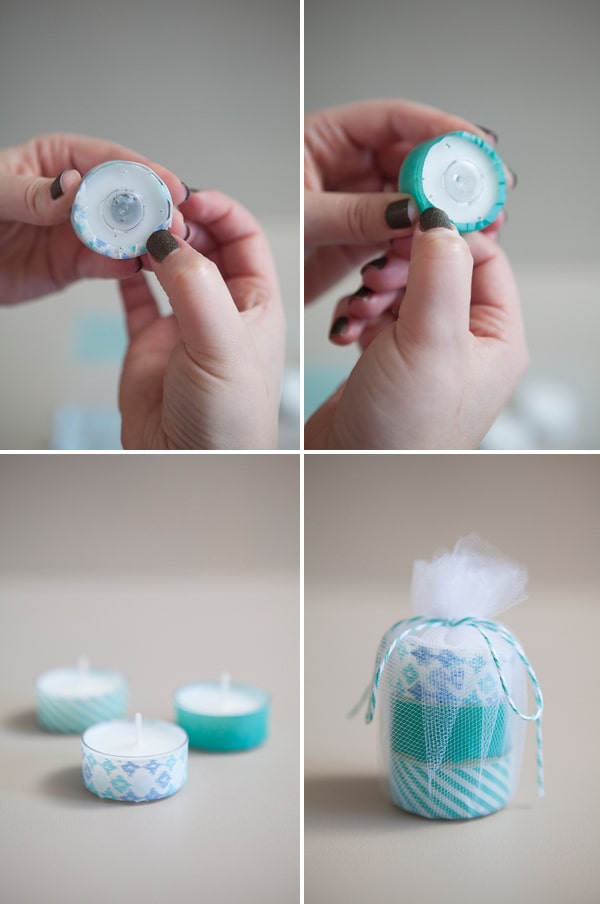 If you're looking for cheap baby shower favors, it is hard to get cheaper than this.
For this favor, you need:
Washi tape – you can get any designs you want. You could do multiple designs too. See if you can find colors that match your baby shower theme.
Tealight candles
Wrap the tealight candles with washi tape, wrap it up with the tulle and string, and you're done.
---
Seasonings, a Fragrant Homemade Baby Shower Favor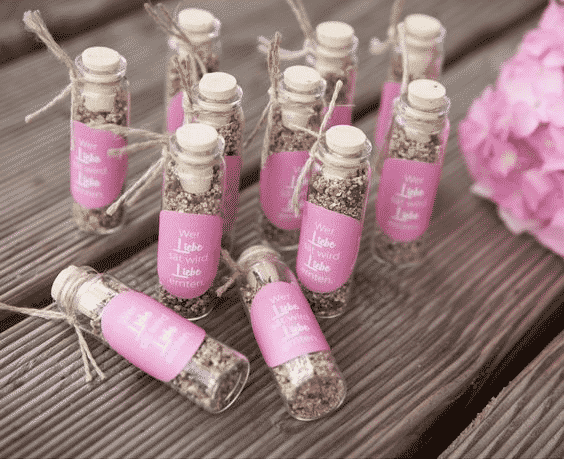 Do you make your own seasonings? Or even if you don't actually make it yourself – do people often compliment you on a certain seasoning you use? Great. Buy it in bulk and bottle it. It's a cheap baby shower favor, plus it's a favor that people will use. All you will need is:
---
Favorite Recipe Ring Binder

If you are a great cook and people are always asking you for recipes, why not create a gift out of it? This is an awesome idea from Lil Luna.
Lil Luna suggests that you use colored paper and blank note cards. However, since we are trying to save money on baby shower favors, skip that and:
Next, you will need:
Sure, this baby shower favor is a little bit more pricey because you have to buy a laminator and sheets, but if you already have one, it is a cheap baby shower favor. Also, keep in mind that you'll be able to use the laminator for a long time after you finish this project.
---
If you liked this, you will also appreciate these:
PLANNING A BABY SHOWER? HERE ARE A FEW HELPFUL RESOURCES:
Hosting or planning a baby shower takes a lot of work. You will be juggling a lot of balls in the air. Use the resources below to make your life A LOT easier.
Featured Image Credit for homemade baby shower favors: boho-weddings.com