White Chocolate Popcorn Is The Bomb!
White Chocolate Popcorn is a great recipe for parties, baby showers, or just for movie night. It's delicious, easy to make, and people can't get enough of it. It's also great to offer as a party or baby shower favors.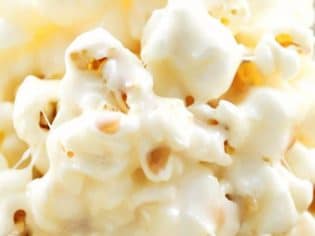 White Chocolate Popcorn
Prep Time 10 minutes
Cook Time 5 minutes
Resting Time 30 minutes
Total Time 45 minutes
Servings 10 Cups
Calories 158 kcal
Ingredients
2 packs Microwave popcorn
17 oz white chocolate chips
Instructions
Pop the popcorn in your microwave.

When your popcorn is ready, pour it onto a large baking sheet.

On a double boiler, melt your white chocolate chips. (Be careful not to have any drops of water mix with the chocolate - it will ruin the batch.)

Stir frequently and scrape down the sides with a rubber spatula, until your chocolate mixture is completely melted.

When the chocolate is melted, pour it over the popcorn.

With clean hands, mix the chocolate through the popcorn.

Let the popcorn rest for at least 30 minutes before serving.
Recipe Notes
You could also add food coloring to the white chocolate.
To make colored white chocolate popcorn, simply add 1 drop of food coloring to the melted chocolate before you mix it into the popcorn. It's equally delicious and it can match your party or baby shower theme.