Baby Shower Ideas On A Budget
Few things are more exciting than welcoming a baby to the world, and showers are the perfect way to help new parents have most of what they need when their newborn arrives. But baby showers can be expensive, which is why you will definitely need to implement a few cheap baby shower ideas… if you are on a budget.
You have lots of options!
Fair Warning – because this is a comprehensive post – it is long. To give you a quick overview of what you can expect, here is a summary of your baby shower ideas on a budget.
Pick a free place to host the shower;
Find affordable seating;
Carefully consider your baby shower invitation options;
Choose cheap baby shower foods;
Go easy on baby shower desserts;
Make your own baby shower centerpieces;
Create baby shower decorations that can do double duty;
Serve cupcakes instead of a baby shower cake;
Skip the entertainment;
Shop for baby shower decorations at discount stores;
Use paper in a creative way;
Make your own floral arrangements;
Borrow things;
Shop wisely and use coupons when you buy;
Choose cheap baby shower activities;
Create handmade baby shower favors;
Choose simple and FREE baby shower games;
Reuse and recycle old things;
Co-host the baby shower;
Ask for contributions.
Pick a Free Place to Host the Baby Shower
Event venue rentals are one of the most expensive parts of throwing a party. In addition to the cost, you often have to reserve spaces months ahead of time. If you're planning in a hurry, this may not be an option for you. The good news is that you can find free places.
Consider having the baby shower:
At a park. There is always lots of parking and guests can bring their kids. Parks are very casual and you are usually free to decorate.
At a friend's house. If you have a friend with a beautiful backyard garden, ask if you could host the party at their place.
At home. If your home can accommodate the guests, this is a great option.
Find Affordable Seating
While free venues are awesome for saving money, you may run into the issue of not having enough seating. Unfortunately, chair rentals get ridiculously expensive, especially if you have to arrange for them to be delivered. Instead, ask your friends and family if they have chairs that they can loan, and never underestimate how neat it can be to put a few floor pillows out for lounging. As you plan for the chairs, just make sure that the mother-to-be has the best seat in the house. Her comfort should always be the highest priority.
Carefully Consider Your Baby Shower Invitation Options
Traditional "paper" baby shower invitations are wonderful! However, if you're on a budget, they are a huge splurge – particularly if you're shopping from customized places like Minted.com.
Instead, consider the following options:
Traditional baby shower invitations – printed at home. If you are set on getting traditional baby showers invitations that are customized, do consider places like these where you can get them made digitally, and just print it out on cardstock

at home. Do consider that even if you get free digital invitations to be printed at home, your costs do not end with cardstock. You will also need envelopes (to fit the cards) and stamps (unless you hand-deliver everything.) But if you cannot be bothered with printing…
Traditional baby shower invitations that are not customized. These are the type of baby shower invitations where you have to manually fill in the details of the baby shower onto each card. These are time-consuming but they can also be adorable. Here are a few great options.

Digital invites – sent via email. Depending on what design you choose, digital invites can be completely free! They are also more eco-friendly, (no trees need to be chopped,) and delivery is instant. Use templates online that allow you to add in all of the party details and email them to your guests. If mom-to-be wants a memento for the baby book, print one out for her. It'll look just as pretty as a traditional baby shower invitation, without the heavy price.
Plan Your Menu Wisely
Like the venue, baby shower foods is another huge expense for baby showers. But you have a few options.
First, what time will the baby shower be? Knowing what time it will be will makes a difference in how much you spend. Consider the following as you decide on your baby shower menu.

Once you know what time you will be serving and the type of food you will need, you will need to decide how much you can afford to spend. Here's a simple guideline with full explanations below:
Cheap -You could serve baby shower finger foods;
Cheaper – You could serve a simplified (but still lovely) menu;
Cheapest – You could have a potluck baby shower.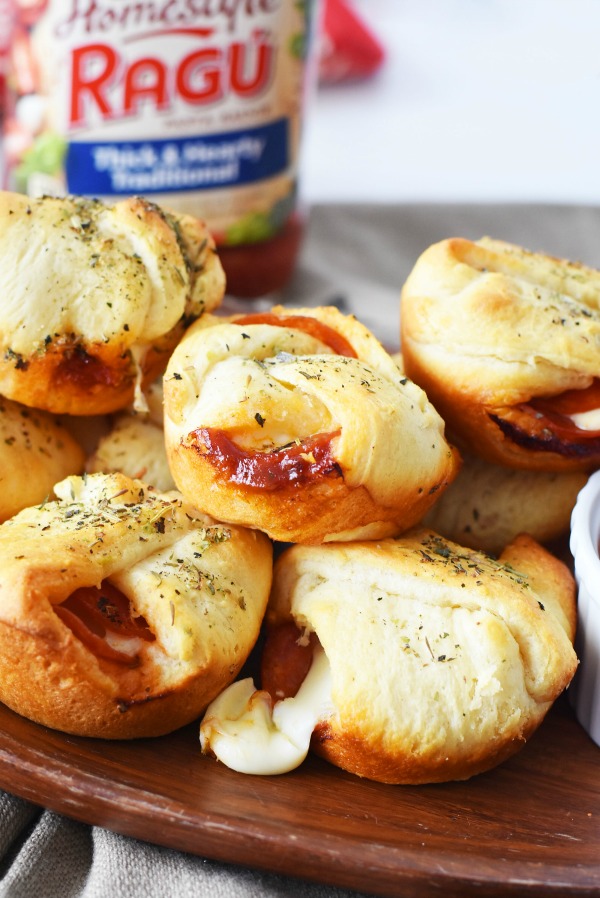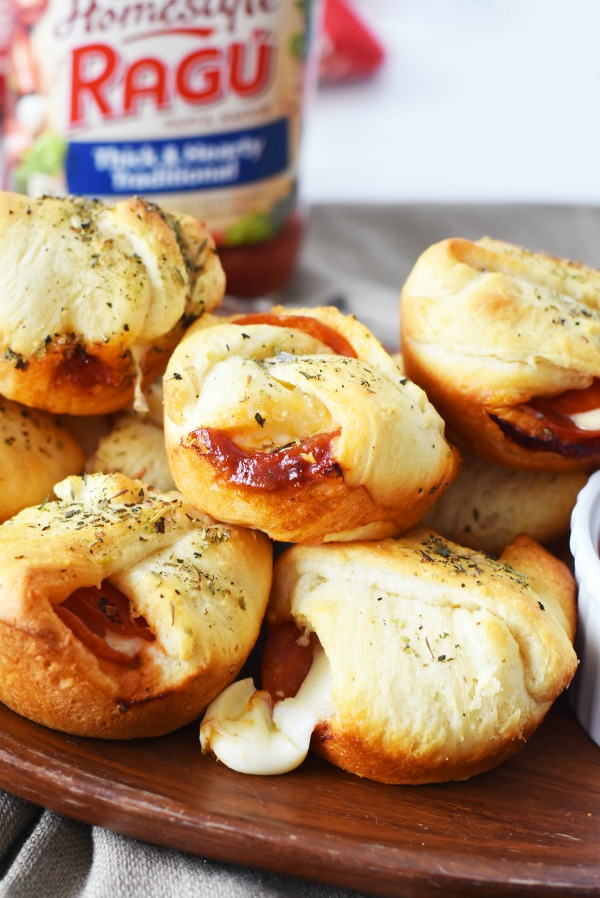 Serve Cheap Party Food
Whether they are on a budget or not, most people choose to have baby shower finger foods, anyway. Not because it's cheaper than a sit-down meal, but rather because by serving finger foods, people are allowed to mingle more. Baby shower finger foods allow for a more casual atmosphere and everyone loves that.
Here's a great resource: 55 Easy & Delicious Baby Shower Food Ideas
Serve Baby Shower Food From A Simplified Menu
If the baby shower is being held in-between meals, your guests may not be too hungry anyway. This might be a good opportunity to serve a few simple finger foods that people can nibble on as they mingle. If you have a membership at a bulk food store like Costco, get one of the Costco party platters. They are wonderfully inexpensive and very tasty.
Consider Hosting a Pot Luck Baby Shower
If menu planning and food prep is just not your thing, consider asking everyone to bring a simple dish. Just make sure to coordinate what everyone brings so that you don't end up with a table full of muffins… and nothing else.
This could also be a great opportunity to share recipes with the mom-to-be, by attaching the recipes. As a nice gesture, you could put these all into a scrapbook for mom-to-be as a gift.
Go Easy On Baby Shower Desserts
Everyone loves the baby shower desserts – and with good reason. But you don't have to go overboard on this. You can create lovely, delicious desserts without breaking the bank.
Here is a useful resource: Easy Baby Shower Desserts That Are Truly Irresistible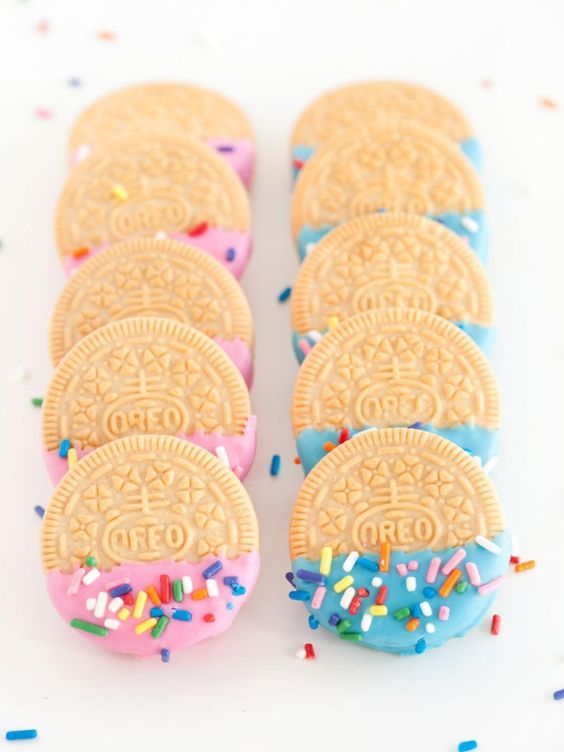 Make Your Own Baby Shower Centerpieces
Baby shower centerpieces get expensive in party supply stores. If you are doing baby shower flowers instead, this too can be expensive. Once again, you have options. Here are a few ideas:
Make Tissue Paper Flowers
Tissue paper flowers

are relatively cheap and you can get them in colors to match your baby shower theme.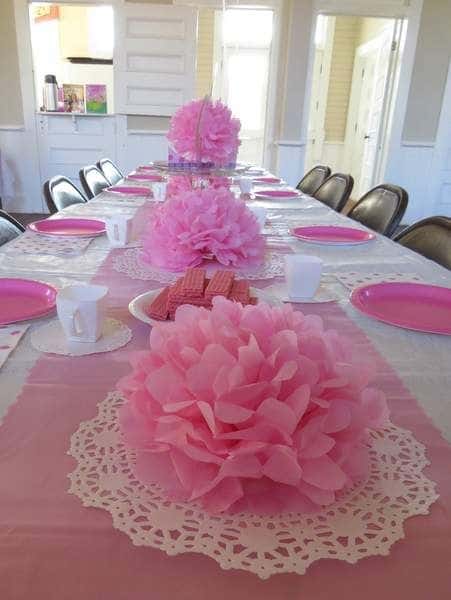 Decorate With Balloons
Decorating with balloons are both spectacular AND cheap! As you would have seen from the featured image, balloons and bows will make even a lawn bench look amazing.
Here's a great resource: Baby Shower Balloons – An Easy & Cost Effective Way To Create A Fabulous Baby Shower.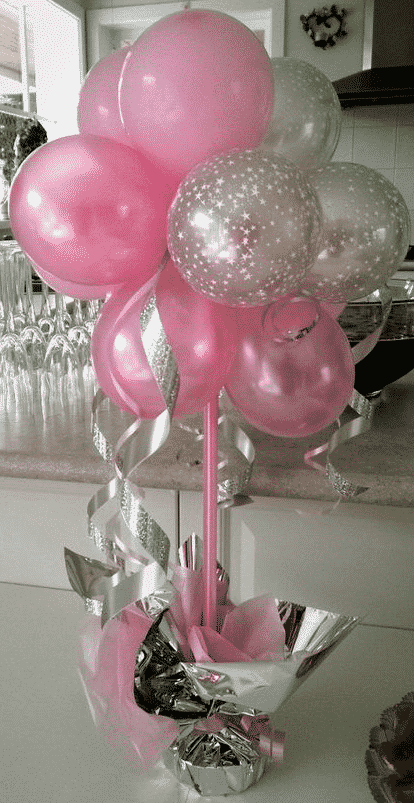 But if these don't quite meet your fancy, find inspiration elsewhere and then replicate it – the cheap way. Use supplies you can find in your home and The Dollar Store, or ask people for what you need. If everyone knows that you are planning a baby shower on a budget, they may be more than happy to chip in with what you need.
Here are some places to find inspiration:
Create Baby Shower Decorations That Can Do Double Duty
Baby shower decorations can be beautiful and it really doesn't need to cost that much. But if you are on a serious budget, you need to be creative.
One of the absolute best "cheap baby shower ideas" is to turn every decoration into something that can be used for other purposes. Here are a few lovely baby shower on a budget ideas:
Create a onesie banner
Try stringing a set of onesies up as an adorable banner. Sure, these onesies will require a small initial cost, but the parents will be able to use it again later. Decorations like these set the perfect atmosphere for a baby shower.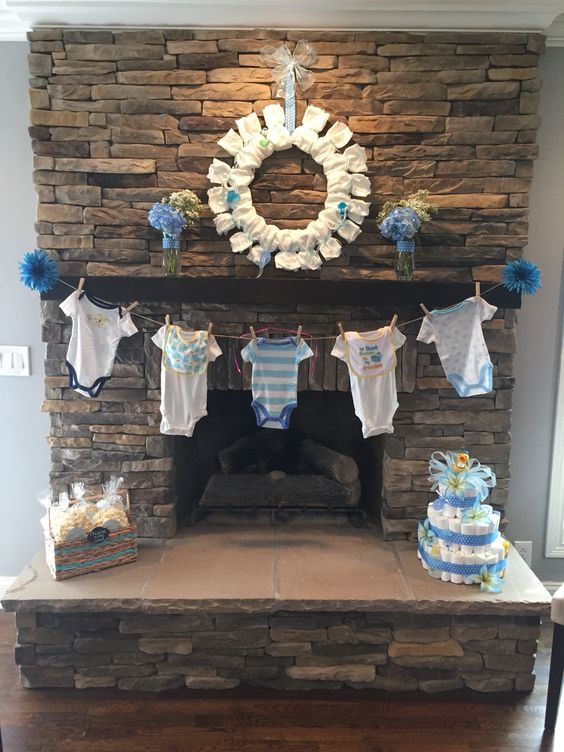 Decorate With Baby Clothes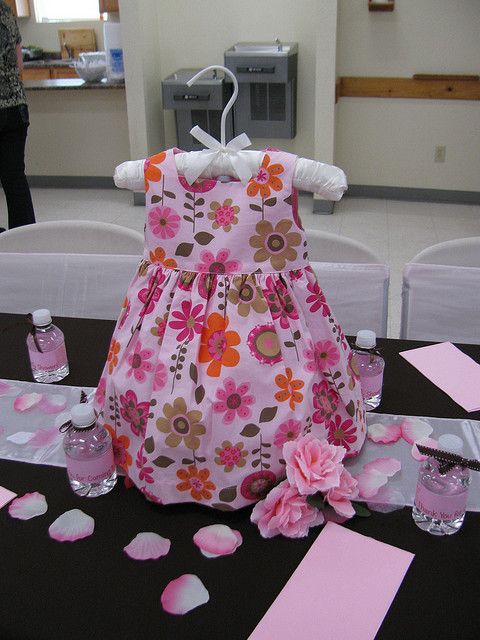 If you just cannot see yourself spending money on a baby shower centerpiece that may be thrown out, how about creating a centerpiece with baby clothes? It's adorable, it's cheap, it sets the theme and it can be used again later. It's a win-win.
Carve a watermelon into a baby carriage.
This would be a lovely edible centerpiece for the guests to gawk over.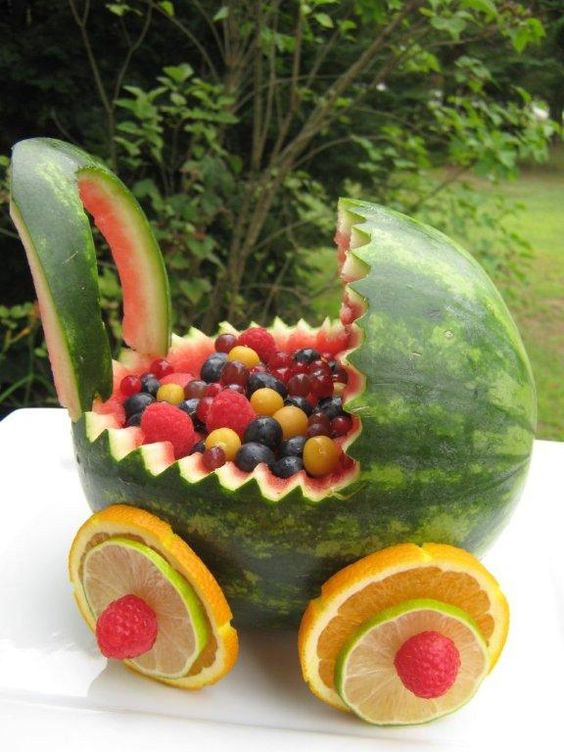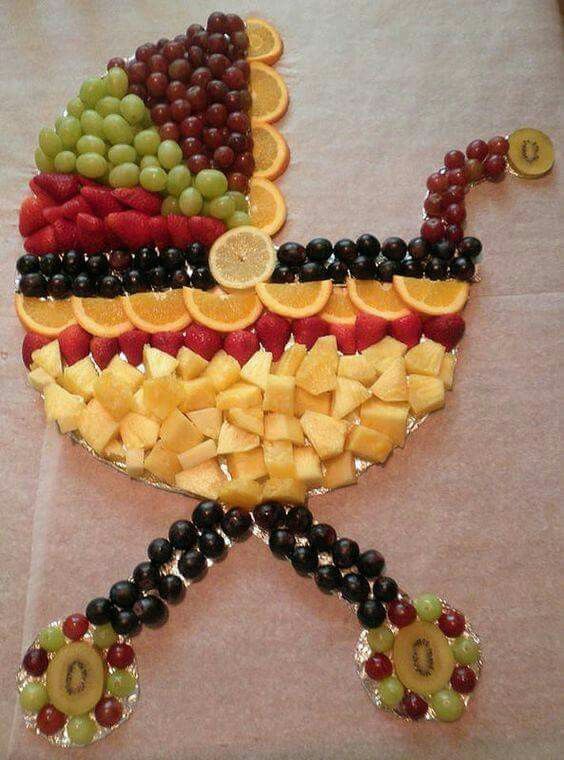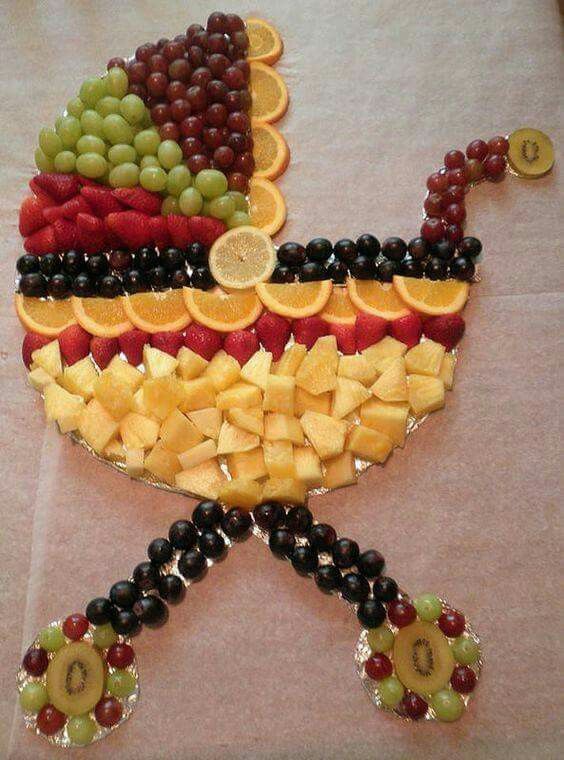 Use baby shower favors as baby shower centerpieces.
Baby shower favors are expected when guests go to showers, but if you're not careful – they can get pricey. Why not use a pretty baby shower favor as your centerpieces or baby shower decorations. Here are two beautiful examples: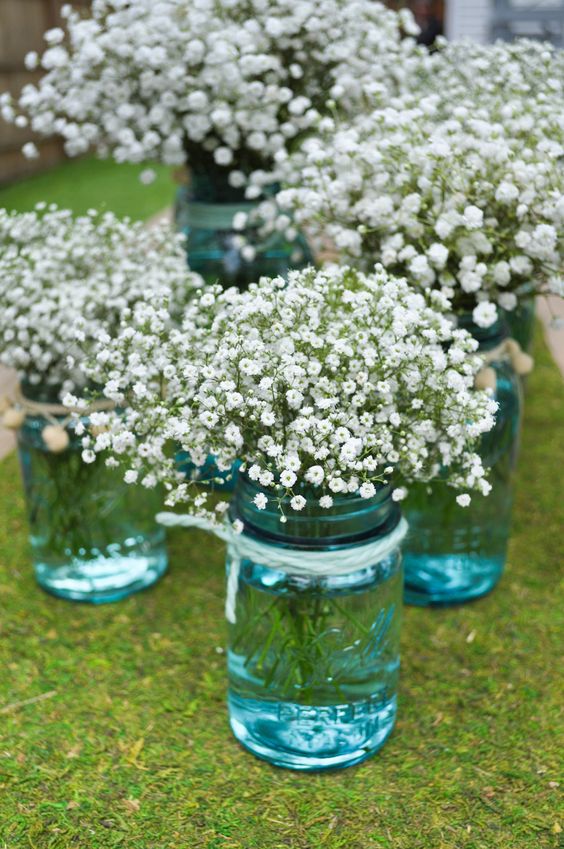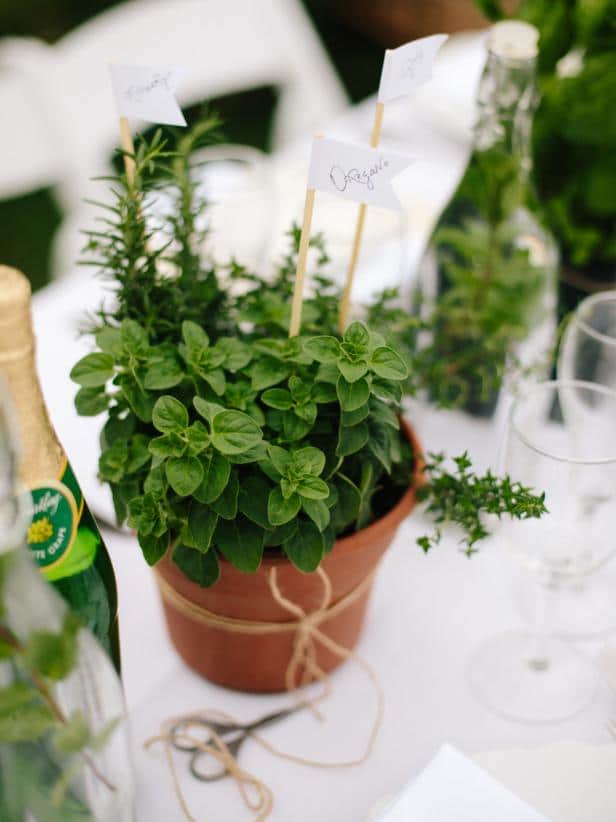 Use Diaper Cakes as baby shower decor.
Diaper cakes can be inexpensive to make. They come in all kinds of sizes and designs to fit your baby shower theme so you can go as big or as small as you like. Here is a resource for lots of diaper cake ideas.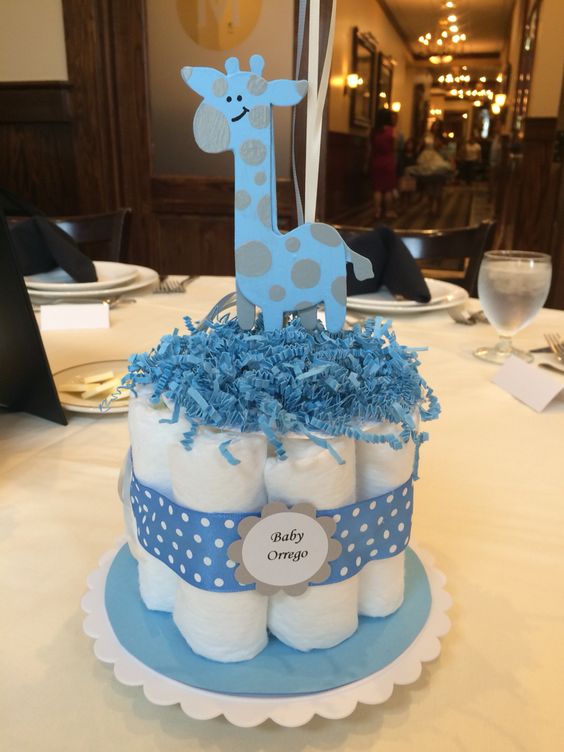 Serve Cupcakes Instead of An Expensive Baby Shower Cake
Yes, baby shower cakes can be spectacular but they are also really, really expensive. And while every party needs a cake, there is no need to go for an expensive multi-layer version with expensive decorations.
Making your own baby shower cupcakes is simple – the decorating is another story. But, if you can pull it off, the mom-to-be will appreciate the time and effort you put into the dessert.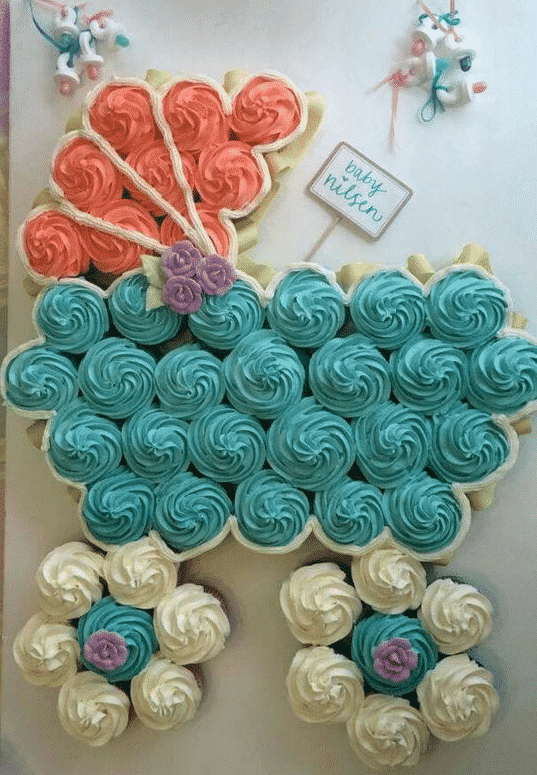 Skip The Entertainment
While musicians and magicians might make sense at other types of events, hiring entertainment is one cost that you can skip entirely. At any baby shower, the focus should always be on the mom-to-be, and a loud band just detracts from the conversations. If you do want something happening in the background, create a playlist of your friend's favorite songs and play them on low volume at the venue. It'll help to set a nice ambiance without seeming hokey or overboard like a band would.
Better yet, create a baby shower playlist. Here is a free playlist of songs with "Baby" in the title.
Shop For Baby Shower Decorations At Discount Stores
Your first instinct may be to head to the party store, but if you're serious about saving money, you've got to hit Dollar Stores and other cheap retailers. Your local dollar store likely has inexpensive paper products such as tablecloths, napkins and cardboard cupcake stands that are far cheaper than what you'd find anywhere else.
Here's an adorable but cheap and easy example. All you need are napkins, plastic cutlery, and ribbon to create this fancy setting.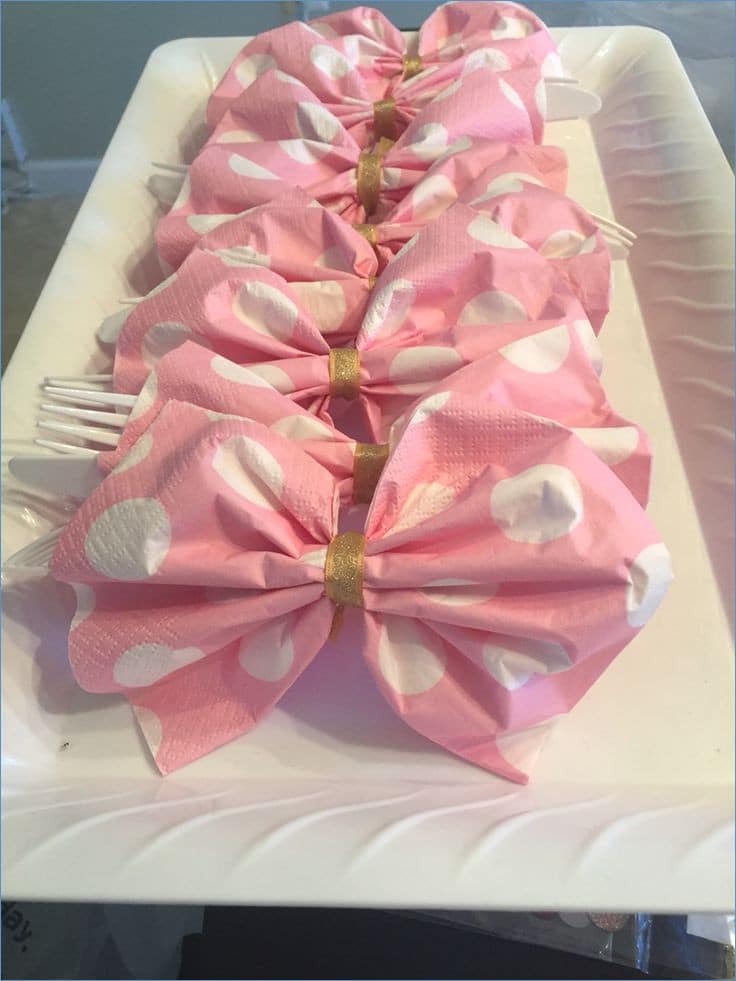 Or find cheap products and transform them. To create the cupcake stand below, for example, all you need are Dollar Store (stove) burner covers, candlesticks, a can of spray paint, and glue. (Complete instructions here.)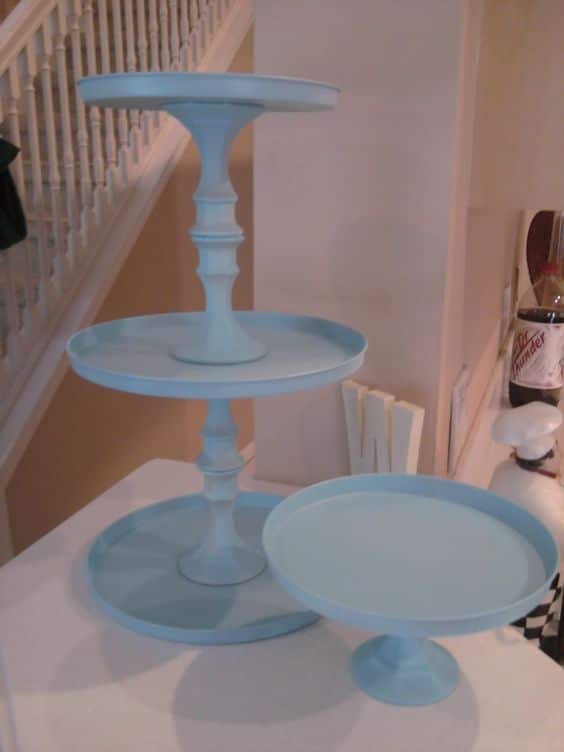 Use Paper In A Creative Way
Use paper in unexpected ways. Paper is a cheap decorating material that can be transformed into virtually anything. For instance, you can cover the food table in butcher paper and write descriptions of each dish in pretty lettering next to the platters.
Alternatively, you can use wrapping paper as a table runner. 
Make Your Own Flower Arrangements
Flowers just add a touch of class to any gathering. While floral arrangements are often expensive when you order them from a professional flower shop, you can still enjoy beautiful décor by cutting and arranging the stems yourself. You don't even have to buy the flowers! If the baby shower is in the warm seasons and someone you know has a lovely garden, ask if you can pick some flowers from their garden. (They may feel honored to be asked.) If that is not an option, see if you can get some cheap flowers at your local farmers market or a Trader Joe's.
If flower arranging is not your best skill, just keep it simple. Pick up a few inexpensive vases or mason jars

at the local dollar store, and add a few stems. You can then arrange these in a pretty pattern down the center of the food table. Alternatively, you could make one big arrangement to use as a centerpiece.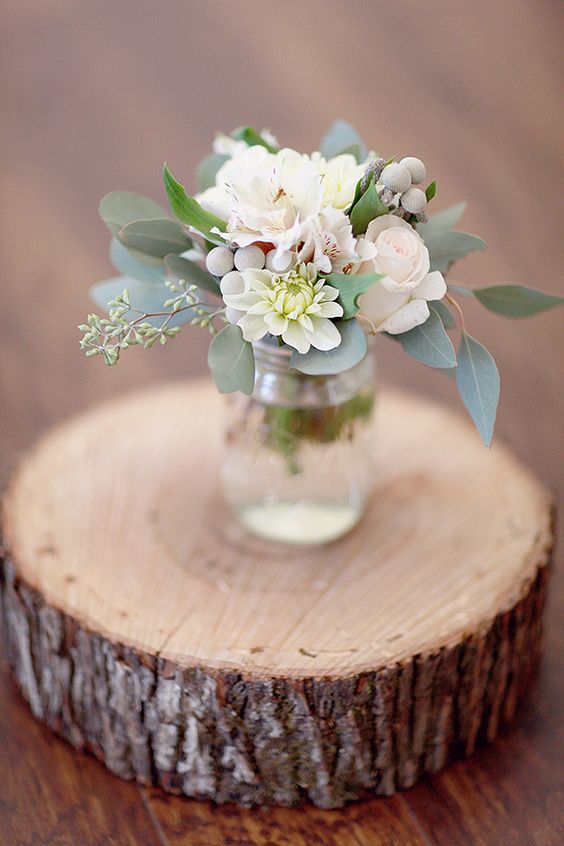 If fresh flowers are just not an option for you, artificial flowers (which you can get from your local Dollar Store) or tissue paper flowers

are great too. Just pick the colors to suit your baby shower theme to create a fabulous look.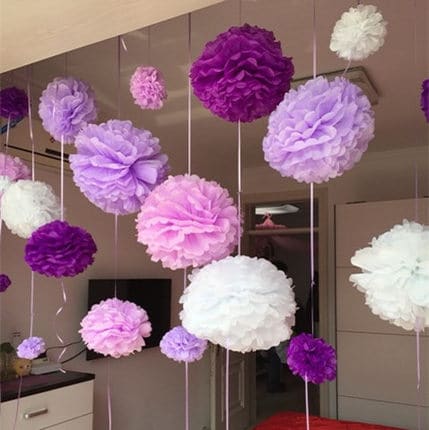 Borrow Things
A traditional baby shower lasts for about 3-4 hours. (See Baby Shower Etiquette.) If you are on a budget, it makes no sense to be renting or buying things for that short period of time. As such, borrow stuff from friends and neighbors. Most people are happy to help – they just need to be asked.
Shop Wisely and Use Coupons When You Buy
There may be things you want that is just not available from the Dollar Store. That will happen but do your research and shop wisely. For example, Michael's has adorable items but it can be expensive when the costs are added up. Fortunately, Michael's often has coupons. Find them and use them!
Choose Cheap Baby Shower Activities
Baby shower activities are as popular as baby shower games, and people will usually choose one or the other.
If you and the mom-to-be choose to do activities, know that it will incur an extra cost. If you choose smartly, the costs may be very low.
For instance, you could buy cheap (but actually good) white Gerber onesies

 or white bibs

from Amazon, and colored markers or fabric paint from the dollar store. Then, set out a bunch of white onesies

 or white bibs

and have each person decorate one. The mom-to-be will love having these personalized tees, and the guests will have a fun time decorating as they catch up.
---
Funny diaper messages are also a great, (and very funny) baby shower activity for all to enjoy. It doesn't cost much to do either! All you need are diapers and (dollar store) markers. If you are having a diaper raffle, (which is highly recommended for a family on a budget,) you will already have diapers!
Your guests will write funny diaper messages like the one below, and the new parents will read those funny messages as they're diapering the new baby. Hilarious! Here is a link to ideas for funny diaper messages, as well as the free printout that goes with this baby shower activity.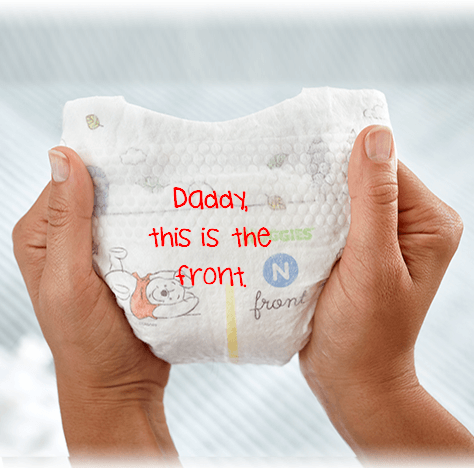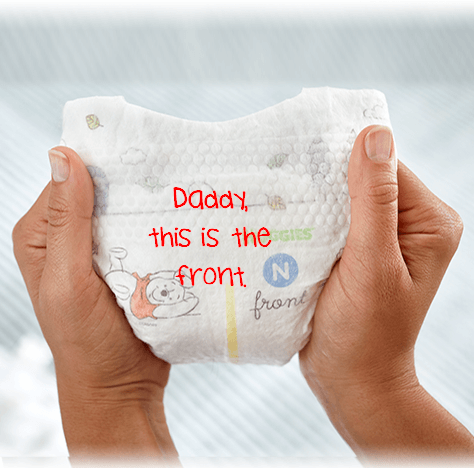 ---
Another almost free activity is to have your guests write out recipe cards for the new mom-to-be. All you'll need are recipe cards and you can get free recipe card templates all over the place. All you will need is to print the recipe cards on cardstock.

 This is a fun and meaningful activity for guests and the new mom. Guests (especially older ladies) love sharing and talking about their favorite recipes, and mom-to-be will have heartfelt and useful mementos that she can use throughout her life.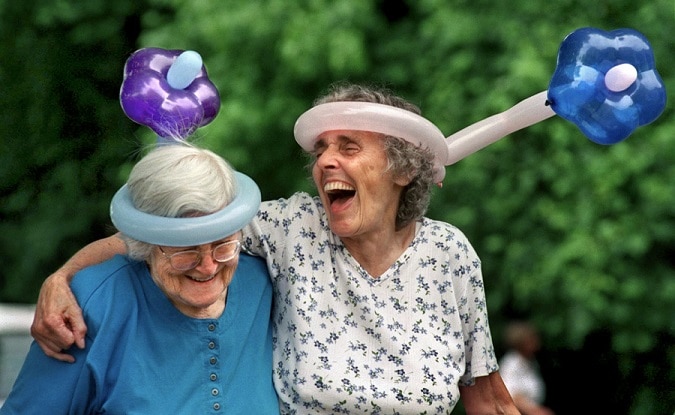 ---
Create Handmade Favors
Baby shower favors leave your guests with a token of appreciation that lets them know that you are so glad that they came to celebrate. However, giving each person a favor quickly escalates the cost of the party when you have a lengthy guest list. Handmade favors are a great way to lower this expense, and you can create adorable takeaways that fit into the shower theme.
You'll find this resource helpful: 55 Easy & Unique Baby Shower Favor Ideas To Fit Any Budget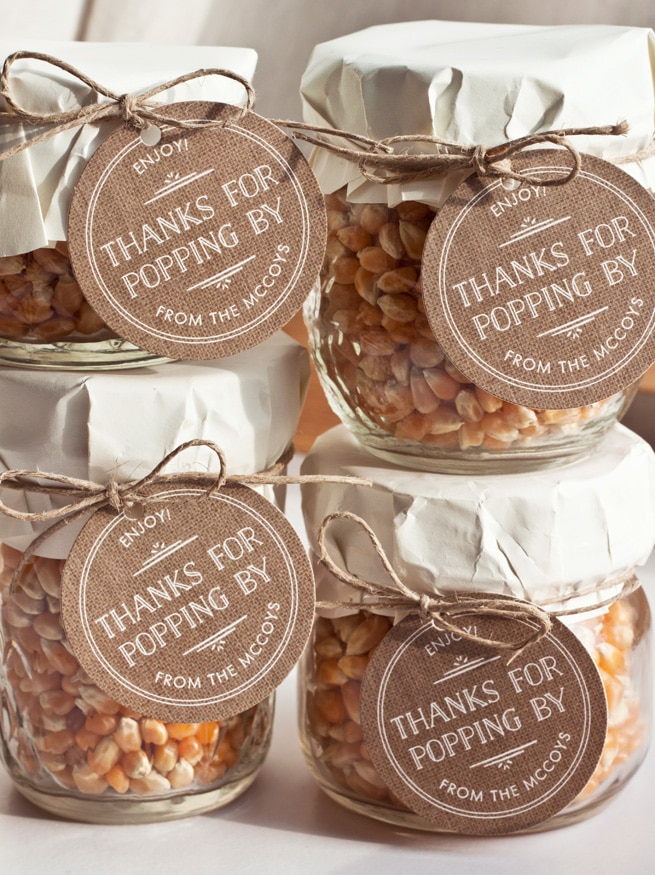 Choose Simple And FREE Baby Shower Games
Baby shower hosts often feel pressured to throw in a few games since that seems to be what everybody does. It is tradition, after all. But, if you're playing popular games like "baby shower price is right," and "baby jeopardy," the cost of the supplies are relatively cheap but if your budget is already limited, you might want to avoid that altogether. Instead, go for FREE printable baby shower games.
If you're having baby shower games, you will need baby shower prizes…
Offer Handmade Baby Shower Prizes
When people are playing baby shower games, they understand that they're playing simple games and they'll be awarded with simple prizes. They are not expecting you to fork out a lot of money for simple games. This allows you the leeway to go easy on your wallet.
Use this resource to find baby shower prize ideas that fit your budget.
Reuse And Recycle Old Things
For a celebration that lasts for 3-4 hours, you don't need all new stuff. Use things you already have on hand in the house.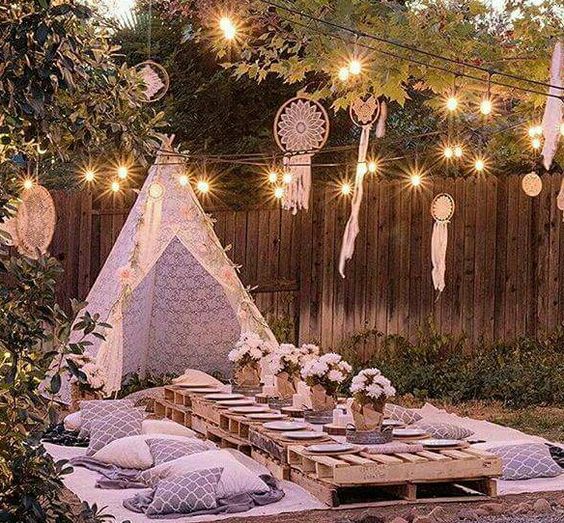 How adorable and yet how cheap is this example! They didn't even have tables or chairs!
They used what they had on hand and it looks amazing, but if pallets aren't really your thing, cover the pallets with a sheet or two. (This is a setting for a sit-down baby shower and if you are budget conscious, you would generally not do this – baby shower finger foods are your best bet. But, the idea of sharing this image with you is to show you that a baby shower on a budget can be spectacular!
Co-Host The Baby Shower
As the host, there is no rule that says you have to take on all the responsibilities – financially and otherwise. Share!
Someone could chip in on the food, another could do the favors, decorations, etc.
It may be easy to plan a baby shower, but it does take a lot of work – as you can see by this baby shower checklist. So if planning a baby shower on a budget is an issue for you, definitely consider co-hosting.
Ask For Contributions
If money is seriously tight and you cannot get help co-hosting, ask for help. While you don't want to burden the guests with requests, if people know that you need help, they may be happy to help.
You could ask people for just one thing. Most people won't mind bringing or contributing one thing that can be used to enhance the shower. If all else fails, you could always try to set up a go-fund-me page and try to get contributions this way.
---
Note From The Author
Many of us simply assume that planning a baby shower will be expensive. It really doesn't need to be. If you check out the resources offered here, you will notice that if you are creative, you really can get away with a fabulous baby shower on a budget.
Besides, blowing tons of money on a baby shower seems silly when the real point is to help the parents-to-be stock up on supplies. Now that you've got these money saving tips in mind, you can start planning a budget-friendly baby shower without skimping on the fun and amazing memories.
Good luck. Be sure to share pictures in the comments.
PLANNING A BABY SHOWER? HERE ARE A FEW HELPFUL RESOURCES:
Hosting or planning a baby shower takes a lot of work. You will be juggling a lot of balls in the air. Use the resources below to make your life A LOT easier.