A watermelon baby carriage is a fun, easy and delicious idea for a baby shower because it feeds a crowd, plus it's a great baby shower centerpiece.
If you are not skilled, you can keep it simple and just make a basic carving. If you are a little more skilled, you can even add wheels!
What you will need to make a watermelon baby carriage
A large, oval-shaped watermelon. Personal, round watermelons are fun but they won't work here.
Supporting fruit. The fruit you choose will depend on the season, and the look you are going after for your baby carriage.
Carving knife.
Additional tools like melon ballers,

 pacifier, toothpicks, etc are required, but it will depend on the overall look you are going for. View the videos to see what extras you may need. Also feel free to embellish your watermelon carriage by adding items that will enhance your baby shower, like a hair bow for a little girl, or a bowtie for the little man.
Below are 4 great videos on how to make your own watermelon baby carriage. Choose the one that fits your skill level.
How To Make Watermelon Baby Carriage – The Simplest
---
Watermelon Carriage With Handle
---
Watermelon Baby Shower Carriage – With Ribbon
---
Watermelon Baby Stroller – Extra Fancy
This one requires a little more time and skills.
---
You can also easily convert your little watermelon carriage into a carriage for twins. Instead of one orange, use two.

---
In case you prefer written instructions with images, you would appreciate this resource from The Happy Raw Kitchen. They offer clear, step by step instructions with images. They use a slightly different approach with elastics and a v-shaped cutter to get the job done.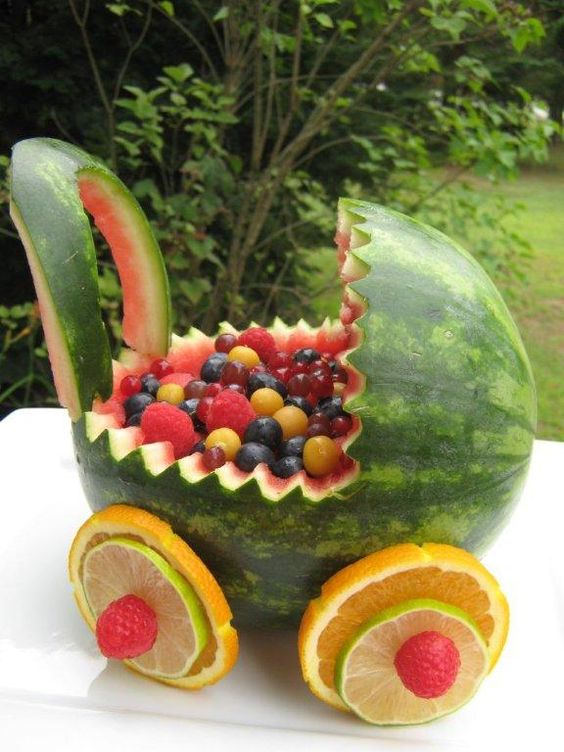 PLANNING A BABY SHOWER? HERE ARE A FEW HELPFUL RESOURCES:
Hosting or planning a baby shower takes a lot of work. You will be juggling a lot of balls in the air. Use the resources below to make your life A LOT easier.