Baby Shower Decorations – Why Choose Balloons?
Baby shower balloons are fabulous! It is one of those baby shower decoration ideas that are simple yet amazing. But in case you need more reasons for choosing balloons…
Balloons Are Cheap, Yet Stylish!
Baby shower balloons are probably one of the cheapest ways to decorate your baby shower. If you are on a budget, there are few baby shower decorations cheaper than balloons – and they're available everywhere.

If you are planning to use helium,

this will cost you a little more but even blown up balloons look wonderful – if you arrange them just right. (Scroll down for video instructions.)
With your balloons, you can easily create an elegant, sophisticated look. Use 1-3 colors that match your theme for a truly splendid transformation of the party area.
Baby Shower Balloons Are Versatile
Balloons add style, flair, and color to any celebration. There are so many different things you can do with balloons. You could:
Hang them at various heights from the ceiling – this looks amazing;
You can have them indoors or outdoors;
Use balloons as baby shower centerpieces. (See how-to video below.)
Decorate the ceiling or scatter them on the floor, tie them to furniture, an arch, or wherever;
Sprinkle confetti inside the giant balloons before you blow them up, for a different look; Confetti balloons are beautiful and really popular. (Scroll down to watch the video on how to make confetti balloons.)
You could glue pom poms onto the balloons for a fun, adventurous look;
You could glue artificial flowers to balloons;
Attach fabric, pretty ribbon, pom poms to the ends to create flair.
… the sky is the limit. There are so many creative and unique ways to use balloons – as you will see below.
Balloons Create A Fun Atmosphere
Who doesn't smile when they walk into a room with balloons?
When people see balloons, they know that they've walked into a fun-filled celebration.
Baby Shower Balloons Are Beautiful
Balloons may be cheap, but they can transform a party from dull to colorful and joyful. No one can underestimate the impact that a bunch of balloons can have on a baby shower celebration. If you are having the baby shower outdoors, imagine balloons hanging from a tree or taped to a fence. Or if you are indoors, imagine balloons around the chair where mom-to-be will be opening her presents?
For your convenience, this article has been broken up into three additional parts:
Baby Shower Balloon Decoration Ideas
How to Decorate with Balloons – Videos
Baby Shower Balloons Decoration Ideas
The baby shower balloons below are spectacular. Use these images as inspiration for how you would decorate your baby shower. Do keep in mind that balloons come in all sorts of colors, sizes and even shapes, so try to envision baby shower balloons using colors that match your chosen baby shower theme.

---
---
---

---

---

---
---

---

---

---

---

---

---

---

---
---

---

---

---
---

---

---

---

---

---

---

---

---

---

---

---

---

---

---

---

---
---

---

---

---

---

---

---

---

---

---
---

---
---
---
---
---
---
---
---
---
---
---

---
---

---

---
---
---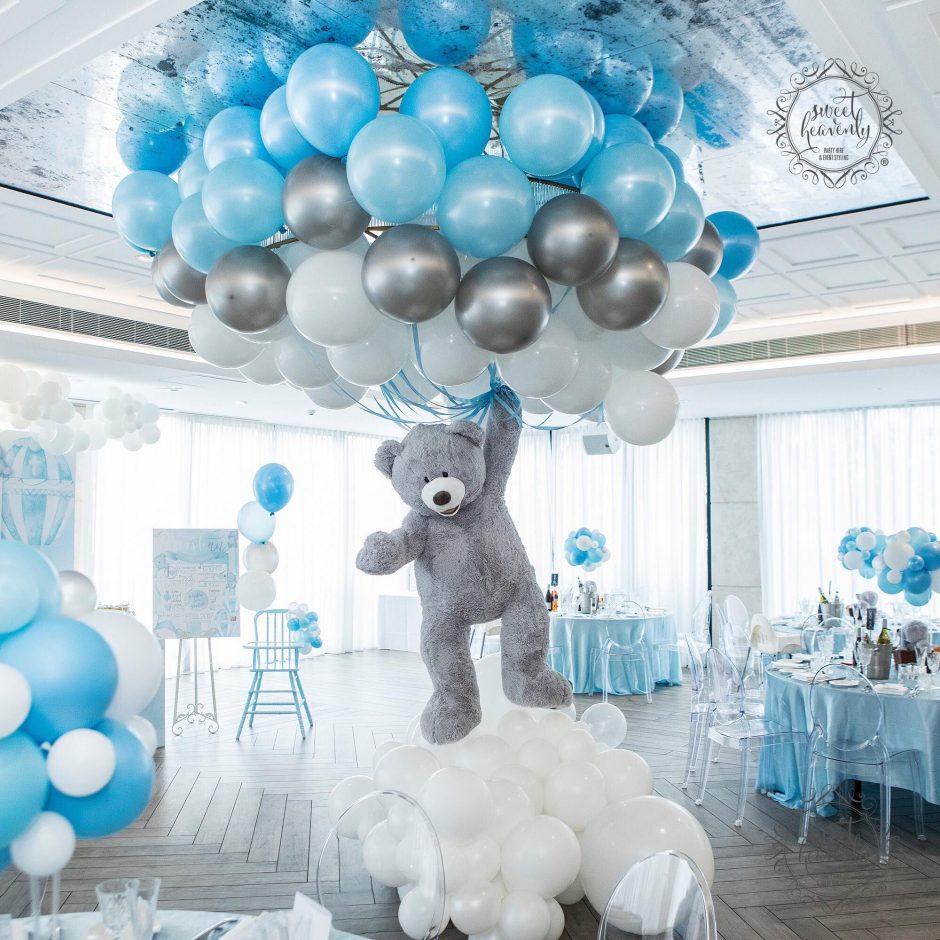 ---

---
---
---
How To Stop My Balloons From Popping?
There are various reasons why your balloons may pop quicker. Here are several helpful tips to try to prevent that.
Balloons are cheap but try not to get the absolute cheapest. High-quality latex balloons are less likely to pop.
Do not get old balloons. Older balloons will pop quicker. Check the packaging – there should be a manufacture date. Do try to get balloons that are less than 2 years old.
Balloons don't like hot/humid weather. If you are planning to use balloons outdoors or in a hot/ humid room, you will want to follow these tips:

Inflate your balloons to their proper size, but then deflate them approximately 2 inches smaller. (For example, inflate an 11 inch balloon to 11 inches, but then deflate them to around 9 inches.) This will ensure that if the heat expands your balloons to the point of popping, they won't pop because they're not overinflated.

Particularly for outdoors, use light colors rather than dark colors. Dark colors will pop faster than light colors.
If possible, place something like a plastic table cover under your balloons. If there is a breeze, even the tiniest bit of sand can pop a balloon.
How To Decorate With Balloons – A Video Collection
How To Create A Balloon Arch?
How to Create A Balloon Garland?
How To Hang Balloons?
How To Make Confetti Balloons?
How To Create Balloon Columns?
How To Make Baby Shower Centerpieces – With Balloons?
Note From The Author
I trust this article answers all your baby shower balloons questions. I wanted to be sure that I offered everything you may need, and more.
If I could offer two more tips that I believe are valuable:
Do not try to blow up your balloons – you'll become light-headed, very soon. If you are using helium – great. But, if you are decorating with balloons and not using helium, do yourself a favor and get a balloon pump. They are relatively cheap and easy to use – you can get one for under $10. It's worth it.
If you are ordering balloons online or even buying them locally, do check them as soon as you get them. In fact, if you are following a baby shower checklist – you'd order your decorations early. This does not happen often but I've heard of people buying balloons for their baby shower, only to discover – on the day of the shower – that those balloons are useless. Do yourself a favor and check your balloons when you get them.
PLANNING A BABY SHOWER? HERE ARE A FEW HELPFUL RESOURCES:
Hosting or planning a baby shower takes a lot of work. You will be juggling a lot of balls in the air. Use the resources below to make your life A LOT easier.