Okay Seriously, Who Knows Mommy Best?
"Who knows mommy best," is like a trivia game about the new mom-to-be. It asks a range of questions, which your guests answer on paper. The person who truly knows mommy the best will win a prize.
The questions are fairly simple if you know mommy to be. These are questions like "what is mommy's shoe size, what is mommy's favorite book?"
This game is one of the top baby shower games. It is really popular because it's a lot of fun, so many can participate, and it manages to put people in a party mood. Mom's besties will do particularly well.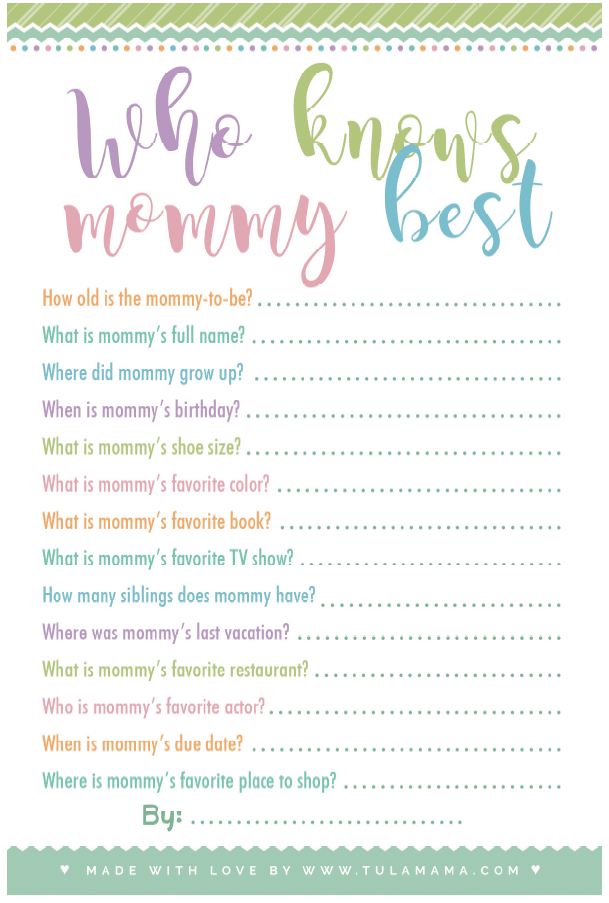 How to Play: Who Knows Mommy Best
Print out a free baby shower printable for "who knows mommy best."
Each participating guest gets a copy, along with a pen or pencil. They have to answer each question. The person with most of the correct answers will be the winner.
As the host, you can play "who knows mommy best" in the following ways:
Make this game active by letting everyone play at the same time, with a 5-minute timer. This is the most popular and fun method. This method is particularly good if you are hosting a smaller baby shower.
You could make it more passive, by letting your guests answer the questions at their leisure, during the baby shower.
You could let your guests form small groups, and have each group complete a sheet – within 5-minutes. This is another fun method because teams will be competing against one another.
Here are other Fun and Free Printable Baby Shower Games:
Baby Shower The Price Is Right
72 Mostly FREE and Hilarious Baby Shower Games To Play
Free printable baby shower games
Planning a Baby Shower? Here are some helpful resources:
The Only Baby Shower Checklist You Will Need!
A comprehensive List: Baby Shower Invitation Wording
54 Breathtakingly Beautiful Baby Shower Centerpieces
7 Easy Tips on How To Plan a Baby Shower
Strictly Baby Shower Activities, Not Games
All You Need To Know About Planning A Gender Reveal Party
I trust you will find this article very useful: Free Printable Baby Shower Games Who Knows Mommy The Best. We are working on adding other adorable designs, soon.