Baby Shower Scavenger Hunt
This post may contain affiliate links. Please read my
disclosure
for more information.

Baby Shower Scavenger Hunt
If you're looking for a fun baby shower game, "baby shower scavenger hunt" is a must because it really gets your guests involved.
There are two kinds of baby shower scavenger hunt. One where you can have it at any venue, and another where you will need to have it at the home of the parents-to-be. Both are a ton of fun but what you choose will depend on the venue you choose. Here's how you play:
Baby Shower Scavenger Hunt – At Home
A shoutout to the folks at Plan The Perfect Baby Shower, for the best poem for the "at-home" baby shower scavenger hunt game. I loved it so much, I figured that it needed to be included on our Ultimate List of Baby Shower Games.
For the clues to work, you will have a kitchen with a refrigerator and an oven; a laundry room or place where you wash laundry; a bathtub, and a tv.
The idea is that you will hide little gifts around the house at specific places.  The guests will then need to follow the clues, and go find those gifts. The person/ group who finds all the "gifts" first, wins.
If you have 6 individuals playing, you would need to hide 6 gifts at each spot. If you have small groups playing (2-3 per group), you will need to hide a "gift" for each group playing.
Your little gifts could include anything you like, like mints, baby shower candy, diaper raffle tickets, tiny chocolates, etc.
The free baby shower scavenger hunt printout includes the following:
8 Pages of clues. That means you can have up to 8 individuals or teams playing. While you will notice that all the pages have the same clues, you will also notice that it's in a different order. That means, no team will start with the same clue.
1 page with the clues and the answer keys for the host.

Baby Shower Scavenger Hunt is one of our many free printable baby shower games.
While this is a fun game, having people run around your house, is not everyone's "cup of tea." Having a baby shower at your home is not always possible either. Therefore, there is another fun option.
Baby Shower Scavenger Hunt – What's in your Purse Game.
In this game, your party-goers will be raiding through their own purses. Fun!
The instructions are super simple: Open your purse, and find stuff!
This game can be played individually, or as groups. The person/ group with the highest score, wins.
Click here to print  your Baby Shower Scavenger Hunt – What's in your Purse Game
And here's what it looks like: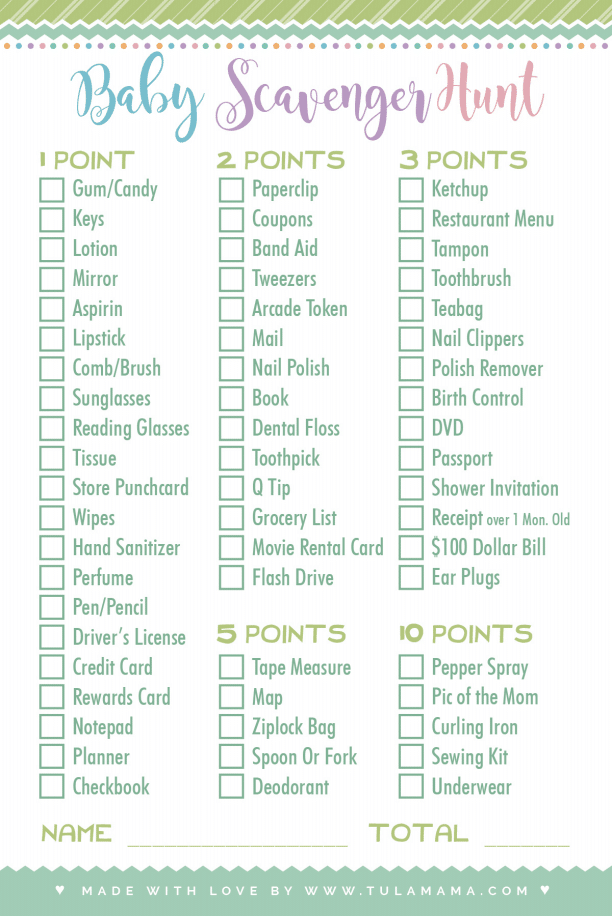 If you have more baby shower scavenger hunt ideas, please share in the comments below. We're ALWAYS eager to add more.
Happy Playing!