Baby Shower Candy Bar Game
Can there be anything sweeter than a Baby Shower Candy Bar Game!
No, there cannot! Which is why:
So many baby shower hosts and moms-to-be love this game;
Lots of people are really good at it!
The game itself is really easy to set up! All the host needs are pencils for the players and the free baby shower game printables.

Click here to download unlimited free copies of the baby shower candy bar game.
How does the Candy Bar Baby Shower Game Work?
The game is simple if you know your candy bars. All you need to do is match up the candy bars, with the pregnancy/ baby related word.
The candy bar game answers keys are included with your free download.
Before the baby shower, print out the baby shower candy bar game sheets for each player, along with one answer key for the host.
On the day of the baby shower, give each player a pencil, and a candy bar game sheet.
The first person to complete the game correctly wins a baby shower prize!
Candy Bar Game Answers
This is a GREAT Baby Matching Game!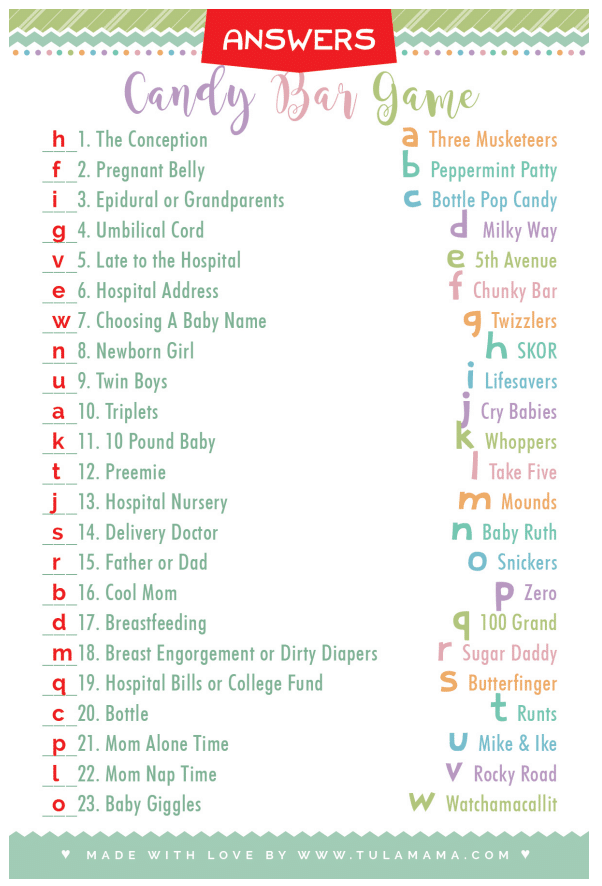 The Conception =  SKOR
Pregnant Belly =  Chunky Bar
Epidural or Grandparents =  Lifesavers
Umbilical Cord =  Twizzlers
Late to the Hospital =  Rocky Road
Hospital Address =  5th Avenue
Choosing A Baby Name =  Watchamacallit
Newborn Girl =  Baby Ruth
Twin Boys =  Mike & Ike
Triplets =  Three Musketeers
10 Pound Baby =  Whoppers
Preemie =  Runts
Hospital Nursery =  Cry Babies
Delivery Doctor =  Butterfinger
Father or Dad =  Sugar Daddy
Cool Mom =  Peppermint Patty
Breastfeeding =  Milky Way
Breast Engorgement or Dirty Diapers =  Mounds
Hospital Bills or College Fund =  100 Grand
Bottle =  Bottle Pop Candy
Mom Alone Time =  Zero
Mom Nap Time =  Take Five
Baby Giggles =  Snickers
Happy Playing!
PLANNING A BABY SHOWER? HERE ARE A FEW HELPFUL RESOURCES:
Hosting or planning a baby shower takes a lot of work. You will be juggling a lot of balls in the air. Use the resources below to make your life A LOT easier.