A Tradition – Baby Shower Word Search
Baby shower word search and word scrambles are classic baby shower games. They're not considered to be modern, like what's in your purse and who knows mommy best, but it still remains extremely popular.
What is Baby Word Search
Baby Shower word search is similar to typical word search games, except here you're searching for baby and pregnancy-related words.
Here's a look at the Tulamama Baby Shower Word Search, free for download. It's beautifully designed in neutral colors, making it suitable for baby boys and girls.  Also, notice that you get the answer keys in your baby shower pdf download, so you don't need to go search for correct answers. THIS, will make your life a lot easier.
All you will need is to print out enough sheets for each one of your guests, and one answer sheet for yourself. Then, hand each player a pencil and a sheet, and let the games begin. The first person to finish the game, wins.
Tulamama's Baby Shower Word Search also has a handy checkbox next to the words? That would make it easy for your guests to tick off the words they managed to find.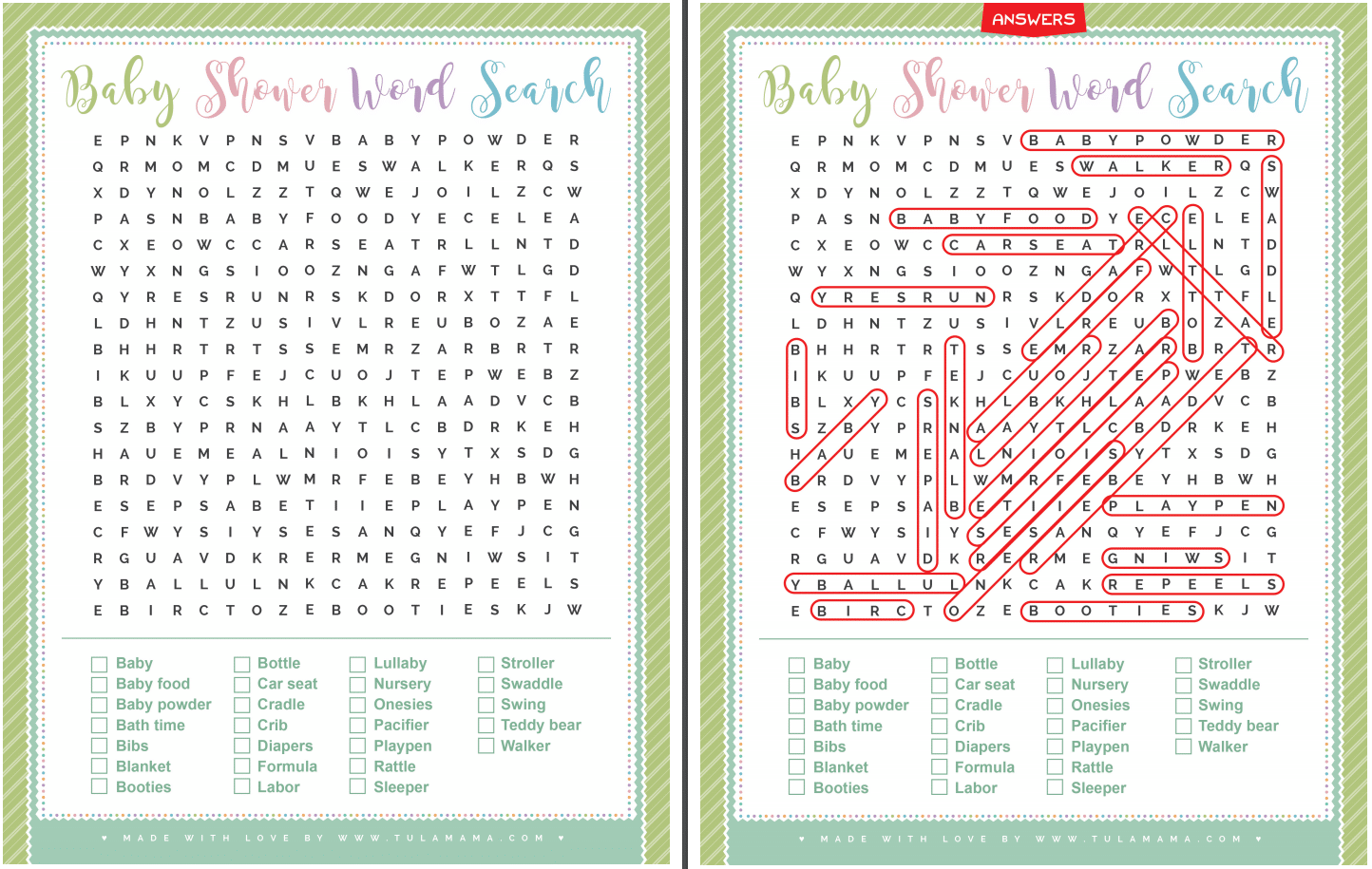 Also check out my post about "How to Plan A Baby Shower," and our free baby shower planner – to help your baby shower run smoothly and without any stress.
If you are planning a baby shower and you're hoping to keep things simple and easy, games like word scramble, baby shower word search, baby shower nursery rhymes, animal babies and several other games, is the way to go for you. Why? Because all you need to do is print it and hand it to your guests. Tulamama offers free printable baby shower games, with answer keys, so finding the winners is really easy to do.
If you're willing to do a bit more than just print papers and you like the classics, you might be interested in fun baby shower games like baby shower bingo, baby jeopardy and baby trivia. But if you're interested in more modern and unique baby shower games, "what's in your purse", "what's on your phone" and "who knows mommy best," might be more appealing to you. Here's the ultimate list of 70 baby shower games.
Thanks for viewing, and downloading the Baby Shower Words Search. I hope your guests will really enjoy it. And did you notice the design is neutral? That means you can use it for a boy or girl baby shower or a gender reveal party.
Download and print as many copies as you like. Kindly note, however, that our printable baby shower games are free but for Personal Use Only