How to Plan a Beautiful Baby Shower Brunch
A baby shower brunch is probably one of the easiest celebrations to plan because brunch is traditionally laid back and relaxed. Brunch conveniently combines the best of breakfast and lunch.
For your baby shower brunch, tt really cannot get much easier.
Plan Ahead: The Baby Shower Food Part
Before you start, there are a few questions you'd have to answer:
How many people will you invite to your baby shower brunch?
Will the food be plated or set out buffet-style? Plated is charming and fancy but seriously, it's so much work for you as the host.
Who's going to prepare the food? Will it be the host, co-hosts, or will you cater?
Assuming you decide on a buffet that will be prepared by the host and co-hosts, you will next need a menu.
Helpful Tips When Choosing A Baby Shower Brunch Menu
To keep things easy, your best bet would be to choose easy and/or make-ahead recipes. That way, no one would have to get up in the early hours of the morning to start cooking.
Consider dishes like breakfast casseroles and quiches, and pastries like muffins and scones that can be baked and frozen ahead, or at least prepared the night before.
To avoid bottlenecks, set up self-serve stations in different areas. For example, create your coffee or mimosa bar away from the food.
A baby shower brunch implies ease. So the last thing you should do is to turn yourself into a short-order cook on the day of your brunch. That means, there should be no made-to-order eggs and omelets on the menu.
To keep things warm, hot breakfast items can be kept in an oven set to 200 degrees until the guests arrive. If you prefer the food to be already set as your guests arrive,  place your warm dishes on the table and tent it with foil. You can easily pull off the foil tents once the first doorbell rings.
A baby shower brunch, or any brunch for that matter, should be a mix of savory and sweet items. Experts recommend (1) a hearty egg dish, (2) something savory, (3) something sweet, (4) something fresh, (5) something for dessert, and (6) some refreshments. Below are a few popular menu ideas for each category.
An Easy Baby Shower Brunch Menu
A FRIENDLY NOTE: All the baby shower brunch recipes below have been selected because they're delicious and easy to make. However, if a recipe is brand new to you, do test it ahead of time. Despite these recipes being easy, it's never a good idea to test a recipe on the day of any celebration.
A Hearty Egg Dish
The egg dish is the centerpiece of any brunch… even a baby shower brunch. Here are a few great breakfast egg casseroles for you to choose from.

This cheesy breakfast casserole can be made the night before your baby shower brunch. It is wonderfully savory with ham, eggs, and hashbrown potatoes.
---

Or how about this veggie-loaded breakfast casserole? It's a hearty breakfast that guests won't need to feel bad about.
---

Consider this baked western omelet. It's delicious and it's quick to prepare for a crowd. All you do is whisk the eggs, stir in your ham, cheese, onion, and bell peppers, then bake.
---
Something Sweet
Here are a few delicious ideas for you to choose from:

Scones go with brunch like macaroni goes with cheese, so they're pretty much expected. Delicious blueberry scones can be made ahead of time too.
---

Pancakes can be prepared the night before or the morning of your baby shower brunch and warmed up just before your guests arrive. Sprinkle them with berries for an appetizing look.
If you are lucky enough to live near a bakery that makes chocolate croissants, do get some. They're beautiful to display and oh-so-delicious!
---

This is baked french toast with praline topping – a recipe that has so far received 2544, 5-star reviews. What's great about this is that you can start it the night before the baby shower brunch.
---

This delicious Blueberry Bundt Cake recipe has fresh blueberries and greek yogurt. It's a brunch favorite.
---

Sheet pan pancakes is a reliable breakfast if you're trying to get as much prepared, fast.
---
Something Savoury
For something savory, you could consider a cheese and cold meat platter.  Here is a great idea for combining a bit of sweet and savory.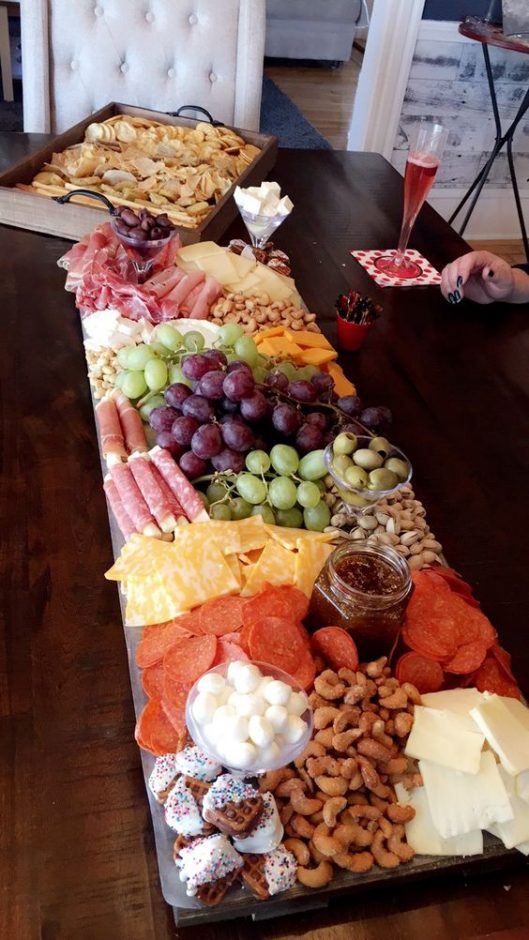 ---

This bacon, egg and cheese bread can be prepared the morning of your baby shower brunch.
---

Quiche is a reliable dish for brunch, and you can always change up the filling to accommodate tastes.
---

With a magnificent brunch spread like this, you will need to give yourself time to prepare before the baby shower guests arrive. However, this is totally doable. There are so many complimentary flavors on this board.
---

If you have a lot of different kinds of foods and flavors, you can match similar foods on a few different charcuterie boards

.  It will be easy for guests to take what they need, and mingle.
---

These sausage and cheese crescent rolls are very easy to make. This is a 3-ingredient recipe that requires only canned crescent rolls, sausage and cheese! These are delicious and easy to make, but it does take time. Baking time and prep time for 24 of these breakfast rolls are 30 minutes. Consider this before adding it to your menu.
---
Something Fresh
Fresh fruits and vegetables add a lot of bright color and flavor to complement all of your baked dishes. They require minimal effort, too.
A lovely fruit salad or a regular green salad would be adequate. Do make sure you have salad dressings to accommodate different palates.
---

Chicken cobb salad is a great idea because it's hearty. It's easy to prepare too and you can make everything ahead of time.
---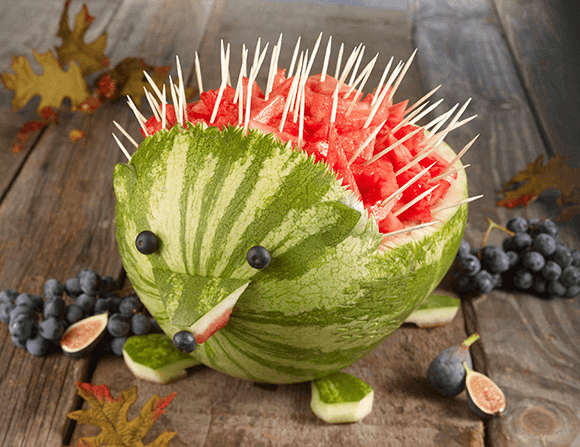 If you are having a themed baby shower brunch, you could also add variation with a baby shower fruit bowl or platter that complements your theme. (This is a hedgehog for the woodland baby shower theme.)
---
Something For Dessert
Do keep in mind that your baby shower cake can also serve as dessert. Some people consider the cake to be special and they prefer to have an additional "baby shower dessert."

What makes this dessert extra special is that it can be prepared ahead of time! You could make these rice crispy pops any color you choose to fit your baby shower theme.
---

Cake pops can be made in any colors you like. If you are having a gender reveal baby shower brunch, the pink and blue would be perfect.
---

Lemon sheet cake is delicious and refreshing after a hearty breakfast. It can also serve a lot of people.
---
Some Refreshments
You will need a coffee and tea station. This is expected for brunch. You could also go with a pink punch for a girl shower, blue punch for a boy shower, or a Mimosa Bar because…
Brunch without mimosas is a just a sad, late breakfast.

Now, mom-to-be cannot drink the mimosas but she can drink "faux-mosas." These are simply made with ginger ale, instead of champagne / sparkling wine.
Mimosas served at a baby shower brunch are often referred to as Momosas. Other than the vowel switch, there is no difference between a Mimosa bar and a Momosa bar. The difference lies in the guest of honor, who is a Mom-to-be. Therefore, momosa.
A mimosa bar is easy to set up. Set out a selection of juices and sparkling wine / champagne and plenty of fresh fruit to garnish.

---
The Day Before The Baby Shower Brunch
Make sure to set the table or stations the night before. The last thing you want is to be fussing over settings and things as your guests arrive. If you are using a tablecloth, cover the table. Arrange your table decor, plates, napkins, silverware, placemats, glasses, etc.
If you are using flowers to decorate the table, pick those up. If you are using a baby shower centerpiece, you may have already created it at this time.
If you are cooking, make sure you have all the ingredients needed. (We often make assumptions about having the basics, like salt, eggs, milk, etc.)
Prep as much as possible the day or night before. Chop the onions, beat the eggs, chill the juice, wash the carafes, grind the coffee. Basically, do whatever you can do ahead of time.
Store your prepared ingredients in airtight containers in the refrigerator. By doing this, your food will be ready for you when you start cooking. (Storing food in airtight containers also helps to prevent food wastage). Another advantage of prepping ahead of time is that you will notice if a necessary ingredient is missing.
If you are not cooking, touch base with whoever is bringing the food. Make sure they will arrive before your guests arrive.
---
Plan Ahead: The Everything Else Part
A baby shower brunch is easier to plan than a regular baby shower. However, in addition to the baby shower foods, you do still have a lot of other things on your baby shower checklist. They include:
Baby Shower Brunch Invitations

As laid back as a baby shower brunch is, you will still need to send out some sort of invitations, whether they be physical invitations like this one or digital invitations.
Baby Shower Games or Activities

You can choose either baby shower games or baby shower activities. This is entirely dependent on personal preferences. As the host and the mom-to-be make this decision, do keep in mind the guests who will be attending. Some people would rather play games than do activities and vise versa. Pick whatever you think the majority of them would most like.
Baby Shower Prizes

If you choose to go with traditional baby shower games, you will need a few baby shower prizes for the winners.  These can be as simple or as elaborate as you like.
Baby Shower Favors

Baby shower favors are traditional and they are certainly expected. There are so many great baby shower favors to choose from. If you are on a budget, here are some easy homemade baby shower favors you can make yourself.
Baby Shower Cake

Sure the baby shower food is important for the guests, but the next best thing must certainly be the baby shower cake. People love to ooh and ahh over a pretty baby shower cake.
Baby Shower Decorations

Your baby shower decorations will depend entirely on your theme. For your brunch, you can choose to be as simple or as elaborate as you like. Scroll through our Instagram feed for inspiration.
PLANNING A BABY SHOWER? HERE ARE A FEW HELPFUL RESOURCES:
Hosting or planning a baby shower takes a lot of work. You will be juggling a lot of balls in the air. Use the resources below to make your life A LOT easier.