PLANNING A GENDER REVEAL PARTY? HERE ARE A FEW HELPFUL RESOURCES:
Gender reveals are a ton of fun, but there are several aspects to think about. Pick the ideas that you'd like to incorporate into your gender reveal party.
Gender Reveal Party Planning
What To Eat At A Gender Reveal?
What Is A Gender Reveal Party? A Step By Step Guide
In short, a "gender reveal party" is a party or gathering of friends and family to "reveal" the gender of the new baby. Sometimes, the gender reveal is a surprise to the expecting parents as well.  The idea is to reveal and celebrate the upcoming birth.
A gender reveal party is often part of the baby shower, but it can certainly be separate.
Gender reveal parties are extremely popular amongst expecting parents.  They can be quite fantastic, actually.
For your convenience, the post has been categorized as follows:
Step 1: Get The Baby's Gender (And How To Keep It Secret)
The process generally begins with the expectant couple going for an ultrasound to determine the baby's gender.
If the parents want to be surprised along with friends and family, the ultrasound tech will write the baby's gender on a piece of paper and seal it in an envelope. This envelope usually goes to the baby shower host, who will then make the necessary gender reveal arrangements.
If the baby shower host wants the gender to remain a secret from her/him too, this is possible. For example:
The baby shower host can order the gender reveal cake by instructing the baker to make the frosting inside the cake correspond with the baby's gender. This can remain a secret by simply handing the sealed envelope (with baby's gender) to the baker.
If you are planning a big gender reveal balloon, the party planner can get the balloon from a party store. Ask the party store employee to fill the balloon with confetti that corresponds with baby's gender before filling it with helium. Hand the employee the sealed envelope, and walk away while he/she does as instructed.
Step 2: Choose A Gender Reveal Theme
A gender reveal theme is not compulsory. You can have a spectacular gender reveal without a theme. However, gender reveal themes are fun and loved by many.  Here are just a few gender reveal themes to consider.
Waddle It Be?

What Will It Bee?

Ties Or Tutus?

Twinkle Twinkle Little Star, How I Wonder What You Are?

Stashes or Lashes

Image Credit
Buck or Doe

Pink or Blue? We love You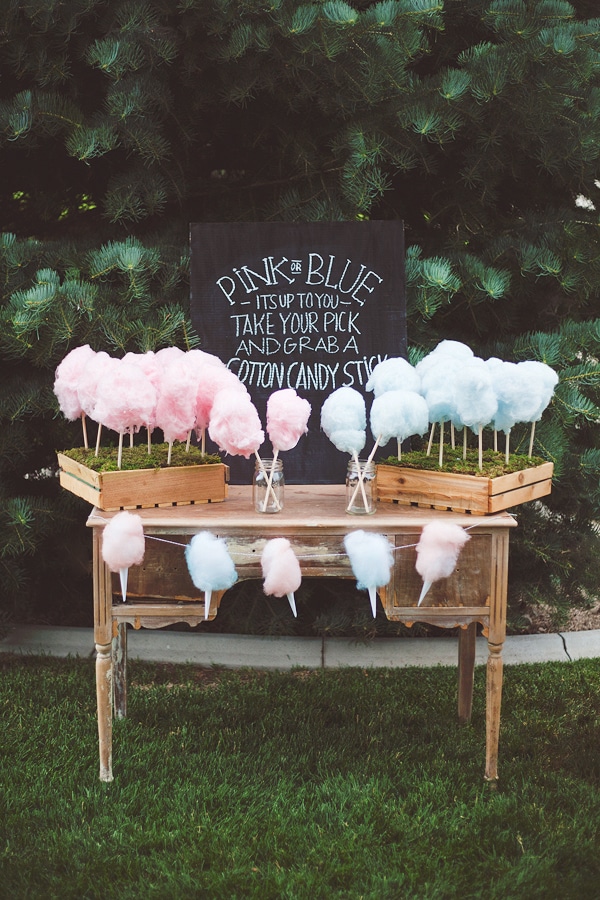 Wheels or Heels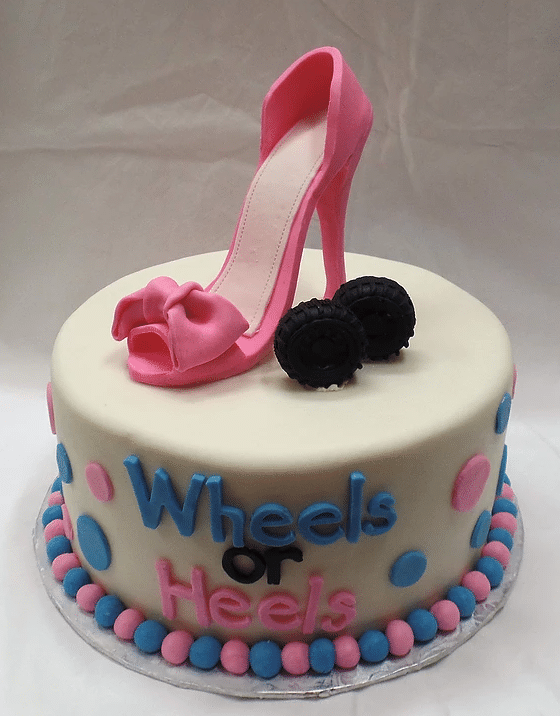 Prince or Princess

Other Fun Gender Reveal Party Themes
Little Mister or Little Sister
Quarterback or Cheerleader
Mr or Ms/ He or She/ Little He or Little She
Riffles or Ruffles
Pistols or Pearls
Guns or Glitter
Bow Ties Or Bows?
---
Step 3: Arrange Your Gender Reveal Invitations
You've picked out a theme. Next, you will want to let your guests know that you are planning a gender reveal party. The best way to do this is with adorable gender reveal invitations.
You have the option of adding some cute text that relates to the gender reveal in your invitations. Here are a few gender reveal wording ideas:
Cars & trucks or ribbons and bows? What are they having? No one knows!
The Johnson baby is almost due. We still don't know if it's pink or blue!
A little peanut is on the way. Boy or girl, what do you say?
Twinkle, twinkle, little star. How we wonder what you are!
Will it be snips n' snails and puppy dog tails? Or sugar n' spice and everything nice?
10 Fingers and toes–boy or girl–nobody knows!
Blue or pink, what do you think?
Boy or Girl? Let's find out together! Join us for The Big Reveal!
Taco 'bout a gender reveal [Taco themed gender neutral party]
Come celebrate and cast your vote for a boy or girl!
Pink or blue–which do you choose?
Prince or princess?
He or She. What will our little firework be?
Boy or girl?
We'll soon find out who'll rule our world.
Waddle it be? [Duck themed baby shower]
They're expecting a baby, a new bundle of joy. A very special gift, be it a girl or a boy!
It's a surprise! An adorable baby is on its way. Let's shower the mom with gifts before the big day!
---
Step 4: Plan Your Gender Reveal Foods And Cake
Gender reveal cakes and food is an important part of any gender reveal party.
It's a fun way to keep your guests guessing;
It helps to build the mystery and intrigue;
It incorporates your gender reveal theme; and
It's delicious!
Here are a few fun and popular examples:

You could take regular oreo cookies, and dip them into pink and blue frosting, then sprinkle it. This is a fun, delicious and easy gender reveal idea.
---

Baby shower punch is a tradition at many baby showers. You could use it to keep the intrigue going by making a batch of pink and blue punch. All you would need are two large mason jar drink dispensers, and the drinks below. They're really easy to make too. Add all the ingredients for each drink into your drink dispensers, stir, and you're done.
Blue Punch: 1 Large Can of Pineapple Juice; 2 Liter Bottle of Sprite®; Blue Hawaiian Punch

®; Ice Cubes
Pink Punch: 1 Large Can of Pineapple Juice; 2 Liter Bottle of Ginger Ale; Raspberry Sherbet; Ice Cubes
---

These pink and blue pretzels are fairly easy to make. All you will need are pretzels of your choice, Pink Wilton chocolate melts

 and Blue Wilton chocolate melts

. Melt each color separately in a double boiler, then dip the pretzels. Lay them on a piece of parchment

paper. If you like, you could sprinkle them with candy pearls

while the chocolate is still warm.
---

The "cotton candy" flavor of Blue Bell Ice Cream, is another favorite at gender reveal parties.
---

Hershey bars

are fun and easy too.  In the image above, they used pink and blue glitter


but you could also use pink and blue permanent markers

 to make the job a lot easier and mess-free.





---
Step 5: Create Intrigue With Games & Gender Reveal Decorations
Keeping the guests guessing is a fun way to keep the mystery going until the big reveal. The guests enjoy this, and it's a fun way to incorporate the theme.
You can do this with fun little things like a gender reveal scavenger hunt, gender reveal decorations, and more. Here are a few fun ideas:





---
Step 6: Plan The Grand Reveal
The reveal is the best part of a gender reveal party! There are plenty of ways to do the big reveal. Here are a few fun gender reveal ideas:

---



How FUN! As you can see from the above images, the big and truly unique gender reveal idea is to fill water guns with watered down blue or pink paint, count down from 10 and then splatter the couple.
It's a surprise for everyone because the water guns should not be transparent. Also, to continue the disguise, the host should splatter the outside of the water guns with both pink and blue paint, so no one can tell what the color is inside.
If you plan to do this, make sure:
the paint is watered down;
the water guns should not be see-through;
the water guns should have holes big enough for you to pour the paint in;
plan the festivities outside.
---

This gender reveal is fairly easy to pull off. As the host, all you would need to do is put pink or blue (helium

filled) balloons

in a box, and be ready to get as many photos as you can.
---

This one is really simple to pull off too. All you do is buy the ball, mom or dad throws it up in the air, and SURPRISE!
---

This one is similar to the above, but with a favorite sports. There are quite a few choices for gender reveal: football, baseball, basketball, golf, etc.
---

A gender reveal confetti cannon is a lot of fun for everyone!
---
Note From The Author
The gender reveal party is a special day for the parents and their families. If you are hosting, be sure to make arrangements to have the event documented. In other words, take lots of photos and/or videos.  You could get a professional photographer and/or videographer, or just ask certain guests to take photos. Ask them to stay close to the parents, grandparents, and new aunts and uncles because their expressions would be priceless and the most important to document.
Finally – I hope this fully answers your question: What is a gender reveal party? I had so much fun putting it together. I was sure to not put on mascara because I get very teary when I see that joy new parents experience when they first find out the gender of their baby. It is a truly amazing feeling and it's equally wonderful to observe! My favorite part is the Big Reveal. Looking at these images never fail to put a huge smile on my face.
PLANNING A BABY SHOWER? HERE ARE A FEW HELPFUL RESOURCES:
Hosting or planning a baby shower takes a lot of work. You will be juggling a lot of balls in the air. Use the resources below to make your life A LOT easier.