What is a Display Shower
A Display Shower is a baby (and bridal) shower where guests are asked to bring their gifts unwrapped, with a ribbon or bow on the gift itself, and a tag to say who the gift is from. The gifts are then set out for display for all to see, with a label or tag to show who the gift came from.
Display showers are designed for moms-to-be who want to mingle with their guests, and not stop for an hour or so – to open gifts. The day is to celebrate the new mom, and not to hassle with the time-consuming act of unwrapping gifts.
As the gifts are on display, the mom-to-be may briefly take a peak and share who the gift giver is. This is not compulsory.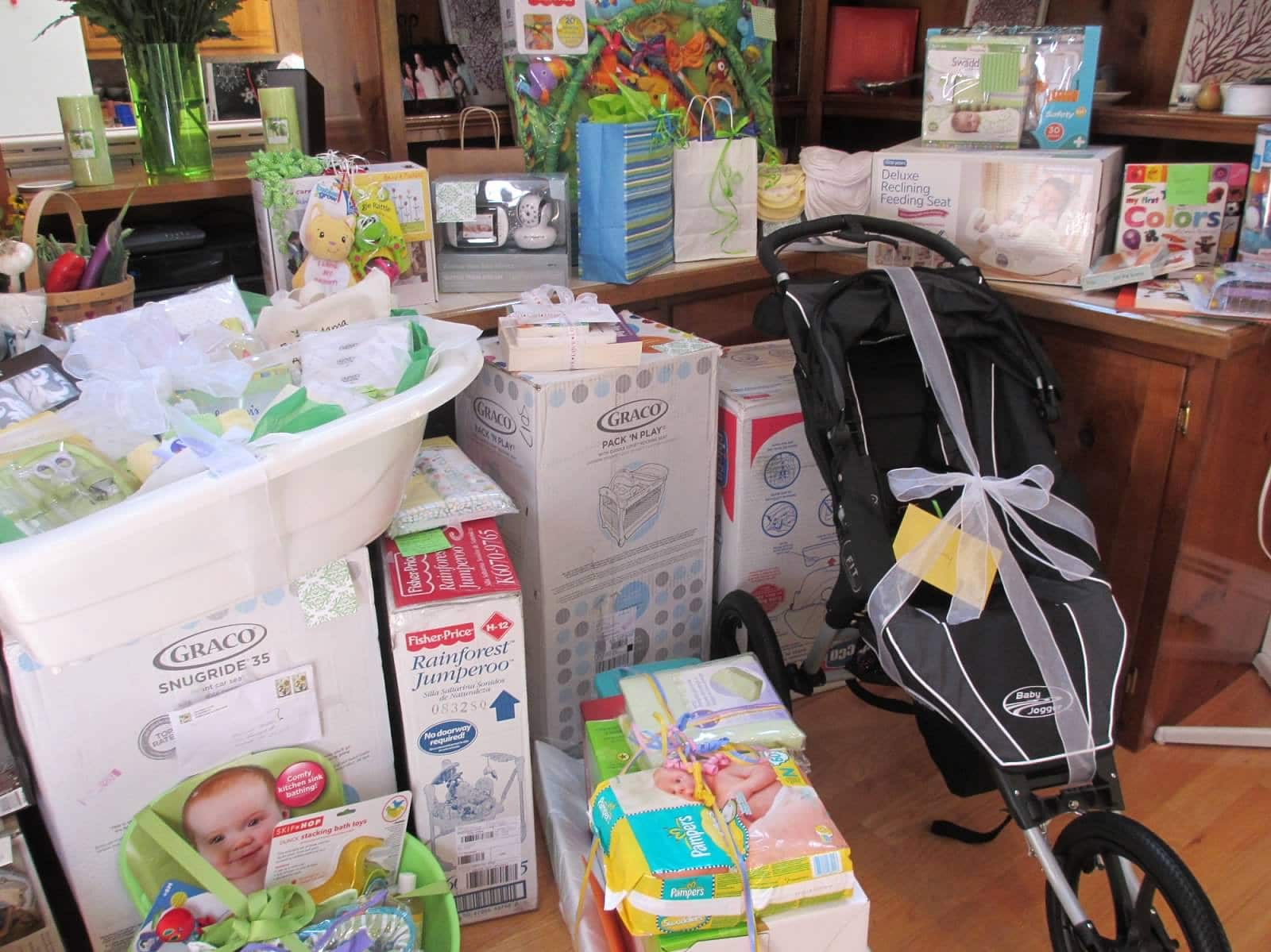 The Benefits Of A Display Shower
During a traditional baby shower, guests will spend the majority of their time watching the new mom open gifts. (Baby showers are typically short – 2  hours is the average.) Spending all that time ooh-ing and ahh-ing, can make some guests feel antsy. By asking for unwrapped gifts at your baby shower, you can eliminate this discomfort.
Some new moms feel shy and awkward having guests watch them as they unwrap gifts. If the new mom-to-be is uncomfortable, the host can easily solve the problem by asking guests ahead of time, to not wrap the gifts. This is easy to do with a sweet display shower poem – see below.
Gift wrapping gets thrown out, almost all the time. That is a huge waste and certainly not eco-friendly. By not wrapping the gifts, you are saving the trees!
Gift wrapping takes time. Unwrapping takes time. Who has the time? Save time and hassle, and don't wrap.
By displaying the unwrapped gifts, conversations can be sparked amongst guests, who spot interesting items on the gift table.
By eliminating the time spent unwrapping gifts, mom-to-be can now spend that time with her guests.
Unwrapped gifts at a baby shower are extremely common because it is functional and avoids hassles for everyone.
How to Organize A Display Shower
On the day of the shower, ask someone to place name tags on all the gifts – in case the guests forgot to tag their own gifts. That way, the new mom will know who to thank, for what. This limits confusion and cleanup is minimal.
In the baby shower invitations, (which you will send out approximately 6 weeks before the baby shower,) let your guests know that you are planning a display baby shower. Don't worry about making anyone feel awkward – this is a common trend. So common, it comes with its very own display shower wording. The poems below are carefully crafted to request that your guests save themselves the trouble of wrapping.
Lots of good versions of display shower wording is not very easy to come, but I was able to get a few good ones for you. (Do keep in mind that if you plan on having these printed on a separate card or inside the invitation, you will need enough time to plan it all. Use the baby shower checklist to make sure you keep track of everything.)
Display Shower Wording

Adorn your gift with a ribbon or a bow,
No wrapping paper please,
So your gift can show

You're invited to a shower
For a lucky mom-to-be
Please bring your gift unwrapped
To be displayed for all to see
♥
Your thoughtful gift will be put on display,
So no need to wrap in any way.
A ribbon or twine will do just fine,
Leaving (mom-to-be's name) free to visit and dine!

Traditions are changing and showers are too
So here's an idea we're hoping you do…
Bring your gift without paper or a bag
Simply use a bow and a pretty gift tag
An unwrapped present is just as sweet
And will save more time to mingle and eat
We'll display your gifts for all to see,
Then relax and honor the mommy-to-be
♥
Please don't wrap gifts in more than a ribbon or flower
However simple or silly it may seem
Let's make this day for her a perfect dream
Thank you all for your consideration
(Name of mom-to-be) is going to love our celebration

We are opening gifts in a different way
To save some time on this special day
Write your name and attach a bow
To your unwrapped gift, so all will know
Gifts will be displayed for all to see
So you'll have more time with the parents-to-be
♥
This will be a casual display shower because she would love time to visit with you.
Please bring your gift in a clear wrapping or simply unwrapped.
Gifts will be artfully arranged for all to see.

Please leave your gifts unwrapped for all to see
So we have more time with mommy-to-be
PLANNING A BABY SHOWER? HERE ARE A FEW HELPFUL RESOURCES:
Hosting or planning a baby shower takes a lot of work. You will be juggling a lot of balls in the air. Use the resources below to make your life A LOT easier.
Sources: