Funny Pregnancy Shirts For Trendy Moms
If you've ever been pregnant, you'll know that there comes a time, early on in your pregnancy, when you look fat – not pregnant. It's that time when your belly just starts to grow but because it's in the beginning stages, people can't tell that you're pregnant. And because people are so polite, most will not dare to ask if you're pregnant.
You can solve that problem by simply wearing a funny maternity shirt that implies that IN FACT, you're not fat, but that you're pregnant. You could also use a funny pregnancy shirt to announce your pregnancy! (How fun!)
These funny maternity shirts are adorable but also endearing! What's more – they're comfortable! The further you get into your pregnancy, the more uncomfortable you will get. THIS is the time to forget the fancy wear. No one will fault you if you're wearing yoga pants

and

sneakers

throughout your final trimester, especially not mothers. (They've been there, they know!)
Oh – I didn't leave the dad's out. This collection has awesome and popular pregnancy shirts for mom AND dad.

"Due in…" maternity graphic t shirts are quite popular. You can get one for whichever month you are due in from Walmart.com.
---


Baby peaking out – Adorable! Available at Amazon.com
---
"You're kickin' me smalls." What a cute pregnancy shirt! Available at Amazon.com
---

"His fault." This pregnancy shirt is available from Etsy.
---
One of my favorite pregnancy shirts! This one is also available at Amazon
---

"I'm not fat, I'm pregnant." This one is available from Etsy.
---
Don't Eat Watermelon Seeds!

 Love it! This, of course, comes from the joke that if you eat watermelon seeds, a watermelon (baby) will grow in your belly.
---

"I just wanted a back rub…" How appropriate, and funny!
---

"This is my last one… seriously." This one is especially appropriate if you've had more than 1. [I have 5 kids and I'm sure that when people looked at me while I was pregnant, they thought "again?!"]
---

Pregosaurus shirt! Perfect! This one is available in several colors so you could get more than one from Amazon.
---

Ice Ice [baby] Funny maternity clothes are fun to wear and fun to see! This one is also available in different colors.
---

Look, the baby is mooning us!
---

---

"First Time Mommy" maternity shirt.
---

"Keep calm I'm pregnant and it's a boy." This one is available in different colors and for both girls and boys.
---

Perfect for Star Wars fans.
---

Fun maternity graphic t shirts like this one, available at Amazon.
---

"But I don't want to go outside. There are people out there."
---

How cute are the little skeleton's hands? This is a fun pregnancy shirt, for sure!
---

"I'm creating a tiny human. What have you done today?
---

"Baby girl loading" or "baby boy loading". Available in different colors from Amazon.
---

"Player 3 is entering the game." – how appropriate for gamers!
---

"You touch the bump, I punch your throat."
---

---

---

"Bumpin' ain't easy"
---

---

---

Little baby footprints – now that's a cute pregnancy shirt!
---

---

"It's all fun and games until someone gets pregnant."
---

I'm eating for two… and I'm drinking for three. These are sold separately from Amazon.
---
Funny Maternity Shirts – For Dads
It takes two to make a bump, so it makes sense that there are pregnancy shirts for mom and dad!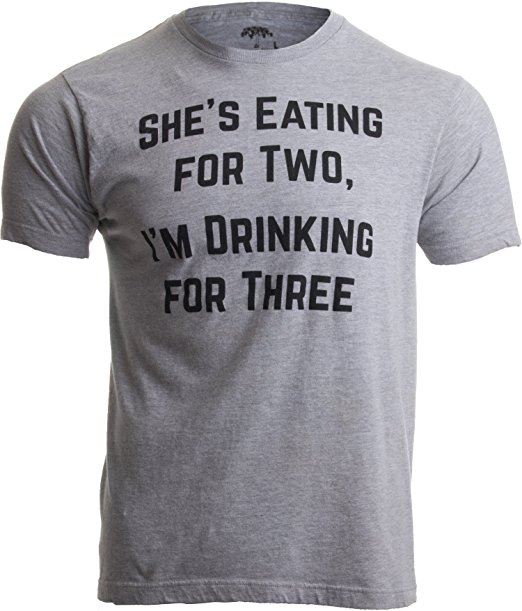 "She's eating for two. I'm drinking for three."
---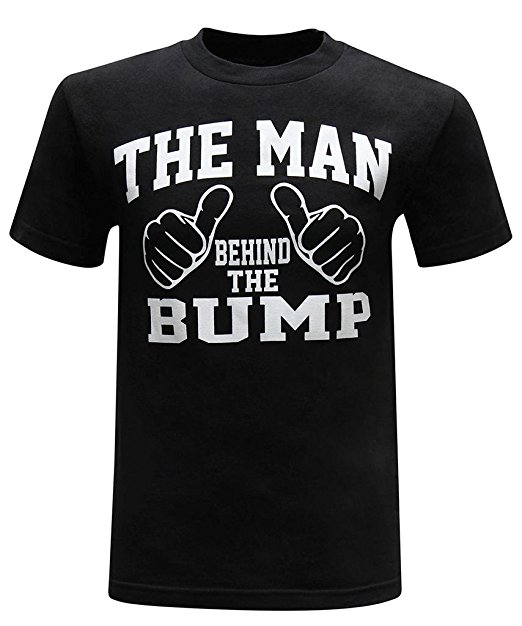 ---

"Take it easy on me, my wife is pregnant."
It was so much fun creating this post. I was giggling the whole time. I hope you have found it useful and if you happen to find funny maternity clothes that should be on this list, do let me know in the comments.