Free Baby Shower Printables – Baby Shower Word Scramble
Having printable baby shower games like Baby Shower Word Search is extremely common. The tradition is as old as the hills and it doesn't seem to be going away soon. In fact, more and more are being added to the collection. We used to have the classics like baby word scramble, baby shower candy bar game, baby shower jeopardy, baby trivia, and the Price is Right baby shower game. Those classics are still going strong but now we've got "who knows mommy best", "what's in your phone", and "what's in your purse."
Despite all the new ones, baby shower word scramble always seems to make its way into our baby showers. And why not? Baby word scramble is fun and entertaining and competitive. It's always fun to watch people race to finish, so that they may win one of the coveted baby shower game prizes.
Here's what you will need to play Baby Word Scramble:
Pencils or pens for each of your participating guests
A Timer. You can use a kitchen timer or your smartphone. Give your guests approximately 2 minutes to finish. This is usually enough time but if you can see they need more time, give them more.
The first person to finish the baby shower word scramble puzzle wins a prize.
This is what your Baby Shower Word Search Game will look like. Print one sheet for each player, and one answer sheet for the host.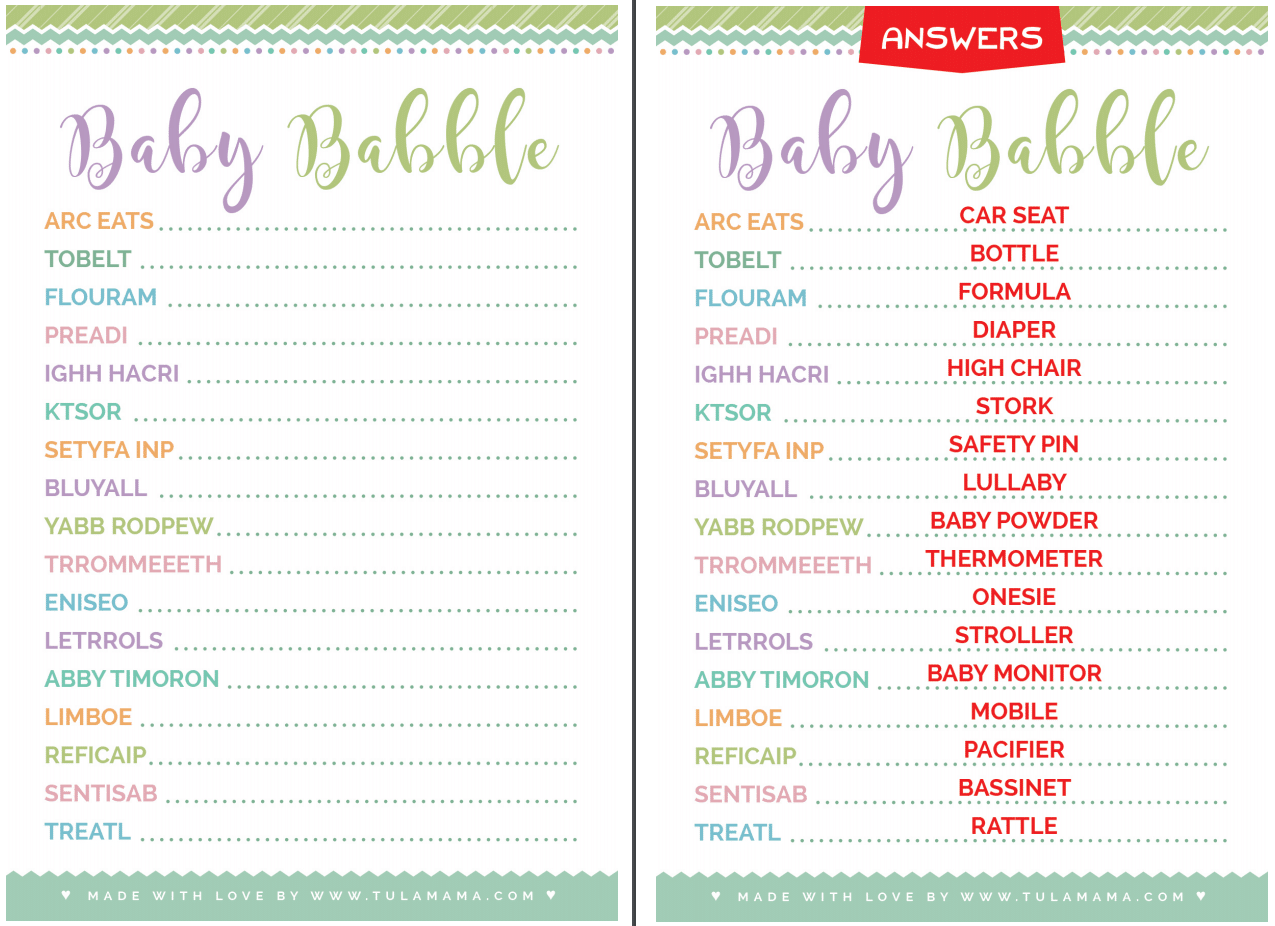 We've got lots and lots and lots of free baby shower printables. And they're all in the same adorable, neutral design. That way, you can maintain the same baby shower theme, no matter which games you play. Getting all your printable baby shower games in one place, save you a ton of time.
And once you've had your fill of printable baby shower games, check out our comprehensive list of baby shower games. It's a great resource because it has classic baby shower games, modern and fun baby shower games, outdoor baby shower games… Oh, and we also have resources for coed baby shower games and baby shower games for large groups.
Happy Playing!
My friend Eve and I, really enjoy putting these games together for you. Well, actually Eve does the designs after I come up with the ideas. We love it! There's a lot of ooh and aah as we work because we spend our days creating cute baby stuff. Seriously – what's not to love about that! We hope YOU enjoy it as much as we do. Please be sure to share on social media. Yep – why not let everyone know about the most adorable, free printable baby shower games that we have for ya!