Quickly Finding The Right Diaper Sizes For Your Baby
Diaper sizes can be very tricky. Below is a simple guide to help you figure out the diaper sizes

you will need.
The guide will also provide an average number of diapers you can expect to use, and how many you can expect to use within the next month. It's a great tool for planning ahead!
What'S my baby's diaper size? Reset
Enter your baby's weight to find out what diaper size your baby is, and how many diapers he/she will need per day.
Your baby's diaper size is:
Average* diapers per day for this size:
Total number of diapers per month

How To Make Sure The Diaper Fits Properly
Babies come in different shapes and sizes, so it would make sense that diapers would fit differently on each baby. Even so, here are a few quick checks to make sure your baby's diaper fits properly:
Diapers Based On Your Baby's Weight


Diaper sizes are not based on your baby's age. They are entirely based on your baby's weight. Therefore, you will want to choose diapers that match your baby's weight.
It's easy to weigh your baby. Take off your baby's clothes and diaper, and while holding your baby, step onto a regular diaper scale. Record the number. Put your baby down safely, and get back onto the scale to weigh yourself without your baby. Subtract the second number from the first number to get your baby's weight.
Do keep in mind that the weight ranges of some diapers may overlap, which means that your baby may fit into two sizes. If your baby is long and slim, you may prefer to go with the smaller of the two sizes for the best fit. If your baby is a little huskier, choose the bigger size.
Diaper's Waistband Under Your Baby's Belly Button
Your baby's diaper waistband should fit just under your baby's belly button.
A properly fitting diaper should come just slightly under your baby's belly button. If the diaper is fitting a little more like a low rise, it's time to move on up in size.
No Gaps On The Leg Cuffs
Gaps in a diaper mean leaks and blowouts. Make sure there are no gaps by running two fingers just inside the leg cuffs to get them in the proper position.
No Red Marks On Baby's Body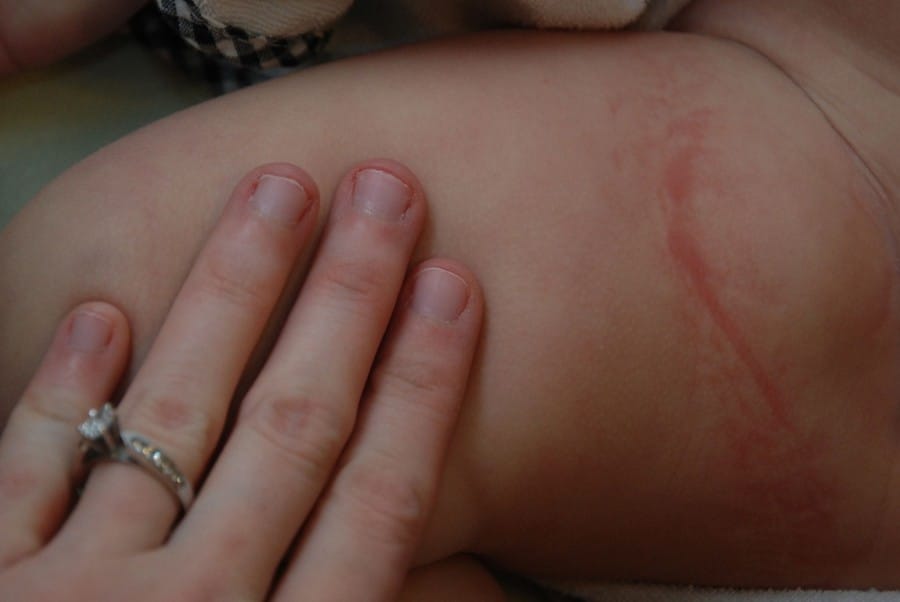 After your baby's diaper is fastened, you should be able to fit two fingers under the waistband. If you are able to do this, it means the diaper is fitted properly — not too snug, not too loose.
The elastic on the legs should also not be too tight. When you take the diaper off, you shouldn't see any red marks. If you do see red marks, this is usually an indication to move up in size.