How To Save On Diapers… Like A Pro
Diapers are expensive! Knowing that you're ultimately going to throw it in the trash, makes the expense feel even worse.  This is why it's a great idea to figure out early how to save on diapers.
Below are sixteen helpful tips to help you figure it out. Some of the tips are easy to implement, some require that you develop a bit of a habit. Either way, pick the tips that you think would be easiest to implement in your life so that you too can save on diapers.
Have A Diaper Raffle At Your Baby Shower

If the question is, "how to save on diapers?" then a diaper raffle would hands-down be the number 1 answer.
If this is your second or third baby, you may not need all the cute baby gifts that people usually give at a baby shower. Forget the traditional baby shower gifts, and simply ask for diapers.
It's a win-win for you and guests. They don't need to spend time trying to figure out what to get, and you get a lot of the diapers you need. And if you're having a diaper raffle, guests also stand a chance to win a diaper raffle prize!
A diaper raffle can set you up for months! To make it more exciting for your guests, you could offer extra raffle tickets if they bring extra diapers.
However, if your baby shower is over, there are lots of other ways to save money on diapers.
Create A Diaper Stockpile While You're Still Pregnant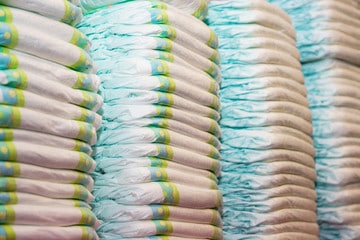 A diaper stockpile means to buy diapers when they are on sale. That means looking for sales and coupons and taking advantage of any diaper deal as they come up.
A diaper stockpile is a smart strategy but it can get tricky and there are several traps to avoid. For example, diapers come in different sizes and it would make no sense to buy newborn diapers in excess if your baby will only be in that size for a month or two.
Join Amazon Family To Get 20% Off Diapers
20% off diapers is a great deal. The catch is:
You have to sign up for Amazon Family through Amazon prime. This is an annual fee but really, with all the benefits you get like free 2-day shipping and 20% off diapers and baby items, it's a small price to pay.
You have to sign up for the diaper subscriptions. The benefit of this is that the diapers will arrive even if you forget to order. That means you will never be out of diapers. However,  if you don't stay on top of this, you could end up with diaper sizes you don't need anymore. But this is an easy fix. Check your baby's growth and diaper stockpile regularly. If you think your baby is outgrowing a diaper size, simply stop the subscription to one size, and change it to another.
You get 20% off select diapers. However, Amazon's "select diapers" are diapers that most of us would buy anyway, so this is not really a catch.
Create An Amazon Registry To Get The 20% Off Registry Diaper Discount
Amazon's baby registry is great because the collection is huge and it's easy for your guests to buy. But there's more! If you and your guests spend over $500 on your baby registry, you get 20% off diapers.
Amazon calls it the Registry Diaper Discount, and here's how it works:
Reach $500 in items purchased off your registry (either from friends & family, or your own purchases)

On your baby's arrival date, Amazon will automatically apply a 20% promo code on your diaper purchases for the next 12 months.

You can combine this discount with Subscribe and Save and get up to an additional 20% off – totaling 40% off your diaper orders.

This discount runs for 12 months from the arrival date, or until you've reached a maximum of $300 in discounted diaper spending – whichever comes first.
It's really hard to beat 40% off!
Click here to start your Amazon baby registry.
Constantly Be Looking For Diaper Sales

Diaper sales are out there, but you need to find them.
Coupons are not only available as newspaper inserts either! Download the mobile apps of the stores where you shop and get onto their mailing and/or coupon lists. Check weekly to see if they have any diaper deals.
Target regularly rotates its diaper sales. They offer rebates and coupons. For example, get a $20 gift card with the purchase of $100 worth of baby items, or buy 2 packs of diapers, get $5 off. Find these diaper deals and stock up.
And while the Amazon Family 20% off diapers deal is good, also check out the Amazon coupons page regularly! They often have coupons for diapers.
The big diaper brands like Huggies and Pampers often have a coupon too. Combine that with a store deal for better diaper savings.
Also, check mommy groups on Facebook and other social media. Often, mommies would share diaper deals that they find.
When you find diaper sales, try to stock up. Babies generally do not stay in newborn and size 1 diapers for long, so there would not be much sense in stocking up on those sizes. Size 3 diapers are arguably the size your baby will be in longest, so do stock up on size 3 diapers when you find good sales.
Calculate The Unit Price Per Diaper
The package sizes of diapers vary widely, so it's very difficult to compare diaper prices side by side. Knowing the unit price is important when you are trying to figure out whether that jumbo box of diapers that's supposedly "on-sale," really is a good deal.
The best way to get the actual diaper prices is to calculate the per-unit cost of diapers. You do this by taking the total price and divide it by the total amount of diapers per package. For example, if the box has 40 diapers and it costs $9.59, the unit price is $0.24 per diaper.
Calculate the per-unit cost of the diapers you are interested in, and see which one has the lowest per-unit cost.

Buy Diapers In Bulk

The unit price of small packages of diapers is usually high. The big boxes of diapers usually have a cheaper per unit cost when compared with the small packages.
But before you commit:
do compare the unit prices between your favorite brands;
don't buy diapers in bulk of a brand you feel unsure about. (Some babies have sensitive bottoms and they cannot wear all diaper brands. If your baby has a sensitive bottom, it's best to test the brand by buying small packages first before buying in bulk. If, however, you did buy diapers in bulk and your find that your baby's bottom just doesn't agree with it, you may be able to return it. Some stores will accept diaper returns, so be sure to always keep your diaper receipts);
don't buy too many boxes of one size diapers because your baby will outgrow it at some point. Most babies spend most of their time in size 3 diapers.
Join rewards programs
If there is a certain brand of diapers that you love, check to see if they have a rewards program, a newsletter, a membership, a Facebook page or Twitter you can join.
Diaper brands like Huggies and Pampers have programs where loyal customers can receive coupons or earn points that can be redeemed for free baby items and/or gift cards every time they buy diapers and wipes.
Huggies and Pampers often post bonus codes on social media, so browsing through social media will actually pay in this regard.
Experiment With Different Diaper Brands

Having a favorite diaper brand is great, but if you are budget-conscious, you cannot commit to only one brand. Diaper deals will not be limited to your favorite diaper brand, so your best bet is to diversify.
Unfortunately, not all diapers are created equally. There are certain brands that produce poor quality diapers that result in leaks and diaper blowouts. (Do keep in mind that even quality diapers will leak if they are not sized properly for your baby.)
Then there are also diapers that work perfectly well on most babies, but some babies may develop a rash after wearing it. When you are switching between diaper brands, be extra vigilant. If you notice that your baby is sensitive or allergic to a particular brand of diapers, avoid them in the future.
They say you get what you pay for, but really – not all cheap diapers are poor quality diapers. Many moms love and appreciate Target diapers, Costco diapers, Luvs, etc. If you are able to find coupons and diaper deals, buy a package and test them on your baby. If you find that they work for you, you can buy bigger packages when they are on sale again.
Always Shop With Diaper Coupons
Coupons are an easy way to save money on diapers.
Diaper coupons are available everywhere if you look for them.
Do check the Amazon coupons page, diaper brand sites, mommy groups on Facebook, your local newspaper and brand social media before you buy your diapers.
Combine Coupons With Store Sales
Look out for store sales. Once you find them, combine the store sales with your coupons to maximize your savings.
Some stores like Target may also offer a gift card with purchase, so take advantage of those deals when you find it.
Join Cashback Apps To Earn Money
Cashback sites are like rebates. You buy things that you would already have bought, but then you earn cash too!
You have to buy diapers for your baby, and by using these services, you can earn a bit of cash too.
These cashback apps are especially great if you have already gotten a good sale and possibly used a coupon too!
For these cashback offers to work, you need to get into the habit of using the apps! Here are a few cashback apps that you can try:
Rakuten
Before you make your diaper purchases, (or any purchase, for that matter,) check Rakuten for coupons before you check out. Not only do you get cash back from your purchase, but Rakuten may also have coupons for you to use. Coupons help you double down on your savings.
When you get friends to sign up for Rakuten, they get a bonus AND YOU GET A BONUS. It's a no-brainer because you're earning money on diaper purchases you were going to make anyway!
Get the Rakuten app on your phone and computer, and get in the habit of doing your searches via Rakuten.
Ibotta
Ibotta is a rebate app that frequently has Pampers and Pull-Ups Rebates. They will typically update their offers every 4 days or so.
It's easy to sign up for an account and download the app onto your phone. Here are easy,  step by step instructions for how to use Ibotta.
What's great about Ibotta is that you will find savings at stores like Walmart, Target, Walmart, Safeway, CVS and more!
Move Slowly To The Next Diaper Size
The bigger the diapers get, the less there are in a box or package. So you get fewer diapers per box as you move up in size. To save money, you would want to move up in sizes only if you absolutely have to.
A good way to know it's time to move to the next diaper size is you start to see diaper leaks. Your baby's diapers will start to leak if they are too small.
Consider Cloth Diapers


Cloth diapering may not be for everyone, but there are lots of moms who love it!
Cloth diapers do cost more up-front and they do require a bit more work than regular disposable diapers. However, cloth diapers can save you a lot of money.
The Pros Of Cloth Diapering
You can save between $900 to $2,100 on the cost of diapers from birth to potty training;
They are environmentally friendly;
Cloth diapers are made of natural fibers.
If your cloth diapers are still in good shape, you can sell them and recoup part of your investment.
Cloth diapers are gentler on sensitive skin.
Cloth diapers have adjustable features.
They are less likely to leak.
The Cons Of Cloth Diapering
High upfront costs;
They are less absorbent than disposable diapers;
You will always have a lot of laundry. Deep cleaning will also be required for stains caused by baby poops. Even after you add in the cost of washing the cloth diapers, they can still be cheaper than disposable diapers;
Unless you change diapers frequently, they are more likely to cause diaper rashes.
You will need to stay organized to keep clean diapers on hand.
If you're out and your baby soils a diaper, you can't throw it away like a disposable. It is, therefore, less convenient than disposable diapers.
They are less convenient than disposable diapers.
Cloth diapering requires poop scooping. This means you will have to remove your baby's poop from the diaper and throw it into the toilet. With a disposable diaper, poop can be left in the diaper and tossed.
Look at your lifestyle and family and decide if this is something you could do.
Also, consider that you can totally cloth diaper part-time. Lots of moms cloth diaper during the day, and use disposable diapers at night.
Potty Train Your Baby Early


Not all babies can be potty trained early. However, if your little one shows signs of being ready to potty train, go for it!
You will need time and patience.
Do keep in mind that you may be able to potty train your child early, but you will still need to buy diapers for night time. It takes most kids some time to be completely potty trained.
Swop Diapers
If your baby outgrows a diaper size that you have on hand, try to swop them with another mom who might need it.
Many moms have diaper stockpiles.  It's always a good idea just to check if she is open to swopping for sizes she may need. It's a win-win for both moms.
---
Diaper Calculator
Our calculator uses data provided by the CDC's Baby Growth Charts and the diaper manufacturer's sizing and usage charts. CDC data is based on the average growth rate of a child.
However, not all children are the same. Please use the data provided as a general estimate to help you plan your diaper purchases.
Disposable Diaper Calculator Refresh
Add your baby's age & weight to calculate the number of diapers you will need during your first year. If you're still pregnant, please estimate your baby's weight.
How many diapers per day?
| | |
| --- | --- |
| 0-3 MONTHS | 10 |
| 3-6 MONTHS | 8-10 |
| 6-9 MONTHS | 6-8 |
| 9-12 MONTHS | 6-7 |
| 12-18 MONTHS | 5-6 |
| 18-36 MONTHS | 4 |
Diaper usage is based on your baby's age. The younger your baby. the more diapers will be used per day.
What size diaper to choose?
| | |
| --- | --- |
| SIZE NB | UP TO 10 LBS |
| SIZE 1 | 8 - 14 LBS |
| SIZE 2 | 12 - 18 LBS |
| SIZE 3 | 16 - 28 LBS |
| SIZE 4 | 22 - 37 LBS |
| SIZE 5 | OVER 27 LBS |
| SIZE 6 | OVER 35 LBS |
Diaper sizes are based on your baby's weight.
Here's a helpful chart of expected weight gain over the next 6 months. Hover over the chart for more details.
Amazing Savings For New & Expecting Parents

A NEW MOM'S GUIDE TO DIAPERING LIKE A PRO:
Diapering seems so easy at first glance, but it can get confusing and frustrating. Here are a few helpful posts to help you figure things out.
Every Diaper Question Answered