With a squirmy baby on the diaper changing table, you will want to be sure that you have absolutely everything you need in your baby changing station – within arm's reach. This is not the time to be looking for anything, so have everything neatly organized in your diaper changing station.
It is also good practice to properly and frequently stock up your baby changing station.
Here is a minimalist guide to the baby essentials you will need.
Essentials For A Baby Changing Station
Diapers
If you're using disposable diapers, take them out of their plastic packaging and stack them neatly. If you are using cloth diapers, neatly organize your covers, inserts, snappis, etc so that you know exactly where everything is.
Wipes
Whether you are using disposable wipes or cloth wipes, you will need a lot of wipes. Do make sure that they are within arm's reach at your changing station.
Diaper Cream
You can try your best to avoid them but diaper rashes are likely to make an appearance. Prepare for them by keeping a jar or tube of diaper cream on hand. Here are some favorites.
Pacifiers And Soothing Toys

You are going to get a few protests when you're trying to change a diaper. Be prepared for this and have pacifiers, a teething toy, a board book, a mobile or any other distractions that may help. Whatever you keep at your diaper changing station will depend on your baby's age and personality.
Diaper Pail
Do be sure to place your diaper pail within arms reach of your diaper changing station. That way, you will never have to leave your baby unattended to throw away the dirty diaper.
To make things even easier for yourself, try to get a diaper pail with a foot pedal. That way, you can keep your hands on your baby at all times. No fuss and no hassles.
Hand Sanitizer
Use your hand sanitizer

to clean your hands right before you clean your baby's diaper, and again after you are done. Yes, you will want to wash your hands, but that may not be possible right after changing the diaper. A quick squirt of hand sanitizer after the diaper change is a quick fix until you are able to safely put your baby down to go wash your hands.
Your hand sanitizer should be within easy reach for you, but not your baby's reach — it contains alcohol.
Baby Onesies
Diaper accidents happen all the time, and that cute outfit that you put on this morning may not make it to the end of the day. If you happen to have a diaper blowout or even a small accident, be prepared by having a few onesies within easy reach.
Doctor Recommended Care
If you are taking care of the umbilical cord, or if your baby has had a circumcision, you will need to take care of it at your baby changing station. Keep everything your pediatrician recommends within easy reach.
If your baby has eczema or needs lotion for any reason, the diaper changing station is where you will want to store it.
Night Light
You are going to be changing diapers in the early hours of the morning, and turning on bright lights will be jarring. Solve the problem by having a night light

or a lamp with a low wattage bulb

near your changing table.
Backup Diaper Changing Pad Cover
It's inevitable. Your diaper changing pad cover will get showered or soiled at some point. You'll need a waterproof backup changing pad cover, so keep one within easy reach.
Two-three washable changing pad covers

are a good number to have on hand. Do make sure it has a waterproof layer on the underside, which helps the changing table stay dry and sanitary. Also, do make sure the changing pad covers don't interfere with the pad's safety straps.
A Laundry Hamper
A laundry hamper

is not essential at your diaper changing station, but it's recommended. The changing table is not only for diaper changes, but it's also the place your baby will be changing clothes every day. It's therefore just practical to have a laundry hamper within easy reach.
Other Diaper Changing Table Questions
What Is A Changing Table Height?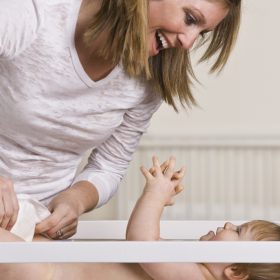 Some baby changing tables are as low as 36 inches; others as high as 43 inches. To prevent back pain, get a changing table or dresser that's in proportion to your height. If you're tall, get a taller changing table or dresser and secure it to the wall with an anti-tip device to reduce the risk of tipping.
Diaper Calculator
Our calculator uses data provided by the CDC's Baby Growth Charts and the diaper manufacturer's sizing and usage charts. CDC data is based on the average growth rate of a child.
However, not all children are the same. Please use the data provided as a general estimate to help you plan your diaper purchases.
Disposable Diaper Calculator Refresh
Add your baby's age & weight to calculate the number of diapers you will need during your first year. If you're still pregnant, please estimate your baby's weight.
How many diapers per day?
| | |
| --- | --- |
| 0-3 MONTHS | 10 |
| 3-6 MONTHS | 8-10 |
| 6-9 MONTHS | 6-8 |
| 9-12 MONTHS | 6-7 |
| 12-18 MONTHS | 5-6 |
| 18-36 MONTHS | 4 |
Diaper usage is based on your baby's age. The younger your baby. the more diapers will be used per day.
What size diaper to choose?
| | |
| --- | --- |
| SIZE NB | UP TO 10 LBS |
| SIZE 1 | 8 - 14 LBS |
| SIZE 2 | 12 - 18 LBS |
| SIZE 3 | 16 - 28 LBS |
| SIZE 4 | 22 - 37 LBS |
| SIZE 5 | OVER 27 LBS |
| SIZE 6 | OVER 35 LBS |
Diaper sizes are based on your baby's weight.
Here's a helpful chart of expected weight gain over the next 6 months. Hover over the chart for more details.
Amazing Savings For New & Expecting Parents