Educational Toys For 3 Year Olds
Watching your kid grow and learn is amazing, and toys can be an engaging part of the 3 year old's journey.
While toys, in general, are great – thoughtfully chosen toys can actually develop skills that are vital to your little one's development in areas like language, early math, literacy, problem-solving, creative thinking, and social-emotional growth. If that's not enough of a benefit, hands-on, interactive toys, in particular, can boost your child's cognitive skills, which will help contribute to success in school.
While there are some educational toys for 3 year olds that are obviously "educational," – do not necessarily dismiss toys that seem less "educational." For example, 3 year olds can learn a lot from a set of binoculars. Binoculars can increase their engagement with the outdoors, while they are learning about birds and insects. So too a board game may not seem educational at first, but it may teach your child about strategy, hand-eye coordination, colors, and social skills.
For your convenience, this article has been broken down into two parts:
The best educational toys for 3 year olds, reviewed by parents;
How to choose educational toys for 3 year olds.
[tm-amazon-product asin="B0177TS0AI" title="Wooden Educational Shape & Color Recognition Board"]
What moms are saying:
Rose H – "It's a perfect gift for toddler learning. All the parts seem to be well made and quality wood, nice vibrant colors, and the size worked out perfectly for little hands. It's sturdy for the baby and it is safe to play with. My son loves playing with this toy and it keeps him entertained longer. I would definitely recommend it."
[/tm-amazon-product]
---
[tm-amazon-product asin="0312492510″ title="Wipe Clean: Letters (Wipe Clean Learning Books)"]
What dads are saying:
Christopher – "Excellent book for a pre-school child. This is really helping my son (just turned 4) with pen control and learning to write his letters. I'm so glad I made the purchase. It's a little hard to keep him engaged for any length of time but if you get in 10-15 minutes a day, you will see good results!"
[/tm-amazon-product]
---
[tm-amazon-product asin="B00CMNX5YG" title="VTech Little Apps Tablet"]
What moms are saying:
Kerry Greenough – "My son received this as a gift for his birthday and it quickly became his favorite thing in the world. He took it everywhere with him. My son is autistic and non verbal and this device helped him learn so many new things I hadn't thought he could understand before. He learned the entire alphabet perfectly on this. I am so grateful for this tablet."
[/tm-amazon-product]
---
[tm-amazon-product asin="B01CIHHVXQ" title="VTech Touch Learn Activity Desk"]
What moms are saying:
Milly Theriot Mullens – "My 3 year old is in love with this desk!!!! She loves to sit there and play the different games. It works great as a little art desk too. We like to put some coloring sheets up and let her color. Everything stays all nice and need in the one desk. This was a great gift for her!!! I also love that you can purchase more activity sheets with different age ranges so that as they grow up you can get them more challenging activities."
[/tm-amazon-product]
---
[tm-amazon-product asin="B00I0D3RE0″ title="Educational Insights' – My First Microscope"]
What moms are saying:
Rachel – "This is so much fun for my four year old. It's super easy to use and works perfectly; you can fit practically anything on the platform for a closer look. The little light is great too. And it can be adjusted for a sharper image, or for those times when the pine cone my son is looking at is bigger than we expected. It's also very sturdy – our new kitten knocked it from the table onto the floor and it survived without a scratch! The quality in general is very satisfying, and I'm a really happy customer. "
[/tm-amazon-product]
---
[tm-amazon-product asin="B00HX9VZ6Y" title="Head and Tails – 15 Self-Correcting Animal Matching Puzzles"]
What moms are saying:
Kristie M. – "My three year old son loves these puzzle cards! They are bright and cute and easy enough for him to do all by himself without getting frustrated. I appreciate the fact that they are sturdy and lay perfectly flat so they go together and stay together easily! I also purchased the "Things That Go" and the "Dinosaur Friends" versions of these puzzle cards. We are very happy with them and they get a lot of use at our house!"
[/tm-amazon-product]
---
[tm-amazon-product asin="B06Y195XSD" title="LeapFrog's Mr. Pencil's Scribble and Write"]
What moms are saying:
Gretchen C. – "Love love love this thing! I bought this for my son for Christmas. I homeschool and wanted to avoid teaching handwriting again as it was difficult for my oldest. My son plays with it everyday and is SO excited when we put it down and he can produce letters on his own. This thing makes learning to write letters/numbers fun. I highly recommend it."
[/tm-amazon-product]
---
[tm-amazon-product asin="B0164WC4RY" title="STEM Learning |101 Piece Educational Construction Engineering Building Blocks Set"]
What grandma's are saying:
Mariessey – "I have four grandchildren- two three year olds and two age five. This is the best creative building toy I have purchased to date. All of the kids were fully engaged in building and their parents joined in with them. The parents had never seen a set like this and they were quite impressed also. The building blocks, etc are sturdy and made out of excellent quality materials. The ability to create is endless and even our three-year olds were creating on their own and with parents."
[/tm-amazon-product]
---
[tm-amazon-product asin="B074G38Z55″ title="Wooden Educational Toys for 3 Year Olds – Perfect for Learning Colors and Counting & Sorting"]
What dads are saying:
Josh Bennett – "My 1 1/2 and 2 1/2 year old both love the apple sorting bowls…they are the perfect size for their little hands! They came beautifully packaged and in perfect condition. With so many different activities you can do (counting by ones and twos, scooping, color sorting, matching, etc) my littles are kept busy and are learning through play."
[/tm-amazon-product]
---
[tm-amazon-product asin="B06WJ59FH2″ title="Magnetic Building Blocks STEM Educational Toys – 24pcs"]
What moms are saying:
Nana JF – "They're sturdy and stick together well. My daughter likes to play with them. It's fun teaching her the different shapes we can form with these. I will buy more of these to make bigger objects."
[/tm-amazon-product]
---
[tm-amazon-product asin="0312499221″ title="Wipe Clean: Early Learning Activity Book (Wipe Clean Early Learning Activity Books)"]
What moms are saying:
Betbutton – "My daughter absolutely loves working in this book. She thinks it's fun because of the special pen in the glossy paper that we can wipe off and she is learning as she does it. There are different actions on different pages, asking them to match uppercase and lowercase letters, asking them to count specific items out of a bunch of things, and then of course write the letters and numbers. I think it's very fun for both of us."
[/tm-amazon-product]
---
[tm-amazon-product asin="B06ZZS84HD" title="VTech Touch & Teach Word Book"]
What moms are saying:
redflower – "My son loves book. I bought it for him when he was 2 years old. Now he is 3 1/2 years old and still loves it. It teaches them so many things. Colors, objects, household items, animals, toys, different things at the park and food items."
[/tm-amazon-product]
---
[tm-amazon-product asin="0312508700″ title="Wipe Clean Workbook Tracing and Pen Control (Wipe Clean Learning Books)"]
What moms are saying:
Lori Smith – "I bought my 4 year old this workbook for Christmas and she has used it every single day! This is the perfect workbook for kids to practice skills like tracing! We have found that all dry erase markers work just fine with it. Best of all, if you forget to erase it for a few days, a damp paper towel wipes it clean each time!"
[/tm-amazon-product]
---
[tm-amazon-product asin="0761166629″ title="First Brain Quest – 350 Questions and Answers to Build Your Toddlers Word Skills"]
What moms are saying:
Shelly – "These cards truly do get your child speaking! My daughter LOVES them! There is a parent guide in the front of the deck telling you how to get the most out of your cards and I suggest reading it. Even if your child isn't talking at all its good to just go thru the cards and look at and talk about the pictures just to create dialogue. After using these daily for just a week my daughters vocabulary doubled and she was trying to talk more than before. I strongly suggest these cards!"
[/tm-amazon-product]
---
[tm-amazon-product asin="B06Y24VYF3″ title="Color Matching Mosaic Pegboard"]
What moms are saying:
Danielle B. – "This is a wonderful toy. I have a 2 year old and 3 year old who spend a lot of time arguing over toys. This is the one toy they will sit down and play with together without any arguing. Great for so many learning activities. Everything stores in one container so you don't have buttons everywhere. Very happy with this purchase."
[/tm-amazon-product]
---
[tm-amazon-product asin="B073TY1Y89″ title="Musical Instruments Set with Xylophone for Kids – 15 Pcs"]
What moms are saying:
Kelli – "I purchased this for a 1 yo and a 3 yo. The instruments fit well in the children's hands. They both thoroughly enjoyed making music and exploring the different sounds each instrument made. The construction and material is durable and well made. I love the variety of colors on many of the instruments."
[/tm-amazon-product]
---
[tm-amazon-product asin="B003BEDE5A" title="Memory – Alphabet – Capital and Lowercase Letter Matching Game with 26 Matching Pairs"]
What dads are saying:
Mike – "I started playing this with my son when he was 4. Now he is in Kindergarten & I home-school him. We play this at least once every week during class-time. It is a wonderful way to review letter names & sounds while having a blast & sharpening observation and memory skills. My son cannot wait for the days that we play it!"
[/tm-amazon-product]
---
[tm-amazon-product asin="B0000BX8MA" title="Melissa & Doug Play Food – 21 Hand-Painted Wooden Pieces and 4 Crates"]
What moms are saying:
Candace Cagle Tracy – "Love, love, love! More than half of our toys are Melissa and Doug branded and these are a perfect addition to our play kitchen. The crates are perfect!! I mainly ordered this set for the crates and meat and dairy accessories, as I far prefer the plastic Melissa and Doug fruits and veggies. They are much larger and more durable but having the extra wooden ones are a bonus. Well worth it!! You won't be disappointed!"
[/tm-amazon-product]
---
[tm-amazon-product asin="B01MYBGXO4″ title="Battat – Grocery Shopping Cart for Toddlers (23 Pieces)"]
What moms are saying:
Soozie Richardson – "Loved this shopping cart. Bought it for my son for Christmas. It was packaged perfectly. He loves to get all his toys and push them through the house. Rolls great on tile, carpet and vinyl wood flooring. Would buy again!"
[/tm-amazon-product]
---
[tm-amazon-product asin="B00000DMD2″ title="Cash Register And Pretend Money – 73 Pieces"]
What moms are saying:
Audrey OShaughnessy – "My daughter and her visiting friends all really enjoy this toy. They are 3 to 5-year-old girls. It comes full of awesome play money and they really like the little notepad and the credit card sliding feature! It's been being played with for four months now and nobody's broken it so the thing is tough too, lol!"
[/tm-amazon-product]
---
[tm-amazon-product asin="B000068CKY" title="Melissa & Doug Wooden Building Blocks Set – 100 Blocks in 4 Colors and 9 Shapes"]
What moms are saying:
Valerie A. Baute – "I purchased these for my 2-year-old daughter for Christmas. She got a lot, and I mean a lot, of new stuff for Christmas, but this has been the most played with toy she received. Yes, it says ages 3+, but I feel confident giving these to her as she does not throw them or chew on them. They are of great quality. The edges are straight, something important in building blocks. They can be stacked well, fitting on top of each other without getting unnecessarily tipsy."
[/tm-amazon-product]
---
[tm-amazon-product asin="B0778FJPN2″ title="Binoculars for Kids – Encourage Investigating The World Around Them"]
What moms are saying:
Jennifer Weber – "These are sturdy & well made. My son loves his! He can adjust the focus, which is a nice feature for kids' binoculars. The color is great & it comes with a strap for your neck & a pouch."
[/tm-amazon-product]
---
[tm-amazon-product asin="B00000DMF5″ title="Candy Land – Toddler Board Game To Learn Colors – No Reading Necessary"]
What moms are saying:
Ashlee Herche – "Candy Land is the perfect classic game for the whole family. This game is basic enough for small children and as an adult it is still fun and exciting. It has brought back so many fun memories for me. I am so happy that I can share this fun game with my children. No skill is required and because it's all about matching colors it's a very simple game. There is a reason it has been around for so long. "
[/tm-amazon-product]
---
[tm-amazon-product asin="B00486ZVC4″ title="The Sneaky and Snacky Squirrel Game To Develop Hand-Eye Coordination And Strategy"]
What moms are saying:
Rebecca Brunk – "This is a game my preschooler (age 4) loves to play. He gets to practice hand-eye coordination, fine motor skills, taking turns and strategy. One round with 2 players takes about 10 minutes, 3 players increases the time to about 15 minutes. The game is original and well packaged with quality materials. I would recommend it to families with children ages 3-5."
[/tm-amazon-product]
---
[tm-amazon-product asin="B00000IWGQ" title="Hi Ho Cherry-O Game – Toddler Board Game"]
What moms are saying:
Elaine Victoria Quinn – "I have a 2 and a 3 year old. They absolutely loved this game!!! The box says 3 and up so make sure if you have a younger child like me they are past the stage of putting things in their mouth. You will definitely have to play with them, but it's more fun that way! Mine loved the puzzle and having to hurry to spin before "the bird comes to eat your fruit!" It's also a great way to teach them about addition and subtraction without them even realizing it!"
[/tm-amazon-product]
---
How To Choose Educational Toys For 3 Year Olds
How do you choose a toy that supports your child's development, but is actually interesting enough to keep them entertained?
Fortunately, you don't need to be an expert to find the perfect educational toys for 3 year olds. Here are a few simple and helpful tricks to choosing the perfect toys:
Select toys that match your kid's interests and abilities
If your kid is interested in a toy, he/she is more likely to play with it. If he is into dinosaurs, try to find games and toys that are all about dinosaurs and prehistoric concepts. Or if your little one likes building, consider incorporating a set of alphabet blocks into his toys to encourage sound and letter recognition.
Also, consider your kiddo's age when you select the right toy. The perfect toy should be challenging enough to be fun, but not too difficult that it will frustrate your little one enough to stop playing with it.
Choose open-ended toys that can be played with, in several ways
Open-ended toys are toys like arts and crafts, building bricks and blocks, building toys, etc. They are the kinds of toys where kids can play with them over and over again, and also in different ways.
Many kinds of open-ended toys often encourage STEM (science, technology, engineering, math). They can often be used to invent and build new creations. By playing with these types of toys, your kiddo is having fun AND learning in a fun and non-intimidating way.
Open-ended toys are often toys that can grow with your child. For example, a toy like this one below

is great for developing fine motor skills as your child handles the apples and transfers it from bowl to bowl. Your child can also learn colors and numbers and he/she is counting the apples. Later, your kiddo can feed the dollies or it can be "pretend food" in the playhouse.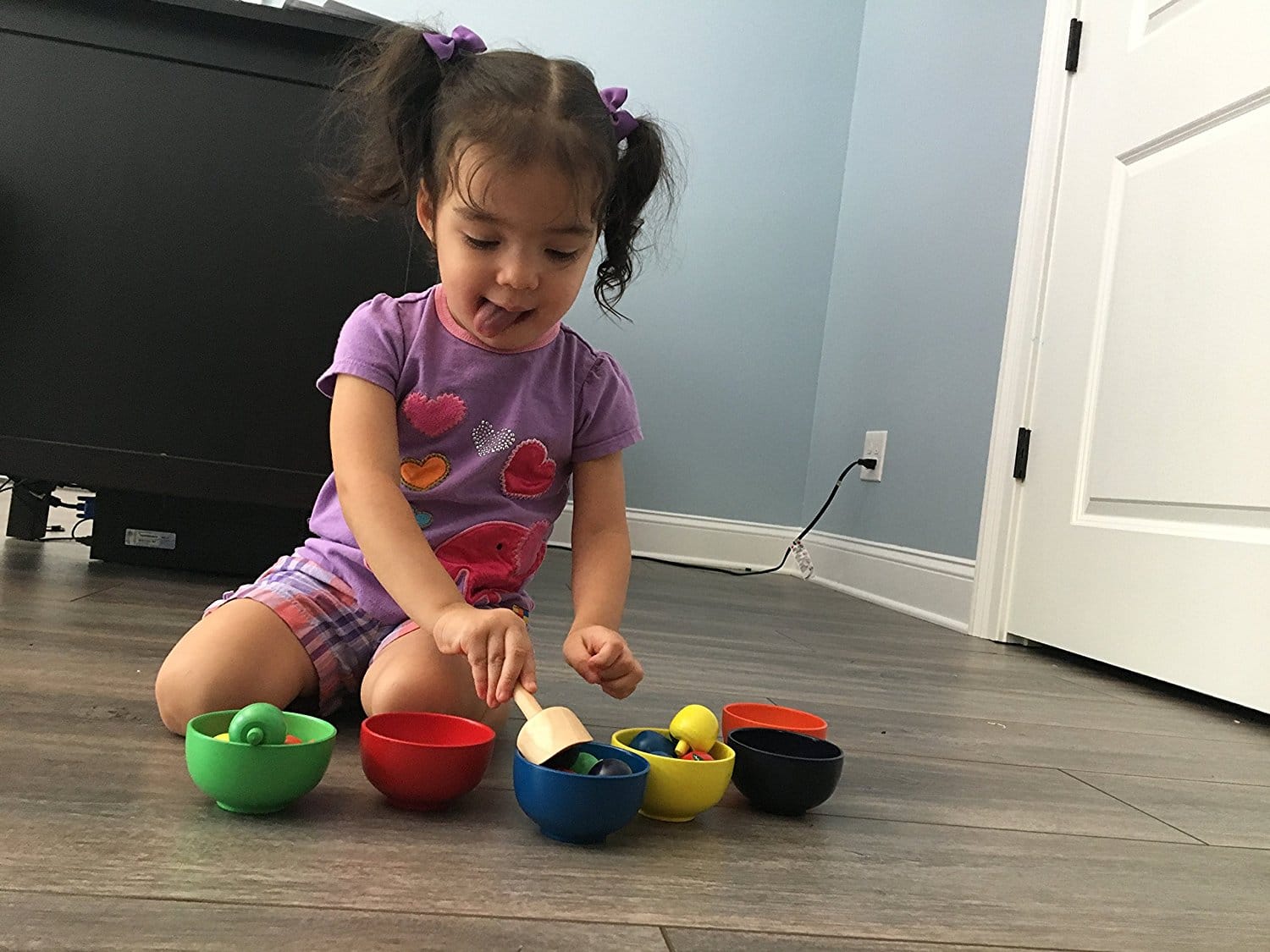 Go for toys that spark your child's imagination and provide opportunities for pretend play
Have you seen the 3 year old milestones checklist?

 3 Year olds love pretend play. It's a great way to develop creativity, all the while promoting language and literacy skills.
When your little one engages in pretend play, they build new vocabulary as they pretend to be different characters, or they act out new situations. Pretend foods and play kitchen sets become a kitchen or a restaurant. Play money and a toy cash register can happily provide hours of playing in a pretend store. Simple toys like plastic animals can turn into a zoo, and blocks, cars, and figures of people can turn into a city. The ideas are endless.
Choose toys that promote collaborative play and social skills
Toys that encourage cooperation between friends are vital for the development of social skills at a young age.
Board games are great choices, and they're easy too. But you're not limited to board games. There are experiment kits, puzzles, and builders too.
These are toys which teach kids about taking turns, sharing and compromise. For older kiddos, these types of toys provide opportunities to learn about working together and solving problems as a group.
You may be interested in:
Parent & Toddler Approved – 2018 Best Puzzles For Toddlers
Find toys that encourage exploration of the real world
Child education experts do recommend that, if you want a smart kid, encourage their understanding of the world. (Read more about that in: Scientifically Proven: How To Make Your Kid The Smart Kid)
Toys that encourage kids to explore their worlds can spark a natural curiosity. It can also stimulate the desire to learn.
A set of binoculars will provide hours of discovery and lots of questions from your 3 year old!
Choose board games that involve math and language skills
Several studies have proven that board games can improve math skills – even for your 3 year old. He/she may not necessarily need to count, but hearing you count will certainly encourage them to do so, too.
When they're playing board games, they also learn how to strategize, which also helps to build cognitive skills.
You may be interested in:
Top 10 Outrageously Fun & Parent Approved Board Games For Toddlers
Note From The Author
Good educational toys for 3 year olds are those toys that capture your little one's attention—and keep it!
There are a lot of "not-so-great" toys out there but truth be told, there are also a ton of great ones… if you look carefully.
Happy playing.
ALL YOU NEED TO KNOW TO RAISE SMART BABIES AND TODDLERS
You don't need to be a teacher, to teach. Here are tons of useful resources to guide you.