The toddler years are a time full of wonder when you have the opportunity to enjoy teaching your child new concepts, and recognizing shapes and colors is one of the most important skills to teach for stimulating your child's development.
The ability to identify a triangle or the color red may seem like simple and basic concepts to you and me, but these concepts truly pave the way for more complicated skills later on. For instance, learning their shapes gives your child a foundation upon which they can build their spatial awareness and mathematical abilities. Color recognition is a basic component of scientific knowledge and the creative arts. When you think about it, your child will use the ability to recognize colors and shapes for the rest of their life.
When To Teach Shapes And Colors?
The toddler years (age 1 – 3) are the perfect time to begin working on color recognition. Although you can begin to introduce these concepts during infancy by using color and shape words in your daily communication, your child is ready to begin saying them back to you once they can talk. For this reason, the years between one and three are perfect for making this new skill a major priority in your family.
Keep in mind, however, that helping your child learn their shapes does not have to take a monumental effort or drain your budget. Just add one or all of these mostly free and fun activities to your daily routine, and you can look forward to watching your child quickly start naming the colors of their shirt or the shapes they see in their environment.
Fun Ways to Teach Your Toddler Shapes
Teaching your toddler shape recognition is as simple as pointing out the basic shapes that exist in their world. In fact, Grace Davila Coates, co-author of "Family Math for Young Children

" suggests using items that are readily available in your home environment to teach your child about shapes. As you do, remember to start with basic shapes such as a circle or square before moving to more complicated ones such as a sphere.
Use these ideas for inspiration to include shape recognition in your daily activities together.
Shapes On The Floor
Grab a roll of tape, and use it to make a large shape on the floor. Squares work best in the beginning, but you can make any shape that you choose as your child's knowledge progresses.
Here are a few fun games and activities to learn shapes:
Have your child use the tape like a road that they can drive their car on. To make sure the lesson sticks, keep using the shape name as you play together. For example, saying, "Wow, your car went fast around the triangle," helps drive home the concept.
Make several shapes on the floor, then you could throw a ball and see which shape the ball falls into.
You could arrange toys around the border of the shape, like legos.
You could have your kiddo put different shaped items into the shapes on the floor. For example, all the square-shaped toys would go into the square. All the rectangular shaped toys would go into the rectangle on the floor, etc.
Become a Shape Detective

Toddlers love mysteries, and you can pique your child's interest by telling them that you are going on a shape hunt. Pick out a shape to search for, and hand your toddler a magnifying glass to really get them in the spirit. Then, help them search for the shape in your house and on a walk outside. If your child struggles with finding the right shape, then give them a cut out shape that they can use for comparison.
Make Sensory Shapes

Engaging multiple senses at the same time is a proven way to help your child retain new concepts.
How about fingerpainting! While this one might get a little bit messy, you can bet that your kiddo will have a blast.
Grab some fingerpaint, pudding or shaving cream, and show your child how to draw a square, triangle and a circle. For very young toddlers, keep it simple by limiting your demonstration to only one shape. If your little one is already pretty good at drawing and recognizing shapes, then add in more. They'll love how fun it is to fingerpaint their favorite shapes, and the tactile experience helps strengthen neural connections in their brain.
Read a Shape Book
Reading together is an effective way to introduce new concepts to toddlers who can use the visual images in the pictures to reinforce their comprehension.
Today, you can find many toddler-level books that talk about shapes. For instance, "The Shape of Me and Other Stuff

," by Dr. Seuss is a classic that you might have even enjoyed as a child. After reading about shapes a few times, you can even extend this activity by making a book about your little one's favorite shape together.


Engaging Toddler Activities for Learning Colors
One of the best things about teaching colors is that they are everywhere. You can use these ideas to help your child begin to associate a name with the colors that they see in their environment.
Celebrate a Special Color Day

Sometimes, toddlers get stuck on a certain color. If your little one keeps mixing up pink with red or can't remember the color blue, then highlight the problem color by making it the sole focus of a special day. As you plan this activity, remember that it works best when you go over the top. If 'blue' is the color, try waking your child up to a bouquet full of blue balloons as you introduce "blue day." Then, serve them a breakfast that fits the occasion, like with blue-tinted milk and blueberry pancakes. You can then help them get dressed in clothes that fit the highlighted color and plan activities that keep the theme going. Your child will love having a reason to celebrate, and they'll have no trouble remembering the color after experiencing it all day.
Talk About Colors at Mealtimes
Some of the most important lessons your little one will learn in life happen during mealtime conversations, and your child is likely already curious about the food that you put on their plate. During lunch and dinner, remark upon the different colors that you see and invite your child to describe the color of their broccoli, carrots and meat. Not only will this inspire you to add different fruits and vegetables to their plate, but your child will also quickly begin to pick up the color names as they associate them with certain tastes.

Make a Pom Pom Color Sorting Game
Sorting objects helps toddlers organize new concepts in their brain, and you will love spending a few minutes putting together this easy game. Take a few empty paper towel rolls and paint them each a different color of the rainbow. Then, scatter some colored pom poms on the ground, and have your child match them to each colored cardboard roll. Once they do, your kiddo can then use kid-friendly tongs to drop them inside. Not only will your little one start to learn their colors, but they'll also build their fine motor skills, too.
Color Their Bath With Fun
Bath time tends to be a relaxing moment for toddlers when they are open to just enjoying some free play. As your child splashes about, consider adding some bath color tablets

to the water to make it more fun. Alternatively, you can give them some bath crayons

and encourage them to name the colors as they draw on the tile. As your child's color recognition progresses, you can use these activities to introduce more advanced concepts such as color mixing and naming their secondary colors.
Create Color Matching Bins Or Trains
For this activity, all you need is colored construction paper. and tape.

For a slightly different feel, you could use a few plastic bins such as the little cartons that strawberries are sold in and some colored construction paper. Cut out squares of the construction paper and put them in the bottom of each bin. Then, have your child find objects in your house that match each color.
They'll love hunting for different items, and you'll love the fact that this game keeps them entertained for a long time. To make it extra exciting, you can even stash a few surprise trinkets throughout the room that your child will love to discover.
Engage Your Child In Color Toys
What is better than learning, while playing?
Educational toys are really great resources because they are fun and yet they educate your child at the same time.
Find toys with primary colors and play with it, all the while using color as you talk. You could say things like: "where are the red apples?"
Toys like these (below)

are open-ended toys because you can play with them in multiple ways. For example, learning colors, learning numbers and counting, sorting, etc. You are also developing fine motor and balancing skills as your toddler picks up the pieces with his/her fingers and balances it on the shovel.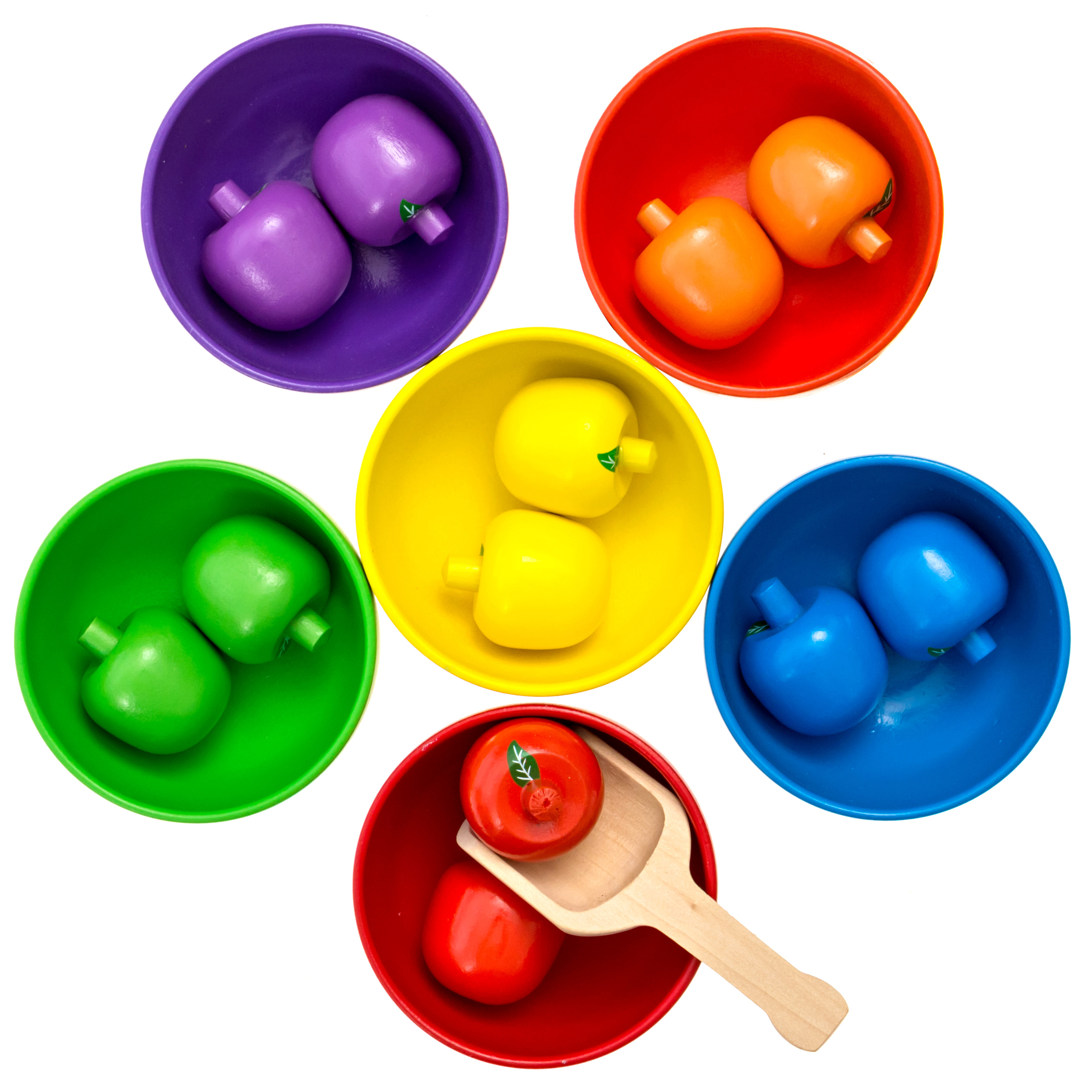 Read Books That Teach About Colors
Children's authors know how to tap into your kiddo's interests, and you can maximize your bedtime story time by using books to teach color recognition. Check Eric Carle's bestselling children's book "Brown Bear, Brown Bear, What Do You See",

or Ellen Stoll Walsh's book "Mouse Paint",

and read it to your child several times. As they begin to become familiar with the stories, then start to pause before saying the color word as you read to give your child a chance to fill it in themselves. Although it may take a few times before they grasp the concept, you'll eventually hear them chiming in with the appropriate color word.
Note From The Author
Once you start noticing, you'll discover that the world is full of shapes and colors that all attract your child's delight. Now that you've got some inspiration for teaching these important concepts, you can look forward to spending each day helping your child open their eyes to the lessons that exist in their environment.
It does not matter if you are a teacher, or not. Teaching shapes and colors do not need to be stressful. It can be fun! Our kids DO learn just by playing!
ALL YOU NEED TO KNOW TO RAISE SMART BABIES AND TODDLERS
You don't need to be a teacher, to teach. Here are tons of useful resources to guide you.