3 Ingredient Recipes To Make The Holidays A Little Easier
You've got stuff to do! You're normally busy but over the holidays, there's even more! The trick is to try to make things easier for yourself. One great example is meal planning and cooking meals that are quicker and easier to make, like 3 ingredient recipes.
Below are 37 great ideas for dinners, desserts, side dishes, and appetizers. However, before you jump in – do keep in mind that when it comes to 3 ingredient recipes, salt, and pepper to taste and garnishes do not count as one of the three main ingredients.
Quick And Easy 3 Ingredient Dinner Recipes
With 3 ingredient recipes like these, you can get dinner on the table so much quicker. This allows you more time to get on with everything else on your long to-do list.
Salsa Chicken

Chicken, your favorite salsa and cheese are all you'll need in this easy crockpot recipe.
---
Maple Mustard Salmon

So pretty and so easy to make this salmon recipe. 
You'll need salmon, ground mustard and maple syrup.
---
Ritz Cracker Chicken

Ritz cracker chicken is one of those popular 3 ingredient recipes that most of us have heard about. A lot of people know and trust it, but there are many variations. Some people use butter to "glue" the ritz crackers to the chicken, some people use eggs, some use ranch dressing.
The most common method is butter – here's that recipe.
---
Mamma's Famous Roasted Chicken

Easy peasy chicken, russet potatoes and carrots. This recipe can be made in the oven or a crockpot.
---
Lazy Lasagna

Lazy lasagne requires store-bought ravioli, marinara sauce, and cheese. Bake it in the oven and you're done!
---
Brown Sugar Crockpot Spiral Ham

These spiral hams are so simple because they usually include a glaze. However, you can jazz it up even more with some brown sugar and mustard.  Here's the recipe.
---
Crockpot Cranberry Meatballs

Frozen meatballs have come a long way – they're actually quite delicious! You can get any brand of frozen meatballs you like.
Add your meatballs, cranberry sauce, and chili sauce into your crockpot. Before you know it, you have a delicious and easy 3 ingredient meal. Here's the recipe. 
---
Sides And Salads – 3 Ingredient Recipes
Roasted Potatoes with Crunchy Onions

Potatoes are a good and reliable starch. Also, most people love 'em, so they're an easy side dish to go to. For this recipe, all you'll need are potatoes, onion soup mix, and olive oil.
---
Twice-Baked Spaghetti Squash

This is a good and hearty vegetarian meal or side dish. You'll need a spaghetti squash, marinara sauce, and cheese. Click here for the recipe.
---
Easy Chili Recipe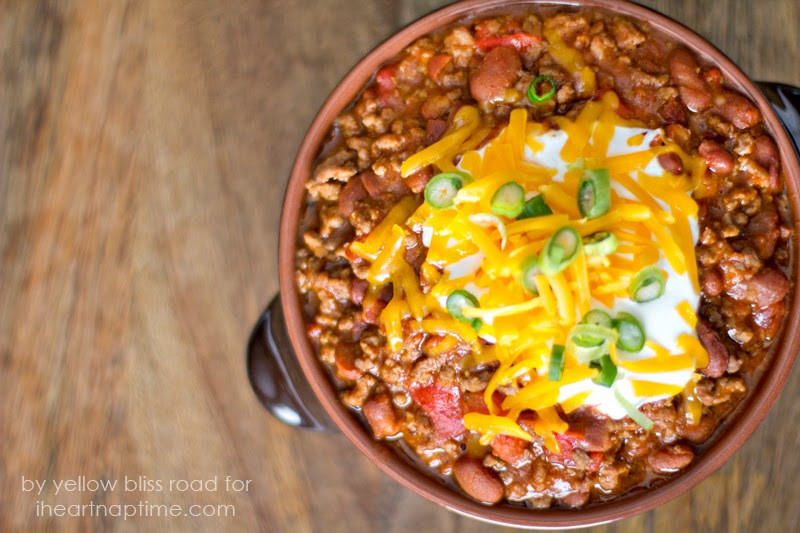 Chili is a great option over the holiday season, and this chili recipe is especially welcome because it's so easy.  You'll need ground beef, beans, and a can of chili ready diced tomatoes. That is it for your basic recipe. Dress up your chili however you like with cheese, sour cream, hot peppers, etc.
---
Cranberry Salad

Cranberries are traditional during the Thanksgiving and  Christmas holidays. This is an easy and super quick way to include it. You'll need canned whole cranberries in sauce, canned mandarin oranges, and chopped walnuts. Find the complete recipe here.
---
Avocado Salad

This salad is wonderfully healthy and perfectly colored in the Christmas green and red! You will need a jar of marinated artichoke hearts for flavor along with your cherry tomatoes and avocadoes. Click here for the complete recipe.
---
Lemon Roasted Brussels Sprouts

Brussel sprouts are often boring but in this recipe, it gets a little lemony kick.
---
Honey Roasted Carrots

Yummy! To make this easy, 3 ingredient recipe, you will need, butter, honey, and carrots. The parsley garnish is optional. Click here for the recipe.
---
Grape Salad

This 3-ingredient grape salad recipe is yummy – you could even describe it as dessert. It has grapes, vanilla greek yogurt and whipped topping for extra sweetness.
---
Buttery Crockpot Ranch Mushrooms

You will need mushrooms, butter and ranch dressing. Parsley is used as an optional garnish. Here's the recipe!
---
Vegan Sauerkraut Salad

This side dish is a beautiful marriage of flavors. It has apples, sauerkraut, and carrots. Complete recipe here. 
---
Holiday Appetizers & Savory Snacks – Easy 3 Ingredient Recipes
Prosciutto Wrapped Brie

The combination of the salty Proscuitto and brie are delightful. It's really easy too! Here's the recipe!
---
Christmas Appetizers – Cranberry Brie Bites

For these beautiful puffs, you'll need only brie cheese, cranberry sauce, and puff pastry. Complete recipe here.
---
Mozzarella, Pepperoni & Olive Bites

How colorful! To stick with the Christmas theme, you could use green olives instead of the pictured black olives. Add your pepperoni and cheese, and you have a beautiful Christmas appetizer with red, green and white colors. Click here for the recipe.
---
Bacon-Wrapped Water Chestnuts

Unless you are a vegetarian, chances are good you will love bacon. That's why bacon appetizers are always a great idea for any party or gathering. You'll need bacon, water chestnuts, and your favorite barbeque sauce. Complete recipe here!
---
Dill Pickle And Cream Cheese Wraps

The crunch of the pickle and the saltiness of the meat is quite delightful. Instructions can be found here.
---
Tomato Cheese Toast

Broiled tomato cheese toast – it is so simple yet so tasty.
---
Sausage And Cheese Croissants

These are so easy to prepare because you will need only sausage, cheese, and canned crescent rolls. Complete recipe here.
---
3 Ingredient Recipes – Christmas Desserts & Treats
Christmas Swirl Fudge

Doesn't this look amazing? It seems hard to imagine that you only need 3 ingredients to make this Christmas Swirl fudge: white vanilla baking chips, vanilla frosting, and green and red gel food colors
---
Easy Christmas Pretzel Hugs

Got pretzels, Hershey hugs and red and green m&m's? Then you can make this delicious treat.
---
Cherry Squares

How beautiful do these look? To make these cherry squares, you'll need condensed milk, candied cherries, and self-raising flour.
---
Christmas Eggnog Ice Cream

You will need an ice cream maker

for this recipe but it truly is a 3 ingredient dessert. You'll need only eggnog, heavy cream and milk.
---
Eggnog Chia Pudding

This recipe is oh-so-Christmas-y! You'll need eggnog, nutmeg and chia seeds. Full recipe here.
---
White Chocolate Peppermint Marshmallow Clusters

You cannot go wrong with white chocolate and marshmallows. Add some peppermint crunch and you have a winner. Click here for the recipe.
---
Holiday Oreo Cookie Pops

The recipe is a delicious treat on steroids. It's Oreos dipped in chocolate, then sprinkled with Oreos.
---
Eggnog Snickerdoodle Muffins

For this eggnog snickerdoodle recipe, you will need cake mix, an egg, and eggnog. Here's the complete recipe.
---
Buttery Shortbread Cookies

Who would have guessed you can make a "from scratch" cookie with 3 ingredients! Butter, all-purpose flour and sugar! Here's the complete recipe!
---
Vegan Low-Carb Peppermint Chocolate Fudge

This low carb, peppermint fudge recipe is also keto-friendly. You will need chocolate chips, almond butter, and peppermint extract.
---
Vegan Banana Bread

With this vegan recipe, you only need cake mix, pureed bananas, and water! How easy!
---
Vegan Chocolate Truffles

This recipe is amazing. It's basically just dates and cacao powder

, (not cocoa). Those to ingredients form your base. You can then coat your truffles as you choose.
---
Crockpot White Hot Chocolate

For your hot chocolate base recipe, you will need milk, white chocolate, and vanilla extract. Additionals like crushed candy canes are optional but oh-so-festively delicious.
IT'S TIME TO GET INTO THE CHRISTMAS SPIRIT!
It's the most wonderful time of the year! Here are lots of fun resources to make this Christmas awesome!
A Festive Home And Holiday Cooking