Baby Bingo – A Classic Baby Shower Game
Baby shower bingo is very popular and one of many fun baby shower games. If you are into printable baby shower games specifically, this would have to be on your list… along with other classic favorites, like baby jeopardy, the Price is Right, baby shower word search and baby shower word scramble.
There are two ways of playing the Baby Bingo game: following the traditional rules of bingo – "baby shower bingo", or adding another baby twist to it, "baby shower gift bingo."
With your Tulamama free baby shower games, you can play either version.
Please be aware that while it is an EASY PREP game, a little bit of preparation goes into playing baby shower bingo. It takes less than 15 minutes but do not leave this task for the day of the baby shower, because you will have your hands full with other things. Follow this easy baby shower checklist to keep track of what you need to do, and when.
How to Play Baby Shower Bingo
This version is the most popular. This is one of many baby shower games for large groups.
(WARNING! There are 52 pages in this PDF. If your group is small, you'd be best advised to play baby shower gift bingo (below) or print only what you need.)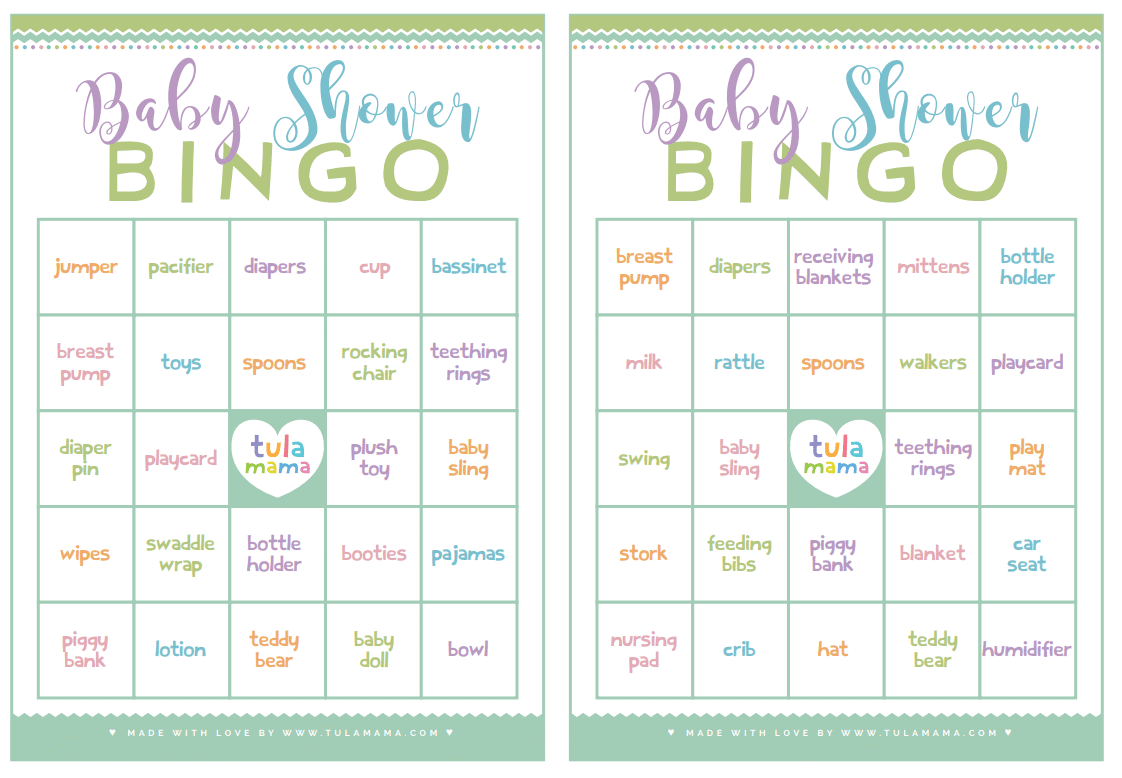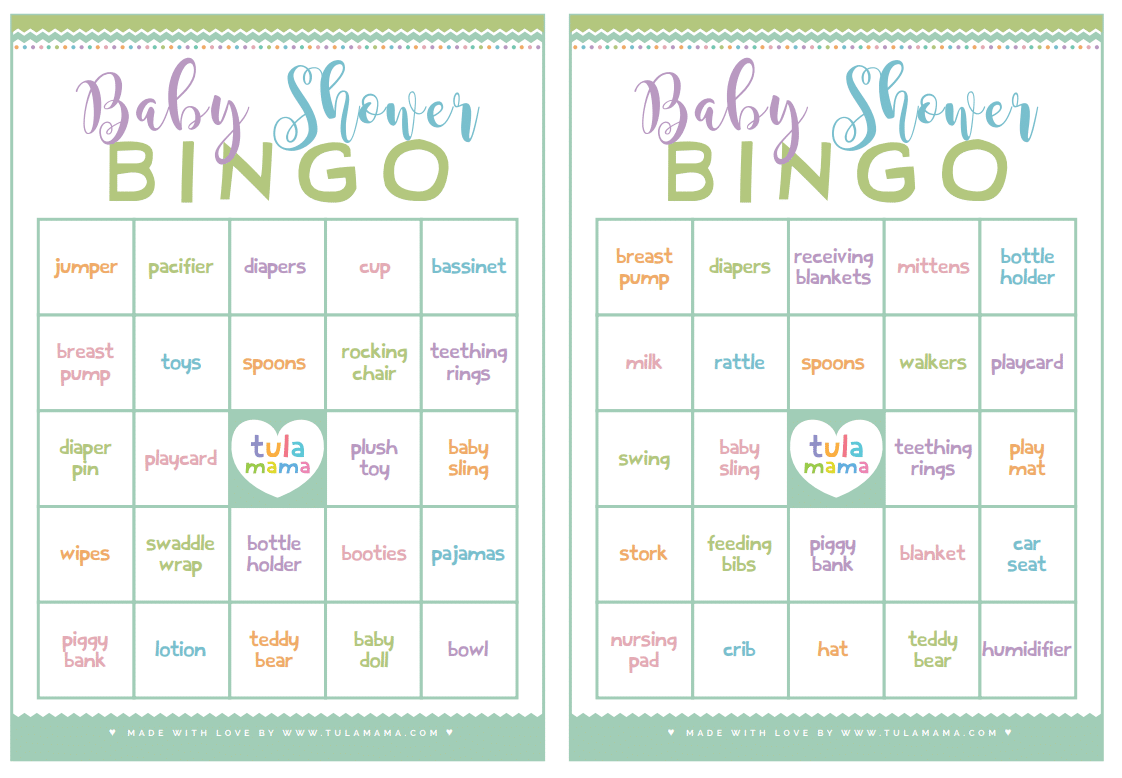 To play Baby Bingo, here's what you will need:
Your baby shower bingo free cards. (If you print it out on cardstock, it will be less flimsy and easier for your guests to manage.)
The last two pages of the baby bingo printout. These have the "bingo numbers" but because we are playing baby shower bingo, it is the names of baby products, not "numbers." Cut them out and place them in…
A hat or small paper bag or small box or anything to store the cut-up bingo numbers. Shake it.
Highlighters, markers, stickers, m&m's or something that your players will use to cover the blocks. Highlighters and circle stickers are the easiest but m&m's are the sweetest! (If you buy a bag of personalized m&m's, you could give each guest 24 to play baby bingo, and use the rest as your baby shower favors. That's like killing two birds with one stone.)
Print one bingo card for each guest. We have prepared enough for 100 guests, with two bingo cards per page. Therefore, if you have 20 guests, print 10 pages. Print what you need and cut them in half.
On The Day Of The Baby Shower, Before You Start The Game…
Give each guest a bingo card, along with m&m's, stickers or markers.
When the game actually starts…

The block in the center is considered free space. Players can already put an m&m there.
 The host/ announcer will pull out a square from the box, and read the word out loud. The guests are given a chance to find that baby item on their bingo card. If they find it, they will place an m&m on it.
The announcer pulls out another word from the box and reads that one aloud. This continues until someone fills a row of bingo squares vertically, horizontally or diagonally. As soon as they do, they yell "BINGO!"
Here's a super short video of how to play a regular game of bingo. Keep in mind that instead of numbers, baby shower bingo has baby products.
How To Play Baby Shower Gift Bingo

Baby shower gift bingo is somewhat similar to regular baby shower bingo, with a few important twists. The idea of baby shower gift bingo is that it is played while mom-to-be is opening her gifts. As she opens a gift, players mark off their bingo cards. Baby shower gift bingo is particularly popular with smaller, more intimate baby showers.
As you'll notice from the image above, there are blank spots in baby shower gift bingo BUT those spots can be filled in two ways:
Before the game starts, the guests fill out the bingo blocks with items that were on the new mom's baby registry. This is the easiest method for playing gift bingo. (Watch the video below to see it in action.) Or;
The host can fill in items on the cards. Don't worry – you won't have to fill out each card by hand – unless you want to. Eve (our designer) has hooked you up. She designed and set up these cards in such a way, that you can type in the baby items before you print. That way, it will look nice and professional.

As you type or write a baby product onto the bingo cards, make sure you are also writing it somewhere else – for your record. These will be your "bingo numbers." Cut them out and put them in a paper bag, box, hat or something similar. Shake it.
From here on, you will follow the regular rules of playing bingo. (See instructions and video above.)
You will likely choose this method if the new mom didn't have a baby shower registry.
How To Prepare for Baby Shower Gift Bingo:
Print your Baby Shower Gift Bingo cards, preferable on cardstock. (This will make it less flimsy and easier for your guests to manage.)
Just like with regular baby shower bingo, you will need highlighters, stickers, m&m's or something to cover the blocks. Highlighters and circles are the easiest but m&m's are the sweetest choice and they can do double duty as baby shower favors!
Before mom-to-be starts unwrapping her presents, give each person a bingo card and a highlighter/ sticker or m&m's.
If you are leaving it up to the guests to write their best guesses for gifts into the bingo cards, you're done at this point. Yeah!
If you decided to fill out the baby shower gift bingo cards yourself, you will follow the same rules of regular bingo – instructions above (under the title: On The Day Of The Baby Shower, Before You Start The Game…)
Here are a few helpful resources to make your baby shower planning a success:
Baby shower activities, not games
I trust you enjoyed this post.
Happy playing!