Free Adorable Baby Shower Advice Cards
This post may contain affiliate links. Please read my
disclosure
for more information.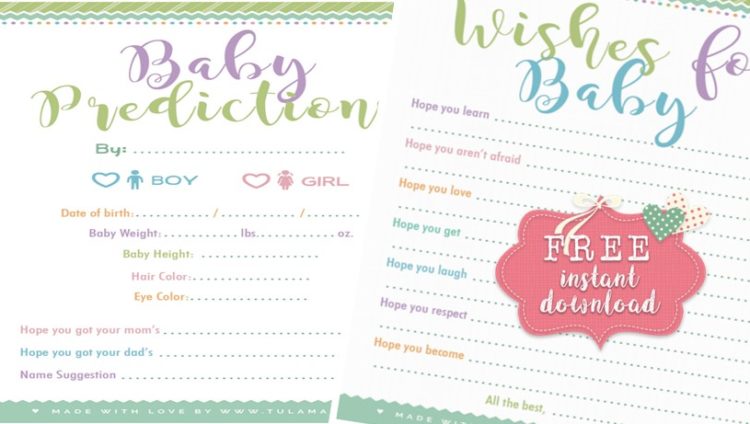 Baby Shower Advice Cards for the Mommy-to-be
Baby shower advice cards are a fun alternative to a traditional guest book. Like a baby shower guest book, guests can write their personal and heartfelt comments, advice and tips.
They're a wonderful baby shower activity – the kind that keeps giving even weeks after the baby is born. The new mom can add her cards to a baby memory box, a baby scrapbook, or a baby shower guest book.
There are lots of different baby shower advice cards available. Some you can buy online at Amazon, plus there are a few that you can download for free online, like ours – see below. They also come in lots of different designs and patterns to suit your style of baby shower theme.
Baby Shower Advice Cards Are A Great Keepsake
It is something the new mom can pull out one night, during a late night feeding perhaps, and read the advice offered to her by those she loves the most. It offers not only advice but encouragement too. But… not all baby shower attendees are mommies, and therefore unable to offer parenting advice. No fear – baby shower advice cards are also available as "best wishes for baby" cards and/or baby prediction cards.
Once everyone is done completing their respective cards, the host could collect the cards and offer it to the mom-to-be, as a gift. Creative baby shower hosts have been known to put the cards into a cute little gift bag or box before offering it to the new mom.
Just in case some guests have the case of "mom brain" – it's a real thing – print out and show them this list to help their memories and creative juices flowing: Real Advice For New Parents From Mom's Who Actually Know.

Baby Prediction Cards
Having the guests complete baby prediction cards is a fun activity as guests share their predictions with one another. Mom can even add a bit of excitement to it, by declaring a winner after the baby is born – the person whose predictions matched most closely to the new baby, wins.
These adorable Baby Prediction Cards are a fun baby shower activity that becomes a timeless keepsake. To preserve them for as long as possible, you might want to print them on cardstock. This makes it last longer and it's easier for guests to write on it too. Keep in mind that guests may be passing it along from person to person, which may crease regular paper.

Wishes for Baby
"Wishes for baby" cards are sweet little messages that can be saved by the new mom. Mom could even add it to her baby capsule if she's creating one.
To preserve them for longer, print them on cardstock if possible.
Click here for unlimited, free copies of Wishes for Baby.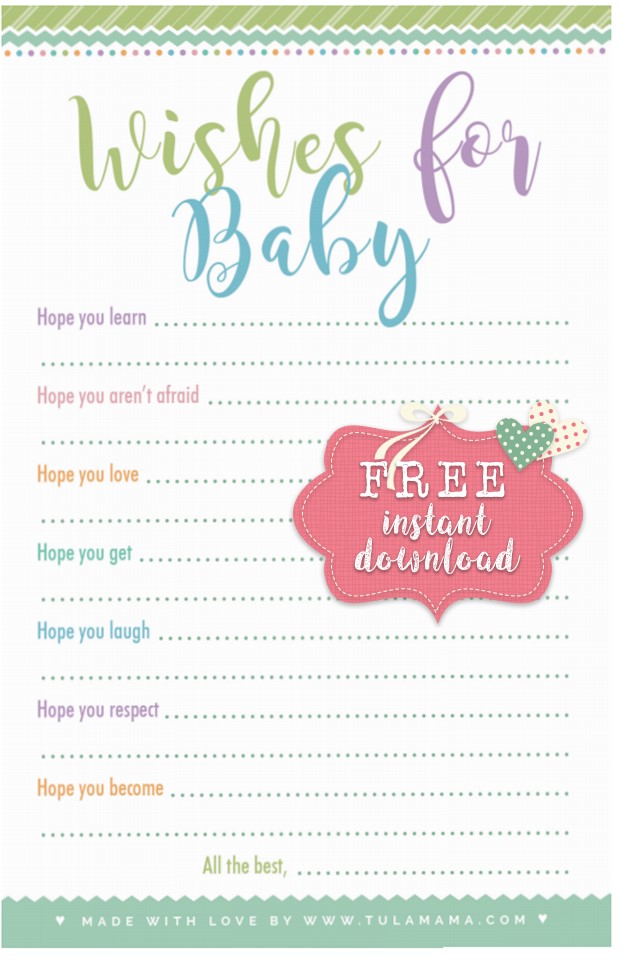 Thanks for visiting. Eve – the designer, is working on even more baby shower cards. We'll be adding as soon as they're ready, so check back soon. If YOU have ideas for cards we should be adding, let us know in the comments.