When it comes to baby showers, there are literally hundreds of themes to choose from. When it comes to baby shower ideas for girls, you can take most of those themes, add a touch of pink or girliness to the theme, and you have yourself a baby girl shower!
Baby Shower Themes For Girls
Having a general theme in mind will help direct your planning. It helps you to focus and it leads you into a specific direction.
When you have a theme, decoration becomes easier. So when you find yourself in a party store, for example, you will know exactly what kind of decorative items to buy, as opposed to buying everything that seems cute. The theme itself guides you and helps you choose colors, baby shower foods perhaps and general decor.
Some of the most popular baby shower themes for girls are:
Princess;
Boho Chic;
Mermaid;
Unicorn;
Woodland (this is a neutral theme but you can include elements to make it a baby girl shower);
Modern Tea Party;
Fashion;
Butterfly;
Paris;
Tutu cute;
What a doll;
Sugar and spice;
Tickled pink;
Little Lady;
Ladybug;
Sew Cute (this is a neutral theme but you can include elements to make it a baby girl shower);
Glamorous Circus;
Foxy mama;
Confetti party;
Mexican Soiree;
All that glitters;
Ready to pop;
Elephant theme (pink or purple);
Owl theme (pink or purple).
But this article is not about a specific theme. Instead, it is about enhancing any theme you have already chosen.
Below are several awesome baby shower ideas for girls, that would complement your existing baby girl shower ideas.
Girl Baby Shower Decorations

Flowers are amazing for decorating a baby shower. If you are on a budget, however, you'd need to go with artificial flowers that you can buy from the Dollar Store or stores like Michaels, etc.
If you are going after this look, all you would need to do is tape your faux flowers onto the wall with washi tape

.
---

Girl baby shower decorations need not be elaborate. Simple and elegant can be very classy and impressive.
Instead of buying items especially to decorate your baby girl shower, consider buying decor items that you can reuse later, like the candles and the baby girl clothes in this image. As for candlesticks, you could buy cheap dollar store candlesticks and spray paint them in your color of choice.
---

Baby clothes and stuffed animals (that will be reused) also make a great backdrop for your baby shower table.
---

Another cute idea of how you can use baby clothes to decorate your baby girl shower.
---

If you are on a budget, this look may seem out of your reach but let me assure you that it can absolutely be pulled off, even on a budget. Why? Balloons are one of the cheapest baby shower decorations you can use. Here is a helpful post you may like: Baby Shower Balloons – An Easy & Cost Effective Way To Create A Fabulous Baby Shower.
---

A-M-A-Z-I-N-G! Right? You can totally do this and it won't cost you an arm and a leg.
Here's what you'll need:
A hula hoop. You can pick one up from the Dollar Store;
Silver ribbon to wrap around the hula hoop, and tape to secure it.
Small balloons in your choice of colors. You could blow them up yourself or pick up a balloon pump from the Dollar Store.
Artificial leaves to place in between the balloons;
"Baby" letter balloons;
Alphabet Toy Boxes – these are currently not available in the USA but you can totally leave them out. It is after all the balloon arch that catches everyone's attention.
Here is a super helpful video on how to make a balloon arch.
Balloons are awesome, and cheap! Below are more cute ideas on how you can use balloons at your baby girl shower.
---

---

---

---

---

Tissue paper pom poms can really enhance a look, and you don't need many either!  You can hang them from the ceiling, on trees, adorn the tables, etc.
---

Image Credit: muslinandmerlot.blogspot.com
Fresh flowers are beautiful but they are also quite expensive, particularly if you are spreading them out around the room.
Faux flowers are the next best thing, but another option is to make your own coffee filter flowers or pom poms. Here is a helpful tutorial on how to make your own coffee filter pom poms.
---

Available from Etsy
Baby shower banners are great and you could absolutely make this yourself.  All you would need is card stock paper

, a color printer

and pretty ribbon. And since you are in control, you could create a banner with a different message, like "welcome baby girl," "welcome little one," "welcome to the world," etc.  But if you cannot be bothered to make your own baby shower banner, this one is available for Etsy.
---
Baby Shower Ideas For Girls – Cakes
Your baby shower cake is an important part of the celebration. It is something many people look forward to… the part of your baby shower that they "ooh" and "aah" over.
Whether you are on a budget or not, you will find this article very helpful: All You Need To Know Before Ordering Your Baby Shower Cake
Now if you plan on making your own baby girl shower cake, below are a few great ideas.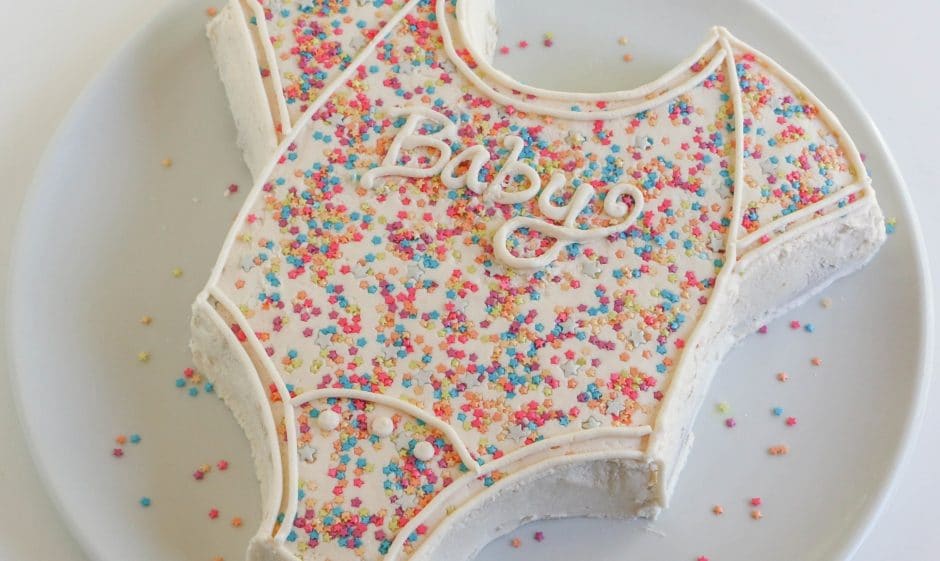 Onesie cakes may seem challenging but it's quite doable. Here are complete step and step instructions on how to make a onesie cake.
---

---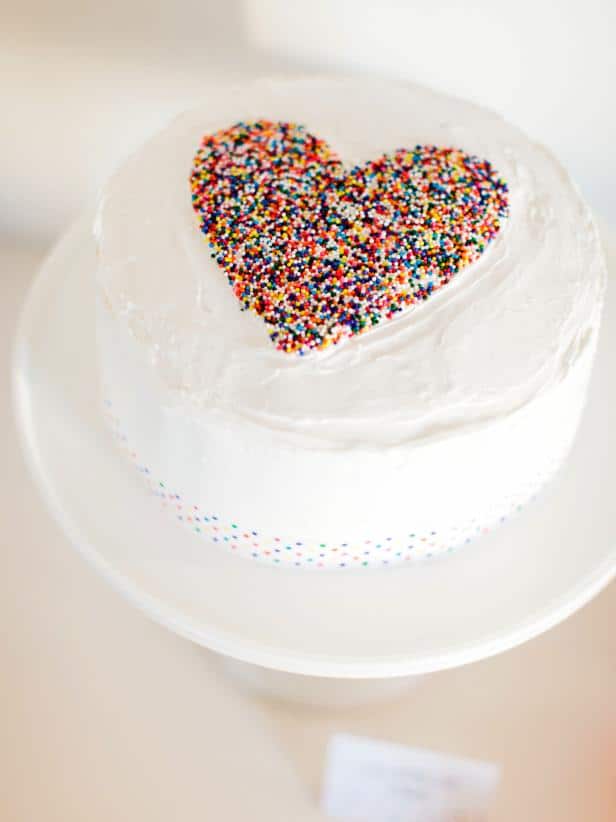 Would you believe this is a DIY cake? Sure is! Here are the instructions. 
---

Adorable, huh? This is a cupcake cake that you can totally DIY.  And once you have put on the frosting, you can add any baby shower cake decoration

.
---
Baby Shower Ideas For Girls – Treat & Drinks

Putting pink candies in a clear bowl does not cost extra. It just looks fancy because the candies are sorted, and they are in "unusual" bowls. (Who said small fish bowls

couldn't be fancy.) Use this idea to add an extra spark to your baby girl shower.
You can also make regular baby shower desserts look spectacular, and therefore more memorable to your guests.
---

Marshmallow ballerinas are so adorable and quite easy to make too. You could offer these as a dessert or as your baby shower favors.
---

Marshmallows Pops look fancy and expensive, and they will certainly impress your guests. Instead of buying these beauties, make them yourself at a fraction of the cost.
---

Rice Krispie treats with chocolate are also an easy DIY dessert.  All you would need is pink candy melts

and Rice Krispie Treats.  Once you have cut up your Rice Krispie Treats, dip half in melted pink candy melts, and lay them on parchment paper to set. For the little extra design, you can drizzle the melted candy melts over the dipped Rice Krispie Treats. Perfect!
---

You could also decorate simple containers with ribbon and fancy stickers. This little added touch makes whatever is inside look extra special.
---

When it comes to baby shower drinks, it is very common to serve pink punch or pink drinks at a baby girl shower, but this is up to you. Here's a helpful post about baby shower punch and refreshments.
It is also quite adorable to serve your drinks in baby bottles, (which you can get at the dollar store), or you can go the traditional (but also very practical) route and serve it in a punch bowl

.
---

---
Baby Girl Shower Ideas – Favors
Baby shower favors are expected by guests. If you are on a tight budget, you don't need to break the bank to come up with great favors.
Below are some awesome favor ideas for a baby girl shower, but if you need even more inspiration, check out these articles:

How adorable! These are old baby food jars (but you could use any small jars

you have access to.) If you would like to replicate these baby shower favors, you'd:
remove the paper labels and clean the jars;
spray paint the lids in the color of your theme;
glue miniature crowns to the lids.
---

To make these little diaper favors, you'll need pink napkins

, pink safety pins

, and candies to fill the little diapers. They're super easy to make – simply fold each napkin into a triangle, fold the corners in so that it looks like a diaper, and tie it with a safety pin. The little baby girl stickers

you can get from Amazon or Etsy. And Viola!
---
Themed favor boxes like these are awesome because (1) they're themed and can fit nicely into your existing baby shower decor; and (2) they look expensive but they're actually quite cheap. A few other themes you can choose from are elephant, nautical, Aztec tribal, and the ever popular woodland theme.
---

---
Baby Shower Ideas For Girls – The Little Details
What often makes a baby shower (or any celebration) special, are the little details.
For us as hosts and baby shower planners, these are often the things we forget in favor of the bigger things. However, it is often the little things that the mom-to-be and/or the guests remember.

Image Credit: howdoesshe.com
Making sweet little baby outfits out of napkins can turn a great baby girl shower into a baby shower that people talk about long after it's over. Why? Because it feels like you took the extra steps to make it amazing. Here is an easy tutorial on how to create little napkin dresses.
---

Baby shower games are a tradition but baby shower activities are a strong contender. And setting up a baby shower headband station is an extremely cost-effective baby shower activity! It's also fun and really useful. Almost everything you need can be found at the Dollar Store or cheap retailers like Walmart and Michaels.
---

A baby shower wreath adds an adorable touch, particularly because it's likely the first thing your guests will see. A tulle wreath is an easy DIY project – all you will need is a wreath form

, tulle

, ribbon, and a decorated letter

.
---
Baby shower guest books are often overlooked because there are now so many other cooler alternatives to a traditional guest book. Sure, that is true BUT a baby shower guest book is not just a book. It is a book where guests can share their wishes for the new baby and offer advice to the new parents. Years after the baby shower, the new mom can still reference her book and read the good-wishes from loved ones. As cool as many guest book alternatives are, they can't beat that.
---

How adorable! And it's really cheap and easy to make, too! You can get a basket like this one from your local Dollar store. Cut up some tulle

, string it through your basket, and voila! A tutu basket.
---

Large wooden letters

are a great, and cheap way to decorate your baby shower. These large wooden letters can be purchased online, from craft stores like Michael's and Joann Fabrics, or your local Walmart. Once you have your letters, you could write the baby's name with it, you could have your guests sign it as an alternative to a traditional baby shower guest book, and mommy can hang it up in her baby's room as great nursery decor.
Creating your letters are easy too! To create the above wooden letter, all you would need is acrylic paint, faux flowers, a glue gun, and ribbon to hang it. Easy Peasy!
---
Note From The Author
Planning a baby shower on a budget is very common. In fact, we have a post titled: Cheap Baby Shower Ideas, and at the time of this writing, that post has already been shared over 32 000 times. If your budget is of a concern, you will find that article very helpful.
Good luck and happy planning.
PLANNING A BABY SHOWER? HERE ARE A FEW HELPFUL RESOURCES:
Hosting or planning a baby shower takes a lot of work. You will be juggling a lot of balls in the air. Use the resources below to make your life A LOT easier.