Baby Shower Ideas For Boys
Coming up with baby shower ideas for boys is not hard at all. There are literally hundreds of themes to choose from. You can take almost any baby shower theme, add a touch of blue or boyishness to the theme, and you have yourself a baby boy shower!
Baby Shower Themes For Boys
If you don't have something in mind yet, do not feel pressured to pick a theme. If you can't make up your mind, "it's a boy" is a great option.
Having said that, having a general theme in mind will help direct your planning. A theme helps you to focus and it leads you into a specific direction.
With a theme, decoration becomes easier too because you will know exactly what kind of decorative items to buy, as opposed to buying everything that seems cute. That's because the theme itself guides you and helps you choose colors, baby shower foods perhaps and general decor.
Apart from "It's A Boy," some of the most popular boy baby shower themes are:
B is for boy
Bee theme
Where the wild things are
Nautical
Lion theme
Winnie the Pooh
Safari
Mickie Mouse
Book/ nursery rhyme
Cowboy
Football/ Baseball/ Basketball
Lamb
Airplanes
Trains
Winter/ Fall/ Autumn/ Summer
Prince
Twinkle twinkle little star
Rubber ducky
Race cars
Construction
Monkey
Star wars
Boho (this is a neutral theme)
Game arcade
Surfing
Hot air balloon
Pea in a pod
Holidays, like Christmas, New Year, Thanksgiving, 4th of July, etc.
Little man, mustache theme
Hollywood
Musician
Alphabet
Rustic
Outdoors
DinosaursPrincess;
Sew Cute
Glamorous Circus;
Mexican Soiree;
Ready to pop;
Elephant theme (blue or boyish colors);
Owl theme (blue or boyish colors).
Zoo
Heaven Sent
Lego
A new adventure
Batman/ Superman/ Ironman/ Spiderman, etc
This article is not about a specific theme. Instead, it is about enhancing any theme you have already chosen.
Below are several awesome baby shower ideas for boys. These ideas will complement any baby shower themes for boys.
Baby Shower Decorations For A Boy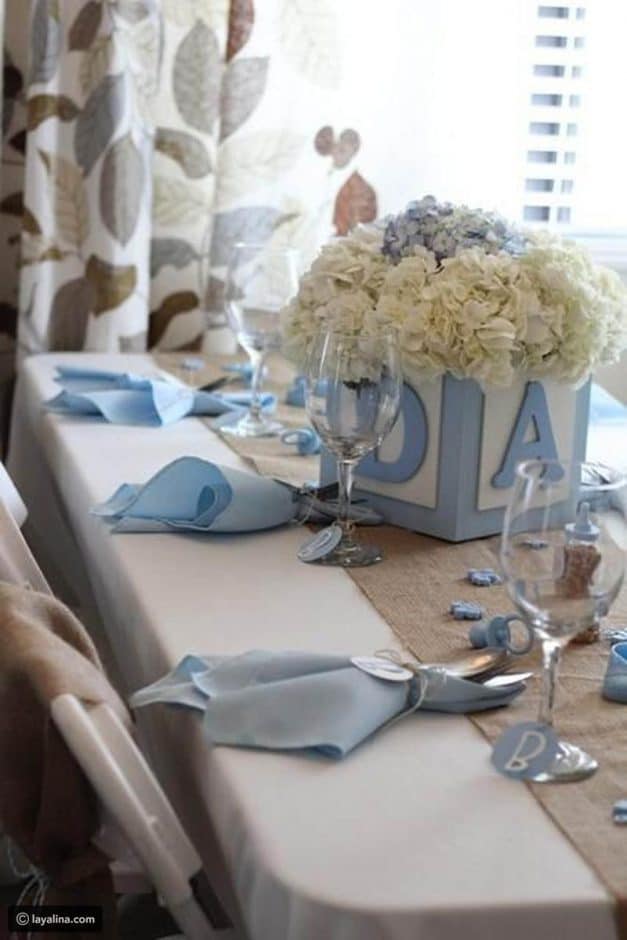 Simple yet elegant.
Notice how a touch of blue and a few small decorative elements like the blue pacifiers

on the table, pull this baby boy shower together nicely. And if you are a DIY kind of person, that baby shower centerpiece is totally doable.
76 Breathtakingly Beautiful Baby Shower Centerpieces
---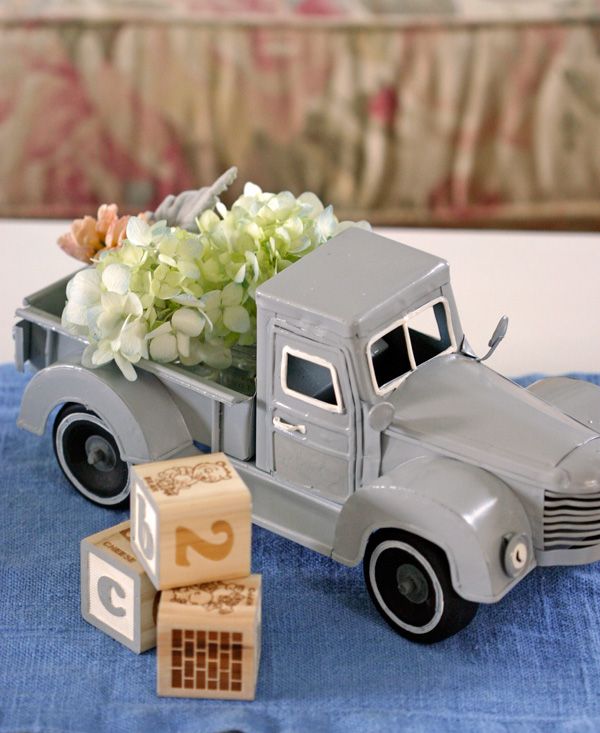 Again, simple decor can be very impactful. And it doesn't need to cost a lot, either.  If you are on a budget, you could add a few dollar store items along with vintage items from Goodwill, and create beautiful baby shower decorations.
---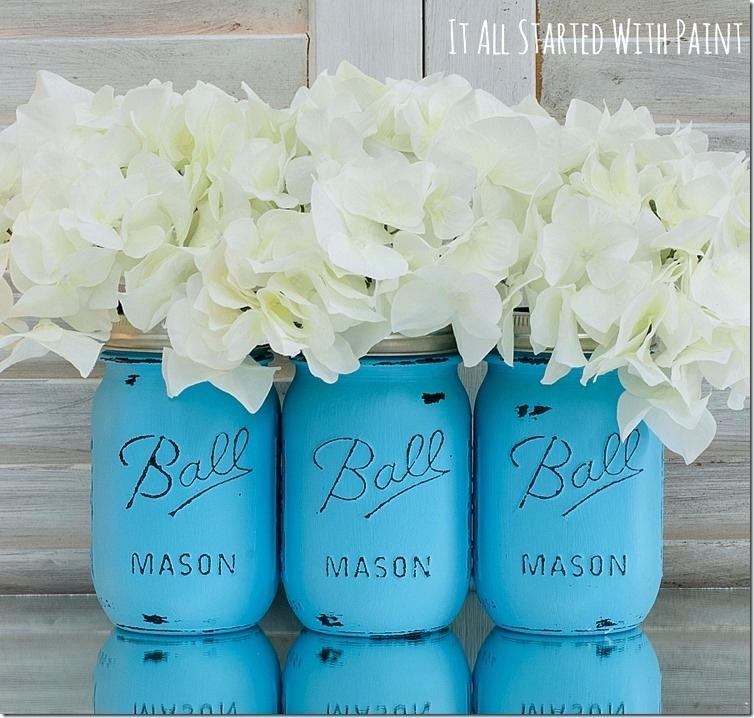 This is another great example of what creativity and a low budget can get you.
To get this look, you will need mason jars

, spray paint and faux flowers. Gorgeous!
---

Instead of buying items especially to decorate your baby boy shower, consider buying decor items that you can reuse later. The baby shower decorations in this image is a great example! The baby boy clothes make great decor and they will be reused, as will the wreath and the diaper cake, which are both made of diapers. The basket on the left side of the image has the baby shower favors.
---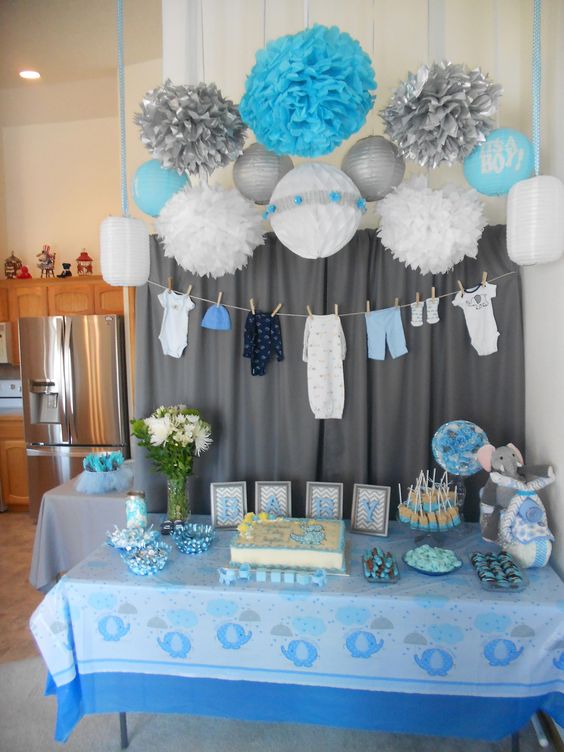 Hanging up baby boy clothes and tissue paper pom poms

is a great idea for a backdrop. It's also a budget-friendly option.
---
If you are looking for baby shower decorations for a boy that will really grab attention, this is it! The table decor is tasteful but your eye goes straight to the bear on the wall.
If you are DIY inclined, you'll need helium, balloons to match your baby boy shower theme, string, a bear, and something to hold up the bear. If you need the easy route, you can buy this from Etsy.
---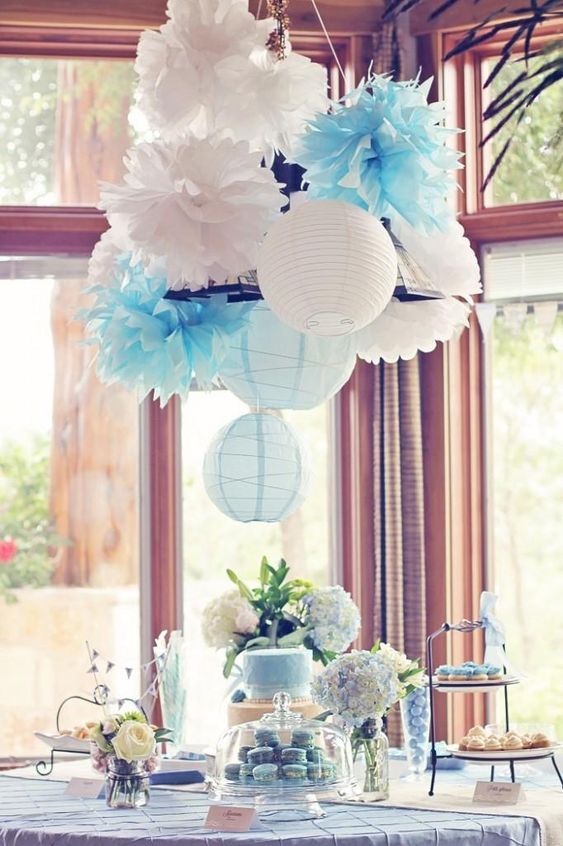 What a simple, yet elegant look. You can pull this off yourself with paper flower pom poms

and paper lanterns

hanging from your chandelier or ceiling.
The table decor is very simple too, with color coordinated treats placed tastefully.
---

If you are looking for baby boy shower ideas that are cute and cheap, this is a great option. You can get almost everything in this picture, for under $20!
You get:
2 x 10″ honeycomb balls
6 tissue paper tassels (4.5×14 inches)
9 paper fans. They come in 3 sizes. You get 3x 12″, 3x 8″ and 3x 6″
"It's a boy" banner, 9.8 feet across
---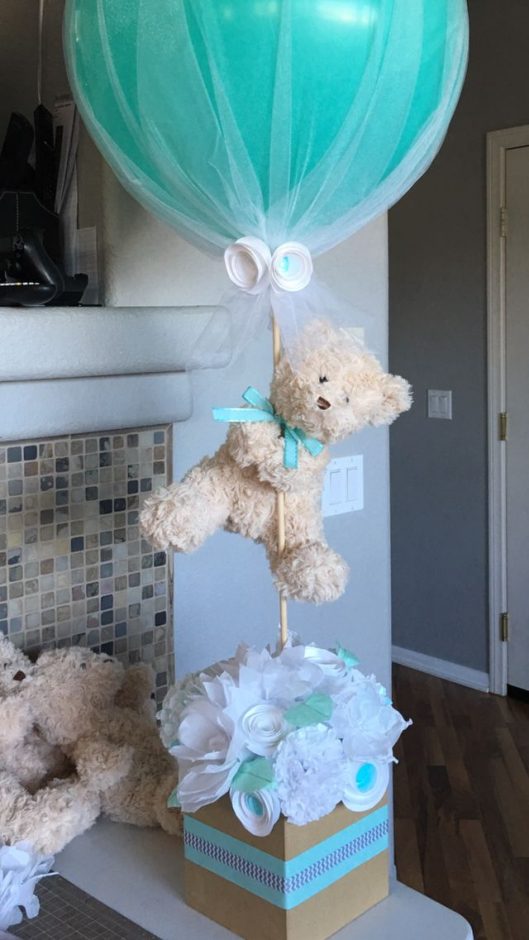 What a great baby shower centerpiece!
If you are a DIY kind of person, you can even make this one yourself. You'll need:
a big balloon in your main theme color;
white tulle to cover the balloon, (make sure it is wide enough to cover the big balloon);
a long dowel rod;
a light teddy bear. Try to get a teddy bear in a color that complements your theme colors;
Faux flowers. You can get these at the dollar store too. Do try to get colors that will complement your theme;
A square gift box.  You'll need to put something in the box that will securely hold the dowel rod. One option is to cut a piece of plywood the same size as the box. Then drill a hole the same size as the dowel. Fit your dowel inside the hole so that it's secure. Add something heavy to ensure that it stays in place. Next, add your faux flowers.
Use wrapping paper and washi tape (that complements your theme) to decorate the box.
---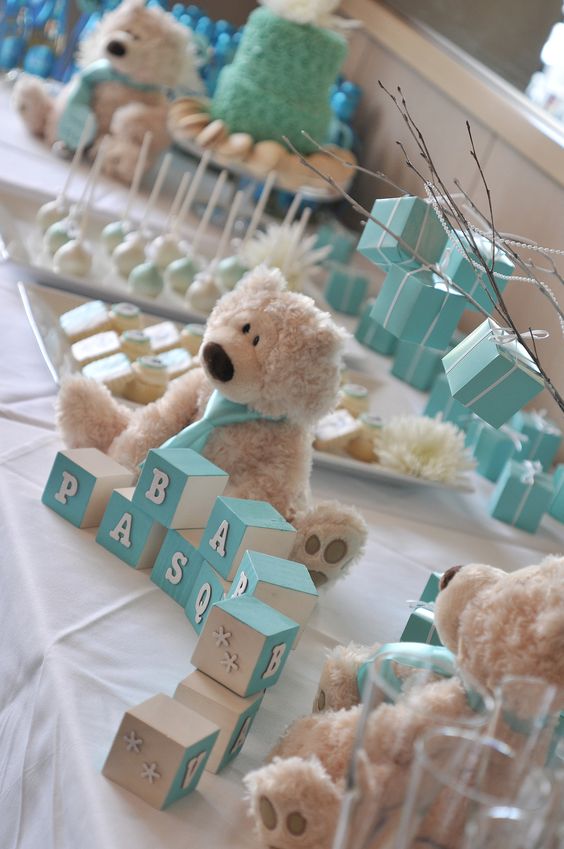 This is a "Tiffany Blue" Baby boy shower with two main colors – tiffany blue, and white. (The brown of the teddy bears complements those two colors nicely.)
This can be an easy setup for you also, and it need not be expensive either. "Tiffany Blue" screams expensive but you can absolutely do this on a budget. Tiffany Blue favor boxes can be had for less than $15

, teddy bears are relatively inexpensive too, and you can spray paint cheap wooden blocks in the Tiffany Blue color

to create a similar look.
---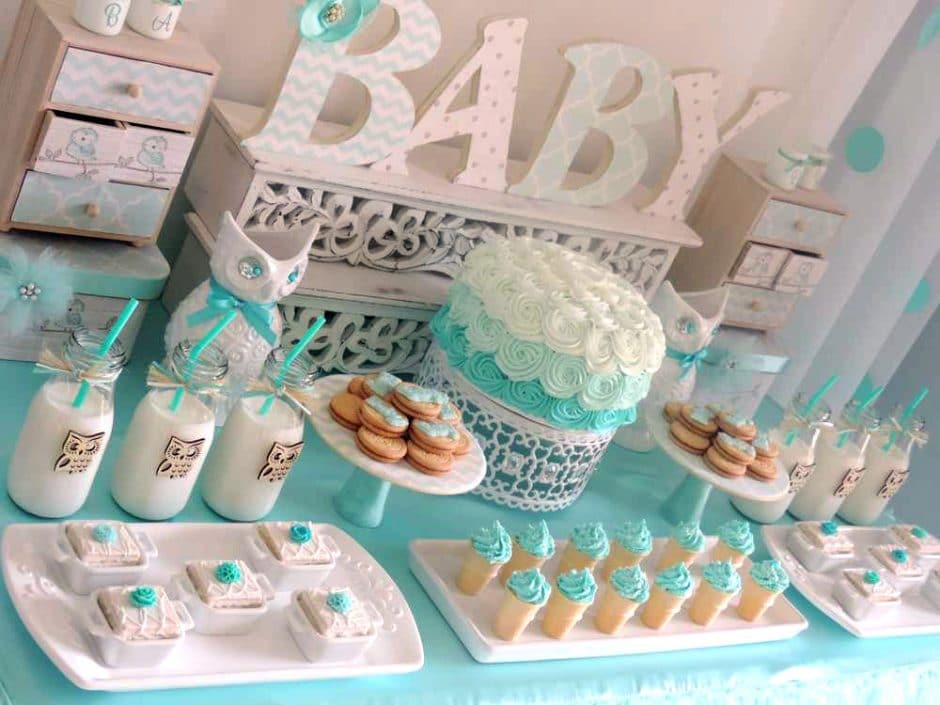 This is an owl themed baby shower but you could do something similar with any baby shower boy theme.
And did you notice the wooden letters in the back? They are covered with scrap paper. You can totally do this yourself. Here's a handy video to show you how to decorate wood letters with paper. 
---

This is another great example of how paper flower pom poms

can really pull things together. The look is complemented with those little paper garland circle dots

. Foods, treats and drinks are also beautifully placed with the bigger items in the back, and smaller items in the front.
What's important to notice here is that in terms of colors, everything blends together very nicely. The food, the plates, the napkins, and the decor is either green, blue or white.
---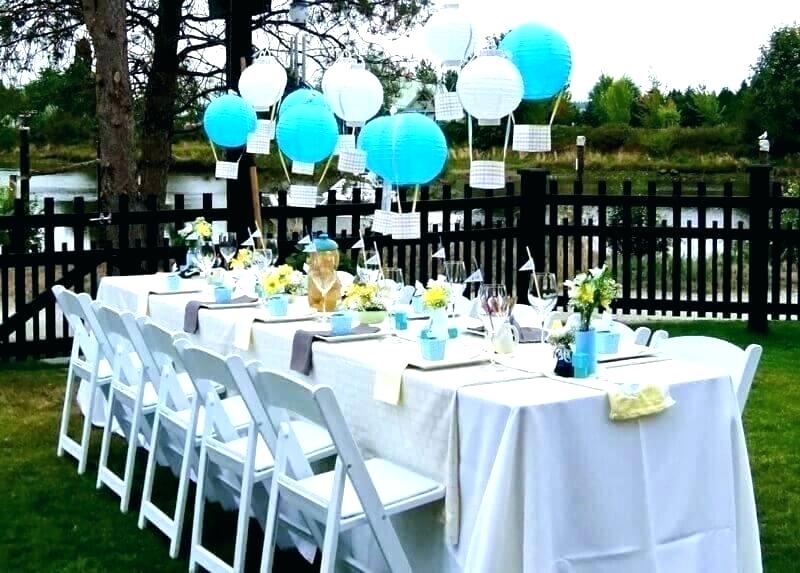 These little hot air balloon decorations are so adorable. You can make them yourself with little Chinese lanterns

, mini baskets

, and those flameless, LED tealight candles

. Here is a super short video on how to make hot air balloon decorations.
---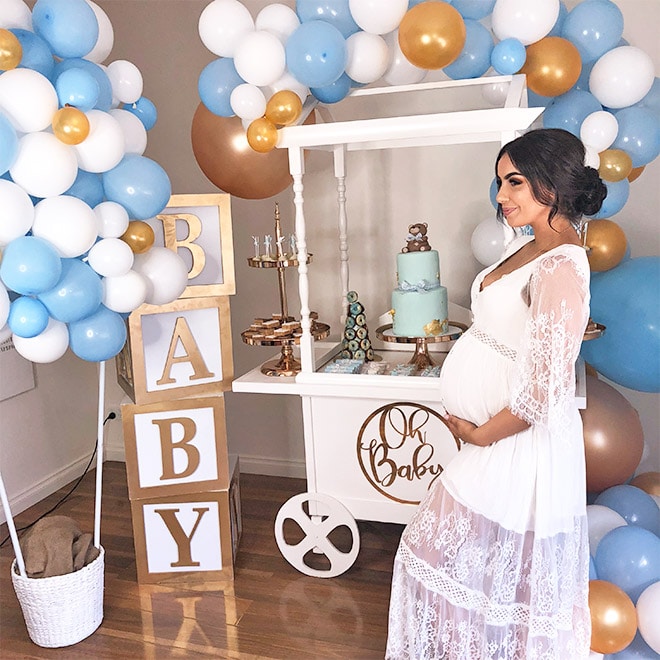 Balloon arches are so pretty, and they are sooooo cheap to make, too. Decorating with balloons is definitely the way to go if you are on a budget, and you are decorating a baby boy shower. Here is a super helpful video on how to make a balloon arch.
---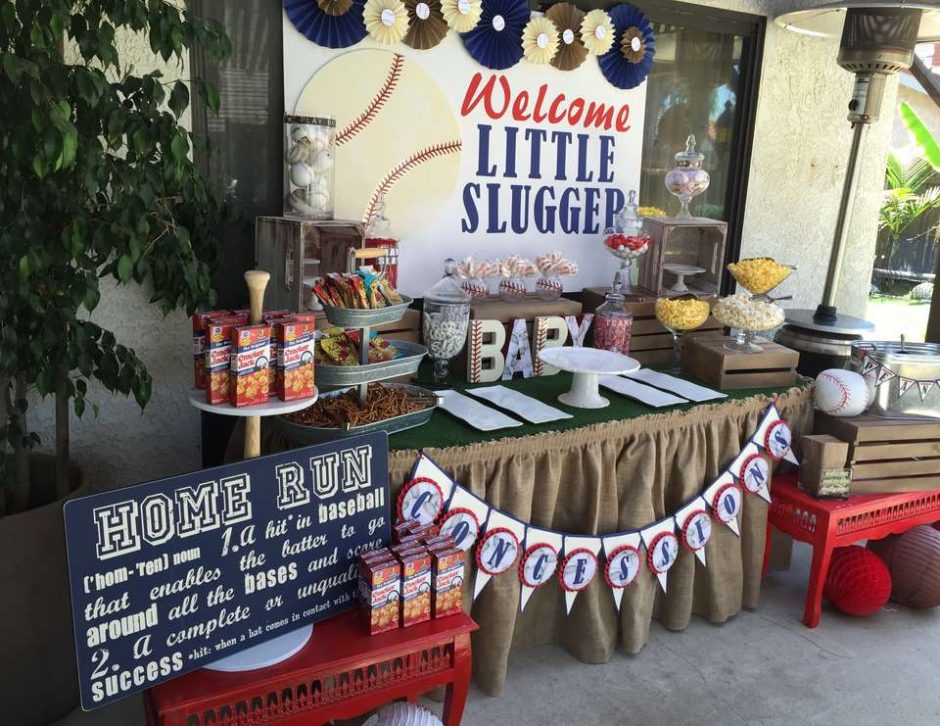 Sport is a great theme for a boy shower.
If you go this route, you'd want to bring in as many elements that are specific to your chosen sport. For example, popcorn and pretzels are common at a baseball game. If you are hosting a football party, you may consider serving chili, hotdogs, etc.
---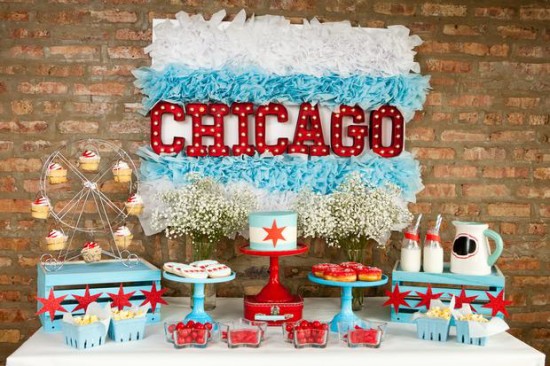 You could also celebrate a city or place with your theme. This is a great idea, particularly if there is a city that is special to mom and dad.
Your baby shower decorations could include elements that are specific to that place. For example, you could serve Philly cheesesteak for Philadelphia, Tacos for Austin, Po'boys for New Orleans, Crab for Seattle, deep dish pizza for Chicago, etc.
---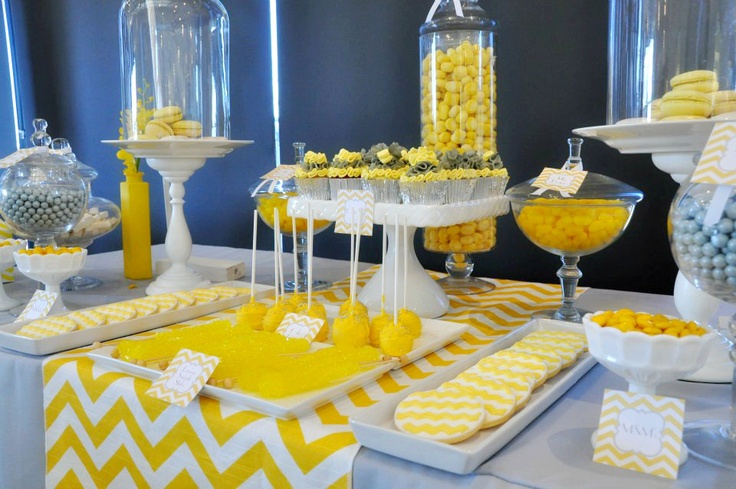 These decorations are great for when you don't necessarily have a baby shower theme in mind, but you do have specific colors in mind. Find foods that are those colors, place them in white bowls or transparent apothecary bowls

, and decorate with your food.
Budget-friendly tip – you can use wrapping paper as table runners.
---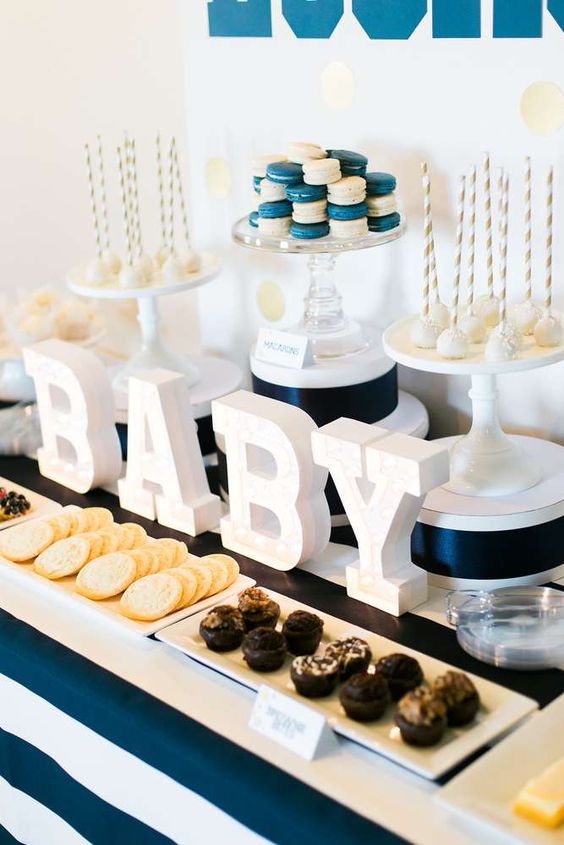 How simple and adorable! You can totally do this yourself with a blue and white striped tablecloth

and white serving dishes

. And did you notice how they elevated the white cake platters

in the back with decorated round boxes?
As for the "baby" signage – you can get big wooden letters

, (around 12 inches), and spray paint them white. Viola!
---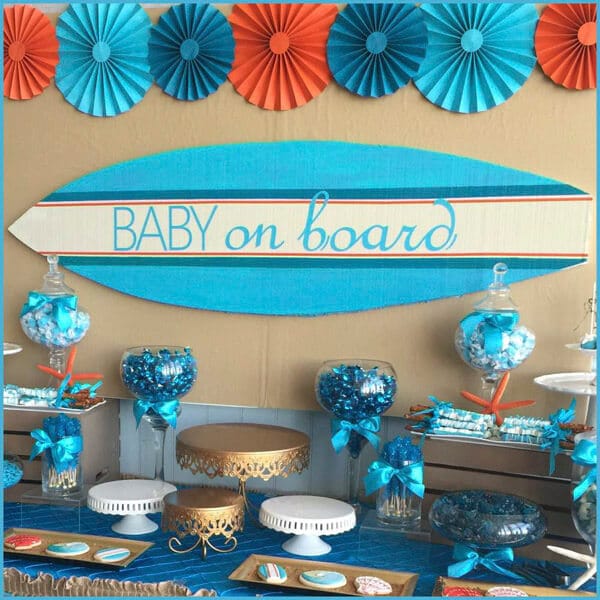 This is great baby shower decorations for a surfing or beach theme, and you could decorate in whatever colors mom-to-be likes.
You could make those paper fans

in different sizes. As for the "surfing board," you'd need a big piece of cardboard to decorate. Everything else is fairly simple with glass apothecary jars

and color-coded treats that match your theme.
---
This is another "baby boy shower in a box" setup. With this package, you get:
6 Paper Ball (2 white, 2 light blue, and 2 darker blue)
1 x 13 inch "OH BABY" foil balloon set.
"It's A Boy" banner ( blue and white, with silver foil printing and 2 glitter hearts)
Tassels 
The items on the table are not included in this package.
---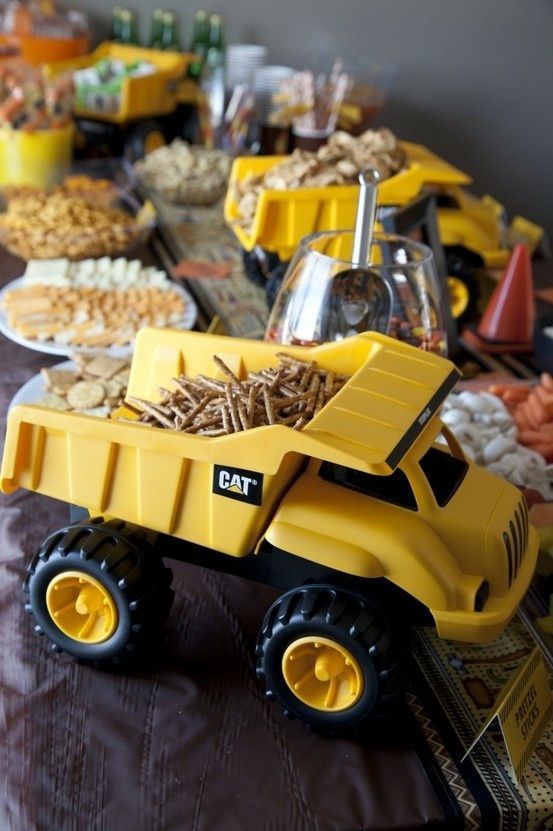 Using little dump trucks to serve food! What a great idea for a "Construction" themed baby shower.
---
Baby Shower Treats For A Boy Shower
When it comes to baby shower foods, the sky is the limit on what you can serve. However, what makes a baby shower stand out a little more, is if your foods match the theme or the shower colors. And since we are talking baby boy showers, many people do expect "blue" or boyish colors.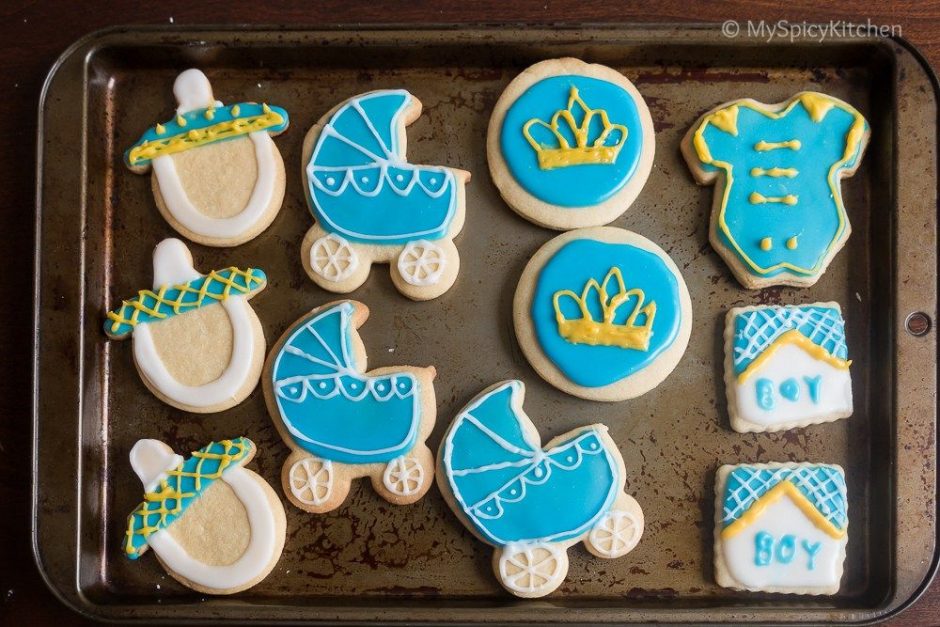 ---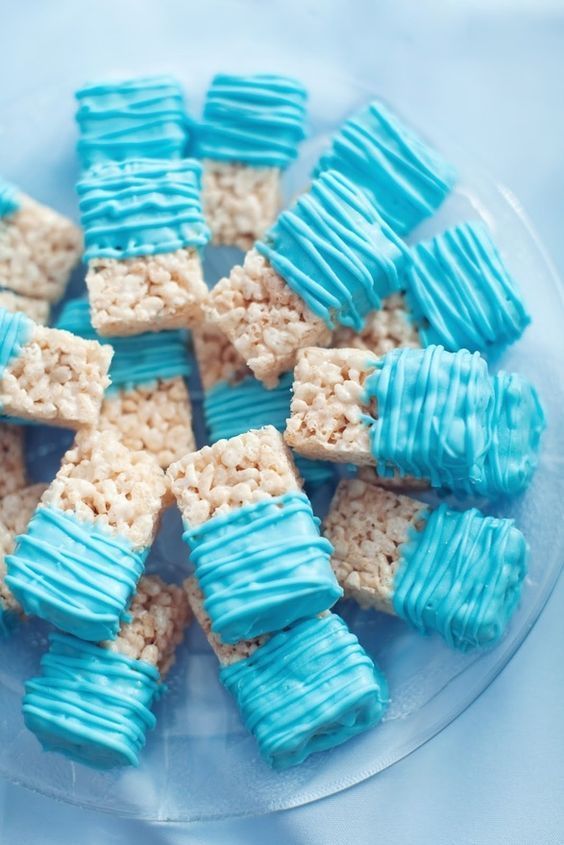 Rice Krispie treats with chocolate are an easy DIY dessert.  All you would need is blue candy melts


and Rice Krispie Treats.  Once you have cut up your Rice Krispie Treats, dip half in melted blue candy melts, and lay them on parchment paper to set. For the little extra design, you can drizzle the melted candy melts over the dipped Rice Krispie Treats. Perfect!
---

Image Credit: simpleandseasonal.com
Little Peanut cookies are adorable! You use pre-made peanut butter sandwich cookies, then dip half into blue chocolate candy melts

. (Nicole from Simple Seasonal made a video tutorial – Click here for full instructions.)
---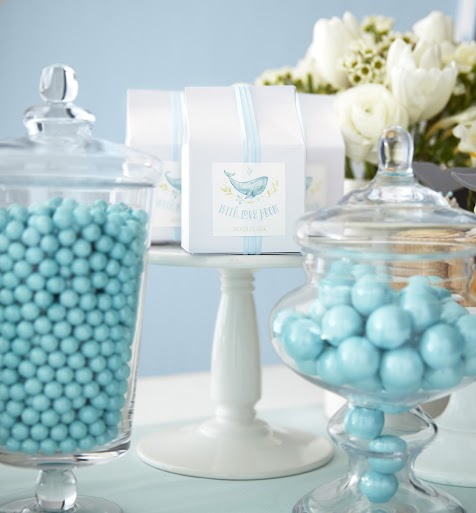 Simple AND Elegant! If you like this look, fill a few glass apothecary jars

with candy that matches the color of your baby boy shower theme. 
---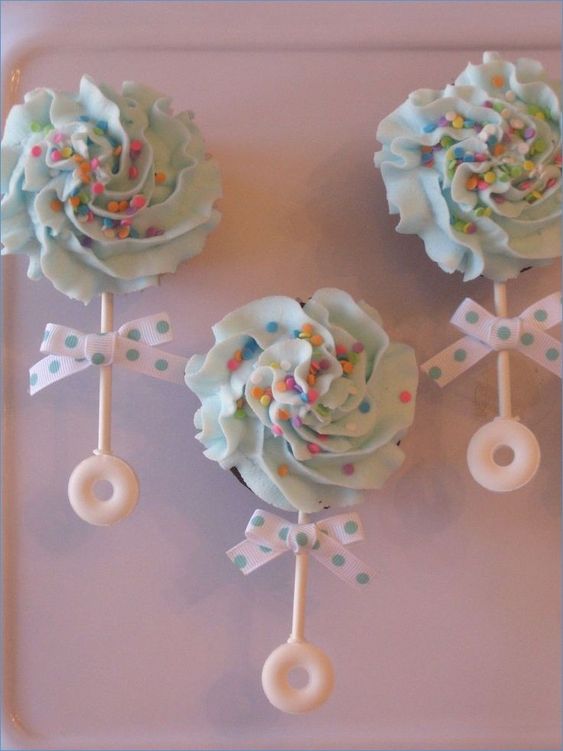 These are little cupcake rattles!
To make these, you will need to:
glue lollypop sticks to white lifesaver candies. (Instead of lifesavers, you could also use soft, gummi type candies like gumdrops.);
Tie a little bow around the lollypop stick;
Using a toothpick, poke a hole into the side of your frosted cupcake;
Stick the other end of your lollypop stick into the hole you have just created in the cupcake;
Viola! Cupcake rattles.
---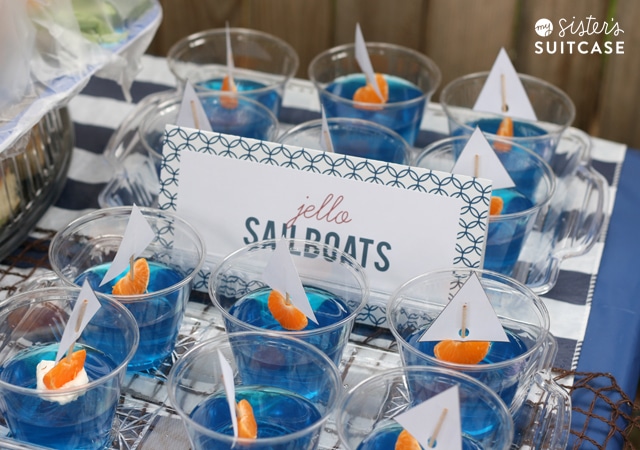 This is a great idea if you are hosting a nautical themed baby shower.
Jello is a great option if you are on a budget because most people like jello, it's easy to make, and it's cheap too!
You could also layer different jello colors (that match your theme) in transparent plastic cups

. The trick is to layer one color at a time, have it set, then layer on the next color. It is quite time consuming but it's pretty when it's done.
---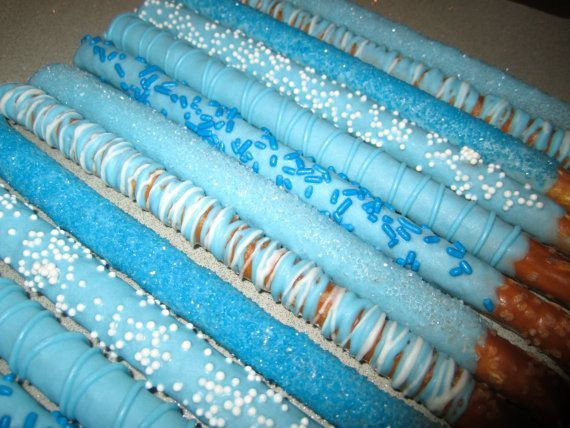 These are chocolate dipped pretzel rods. It's another baby shower dessert that you can make yourself. All you will need are pretzel rods

and blue candy melts

. Once your candy melts are melted, dip your pretzel rods in it, then lay it on parchment paper to set. If you are planning to add any embellishments like sprinkles, add it now before the chocolate sets.
---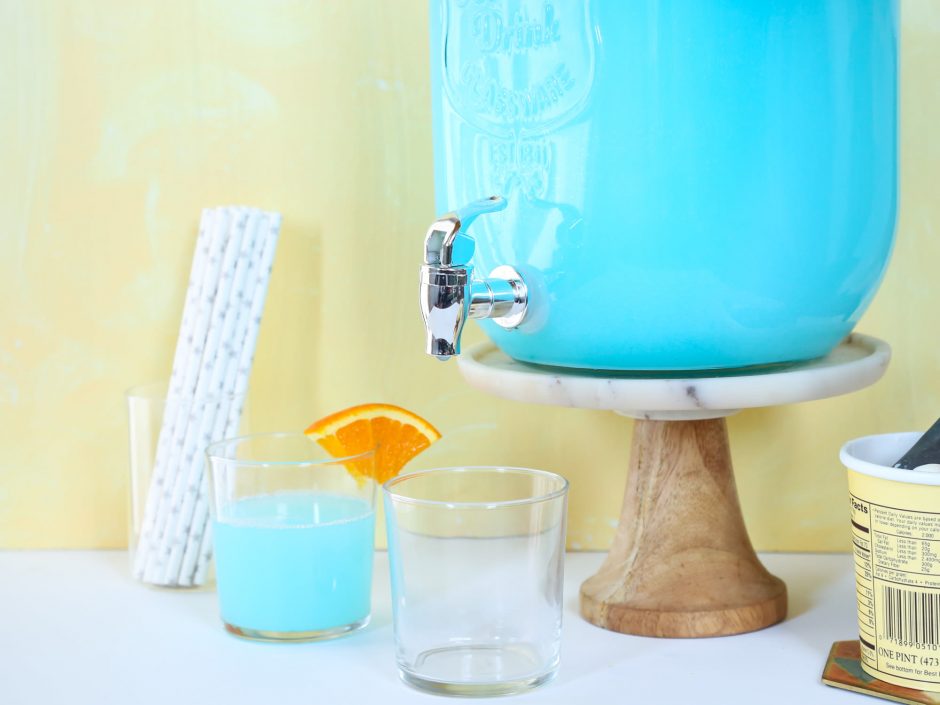 When it comes to baby shower drinks, it is very common to serve blue punch or blue drinks at a baby boy shower. However, you can serve whatever you like.
If possible, it's also a great idea to serve drinks that match your baby boy theme. For example, if you are having a Woodland theme, you could serve "pond water," or if you having a nautical theme, you could serve "ocean water."
---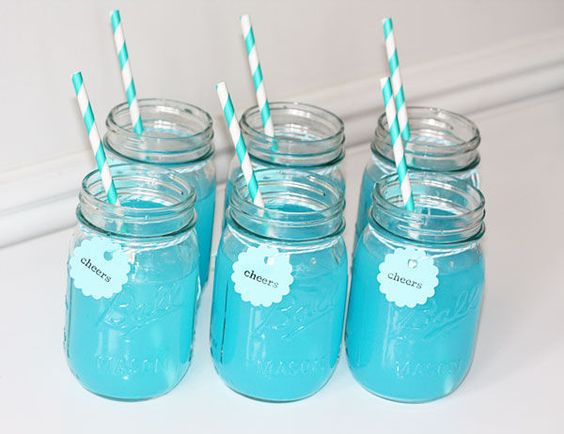 It is also really adorable to serve your drinks in mason jars or baby bottles

.
---
Baby Boy Shower Favors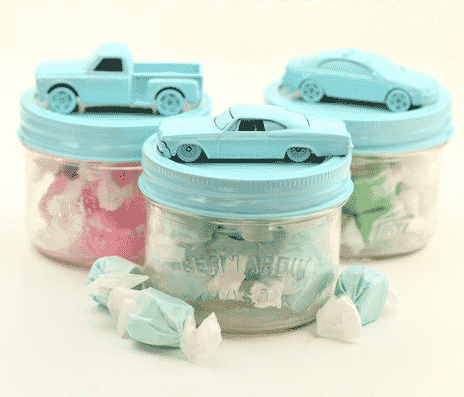 How cute and unique! These are little mason jars

. Their lids and the little cars have been spray painted to match the color of the baby boy theme.  Once the paint is dried, you can glue the little cars to the lids, and fill the mason jars with candy of your choice.
This is a budget-friendly baby shower favor because mason jars

are cheap, and those little Hot Wheels cars

can be purchased for under a Dollar each at places like Amazon.
---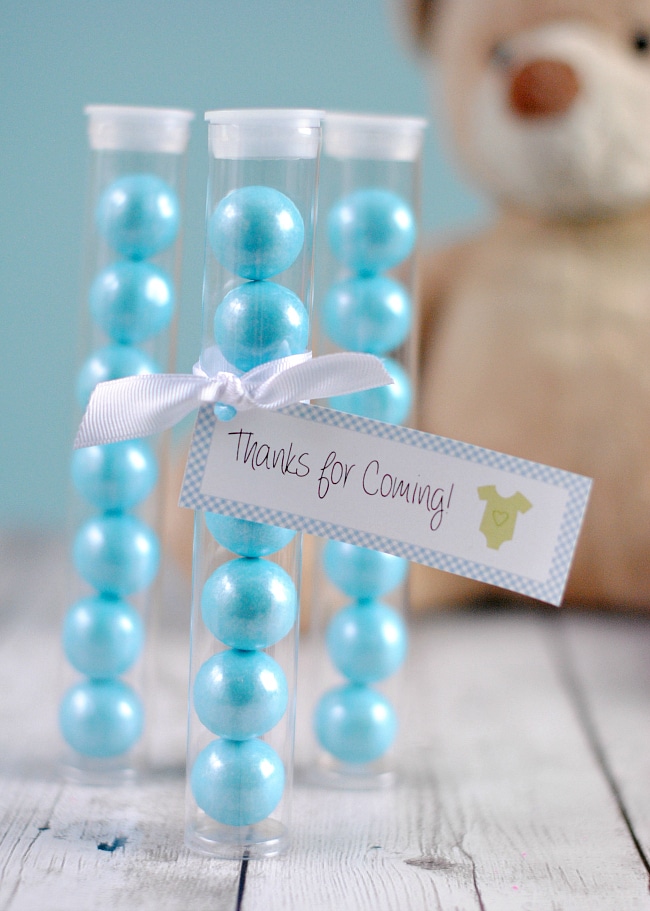 Another simple yet adorable baby shower favor. All you'd need for these are plastic tubes

and blue gumballs

. You could also add little "thank you for coming" stickers

or tags with ribbon.
---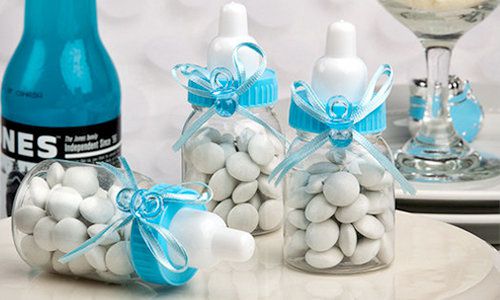 These are little plastic baby bottles

filled with candy. These baby bottles are not meant for babies, but rather for baby shower favors and crafts. They're great because this is an easy and cheap baby shower favor to create.
---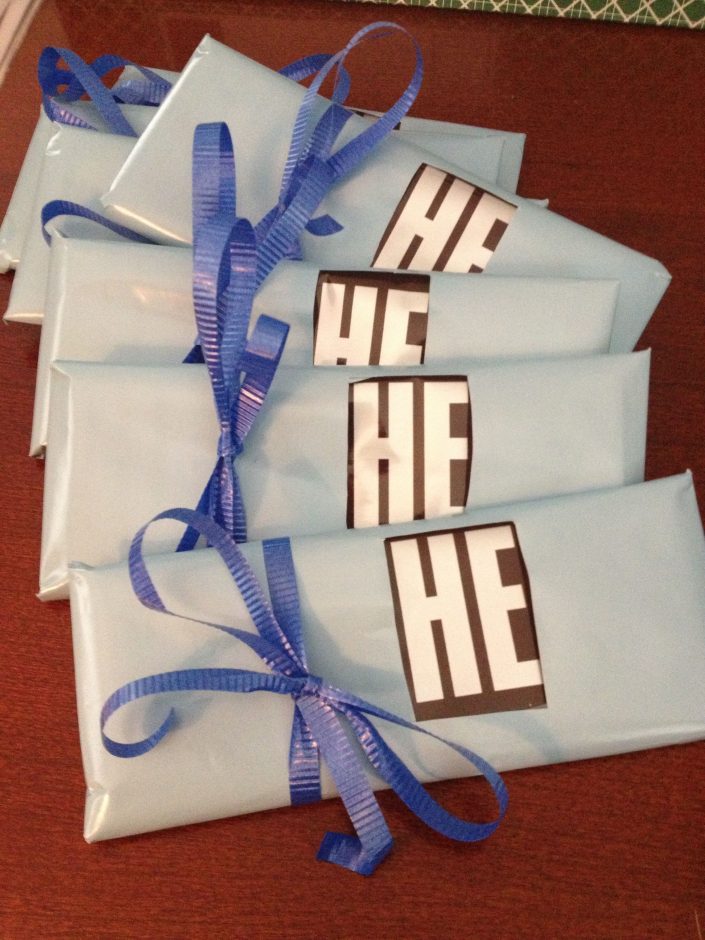 Hershey

Bar Favors! These are quite common but still cute. If you are having a baby boy shower, you leave the "he" out and if you are having a baby girl, you leave the "she" out. It's fun, easy to prepare and sweet too!
---
Themed favor boxes like these are awesome because (1) they're themed and can fit nicely into your existing baby shower decor; and (2) they look expensive but they're actually quite cheap. A few other themes you can choose from are elephant, Aztec tribal, and the ever-popular Twinkle twinkle little star theme.
---
Baby Shower Cakes For Boys
Your baby shower cake is an important part of the celebration. It is something many folks look forward to. It's the part of your baby shower that they "ooh" and "aah" over.
Whether you are on a budget or not, you will find this article very helpful: All You Need To Know Before Ordering Your Baby Shower Cake
If you plan on making your own baby boy shower cake, below are a few great ideas.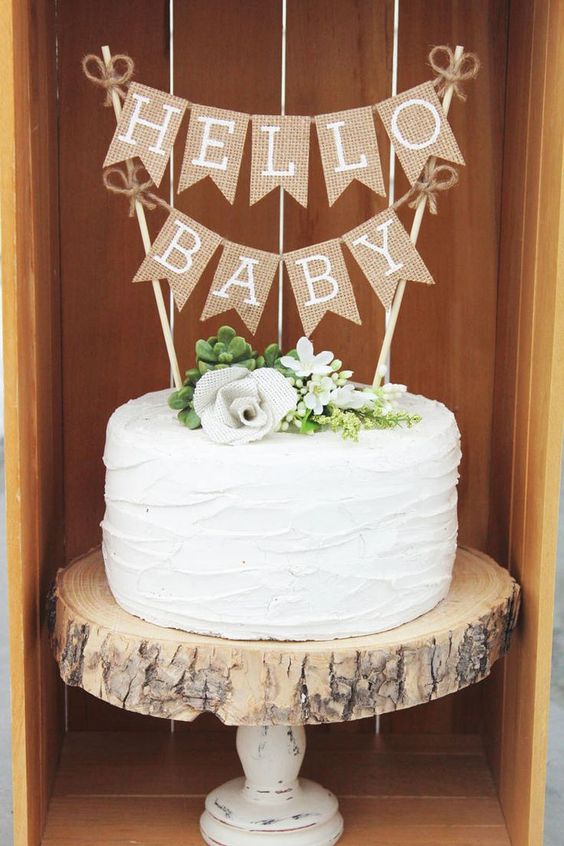 Gorgeous in its simplicity.
Most home bakers can make a simple cake like this one. All you'd need to make it gorgeous is a cake topper and pretty flowers as decoration.
This particular cake topper is a bit pricey but you can get equally nice cake toppers from Amazon.

---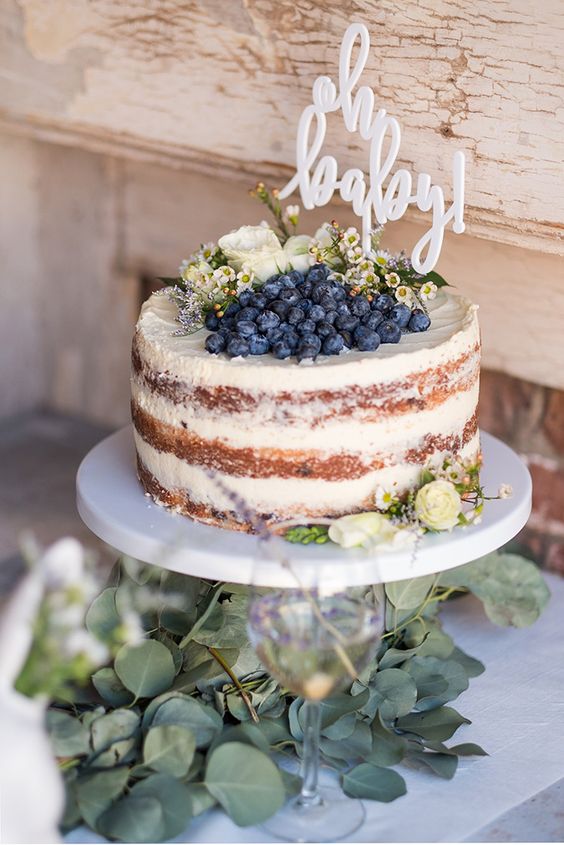 Another simple, yet elegant baby shower cake that you can make at home.
All you'll need is a cake topper, and you can decorate with fruit and flowers.
---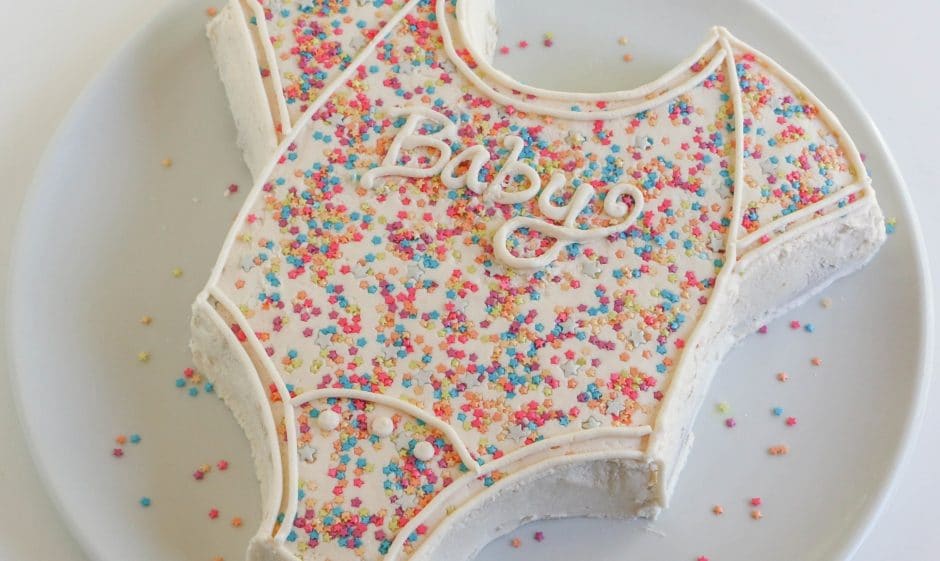 Onesie cakes may seem challenging but it's quite doable. Here are complete step and step instructions on how to make a onesie cake.
---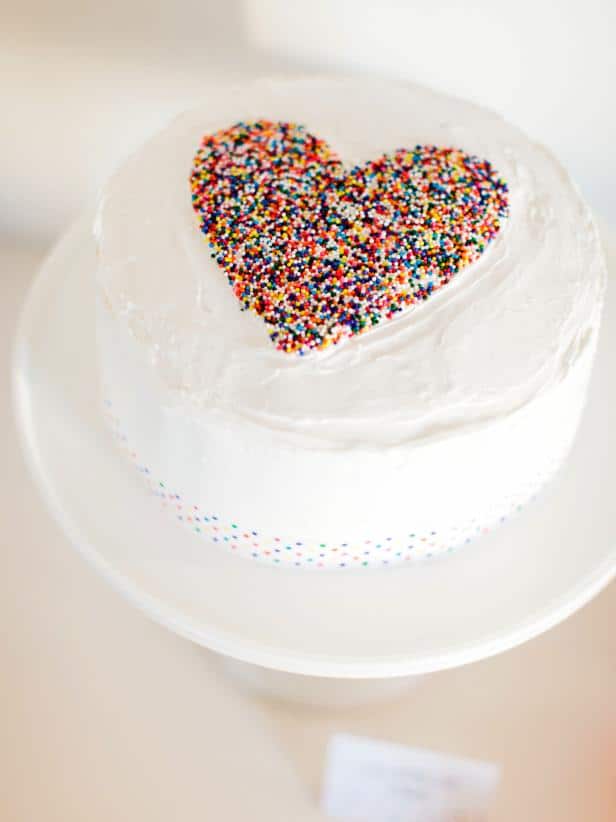 Would you believe this is a DIY cake? Sure is! Here are the instructions. 
---
Baby Shower Ideas For Boys – The Little Details
What often makes a baby shower (or any celebration) special, are the little details.
For us as hosts and baby shower planners, these are often the things we forget in favor of the bigger things. However, it is often the little things that the mommy-to-be and/or the guests remember. Below are a few great examples of details that get stuck in people's minds.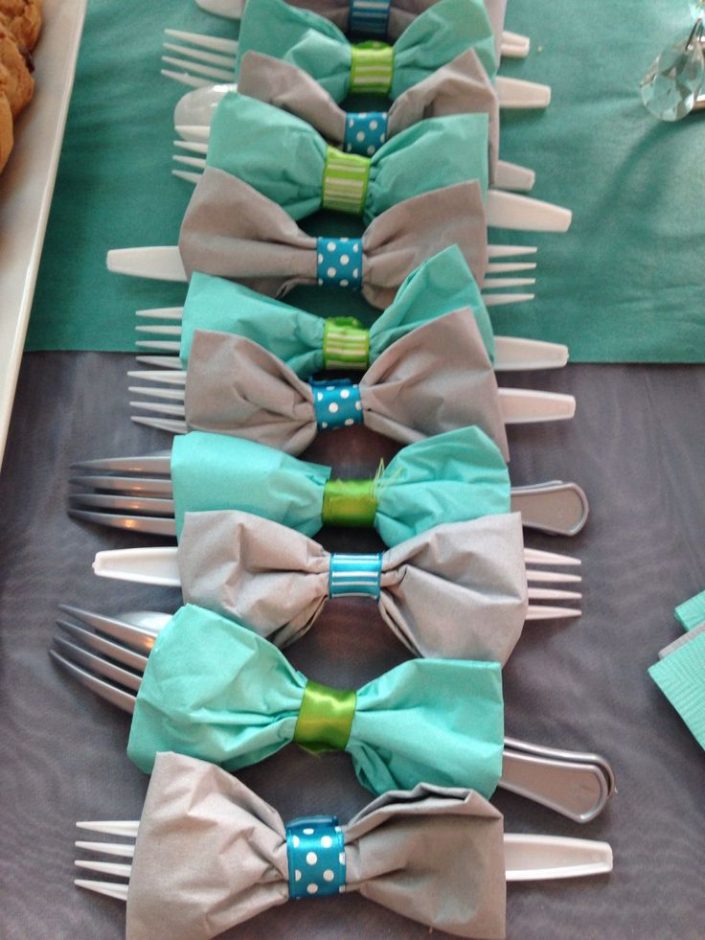 Sure, making little bowties with your paper napkins will take time, but it's little things like this that people remember long after your baby shower is over. Why? Because it feels like you took the extra steps to make it amazing.
To make these little napkin bowties, make sure you get napkins

that match the colors of your baby shower. You could then either use ribbon

or washi tape

to complete the little bowtie. (Washi tape will be easier but it will slightly tear the middle part of your napkins.)
---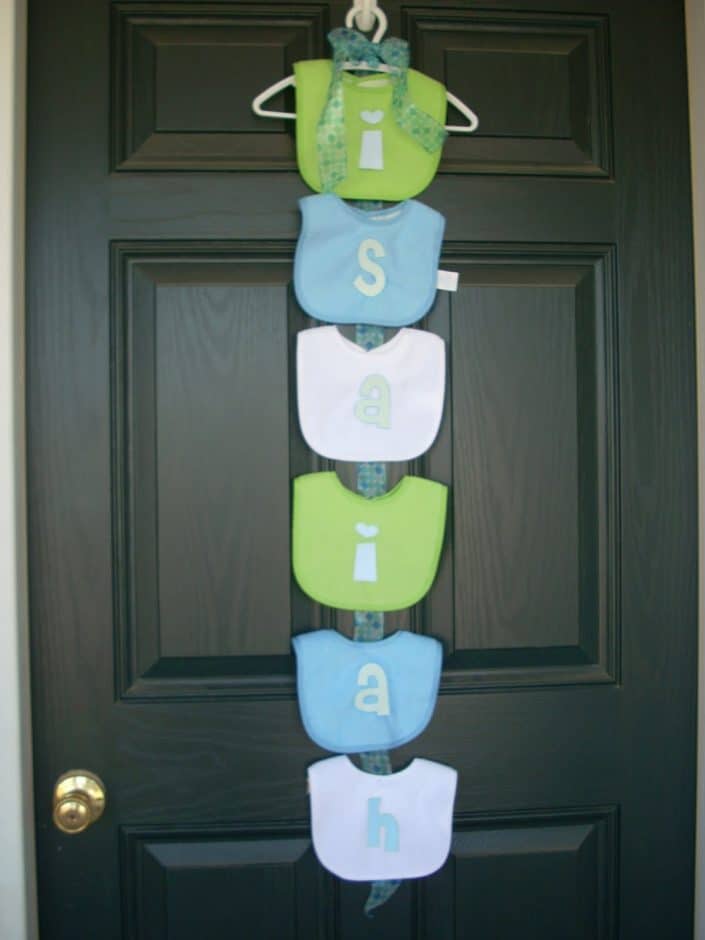 Sure, this is not a traditional baby shower wreath, but it is adorable and it's a nice welcome to your guests. Apart from adding letters onto each bib (to spell out the baby's name,) it's easy to make. Use plain baby boy bibs

that are attached to a ribbon and a hanger.
---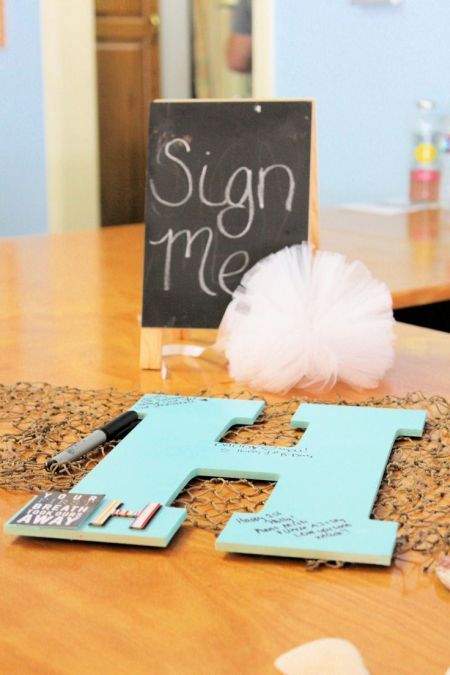 Wooden Letter Signing. This is a great alternative to a traditional guest book. You don't need much to get it set up either.
Get a large wooden letter of baby's initial,
Paint it to match your theme color. Use matte paint so that your guests can write on it,
Put out a sharpie, and you're good to go.
Guests can use the letter as a "sign in" by writing their names. Later, the letter can be used as baby nursery decor.
---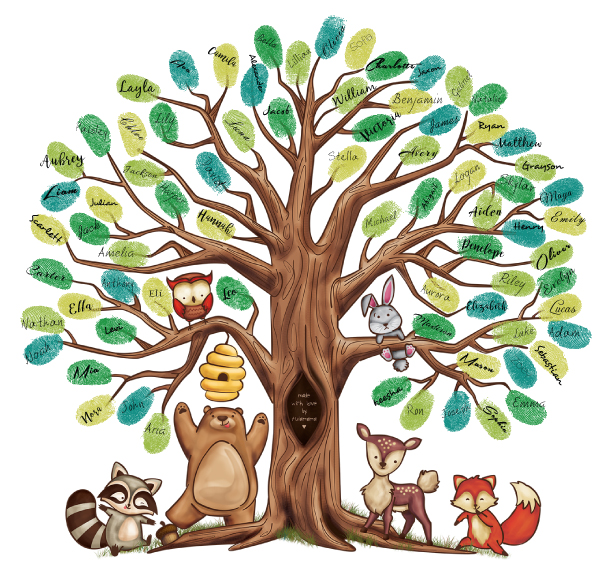 This is a Woodland themed fingerprint tree canvas. It's another great alternative to a baby shower guest book because there's not much to do other than display the canvas. Your guests can leave their fingerprints (ink is included,) or leave their fingerprint and write their names, like in this image.
If you are having a Woodland themed baby shower, this is a nice complement to the theme. And, you can always hang this in baby's nursery after the baby shower.
---

Woodland themed baby shower guest book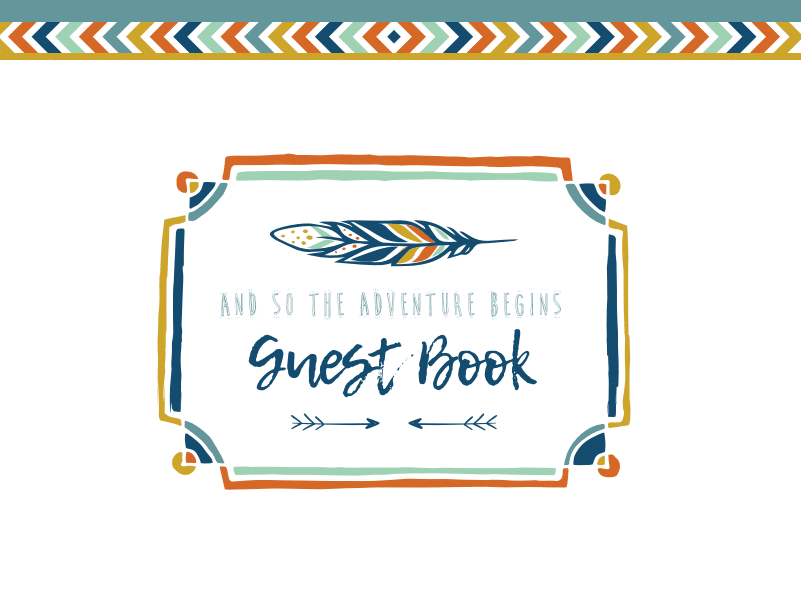 Aztec themed baby shower guest book 
(This is a neutral theme)

It's a Boy baby shower guest book
Baby shower guest books are often overlooked because there are tons of cooler alternatives to a traditional guest book. Yes, that is true – I pointed out a few above. However, a baby shower guest book is not just a book. It is a record where your guests can share their wishes for the new baby and offer advice to the new parents. As fancy as guest book alternatives are, they cannot beat that. Years after the baby shower, the new mom can still reference her book and read the good-wishes from loved ones.
---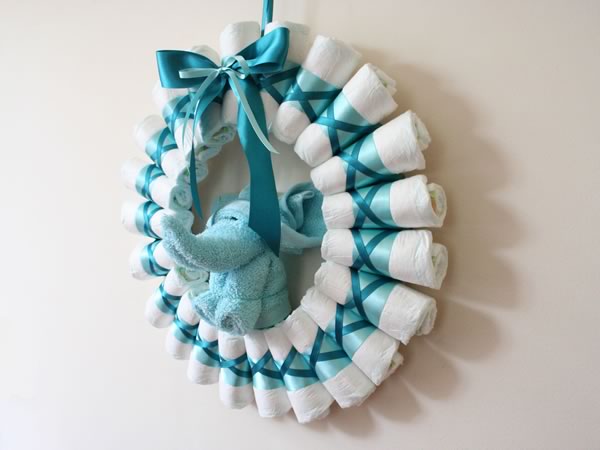 This is a baby shower wreath made with diapers. Diaper wreaths (and diaper cakes) are wonderful because they offer baby shower decoration, and they're super useful to mom once her baby is born.
---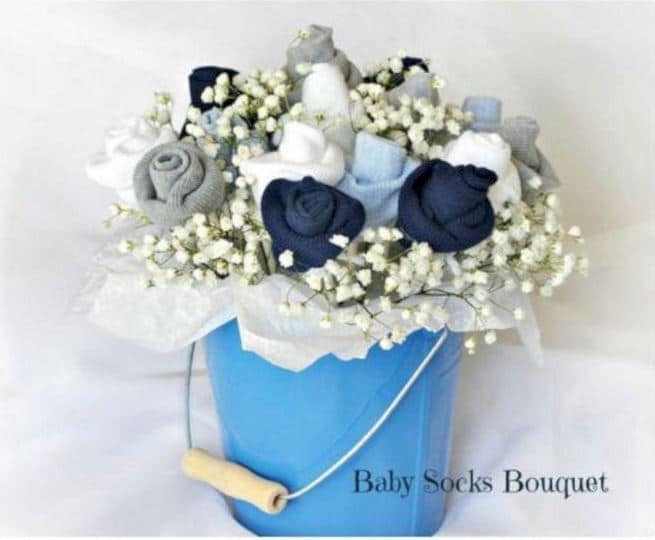 Or consider a baby sock bouquet instead of a diaper cake. Both options are great for decor and useful after baby is born.
---
PLANNING A BABY SHOWER? HERE ARE A FEW HELPFUL RESOURCES:
Hosting or planning a baby shower takes a lot of work. You will be juggling a lot of balls in the air. Use the resources below to make your life A LOT easier.