Is there anything more inviting, than the smell of Thanksgiving Cookies as you walk in the door?
Turkey, pumpkin pie, all those delicious sides – they're all wonderful, but Thanksgiving cookies have a special place in all our hearts.
Below is a collection of the yummiest Thanksgiving cookies this side of the planet. If you're a skilled baker, all these cookies will be easy for you. If you're a beginner – not to worry. There are a few Thanksgiving cookies in this collection that you can make from store-bought cookies.
The collection has all the favorite Thanksgiving flavors, including, (but not limited to) pumpkin, apple, cinnamon, cranberries, chocolate, pecans, and more. Enjoy!
Thanksgiving Cookies To Fall In Love With
Pumpkin Blossom Cookies

These adorable cookies are made with boxed cake mix, so it's relatively easy to make! The toppings are broken pretzel pieces and Pumpkin Spice Hershey's Kisses

! There are also helpful video instructions to guide you.
---
Turkey Peanut Butter Cup Cookies

These are home-made peanut butter cookies, embellished with store-bought ingredients!
---
Harvest M&Ms Cookie Bars

You can usually get these Harvest M&M's

during the fall season. Their Fall colors are what make this Harvest cookie bar recipe extra special.
---
Pilgrim Hats Peanut Butter Cups Recipe

Here's another easy Thanksgiving cookie to enjoy. Make these little pilgrim hat cookies with your little one(s).
---
Nutter Butter Thanksgiving Cookies

These Nutter butter turkey cookies do take some assembly, but it's a great activity for kids during the Thanksgiving break.
---
Pumpkin Chocolate Chip Thanksgiving Cookies

With the marriage of pumpkin and chocolate chips, these cookies are truly made in Thanksgiving heaven.
---
Mini Pumpkin Pies

Ah, wonderful pumpkin pies! These little beauties are relatively easy to make too if you're using the recommended store-bought mini tart shells.
---
Chewy Pumpkin White Chocolate Chip Cookies

Pumpkin and white chocolate cookies – another match made in Thanksgiving heaven.
---
Turkey Sugar Cookies

If you're a baker, you will find these sugar cookies relatively easy to make. If you're not a baker or you just don't have the time, get store-bought sugar cookies and decorate them.
---
Nutter Butter Acorns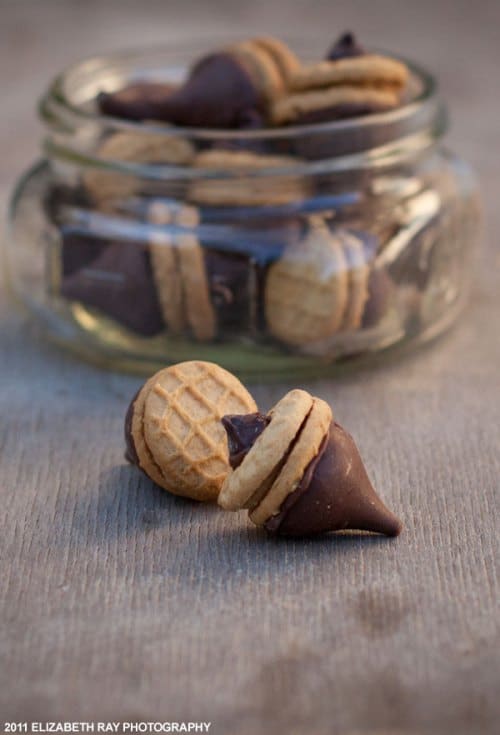 These nutter butter acorns are entirely made of store-bought ingredients and they're relatively easy to prepare.
---
Apple Cinnamon Oatmeal Cookies

So much to love about these apple, cinnamon, oatmeal cookies. They're chewy with crisp edges, soft with moist centers, and oh-so-sweet and flavorful!
---
Apple Crisp Cookie Cups

The holidays are not really the time to be worried about calories, but in case you are – these apple cookie cups are made with oatmeal. (At least they're somewhat healthy.)
---
Easy Turkey Thanksgiving Cookies

These easy turkey cookies are the easiest in this collection. All you'll need to do is assemble store-bought ingredients for these cute and delicious cookies.
---
Toffee Apple Pie Cookies

These toffee apple cookies are made with cinnamon, nutmeg, butter, brown sugar, oats, finely chopped granny smith apples, etc. and topped with a sugar glaze. Yum!
---
Spiced Apple Cut Cookies

These little beauties are made with spiced apple cider mix, so they're packed with delicious flavors.
---
Soft Frosted Maple Cinnamon Sugar Cookies

These sugar cookies are not hard to make, but if you're pressed for time, buy store-bought sugar cookies and make the delicious maple cinnamon frosting at home.
---
Apple Pie Thumbprint Cookies

These are shortbread cookies with apple pie filling in the center. Check out the recipe for helpful tips on preparing them.
---
Carrot Cake & Pecan Thanksgiving Cookies

Pecans are traditional at Thanksgiving time. These carrot cake cookies topped with pecans make a great marriage of traditional flavors.
---
Chai Spiced Maple Sugar Thanksgiving Cookies

During the Autumn season, leaves are often used as home decor.  Baking leave-shaped cookies are therefore very fitting this time of year.
---
Soft and Chewy Gingerbread Cookies

Ginger flavors are synonymous with the holidays, so no-one will decline these vegetarian and gluten-free ginger cookies.
---
Chocolate-Dipped Pecan Lace Cookies

Pecans and chocolate – a delicious combination!
---
Cinnamon Cream Cheese Cookies

Cinnamon cream cheese cookies are a favorite in some homes because they're soft and flavorful.
---
White Chocolate Chip Cranberry Thanksgiving Cookies

Cranberries are a traditional flavor during Thanksgiving, so these white chocolate cranberry cookies will be a welcome addition to your Thanksgiving dessert table.
---
Thin and Chewy Spiced Oatmeal Cookies with Brown Butter Icing

Apparently, these oatmeal cookies with brown butter frosting have no calories, which is surprising because they are so decadent and delicious.
---
Peanut Butter Cup Turkey Cookies

This is another great one for kids to prepare. Recipe here!
From our family to yours, may you have a wonderful Thanksgiving with much to be thankful for.
IT'S FALL! TIME TO GET INTO THE HALLOWEEN & THANKSGIVING SPIRIT!
The leaves are falling. It's getting a little cooler outside! It's time for hot chocolate and pumpkin pie.