Milk bath photography has quickly become insanely popular. Pregnant women love it for their maternity photoshoots, but this is a technique that you can use with babies, mother and baby photography, children, general fashion shoots, and even for a boudoir setting.
For your convenience, we've got a few stunning milk bath photography examples of pregnancy photos, babies, children, moms with babies, and milk photography with faces only. Then, expert tips for creating your own milk bath photography.
Milk Bath For Pregnant Women

---

---

---

---

---

---

---

---

---

---

---

---

---

---
Milk Bath Photography For Children And Moms With Babies

---

---

---

---

---

---

---

---

---

---

---

---

---

---
Milk Bath Photography – Faces

---

---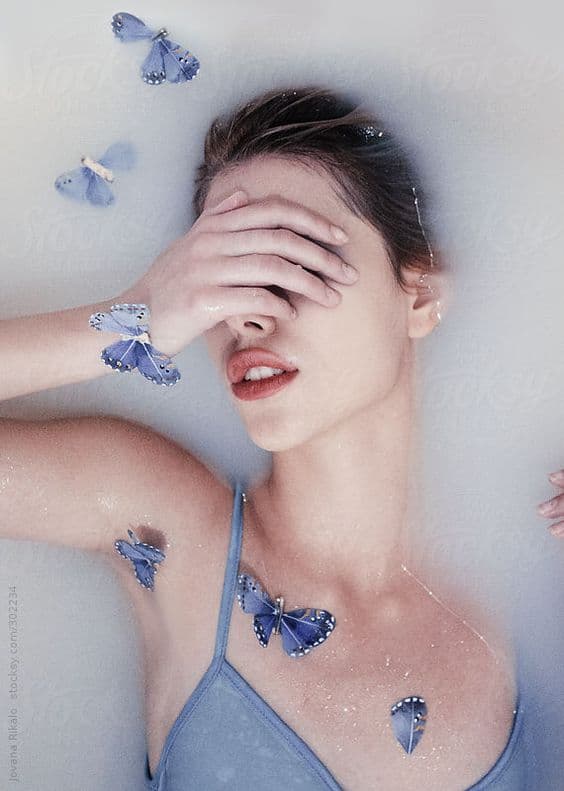 ---

---

---

---

---

---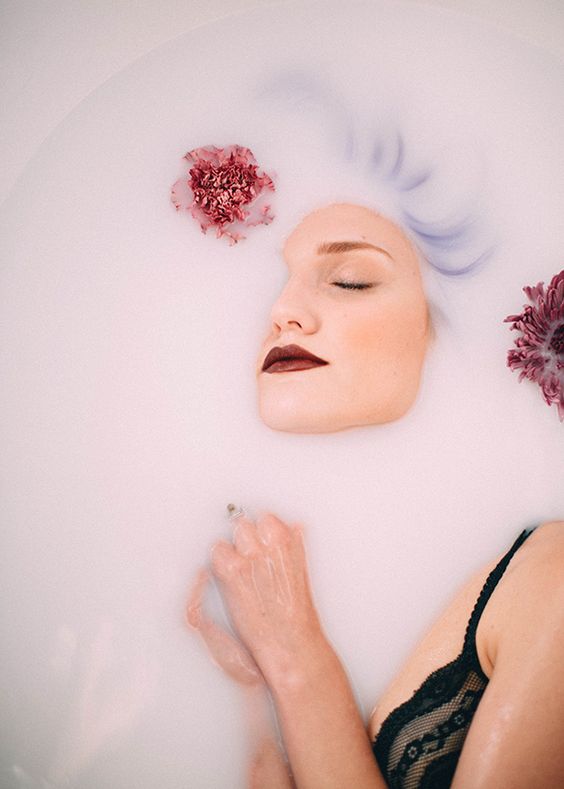 ---

---

---

---

Milk Bath Photography – How To Create Stunning Photos
The expert tips below come from industry experts, like Tiffany Burke at Popular Photography.

Preparing Your Milk Bath
The water temperature should be comfortable for the model, so only start running your bath water when your model is ready to get in.  However, the water should not be too hot – hot water mixed with milk could cause curdling. Fill your tub to the desired height, then add two gallons of whole milk. To enhance the effect, you could also add powdered milk. Powered milk (in addition to the 2 gallons of whole milk) will give it an opaque, creamy effect.
The Lighting
If at all possible, natural light is always best. If you have a tub that is by a big window, you are halfway there but if this is just not going to happen, a big softbox

can help mimic the effect.
Considering Your Props
A plain milk bath ensures that the subject is the main focal point – which is what you want. However, flowers and other props will give your photos some texture and contrast.
Real flowers are a bit more expensive but you might be wasting your money if you invest in synthetic flowers. Why? Because synthetic flowers are very likely to sink to the bottom of the tub – which defeats the object. However, one way to get around this is to remove the stems from the floral blooms. For the best results, spray the bottom of each bloom (the part that would be resting on the water,) with Scotchgard spray.

 Allow it to dry. Spray them at least the night before your shoot, or even earlier if possible. This may waterproof your silk flowers and prevent them from sinking.
Tiffany Burke says you could also use real flowers in conjunction with silk flowers, by placing the fake flowers on top of the real ones.
When you are preparing your fresh flowers, cut them about a half an inch to an inch under the bud.
Managing Your Props And The Model
For best results, the flowers should be placed in the tub after the model is already in the tub. Ask the model to stay as still as possible because even small movements will move the props.
Dressing for Milk Bath Photography
Sheer fabric works well in water. They tend to drape across the body to create an ethereal look.
Lace gowns

are most popular for milk bath photography, particularly for maternity photoshoots. You can usually get them for quite cheap on Amazon.
For nudity, the milk or arms can be used to cover private parts, like nipples.
PREGNANT? HERE ARE A FEW HELPFUL RESOURCES:
A real answer to almost all...