Congratulations! You're Pregnant. But what do you do after finding out you're pregnant?
Celebrate, of course. If you believe in a higher power, say thank you for this blessing that has been bestowed on you. If you're not quite religious, smile, and be happy. You're gonna be a momma!
Once that's out of the way, you've got stuff to do. Here's a rundown of what to do after finding out you're pregnant.
What To Do After Finding Out You're Pregnant: 1st Trimester
Announce Your Pregnancy To Your Husband

Most of us are just too excited to hold it in, but if you are strong enough to do so, find a spectacular way to let him know that he's going to be a daddy.
Start Taking Prenatal Vitamins
If you've been trying to get pregnant, you may already be on a prenatal vitamin. If not, start taking one.
At the time of pregnancy, your body requires a different cocktail of vitamins and minerals to keep you and your baby perfectly healthy. A good prenatal vitamin includes folic acid, vitamin B, vitamin C, vitamin D, zinc, calcium, and iron to assist the healthy development of your baby.
Unless your doctor has explicitly approved any other over-the-counter or herbal remedies, do not take anything else. You do not want to overmedicate. Even if you've been taking a supplement or herbal remedy for years, check with your doctor to make sure it's okay for you to continue doing so.
Schedule Your Doctor's Appointment
To have a healthy pregnancy, you need good prenatal care. Start early by making an appointment as soon as you have a positive result on a home pregnancy test. Some practitioners will be able to fit you in immediately, but some doctor's offices have waits of several weeks.
Your first prenatal appointment probably won't happen until your second or third month of pregnancy, between weeks 6-10 of pregnancy. Don't let this worry you—it's normal for prenatal visits to start around month 2 or 3.
At your appointment, also ask your doctor about vaccines you need during your pregnancy, like the Tdap for whooping cough.
Schedule An Appointment With Your Dentist
If you have not been seeing your dentist regularly, (every 6 months), now is the time to schedule that appointment. Pregnancy increases your risk of developing gum disease and other oral health problems that can lead to premature birth.
Take Safety Precautions
If you have a cat, don't change the litter. Cat litter can lead to toxoplasmosis.
Don't wear shoes in the house. 85% of the dirt in our homes comes from the bottom of our shoes along with thousands of types of bacteria;
Avoid harmful chemicals in plastic – avoid eating, drinking from harmful plastic containers, and do not store your food in them either;
Wear comfortable shoes. If possible, avoid high heels. High heels may cause accidents and injuries that could eventually lead to a miscarriage or other complications;
Wear pregnancy-safe sunscreen (spf 30+). Avoid ingredients like oxybensone, octinoxate, paba, 4-methylbenzylidene camphor, homosalate, octocrylene.
Choose your cosmetics carefully.
If possible, avoid air travel during the first and third trimester.
Stop Any Bad Habits You May Have
If you were smoking or drinking alcohol before you learned of your pregnancy, stop that now. If before you were often exposed to secondhand smoke, you should actively avoid that now.
Drink More Water

Staying hydrated is essential but even more so when you're expecting. Drink plenty of water every day, and stay away from sodas. Preferably, you should drink around eight and 12 glasses a day during pregnancy to help reduce your odds of a urinary tract infection, headaches, swelling, fatigue, preterm labor, etc.
Make Healthier Food Choices
If you are used to eating hamburgers and pizza every day, no one is telling you to stop completely. However, you'd be best advised to limit your unhealthy food choices. (If it feels overwhelming, don't rush into it. You can start with small but healthy habits.)
To motivate you, keep in mind that a nutritious diet during pregnancy comes with several benefits. It is linked to:
Good brain development of your baby;
A healthy birth weight;
Reduced risk of many birth defects;
Reduced risk of anemia, fatigue, and morning sickness.
According to UC San Diego Health, you should be eating:
Folate-rich foods like lentils, asparagus, oranges, fortified cereals;
Calcium-rich foods like dairy, canned fish, soy;
Foods with fiber, like fruits and vegetables;
Enough potassium – it can help keep your fluids balanced and blood pressure normal;
Fish and seafood that is low in mercury, like salmon, tilapia, shrimp, pollock, cod, catfish, sardines, herring, anchovies, etc.
5-6 well-balanced meals each day.
Avoid:
Deli meats;
Soft or unpasteurized cheeses like Brie and feta. Unpasteurized cheeses may contain bacteria that can cause miscarriage, fever, or pregnancy complications;
Fish that are high in mercury, like swordfish, king mackerel, marlin, orange roughy, shark, bigeye tuna, ahi tuna, tilefish.
Reduce:
Fast foods;
Your sodium intake
Spicy foods, particularly if they are causing you heartburn, indigestion, nausea, diarrhea, and bloating
Find Healthy Alternatives To Your Cravings

Your body is making a brand new person, so it's going to need lots of nutrients to do its job. You'll certainly eat more and you may even have pregnancy cravings.
Doctors say it's okay to give in to your pregnancy cravings sometimes, but don't do it all the time.
Prevent Stretch Marks
Stretch marks are like the bogey man of pregnancy. They're gonna come for you! They like to make an appearance on your thighs, your chest, your bottom, and of course, your belly.
If this is your first pregnancy, you are unlikely to start showing in your first trimester. However, it's a good idea to start applying stretch mark creams or lotions in your first trimester. By doing this, you make your skin supple and resilient to the stretch marks!
Trade Coffee For Tea
When you're pregnant, drinking a little bit of coffee might be okay as long as your doctor approves. But even if you get approval, try to prevent heavily caffeinated drinks.
Instead of coffee, switch to herbal tea or green tea. Green tea has a smaller amount of caffeine and is packed with antioxidants.
Share Your News With Parents And Siblings

Around week 8 of your pregnancy is usually when you would announce your pregnancy to parents and siblings. This would be after you have had your first doctor's appointment, and you've been able to confirm the baby's heartbeat.
Start Tracking Your Baby's Growth

"This is so much fun"… says almost every pregnant woman!
There are several ways to track your baby's growth. You can:
Install pregnancy apps on your phone;
Get a baby bump pregnancy fruit chart poster that you can look at regularly.
Start Tracking Your Pregnancy And Weight Gain

Normal weight gain for pregnancy is around 25-35lbs, so you only need 300-500 additional calories per day.
To make sure you stay on track, track your weight gain.
You may also want to take a weekly or monthly photo of your baby bump. This is really easy to do with maternity props.
Get Plenty Of Sleep
During those first few weeks of pregnancy, you're going to need more sleep than usual because your body will be hard at work creating a human being. Expect this and allow yourself to take naps whenever you need it.
As your pregnancy progresses into the second and third trimesters, you may encounter problems that interfere with your sleep, like heartburn, physical discomfort, or even an occasional bout of insomnia. Try to deal with those in a safe way.
Also, try to stick to a sleeping schedule that consists of you going to bed and waking up at the same time every day—this can help keep your sleep-wake cycle on track.
Adequate sleep helps you feel stronger on many levels, so it's important to take this seriously.
Choose Household Chores Carefully
Avoid doing household chores that are too demanding while you're pregnant. As long as you're feeling up to it, you can still do light chores like laundry, tidying up, cooking, and washing dishes.
Also, be sure to use non-toxic, plant-based cleaners or ingredients you have around the house, like vinegar and baking soda.
If you need help with chores that are a little harder for you, ask for it. If they know that you need help, most people will be more than happy to help you.
Get Enough Exercise

With your doctor's permission, you can and should exercise during your pregnancy. Exercise comes with tremendous benefits for you and your baby.
Avoid rigorous exercises or anything that could cause injury while you're pregnant. In other words, don't overdo it. If you're sweating too much, feeling dizzy, or having an irregular heartbeat, you are overdoing it and this may be harmful. Instead, consider pregnancy yoga to help you stay active and tranquil.
What To Do After Finding Out You're Pregnant: 2nd & 3rd Trimester
Announce Your Pregnancy To Others

At the start of your 2nd trimester, the risk of miscarriage drops dramatically. This is usually when you can start telling everyone!
If you were unable to create a fun pregnancy announcement to dad, (because you just couldn't hold it in), now is the time to express yourself with a fantastic pregnancy announcement! There are so many fun ideas to choose from!
Prepare Yourself For The Next Few Months
You're going to need a few pregnancy must-haves to make your pregnancy as comfortable as it could be.
You should know that even if you've been dreaming about being pregnant for a long time, pregnancy can be tough. Even easy pregnancies come with quite a few unpleasant side effects. But you can get through this if you're prepared and you know what may happen.
Start Thinking About Baby Names
No, it is not too early! Some moms need the entire 40 weeks of pregnancy to decide on the perfect name.
There are several baby name resources, so start looking into it.
If you are going to find out your baby's gender early, your list will be narrowed down. If you're going to wait until after the birth, you'll have to be ready with two names.
Educate Yourself
There are several ways you can do this:
Familiarise yourself with typical (but unpleasant) pregnancy symptoms so you can know when to call your doctor with concerns of any irregularities or alarming symptoms.
If you feel that it may help, consider taking a pregnancy class.
Consider hiring a doula. This is a trained professional who provides continuous physical, emotional and informational support throughout your pregnancy.
If this is your first baby, you may also want to tour birth facilities and/or hospitals. Usually, you'll select a doctor and he/she may deliver at a specific hospital only. If that's the case, check out the hospital. However, if you have your mind set on a specific kind of birth that is only provided at a birth center, you'll need to contact that birth center first, then consult with one of their providers.
Babysit a friend's baby to get some real-world experience. This will help to prepare you.
Read as much about pregnancy, your baby's growth and development, and birth. Look for books and blog posts that provide helpful tips for new parents, like this one, which discusses what actually happens after birth.
Pamper Yourself

Spend plenty of time spoiling yourself while you're pregnant, and let others do so too! This is probably the last time you will have the ability to be spoiled… for a long time.
Take a little time for yourself each day. You can do this by writing in a journal, meditating, exercising, getting a prenatal massage, slathering your face with a luxuriously hydrating mask, or just simply doing nothing.
The point is, do what makes you feel happy, peaceful, and grounded. Once your baby is born, your life is going to make a sharp 180-degree turn, so treasure these moments while you can.
Avoid Leg Cramps

Leg cramps during pregnancy are painful. They're one of those things they don't tell you about pregnancy!
If they come, they'll make an appearance later in your pregnancy. You can try to avoid them by staying active and hydrated.
Avoid Heavy Lifting
According to the CDC,  heavy lifting, (or bending a lot) during pregnancy could increase your chances of preterm birth, miscarriage, or an injury during your pregnancy.
It is not worth the risk. Be patient and wait for someone else to do the heavy lifting for you. After all, you are a queen.
Create a Baby Registry
If you are going to have a typical baby shower, it's likely to happen around month 8 of your pregnancy. However, in order to know what baby shower gifts they need to get you, guests will need to shop from your baby registry.
However, you can't start your baby registry just ahead of the baby shower because the baby registry details have to go onto your baby shower invitations. Baby shower invitations have to go out 2-4 weeks before your baby shower, which means that by month 6, months 7 for the latest, you've got to be done with your baby registry.  Here are a few helpful resources:
Arrange Your Maternity Photoshoot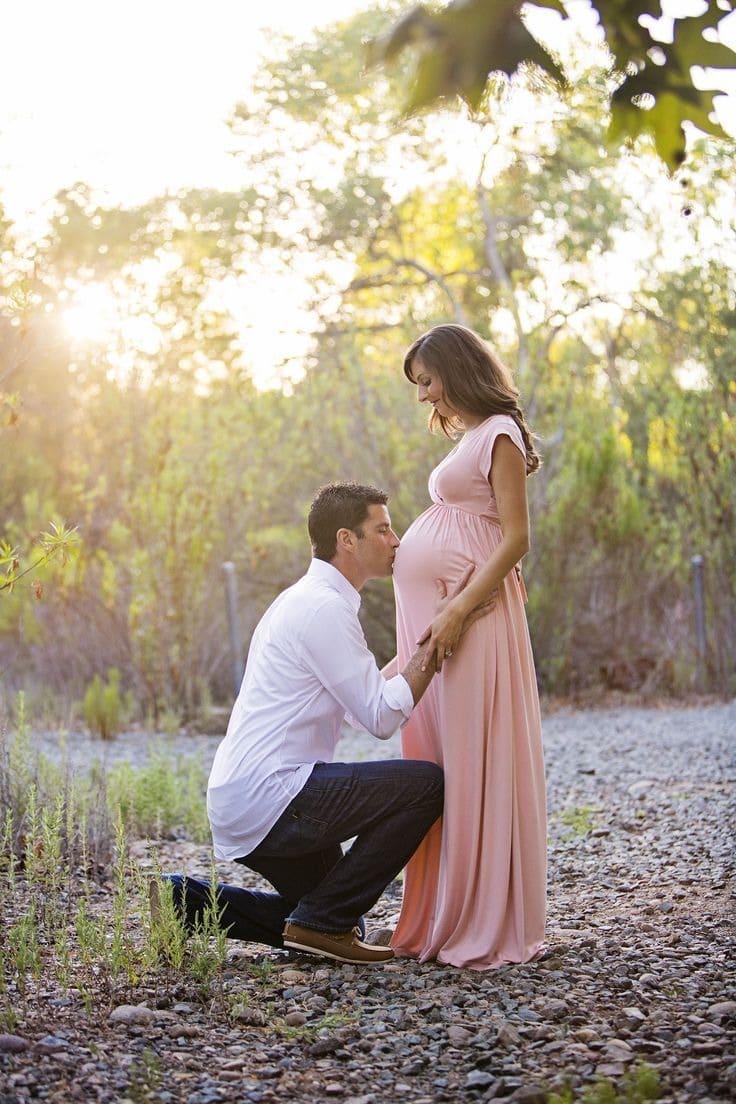 It's best to book your maternity photoshoot around month 8 of your pregnancy. At this stage, your belly is nice and rounded, and therefore perfect for maternity photos.
You could go with fun maternity photos, or simple, classic pregnancy photos. Whatever you choose, get it done because it is so much fun, and you'll want to remember these moments in your pregnancy.
Create A Birth Plan
Around month 8 of your pregnancy, it will be time to create a birth plan.
A birth plan is a "wish list" of what you want for your labor and delivery. It is important to create one because if you don't, doctors and nurses, midwives, and doulas will default to what they usually do, and that may not be what you envisioned.
A birth plan is simple. It includes your labor and delivery preferences, your preferred method of pain management, any health conditions you might have, medications you take, whether you want your baby to be breastfed or formula-fed, etc. It is quite comprehensive but with a good birth plan template, you can get all the most important details on one page.
Pack Your Hospital Bag
Many moms put off packing their hospital bag, go into early labor, then end up not having a hospital bag. This is very inconvenient and not a situation you want to be in during your labor and delivery.
A hospital bag offers convenience, and through the challenge of labor and delivery, every bit of convenience should be taken.
Be sure to pack your hospital bag around month 8/ week 36 of your pregnancy.